A nuclear engineer and his wife sent Brazil an anonymous offer to sell U.S. military secrets. Brazil called the FBI.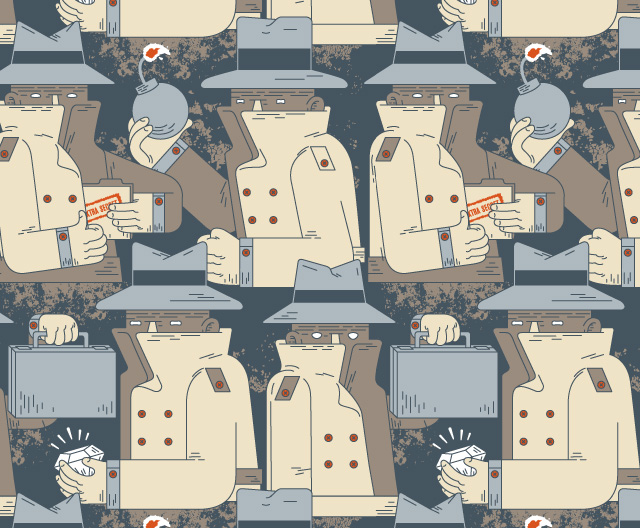 The legal case against Jonathan and Diana Toebbe is still ongoing- Mr. Toebbe recently pled guilty to the charges leveled against him- but he story of the Toebbes, and their misbegotten foray into the amateur spy businesses, has already become the stuff of legend in Washington D.C.
Called the "Spy Capital of the of World," Washington D.C. rarely lives up to the name in terms of fodder for the Capitol Hill gossip mill. Not this time.
With the Toebbes, there has been no shortage of details about a spy caper too unbelievable and madcap to be anything but true.
From the moment of their initial overture towards a friendly government- offering to sell highly-classified U.S. military secrets to Brazil because approaching an unfriendly government would have been, in their words, "wrong"- the game was already up for the Toebbes.
Everything they did from that moment on- complicated dead-drop schemes, encrypted currency research, useless safeguards, clandestine signals- was for nothing.
The Brazilian intelligence agency in receipt of Jonathan Toebbe's anonymous package- a "gift" of classified U.S. military documents and an offer for more in exchange for money- immediately notified their law enforcement counterparts in the U.S.
Which, as anyone must admit- even the Toebbes in retrospect- makes perfect sense. A country friendly to the U.S. would have to be absolutely insane to take anyone up on that offer.
With all the data available about this case- emails exchanged between Mr. Toebbe and FBI agents posing as Brazilian officials, text messages between Mr. and Mrs. Toebbe- a question still remains:
Why on earth did they do it?
More importantly, what made them think they could get away with it? Why would two otherwise intelligent people with no criminal history- he a nuclear engineer and she a teacher- do something so incredibly stupid?
Smart people tend to avoid crime, on the whole. Our cultural obsession with the brilliant criminal mastermind, the evil genius, aside- the vast majority of people who commit criminal acts aren't Lex Luthor. This isn't tv.
Instead, people who commit crimes are often undereducated, impoverished, desperate; frequently in the grips of drug or alcohol addiction. They get desperate, fly into rages, go too far. They commit stupid, senseless acts in front of a dozen witnesses. Many understand their motives little better than the rest of us, if that.
Even the criminals who plan everything out don't often fare much better, leaving a trail of evidence a mile wide in spite of all their meticulous attention to detail- no matter how many episodes of CSI they've watched.
People like Jonathan Toebbe who go to great lengths to conceal their crimes and prevent detection often overestimate their own intelligence, and underestimate the collective intelligence of law enforcement agencies working together. They also forget that age old law enforcement adage: "The criminal suspect has to get lucky every single time to avoid getting caught; the cops only need to get lucky once."
That isn't to say cops always get their suspect. Crimes go unsolved everyday. Considering the high burden of proof required for a serious conviction, it isn't surprising. Cops often know who did it, especially in cases of murder and other serious crimes, even if they can't always prove their case against the person they suspect.
But cops are nothing if not patient. Warehouses full of old DNA samples sit even now, waiting for technology to improve, waiting for more evidence in a case, waiting on a break. Cops know that even with the coldest of cold cases, time has a way of catching up. Suspects move away and leave evidence behind by accident, people confess crimes to spouses who later divorce them and start talking.
Sherlock Holmes, that quintessential fictional detective, was once asked to explain why people commit crimes. He answered in one breath: "Self-defense."
If Sherlock Holmes was a real person, he would have died of boredom as a detective. Most police work is rote, routine, often heartbreaking; checking details, interviewing witnesses, following leads, investigating backgrounds.
Most people who commit elaborate, pre-planned crimes have the same motivations, the same movie-inspired methods as almost everyone else.
Insurance fraud schemes involving arson, larceny, or even murder, are contrived everyday by people who act like neither the police nor insurance companies have ever heard of such a thing. Police officers and investigators probably drink so much coffee just to keep them awake through all the boring lies they've heard a million times already.
Watching criminal suspects lying to police during interviews- a genre which has spawned a thousand YouTube channels- is a cringe-worthy process.
It's like watching a movie where everyone knows what's coming. The investigating officers usually already know all the answers before they start asking questions. Counting on criminal suspects to give truthful answers isn't something on which cops put much stake.
Occasionally, someone like Jonathan Toebbe will conceive of a scheme so nonsensical and convoluted, it at least must serve as much needed comic relief for investigating officers and trainees.
Since most criminal suspects leave an evidence trail a mile wide, why anyone would dream of getting away with such a harebrained scheme is a mystery to sensible people. Sensible people don't commit crimes, in general.
Of course, otherwise intelligent people, like the Toebbes, commit crimes all the times. Intelligence doesn't prevent people from making bad decisions. Very intelligent people often make bad decisions, sometimes because their high level of intelligence convinces them they are more likely to get away with it.
A high IQ is great at producing really compelling, well-thought out reasoning processes. That double-edged sword can also be deployed to convince an otherwise intelligent person to do something truly dumb and dangerous- like trying to sell U.S. military secrets.
Reasoning processes, even very clever ones, are sometimes flawed. Most people make decisions emotionally, then use logic to reverse engineer a good justification.
The Toebbes had determined to use Mr. Toebbe's high-level military security clearance to make some money. Things like deciding to approach a friendly country, rather than a hostile one, and professing "no loyalty to abstractions" are examples of how the couple justified their actions.
It is an episode destined to go down in history as one of the strangest, and silliest, attempts at espionage ever.
It may be worth wondering why the FBI is allowing so much information about this case to be made public. The embarrassment of an attempted internal leak like this, in addition to national security, had to be more than enough reason to keep it under wraps.
Dissuading anyone else in sensitive areas with a political axe to grind- the Toebbes hated Donald Trump- from doing anything similar might have been one motivation.
If so, it might work. The Toebbes are a cautionary tale for the ages.
(contributing writer, Brooke Bell)