After a devastating earthquake, the Albanian people hold fast to hope, one another, and their friends in the international community.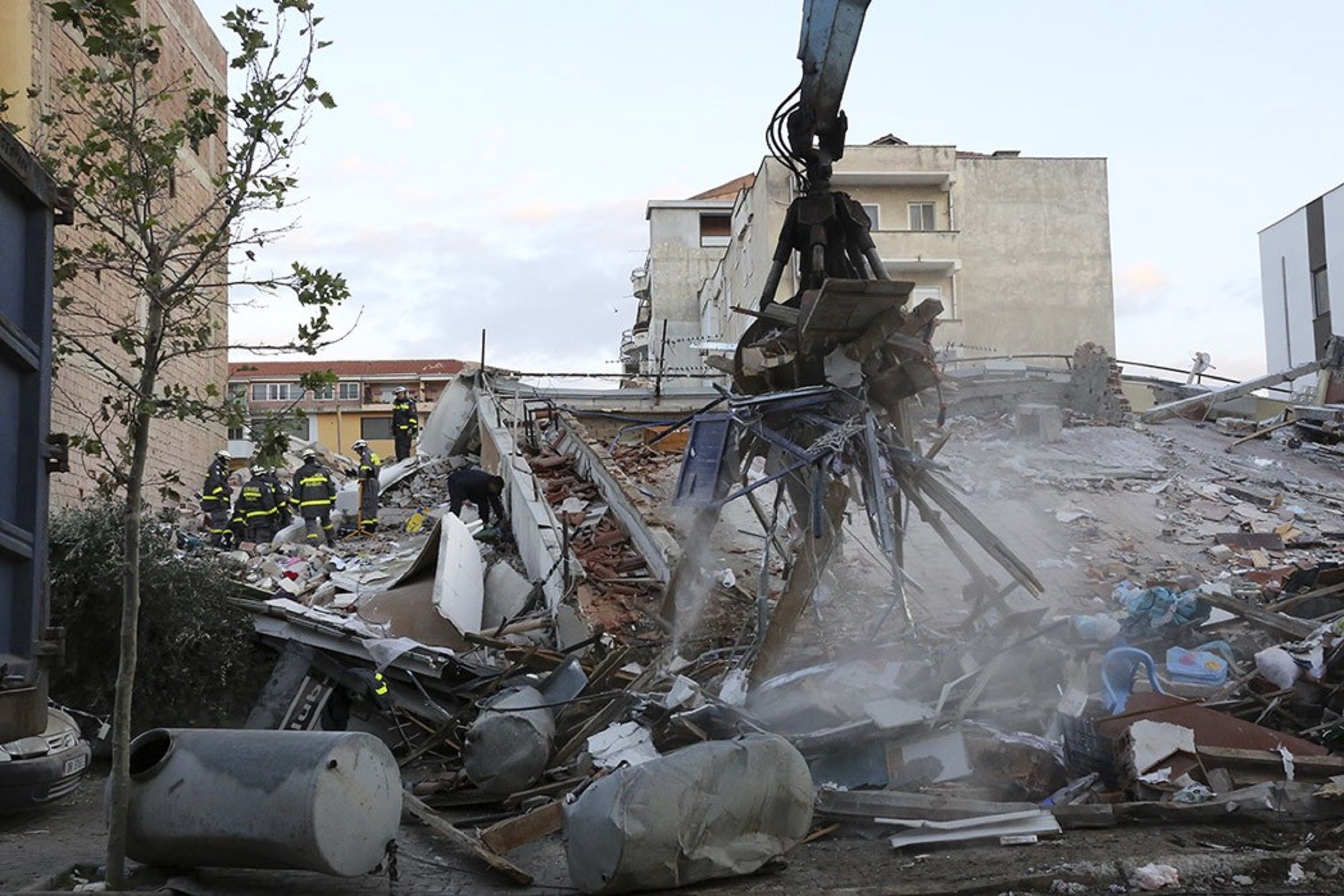 Durres, Albania. November 27, 2019. Search and rescue teams sort through the rubble from a collapsed building.(photo: Dipartimento Protezione Civile)
"We have lost human lives. We have also saved many lives." — Albanian Prime Minister Edi Rama
While people in the U.S. were celebrating Thanksgiving last week, the people of Albania were searching through rubble in the aftermath of the biggest earthquake that country has endured in decades.
Desperate rescue efforts were conducted on ground that continued to shake as the death toll climbed steadily in the wake of a 6.4 magnitude earthquake that hit Albania in the early hours of Tuesday, November 27.
30 terrible seconds had reduced houses and buildings to rubble, with shocked survivors frantically searching the wreckage for lost loved ones.
On Wednesday, Albanians held a national day of mourning as aftershocks continued to rattle rescue workers and survivors.
Thousands of people were injured and more than half of the country's population have been impacted by the 6.4 magnitude earthquake. Over 10,000 people have been left homeless and at least 51 people were killed, including entire families.
Many Albanians in the areas hardest hit are still without shelter a week later, sleeping in makeshift shelters and in tents- some because their homes have been destroyed, others because they fear returning to homes and apartment buildings weakened by the quake will be hit by another.
"We are afraid to go back to our apartment. There are cracks all over and we are afraid that we will have the same destiny as people in Thumane." — Bukuri Morina. Durres, Albania.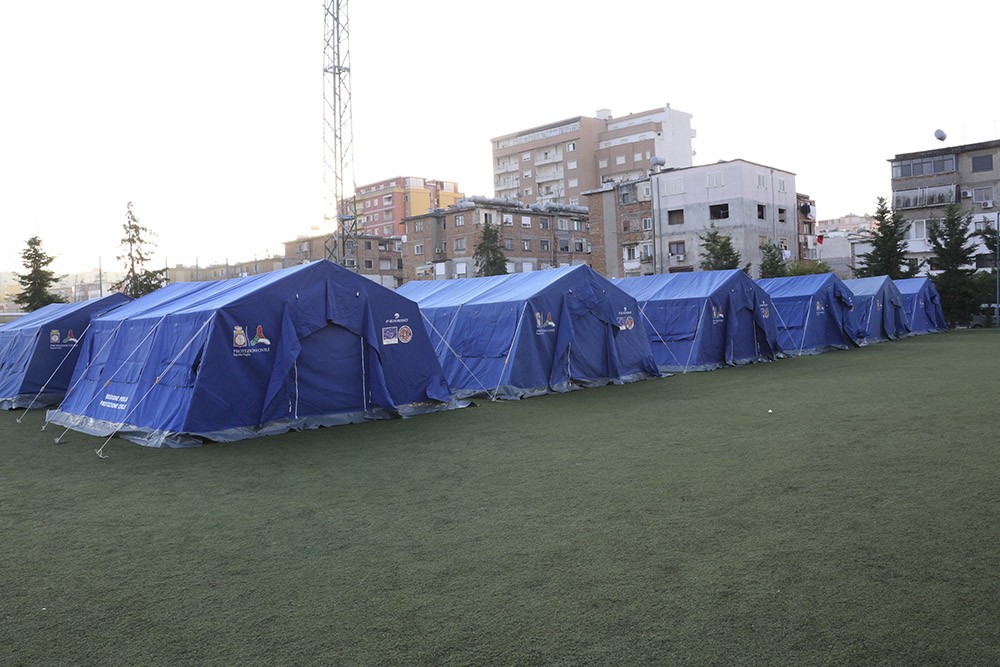 Durres, Albania. November 27, 2019. Tent reception area for survivors set up in the Durazzo sports field. (Photo: Dipartimento Protezione Civile)
International aid and help has been pouring into the beleaguered nation since news of the massive quake broke. The European Union has most recently pledged $16.6 million in relief funding.
"I have great respect for the Albanian people who've remained calm despite the circumstances. I want them to know that the EU is at their side with compassion AND with action." — Ursula von der Leyen, European Commission President
Ursula von der Leyen, the new European Commission President, also announced that a donor's conference would be held in support of the Albanian people and that 200 aid workers would be sent to help with reconstruction efforts.
In the Albanian cities hardest hit by the quake, rescue teams have used drones, dogs and heavy equipment to locate and pry survivors from the rubble.
Rescue workers from Turkey, France, Italy, Greece, Serbia, the Balkans and many more neighboring countries, have worked tirelessly alongside the Albanian Red Cross to help locals cope with the tragic and catastrophic losses.
"We too have been through this. And we are standing by the Albanian people and its government." — Nikos Dendias, Greek foreign minister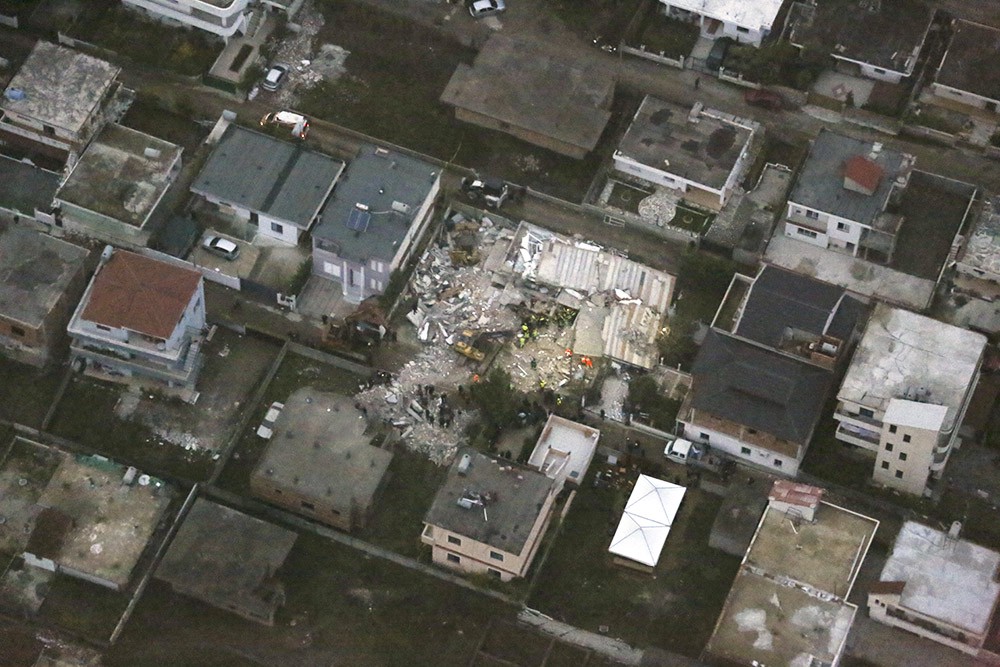 The Pope has also donated to relief efforts and offered prayers for the first European country he chose to visit after assuming his duties as Pope.
"I would like to send a greeting and my closeness to the dear Albanian people, who have suffered so much in these days. I am close to the victims, I pray for the dead, for the wounded, for the families. May the Lord bless this people whom I love so much." — Pope Francis, from St. Peter's Square
One of the topics discussed at the NATO meeting of foreign leaders held over the weekend was the earthquake in Albania. For his part, the Albanian Prime Minister seems confident that more countries will soon render aid and aid packages.
German Chancellor Angela Merkel publicly announced Germany's support of Albanian reconstruction on Sunday.
With rescue efforts at an end the country turns now towards rebuilding its future. The Albanian people have been through much over the last century, including a communist take-over of the government, the subsequent outlawing of all religion, the state confiscation of property held by religious institutions and people, and the torture and murder of its holy men.
Albania will survive this, too.
The Albanian people are indomitable and will not let this devastating loss prevent them from forging ahead into a future that, in spite of this terrible natural disaster, continues to brighten economically and socially.
(contributing writer, Brooke Bell)