Trump won't be removed from office, but Biden may have been effectively torpedoed as the Democratic frontrunner.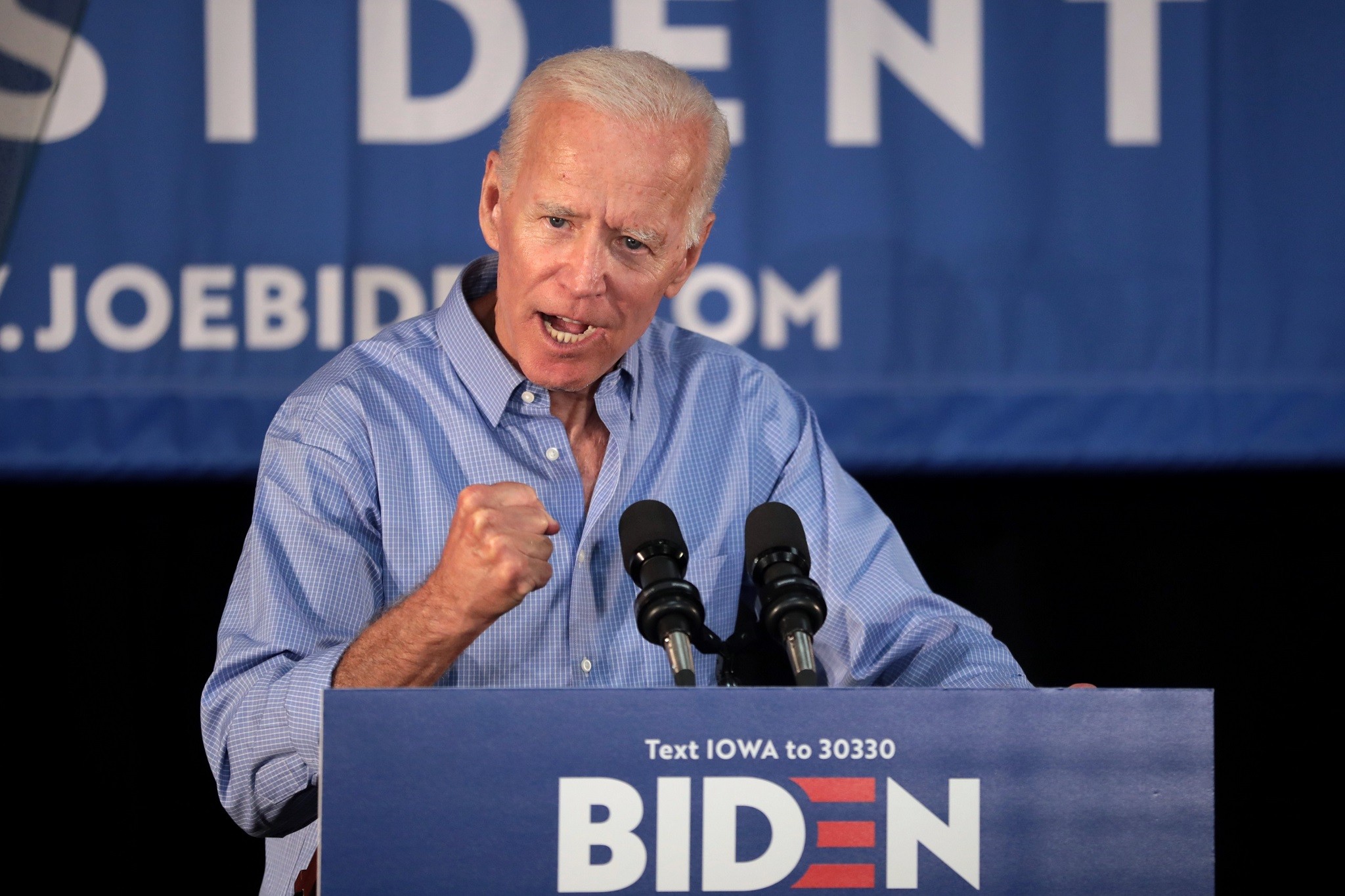 Former Vice President of the United States Joe Biden speaking with supporters at a community event at the Best Western Regency Inn in Marshalltown, Iowa. (photo: Gage Skidmore)
Former Vice President Joe Biden talks a good game. He is certainly a better politician than current U.S. President Donald Trump. Biden is more practiced, more composed, better comported.
And why wouldn't he be?
Biden has had a long and distinguished career in Washington, he rose readily in the ranks of his fellows and is well respected. Even after unsuccessful bids for the Democratic nomination, Biden managed to be named Vice President by the first African-American President in U.S. history.
Not too shabby.
And as Biden himself has pointed out, he has dealt successfully with the likes of segregationist Democrats and worse apples than Donald Trump in his tenure on Capitol Hill.
Biden would have made an an excellent nominee in today's fraught political climate- just the right mix of crusader and statesman. Biden would have made an excellent contrast to President Donald Trump, whose grandstanding and bombastic style would have completely eclipsed Biden's tendency to gaffe.
Biden would have made an excellent replacement to Donald Trump, as well; a return to normalcy. Biden is someone who would have allowed liberal Democrats to go back to their lives and careers and families without the specter of the Trump Presidency looming over them.
Biden would have helped Democrats get back to work, back to basics, back to the business of good government.
The former Vice President has just enough of the moderate still left in him, and enough of the progressive fighter, to make him a still-formidable political opponent. Woe to anyone who makes the grave mistake of underestimating Joe Biden.
Including those Democratic insiders who have been grousing behind closed doors in the past months, and some open ones, that Biden is too old, too laden with too lengthy a voting record (as this is now considered a negative) and too prone to misspeak to make him a credible threat to Trump.
They were wrong; Biden was the single biggest threat to the Trump presidency since Secretary of State Hillary Clinton. And we all known how close she came to beating him.
Biden doesn't always speak perfectly, but he is always sharp mentally. And hey, being perfectly well-spoken hardly matters as much as it used to. Not in today's world of full-contact politics.
Biden may very well have "beaten Trump like a drum," as he threatened to do during a rousing recent campaign stump. He certainly had the best chance at it.
Now we'll may never know.
What was Trump's plan when he called the Ukrainian President to discuss, among other things, an old scandal involving his main political rival, Joe Biden?
Did Trump really expect to receive a smoking gun that would remove Joe Biden from his path to reelection?
Or did Trump only hope to sling enough mud at the former Vice President to reshape the field of Democratic hopefuls into one more likely to see a re-election of President Donald Trump?
For all the posturing of House Democrats, voters could be forgiven for thinking that Trump might not get the chance to run for re-election in 2020. But anyone wondering if Democrats really have managed to take Trump out with this latest accusation of wrong-doing need look no further than the stock market and Wall Street.
Follow the money: And after the Ukrainian bombshell broke last week the money did exactly…nothing.
A country facing articles of impeachment against a sitting President experiences turbulence in the financial markets. The absence of such turbulence signals that the odds-makers on Wall Street are putting better odds on a Trump trade breakthrough with China than impeachment.
Wall Street doesn't like losing money. They don't make risky bets. And they didn't get control of the majority of the world's wealth by not reading the writing on the wall.
Bottom line: Trump is extremely unlikely to be removed from office.
So who was the real target of this attack? And if it was indeed a coordinated attack on the Democratic frontrunner, Joe Biden, who was behind it?
There is a possibility Trump himself was the architect of the current upheavals in Washington.
As far as who benefits the most from Biden being removed from the election equation, that answer depends on how you think Sen. Elizabeth Warren will fare in the general election against Trump.
For those liberal Democrats who are excited about the party's veer leftward, the news about a weakened Biden and a gaining Warren is great. For more pragmatic Democrats interested in keeping control over the House of Representatives and gaining Democratic seats across the country, including the one in the Oval Office, the news is grim.
The fix is in: Big time Democratic donors don't want anything to do with the candidacy or presidency of Elizabeth Warren. Some have even threatened to support Trump if Warren becomes the nominee.
Mark Zuckerberg of Facebook remarked in a leaked audio of a recent board meeting, that if Warren was elected Facebook would have to sue the Federal government just to preserve itself.
The problems with a rising Elizabeth Warren don't end with corporate interests and big tech, either.
Moderates, independents and other undecided voters are deeply worried about far-left candidates like Warren. Voters are rightly concerned that a laundry list of social justice incentives, green new deal policies and an attack on U.S. corporate interests will result in lost jobs, lost healthcare, a weakened economy, a weakened dollar, and worse.
When Trump survives this latest dustup against House Democrats, and he will, what will become of the Biden campaign when questions about Hunter Biden's $50,000 a month job with a Ukrainian energy firm don't just go away?
The accusations against Trump, which pale in comparison to the two-year, twenty million dollar, 14 Democratic attorney Mueller investigation he just endured unscathed, will amount to nothing, and will barely even move the needle on Trump's approval rating.
But for Joe Biden, the race may be over.
If it wasn't Trump who engineered this turn of misfortune for the Biden campaign; if it was to help shape the Democratic field in Warren's favor, Democrats will deeply regret it.
Trump will win in 2020 and Democrats will be wishing they had nominated a moderate like Joe Biden.
(contributing writer, Brooke Bell)