Now socialism becomes death, the destroyer of worlds.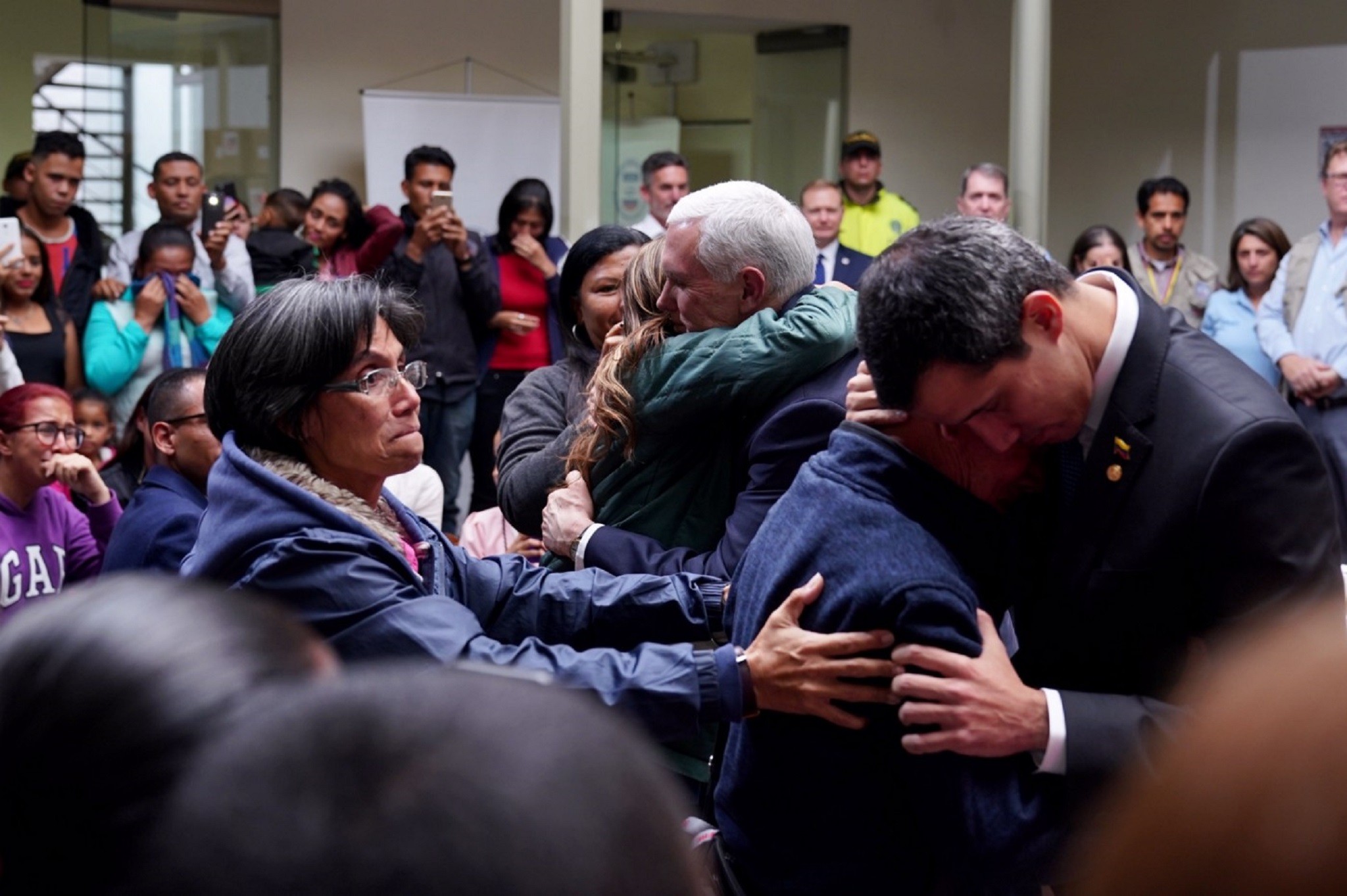 A heartbreaking scene: Vice President Mike Pence and Venezuelan President Juan Guaido meet with Venezuelans forced to flee their homes. Feb. 25, 2019, in Bogota, Colombia. (Official White House Photo by D. Myles Cullen)
Darkest Before Dawn
"We are in the middle of a catastrophe that is not the result of a hurricane, that is not the result of a tsunami. It's the product of the inefficiency, the incapability, the corruption of a regime that doesn't care about the lives of Venezuelans." — Venezuelan President Juan Guaido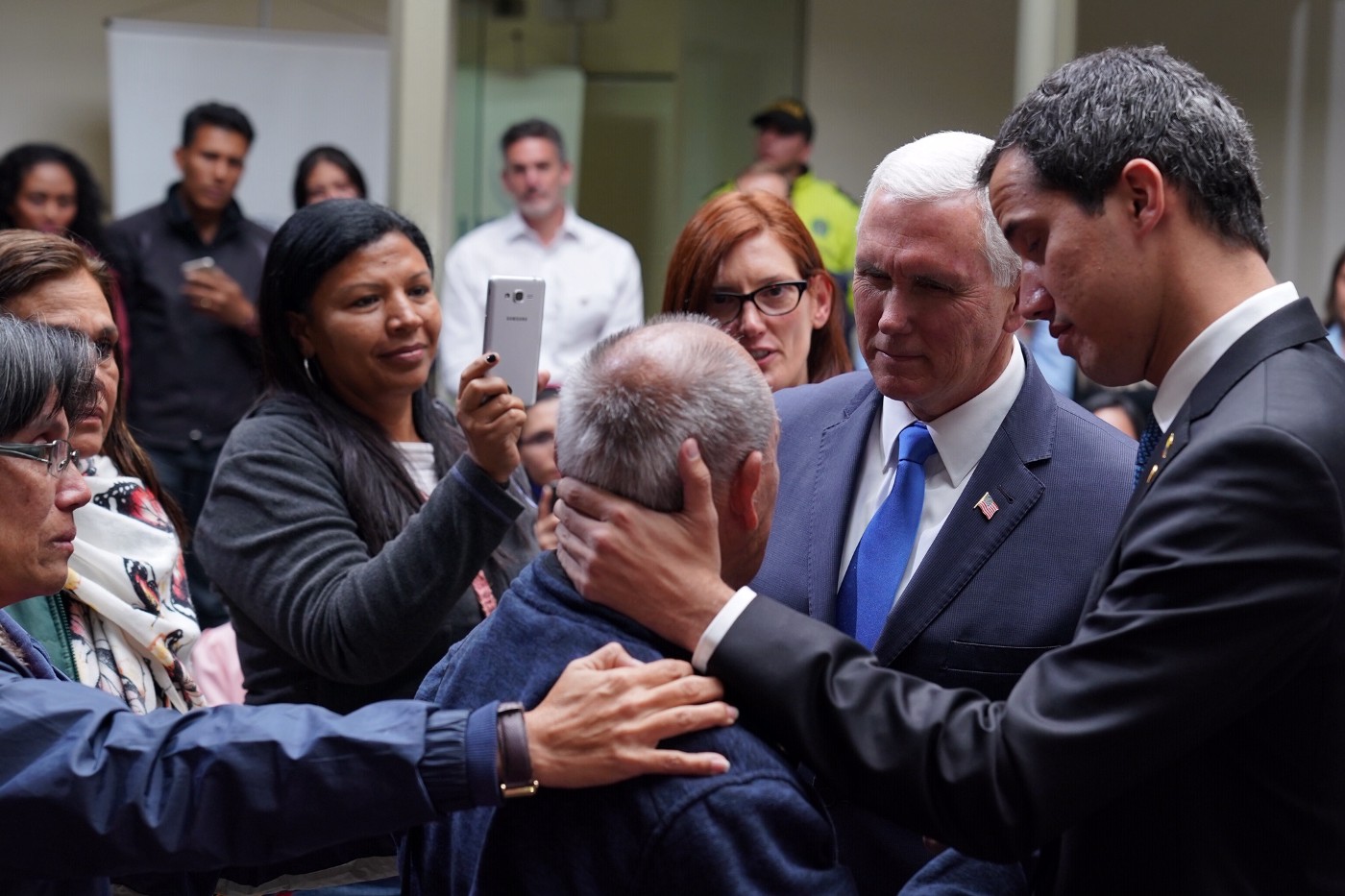 As widespread electricity blackouts plague the country, Venezuelan citizens are taking to the streets en masse to protest the Maduro regime.
People under treatment in Venezuelan hospitals languish as facilities already encumbered by inadequate food and water suffer during the blackouts. State-run hospitals typically rely on backup generators in the event of occasional power loss, but doctors and hospital staff report to Reuters these are either inoperable or out of fuel.
Today, in state-run Venezuelan hospitals, doctors are relying on prayer.
Out of Fuel… in Venezuela
Experts report there is no end to the blackouts in sight.
"Venezuela has truly collapsed already. There is no service in the hospitals. These were the best hospitals in the country. If we are in the capital what is it like kilometers inside Venezuela where there hasn't been or there has been very little gasoline with periodic cuts in electricity, without basic goods, with inefficient public transportation? You can say with all responsibility that Venezuela has already collapsed." — opposition leader and de-facto Venezuelan President Juan Guido, in an interview with CNN March 10, 2019
Venezuelans are also slowly starving to death. The average Venezuelan citizen lost 24 pounds last year. In 2019, 87% of the Venezuelan population is officially poor.
"We can't hold it in any more. We are being crushed. We are beggars now, always begging. This isn't political, it's survival. People are killing each other for a kilo of rice, or flour, or water." — Ronny, a resident of Caracas, Venezuela in an interview with CNN 1/28/2019
The zoo animals have all been eaten, the pet animals have been eaten; wildlife, too. Everything from rotting meat to shoe leather is long gone. A basket of bread and fruit, if you can find one, costs $200 U.S. as Venezuelan currency is practically worthless.
Another year like that and people won't be starving anymore; they'll be dead.
"Every Day is Worse"
"We spent nearly a week inside the country attending protests, talking to soldiers, meeting rich and poor. Their live crisis is not about the fate of socialism in South America, or Cold War-era geopolitics, they told us. It is a very simple emergency of hunger." — CNN Report, 1/28/2019
How much longer can embattled dictator Nicolaus Maduro hold on? His mismanagement of the country, combined with rampant fraud and corruption verging on the genocidal, has extracted a terrible price from the citizens of a once-wealthy nation still rich in natural resources.
After multiple attempts to ship vast amounts of Venezuelan gold from public coffers to countries friendly to his regime were thwarted by international authorities, and some which weren't, Maduro and the remnants of his government have been busily casting the U.S. as a combination of scapegoat and boogeyman.
Claiming that neither the incompetence of his government, nor the mass exodus of educated Venezuelans who have fled the country, are responsible for the blackouts, Maduro has instead blamed U.S. sabotage, accusing it carrying out an "international cyberattack" on the national power grid.
Maduro also blames employees of Corpoelec, Venezuela's national electric company, and has vowed to "clean" the company of "traitors" and "infiltrators."
A claim interim-President Guaido denies, pointing to the Venezuelan electric grid's aging analogue of disparate parts not connected to any network and calling the claim "Hollywoodesque,". The Lima Group, a primarily Latin American bloc, agrees.
Guaidó also blamed the blackouts on the exodus of millions of Venezuelans over the last few years, suggesting there might not be enough engineers to restore power.
"They don't have the manpower. I doubt they have the capability to completely restore power," — Venezuelan President Juan Guaido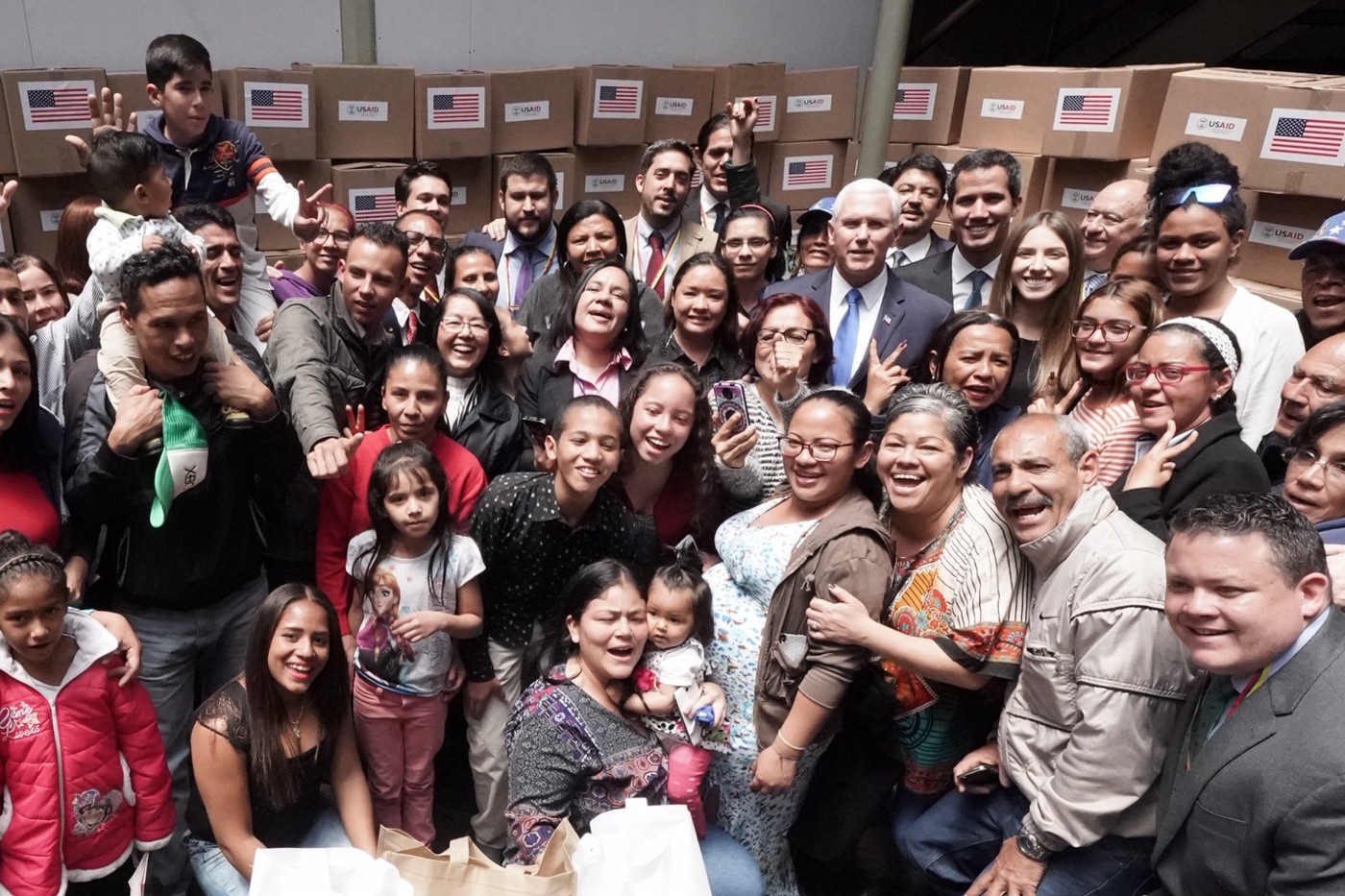 Venezuelans Want Their Country Back
In a country still rich in natural resources, a place where kids surviving on rats once played video games, socialism is extracting it's usual toll of death, economic destruction and social mayhem.
"Every day is worse. We have the worst services in the world: no light, no water, sometimes no gas." — Edward Cazano, a 20-year-old Venezuelan who lives in one of the poorer Caracas neighborhoods called Pinto Salinas.
Venezuelans aren't going quietly: A new government seems well in order, and citizens are demanding it. Widespread popular support for opposition leader Juan Guaido has been steadily growing and mass, ongoing protests plague the Maduro camp.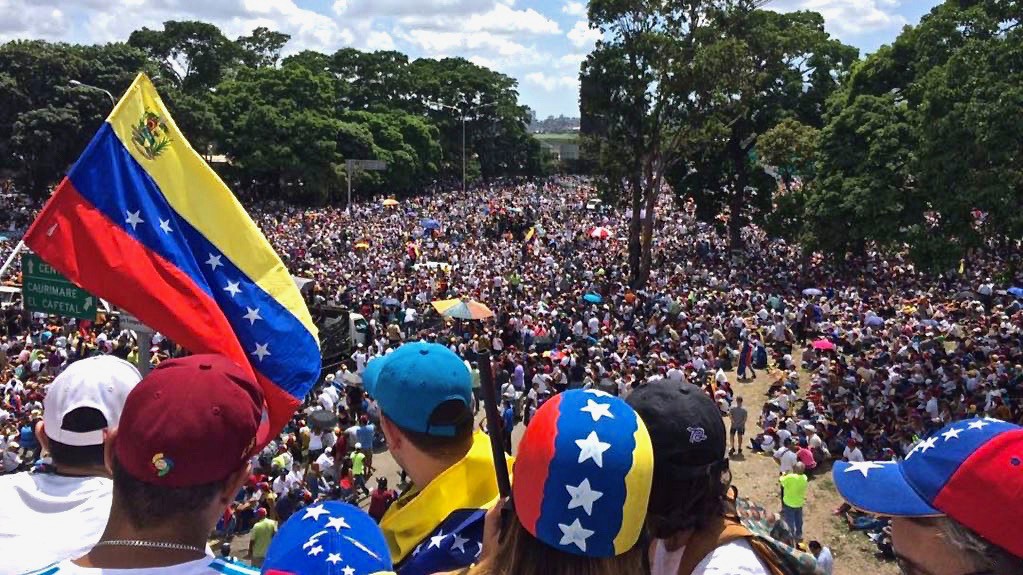 Once Maduro, who still controls the military, is removed from power. President Juan Guaido- already recognized by 50 countries as Venezuelan leader- is anxious to open the borders of Venezuela and welcome the foreign humanitarian aid other countries are anxious to give.
In February, Maduro used the military to block more than 250 tons of aid and supplies brought over land via Colombia and Brazil.
Guaido continues to rally lawmakers even as Venezuela remains in darkness. He has pledged to oust Maduro, even if that means using a clause in the Venezuelan constitution to authorize foreign intervention.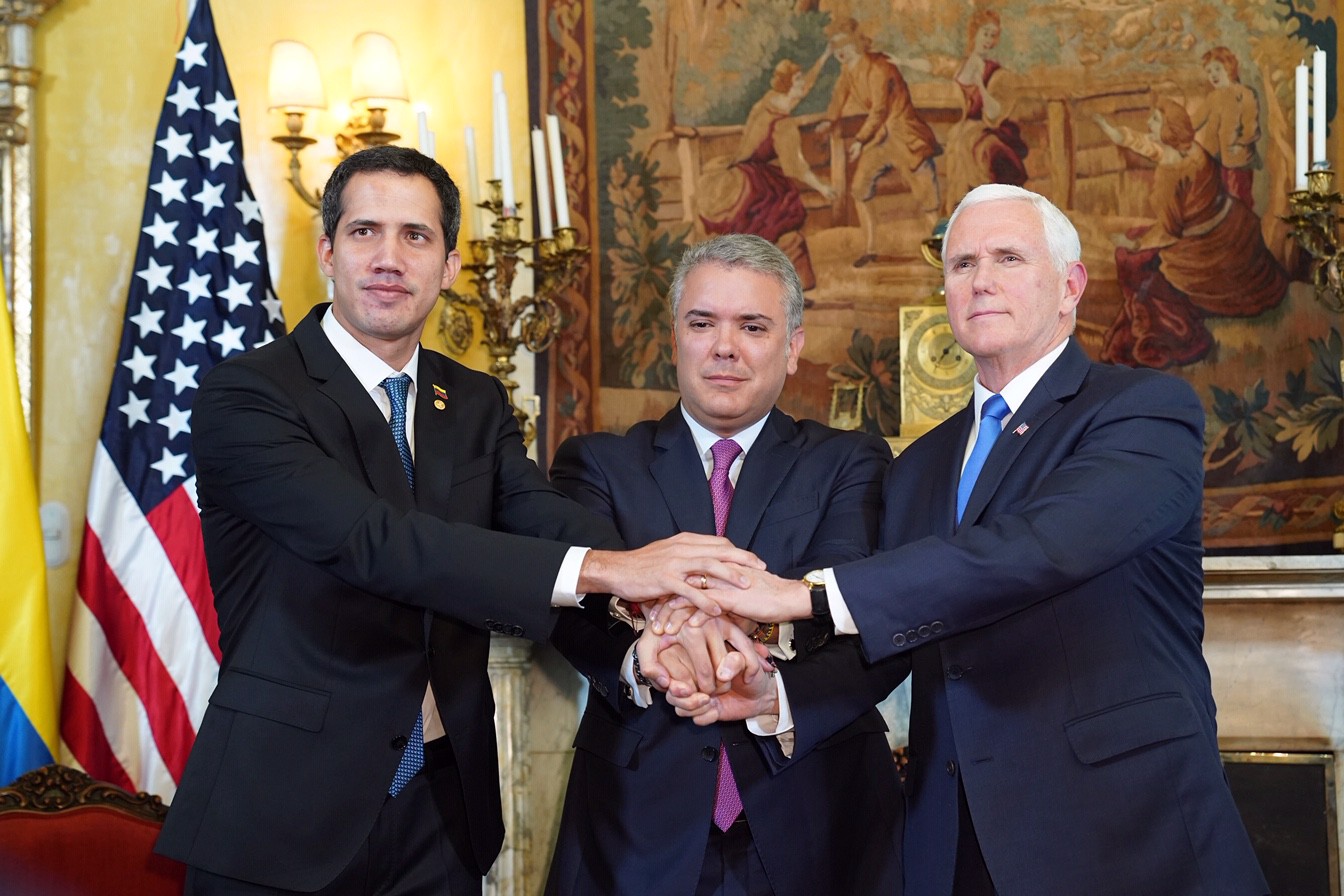 Venezuelans may be in darkness today, but they are determined to free themselves from the economic privations of Maduro's socialist regime. The people have found their champion in President Juan Guaido.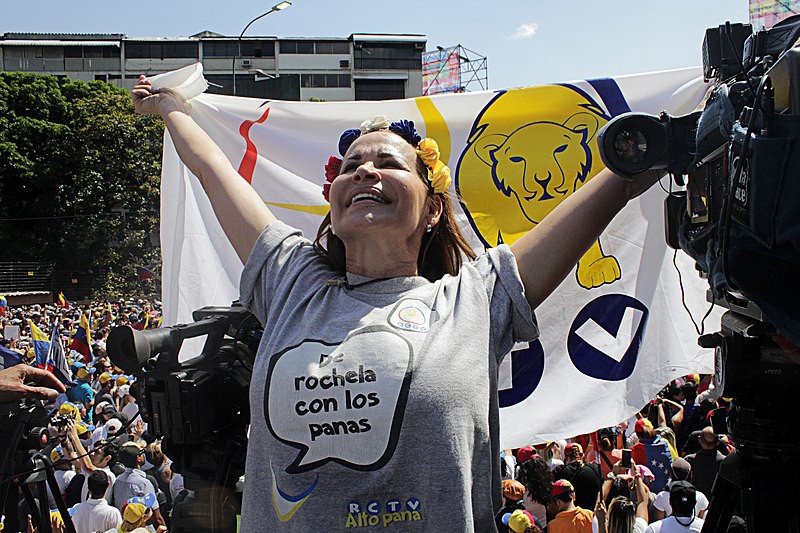 Godspeed, Venezuela.
(contributing writer, Brooke Bell)