Trump pardoned rapper Lil Wayne and commuted the sentence of Detroit's former-Mayor Kwame Kilpatrick, but NSA leaker Edward Snowden and Wikileaks founder Julian Assange failed to make the list.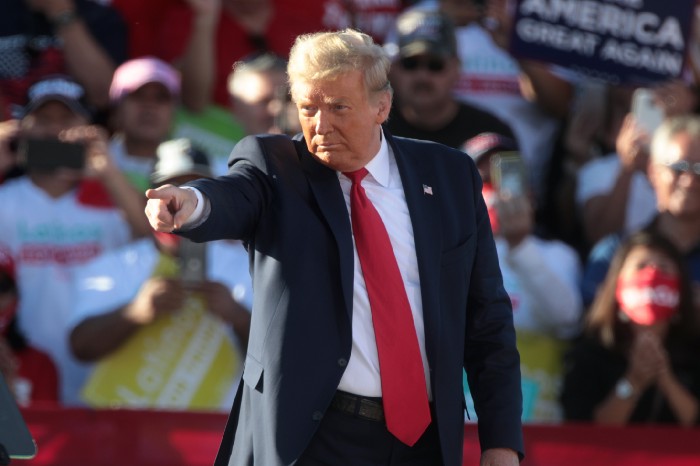 President Donald Trump granted pardons to 73 individuals and commuted the sentences of 70 people on his last day in office Wednesday. Many of the pardons and commutations on his list were sought by criminal justice reform advocates, and included people serving long sentences for low-level offenses.
Trump pardoned Dwayne Michael Carter Jr., better known as rapper Lil Wayne, and Bill K. Kapri, also known as rapper Kodak Black.
Carter "pled guilty to possession of a firearm and ammunition by a convicted felon, owing to a conviction over 10 years ago," the White House said. Deion Sanders, who wrote in support of this pardon, calls Mr. Wayne "a provider for his family, a friend to many, a man of faith, a natural giver to the less fortunate, a waymaker, [and] a game changer."
Prosecutors said the gold-plated, .45-caliber handgun was loaded and in Carter's bag on a private flight when authorities found it. Carter was arrested in Dec 2019 as he arrived on a flight from California at the Opa Locka Executive Airport. In the past, the rapper has expressed his support for Trump and recently met with him to discuss criminal justice issues. Oct. 29, Carter shared a picture after his meeting with Trump to discuss the administration's "Platinum Plan."
"Just had a great meeting with @realdonaldtrump @potus besides what he's done so far with criminal reform, the platinum plan is going to give the community real ownership," Carter's tweet read. "He listened to what we had to say today and assured he will and can get it done."
Likewise, rapper Bill Kapri had his 46-month sentence commuted. Kapri was found guilty of making false statements on a federal document while trying to buy a firearm.
The White House said Kapri is a "community leader" who "has committed to supporting a variety of charitable efforts, such as providing educational resources to students and families of fallen law enforcement officers and the underprivileged."
Bradford Cohen, who worked with the rappers on their pardons, told Fox News he believes "President Trump and his administration have been tireless advocates on behalf of the African-American community."
"These pardons are a perfect example of this administration following up on its reforms and commitments," he continued. "I thank President Trump for his advocacy towards justice reform. I am glad for both my clients."
Former Democratic Detroit Mayor Kwame Kilpatrick will also be granted a commutation after his conviction in 2013. "Kilpatrick has served approximately 7 years in prison for his role in a racketeering and bribery scheme while he held public office," the White House said. He received his commutation from Trump 16 years before Kilpatrick was scheduled to be released from prison.
"This commutation is strongly supported by prominent members of the Detroit community," the White House statement read. "…Mr. Kilpatrick has served approximately 7 years in prison for his role in a racketeering and bribery scheme while he held public office. During his incarceration, Mr. Kilpatrick has taught public speaking classes and has led Bible Study groups with his fellow inmates."
Former Deputy National Finance Chair of the Republican National Committee Elliot Broidy was granted a full pardon. Broidy pled guilty last year on charges of conspiring to serve as an unregistered agent of a foreign entity.
President Trump also granted a full pardon to Stephen Bannon, who has pled not guilty to charges he defrauded donors in a "We Build the Wall" online fundraising campaign. Bannon is a popular figure in the conservative party.
Notably missing from Trump's list of pardons were NSA whistleblower Edward Snowden, Wikileaks founder Julian Assange and popular television figure Joe Exotic, who many speculated would be on the president's final pardon list.
(Contributing journalist, Allegra Nokaj) (Contributing writer, Brooke Bell)