HHS has announced expanded Medicare/Medicaid services. HUD has suspended evictions and foreclosures through April.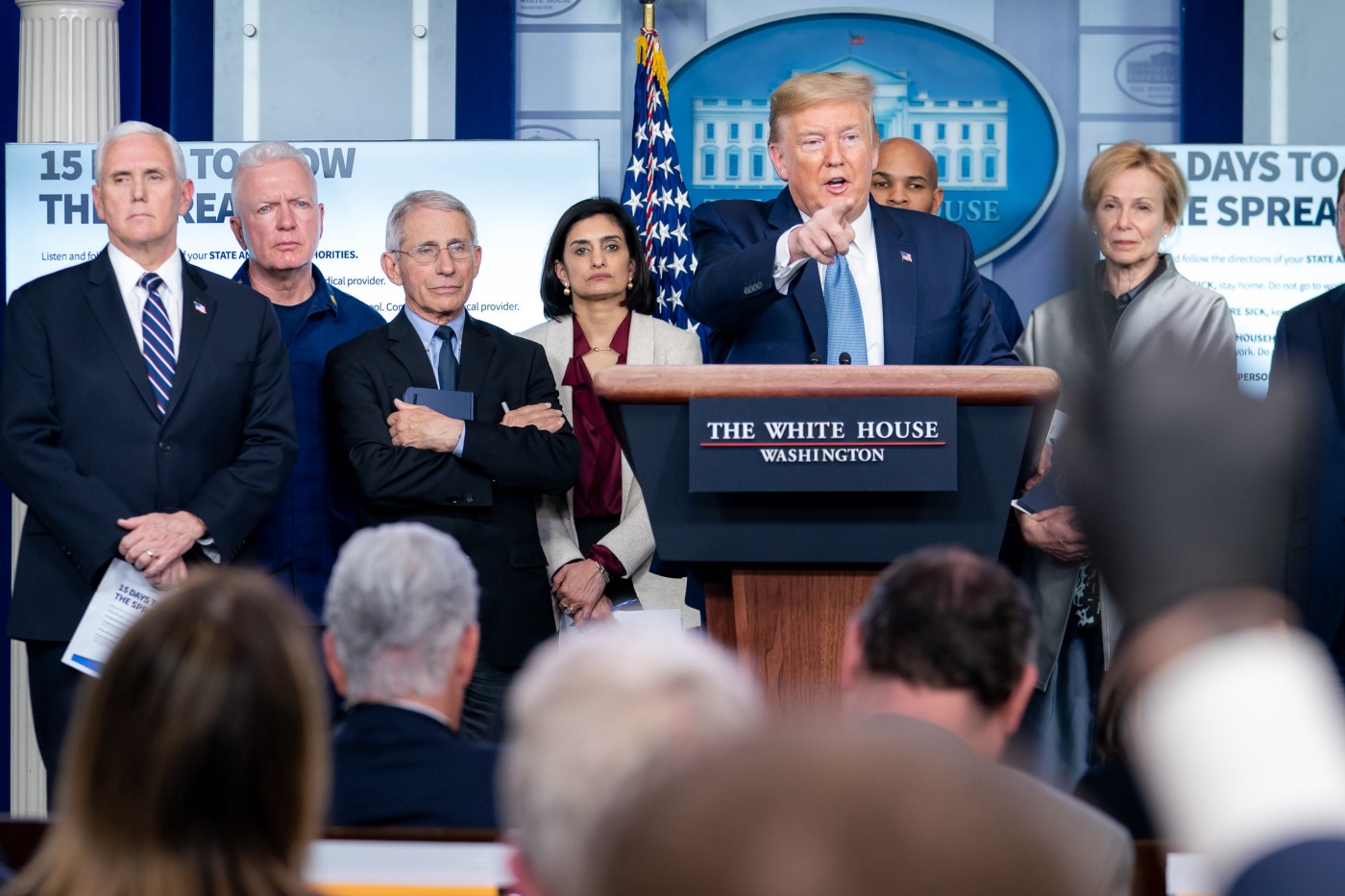 President Donald J. Trump, joined by Vice President Mike Pence and members of the White House Coronavirus Task Force, points to a reporter for a question during a coronavirus update briefing Monday, March 16, 2020, in the James S. Brady Press Briefing Room of the White House. (Official White House Photo by Tia Dufour)
Breaking New Ground
In humanity's age-old fight against infectious diseases, the world-wide response to the COVID-19 outbreak is undoubtably unprecedented.
Experts, scientists, government officials; the public and private sector, individuals and companies, the collective knowledge of nations around the world: All have been brought to bear on this current challenge.
The level of cooperation, the scientific advancements over the last century, the availability of good data, the powerful new ways to analyze that data; it is a historical perfect storm of capability.
In the U.S., reaction to the coronavirus was sluggish at first; but with each successive day in the past week has come new closures, more strident measures; more fear. And a probably a certain amount of fear-mongering.
When President Donald Trump announced the ban on travelers from China, it was a surprise; no other U.S. administration had ever dared take such a step. Not in response to H1N1/Swine Flu, not even in response to Ebola- which has symptoms too terrifying to mention, and the deadliest strain of which has a 90% mortality rate.
When the travel restrictions were expanded to include travelers from the European Union, it was a shock. Many wondered, on the right and the left, if the Trump administration wasn't overreacting.
But when the E.U. was designated the new epicenter of the coronavirus- and as the death-toll in Italy climbed ever higher- the move to restrict travel seemed prescient, even prudent. A number of other countries, including Germany and Canada have since followed suit.
As a result of these and other measures, the U.S. is facing, as yet, about 100 deaths. While any deaths are tragic and terrible, in a population of well over 330 million, 100 deaths is a very small percentage.
We will likely never know how many people were or are infected with the coronavirus; many people, we are told by experts, experience only mild symptoms and never even know they are sick, though they can still transmit the disease to other people.
But we do know with reasonable certainty how many Americans have actually died; and that number hasn't gone up exponentially- as yet. So far, the U.S. has not experienced an explosion of the number of deaths from 37 to 500 overnight.
There are certain worst-case scenario projections that, using Italy as a model, predict that the U.S. is only a week out from a spike in deaths similar to that experienced in Italy.
However, experts like White House COVID-19 expert Dr. Anthony Fauci, don't think that scenario is very likely, though they are always preparing for the worst. While much depends on communities cooperating in social-distancing, much has already been done at the highest levels to subvert and mitigate the spread of the virus.
Italy is also not a good model; it isn't even a common one. Italy is an outlier; other countries have fared far better than Italy in dealing with the virus and limiting spread. Italy has a closer trade relationship with China than most countries. 300,000 Chinese workers in Italy returned to China for the holiday season, when they returned to Italy, they brought the virus with them.
The U.S. acting early to restrict travel from China likely did much to curtail early spread of COVID-19. The Trump administration has been taking other measures to help ease the public through this challenging time.
Here are four such measures that have been announced this week:
Expanded Medicare/Medicaid Coverage
The Centers for Medicare and Medicaid Services announced this week that it would implement a number of policy changes in response to COVID-19.
Besides waiving some requirements for emergency coverage, CMS will also be relaxing restrictions around hospital stays, inpatient and acute care. Replacement for medical supplies and equipment has also been made easier under the new policy guidelines, as has receiving care out-of-state.
There will also be new efforts to support patients in long-term care facilities and people who are cared for by home health agencies and medical care contractors.
Expanded Telehealth Clinics
People in metropolitan areas, like Washington D.C. and New York, may already be familiar with tele-heath apps that allow doctors, nurse practitioners and other health professionals to interact with patients via face-to-face phone apps like FaceTime and Google Duo.
This is especially good as arresting the spread of the virus is exactly what U.S. health agencies are strenuously trying to do, and avoiding face-to-face contact is one of the most-often recommended measures.
Small-town doctors and hospitals are particularly concerned about limited supplies and testing capabilities. Mere curiosity about whether your mild cold symptoms are coronavirus isn't adequate enough reason to go to the emergency room.
Now, people who are worried they might be sick, but don't necessarily need to go to the Emergency Room, can use a tele-health consultation.
Expanded Testing
The FDA has announced this week that hospitals and health centers will have more access to testing supplies, protective gear and other essential medical supplies.
There is also a clamoring in the medical community and beyond to base more medical industrial supply-lines in the U.S. Over-dependence on China for essential, life-saving medical supplies has not helped the U.S. navigate this test of its health care system.
Economic Relief
In addition to measures to help mitigate this threat to public health, the Trump administration has been working on a suite of financial bail-outs for U.S. businesses and working people who have been adversely affected by the social-distancing measures suggested by the government.
President Trump announced today that the Department of Housing and Urban Development will suspend all evictions and foreclosures.
"The Department of Housing and Urban Development is providing immediate relief to renters and homeowners by suspending all foreclosures and evictions until the end of April." — President Donald Trump. March 18, 2020.
(contributing writer, Brooke Bell)