Two words: Boaty McBoatface.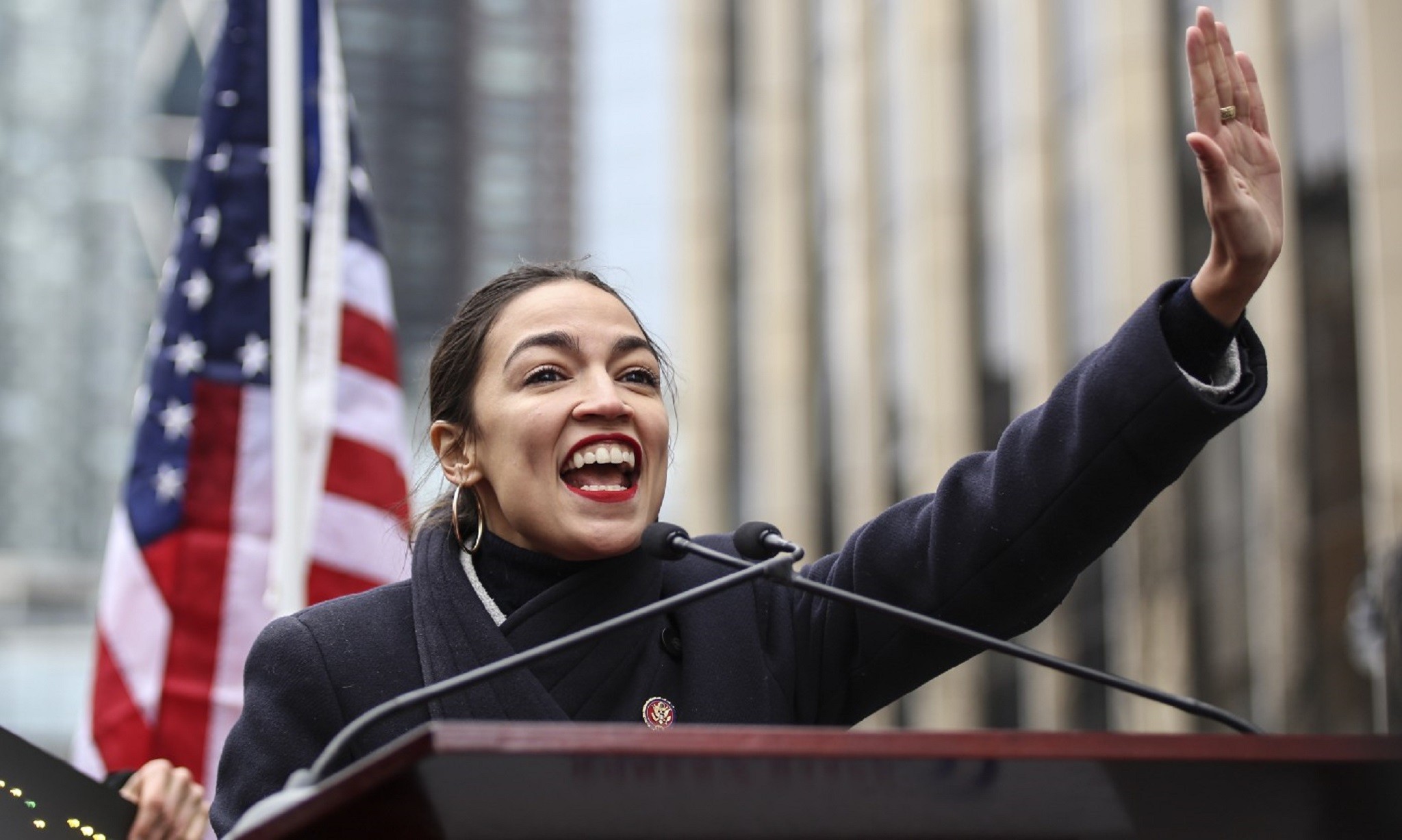 Women's March on NYC 2019. Rep. Alexandria Ocasio-Cortez (D-N.Y.) (photo: Dimitri Rodriguez)
Who is Boaty McBoatface, you ask? You might also ask why pop-star Pit Bull once played a tiny town in Alaska. Or why Greenpeace named a whale Mister Splashy Pants.
The answer to those questions, and the reason the new progressive strong-arm of the Democratic Party is seriously misreading the Democratic voting base, and overestimating support for extremely far left policies, is the same:
The cutting-edge scientific polar research vessel, Boaty McBoatface, was ignominiously christened in 2016 after an online contest to name the underwater submersible went, let's just say, awry. The naming contest was hijacked by a group that organized online into a kind of mob, and completely skewed the results of what essentially amounted to a poll.
"What should we name this vessel?" was the poll question. An actual, genuine sample of the city's population, or even the nation's, would have likely yielded one of the many other perfectly acceptable and reasonable names.
The vessel's owner, Britain's Natural Environment Research Council wasn't exactly thrilled; scientists and scientific journals were outraged.
In a perfect polling world, Boaty McBoatface would now be called the Shackleton, after the world-famous polar explorer, or the Endeavor.
Ah, but polls aren't perfect, are they?
Polls are by definition flawed from the outset. They reflect a sample of people willing to be polled, not a sample of everyone. People with strong opinions on the subject, one way or another, are generally more willing to answer in a poll.
Most people, however, simply don't care enough to participate. People have lives. Some people have lives that include three jobs, school, a family and little time to indulge in rigging online voting contests or twitter flame wars.
The number of these online contests that are hijacked by a large online group are myriad.
In 2007, Greenpeace sponsored an online naming contest for a killer whale. Mister Splashy Pants beat out Kaimana (Hawaiian for "power of the ocean") and Shanti (Sanskrit for "tranquility") with a whopping 78% of the online vote.
The new town dump in Austin, Texas almost became "The Fred Durst Society of the Humanities and Arts", the clear winner in an online naming poll.
When Taylor Swift announced an online contest to select a U.S. school where she would perform a free concert, the Horace Mann School for the Deaf received the most votes.
An online poll for fans to choose a destination for Justin Bieber's "My World" tour ended when "fans" elected to send the singer to North Korea on what was a presumably to be a one-way trip.
Comedian and political commentator Stephen Colbert is a master of manipulating online poll results. He mobilized his massive fan base to hijack a 2009 NASA naming poll for one of the modules of the International Space Station. Though "Colbert" was the clear winner, NASA elected to name the module Tranquility.
Parents foolish or naive enough to solicit total strangers in an opinion poll to name their children have faced everything from "Cthulhu" to "Megatron" to "Streetlamp".
It is not all fun and games, either.
A Mountain Dew online poll to name a new green apple flavor had to be shut down after "Hitler Did Nothing Wrong" won in a landslide.
Who are all these people?
Excellent question! And my point exactly.
No one really knows who they are. Democrats should view people interacting with them over social media and via other online-only methods like message boards keeping this fact well in mind.
For a House Democrat like Alexandria Ocasio-Cortez to assume that everyone she gets all riled up on twitter is her constituent, that is will even be capable of voting for her even if they want to, is a big mistake.
Assuming they are registered voters, and assuming they are of voting age, assuming they even live in the U.S., assuming they are expressing sincere beliefs, assuming they will follow up in the real world with action, assuming they aren't 4Chan trolls; it is wrong to confuse online commentators with U.S. voters.
Sounding off on the internet is one thing; registering and voting are another.
And just because the internet and socials love a sick burn, doesn't mean the rest of the electorate appreciates snark as a job requisite in elected officials.
The Third Way, a leading think tank of Democratic pragmatists, had some strong cautions for Democratic Party members during a meeting in South Carolina this week.
One of the topics discussed frequently was the insidious influence of Twitter on the civil political debate that is crucial for passing bipartisan legislation on Capitol Hill and elsewhere. Two senior officials from the organization, Jim Kessler and Lanae Erickson, gave presentations illustrating the difference between Democratic voters and Twitter users.
Twitter users are on average far more left-leaning than the party's more moderate majority.
"Outside cobalt blue districts and states, we can't afford a strategy aimed mainly at the furthest left Democrats…The danger is that we pursue an approach that runs up the score in blue places, but falls short everywhere else." — Jim Kessler, The Third Way
References to the 2018 "Blue Wave" aside, Democrats in the House hold the majority only by a very slim margin; around 18 seats. Republicans have already identified more than twice that number that may be vulnerable. Many of those districts went for Trump in 2016 by a significant percentage.
The 2020 election will be a referendum on many things. Among them will be the true effect, and efficacy, of far-left progressive politics that may test well on Twitter, but fail everywhere else.
(contributing writer, Brooke Bell)