The Katie Hill scandal isn't about sex: It's about the abuse of power.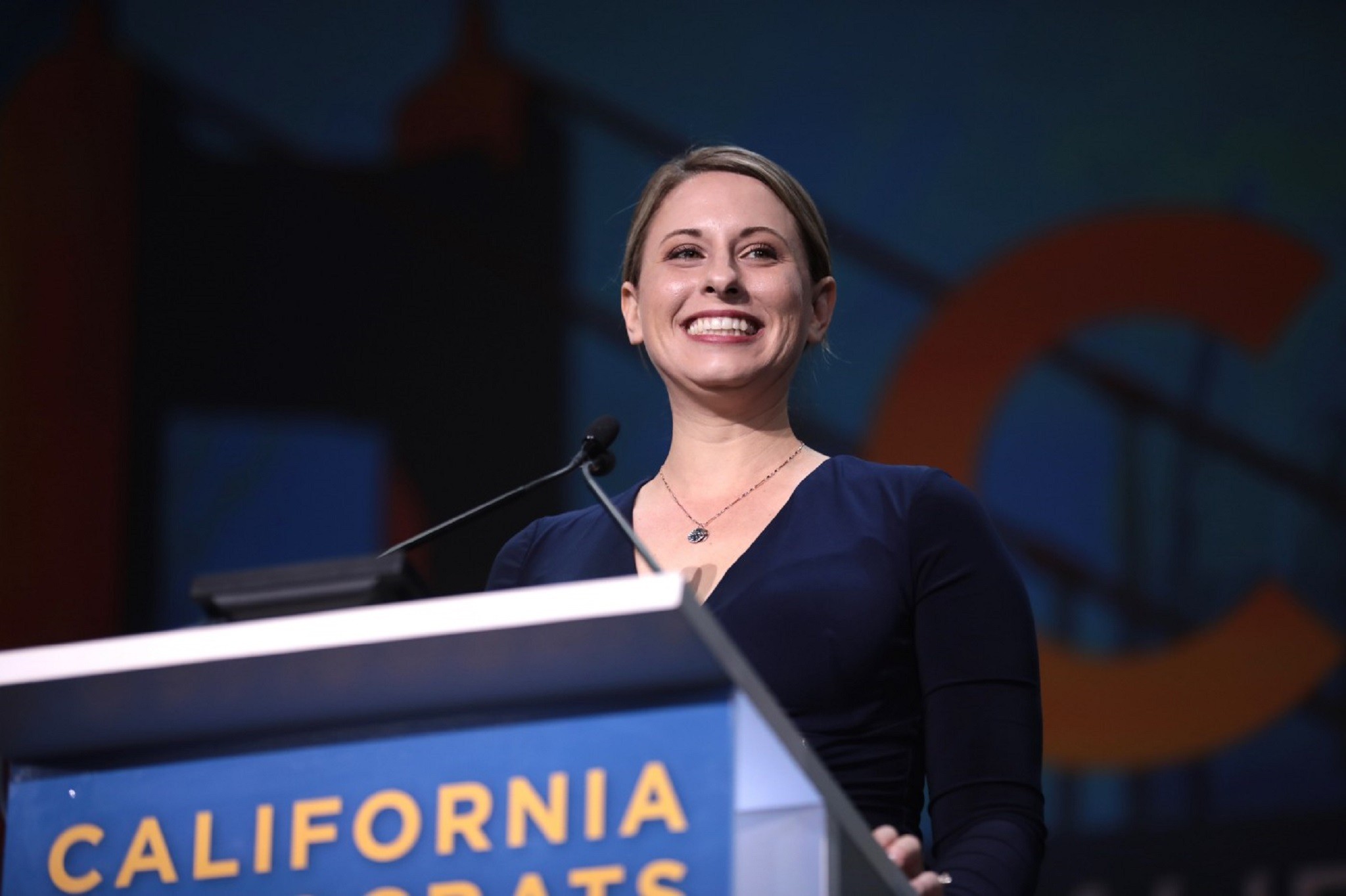 U.S. Congresswoman Katie Hill speaking with attendees at the 2019 California Democratic Party State Convention at the George R. Moscone Convention Center in San Francisco, California. June 2019. (photo: Gage Skidmore)
Rep. Katie Hill (D-CA) had it all.
At the tender age of 31, she was already a congresswoman, an LGTBQ+ equal rights trailblazer, an effective activist, and a budding Democratic leader with a long and promising future ahead of her.
By standing up for Nancy Pelosi's bid for the speaker's gavel in 2018, Hill had won the support and mentorship of the House Speaker herself.
Pelosi, who came to Congress decades ago to fight the AIDS crisis that was then gripping her district of San Francisco, reportedly took the young California Congresswoman under her wing.
With Pelosi's help, and the helping hand of other more-senior Democrats in leadership, Hill landed leadership roles and a plum committee vice chair-ship on the House Committee of Oversight and Reform. Katie Hill was even hand-selected by House Speaker Pelosi to travel with her to an important international conference and attend meetings.
Unfortunately for Katie Hill, she also had a secret.
During the course of her successful mid-term congressional campaign, Hill had engaged one of her campaign staffers in a sexual relationship that involved Hill, the 22-year old staffer, and Hill's then-husband.
That photographic evidence existed of this relationship, and that the photographs were made public in a gross invasion of privacy, is ancillary.
Before getting too caught up in the "revenge porn" angle, consider: The purpose of revenge porn is to humiliate, retaliate, embarrass. If that were the only outcome of these images becoming public, there would be no question.
There is, however, another potential motive for making this information about Katie Hill, with photographic proof, public.
Exposing wrongdoing.
Exposing wrong-doing is by definition an invasion of privacy.
No doubt Hill, and many other wrongdoers, would very much prefer that their misdeeds be kept out of the public eye. Misdeeds are usually secret.
But while the after-effects of #MeToo continue to ripple out and down throughout society, and even back in time, allegations of workplace sexual misconduct have taken on a newly meaningful weight.
In industry after industry, public and private, the fallout continues as past misdeeds catch up at last to their perpetrators.
When the Weinstein case broke, Hill herself Tweeted a list of powerful men felled by allegations ranging from the inappropriate to the outright criminal.
Now Hill herself has fallen onto that list.
Not for engaging in a 'throuple' with her husband and another woman; Hill campaigned as an openly bi-sexual woman, after all. Even allowing said husband to take nude photos and post them to so-called "wife swapping" pornography sites, however ill-advised and salacious, isn't enough to render someone unfit for public office. Not in 2019.
This scandal isn't about sex. Because a problematic sexual relationship between a boss and their subordinate isn't about sex; it's about power.
Consent becomes very muddy when a serious imbalance of power exists. If the leaked text messages concerning Ms. Hill's relationship with her campaign staffer are genuine, it certainly appears Hill used her power, money and position over a subordinate for the purposes of sexual conquest and personal gratification.
The campaign staffer who developed strong feelings for Hill may not have spoken up as a victim yet; that staffer may see the relationship very differently in the fullness of time, as so many victims do.
Indeed, it may have been that campaign staffer herself who leaked the damning photos to conservative news-sites and British tabloids.
Because the bottom line is that a young, idealistic Democrat was enticed into a lurid sexual lifestyle by someone she trusted and admired, someone who mentored her. Someone who photographed her, or allowed her to be photographed, in compromising positions.
Someone who, it must be noted and cannot be overstated, was also paying her bills and upon which she was financially dependent.
The invasion of Katie Hill's privacy does not overshadow the crime committed by Katie Hill so much as it does expose it. Without the leaked story, and the photos to back it up, Hill would likely still be engaged in an inappropriate sexual relationships with her staff members.
Perhaps on to victimizing the next.
The House of Representatives, like any other organization, business, team, group, or club, cannot afford such a tremendous liability post #MeToo. For workplace predators of every sex and sexual persuasion, from the mailroom to the boardroom, #TimesUp.
The House could not afford to cover for Ms. Hill. It's not the crime, as they say; it's the cover up.
Witness the fallout from Ronan Farrow's explosive tell-all book about his efforts to get NBC to publish the Harvey Weinstein story. "Catch and Kill" chronicles the long tradition of accusations of sexual misconduct by powerful men being hidden behind a veil of money, iron-clad non-disclosure agreements, and an army of corporate lawyers.
Now, the public is increasingly turning its eye away from the men who perpetrated the acts and on to the organizations and people who helped cover it all up.
Any organization, business, team, group, or club, that continues to turn a blind eye, orchestrate, ameliorate, or otherwise enable people misusing their power over others for sexual gratification is asking for trouble.
Katie Hill's complete lack of good judgement with regards to engaging in improper sexual relationships with her staff members suggests she would have continued to use her position to dominate others.
The truth was bound to come out. If these leaked photos hadn't brought Hill's egregious behavior to the attention of congressional lawmakers, the next congressional or campaign staffer she engaged with would have exposed her. Or the next one.
Hill's released statements since announcing her resignation have shown she has little to no remorse for her behavior and takes no responsibly whatsoever.
Hill left the House no choice but to act in the best interests of congressional and campaign staffers.
Revenge porn didn't drive Katie Hill from office; her own abuse of power did.
(contributing writer, Brooke Bell)