Is the Information Age and each other.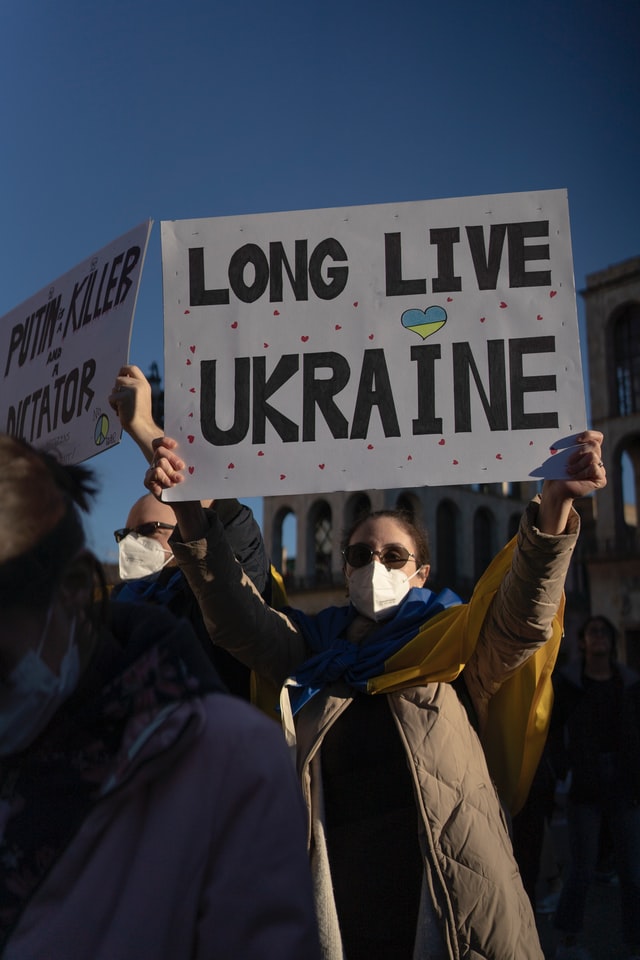 Since Russian President Vladimir Putin began his full-scale military invasion of the Ukraine on February 24, 2022, comparisons to the last major invasion in Europe have seemed inevitable.
It's understandable in a way: Germany's invasion of Poland in September of 1939 led directly to a full-scale world war. World War II wrought unimaginable destruction and suffering across three theaters of conflict. It resulted in the deaths of 70-85 million people and ended with the first use of nuclear weapons in human history.
We hope the first use of nuclear weapons was also the last, but we suddenly fear it might not be so.
Given these fears, we are perhaps right to examine wars past- diplomatic mistakes which might have prevented pre-WWII conflicts from escalating at key points, the fact that global media outlets ignored the humanitarian horrors Hitler was unleashing until they could avoid it no longer.
And others.
Of course, the situations in 1939 and 2022 are as dissimilar as they are similar, and no one is Hitler but Hitler- may there never be another.
Comparing the engineered mass genocide of 6 million Jewish people during the Holocaust to any other crime against humanity is a dishonor and a disservice, not to mention impossible. The Holocaust stands alone with awful reason, may humanity never see its like again.
There is still plenty of room on the evil spectrum for Vladimir Putin and the actions of the Russian army in Ukraine.
This isn't 1939, either: Putin is facing a new and extremely powerful foe.
That foe is the Information Age. Cell phones, social media, the internet, advanced surveillance technology publicly available, a mountain range of data: Can a would-be conqueror like Putin possibly stand against it all?
Could anyone?
Putin couldn't even amass Russian troops along the Ukrainian border in secret prior to his invasion- too many satellites encircle the earth in 2022 and they can read the display on a wristwatch from space. There are millions of people with cell phones reporting live from the conflict zone and uploading their photos and videos to social media.
Putin's propaganda machine has been moving into overdrive during this conflict- and long before- but try as he might, he doesn't have the franchise on information about this war. Russian state-sponsored media outlets are toeing the company line, of course; but millions of citizen journalists, communities, volunteers and humanitarian organizations can't be kept from the truth, or from telling the truth.
First-hand accounts from Ukrainians who have fled and from those who remain are flooding out of the conflict zone in an hourly torrent.
In the Information Age, controlling information about the conflict must be like trying to hold water in one hand.
The best Putin seems to be able to do is flood the airwaves with as much propaganda as he can muster to counterbalance the truth that a humanitarian disaster is being unleashed on the Ukrainian people by Vladimir Putin.
What Putin can't accomplish from Moscow, however, global media outlets and world governments seem intent on doing for him.
"The most important thing to know is that the casualties in Ukraine are being way undercounted," says Ukrainian Olena Shevchenko, who fled her homeland just over a month ago for the United States with her teenage daughter. "Maybe 10 or 20 times that number of people have already died. The humanitarian crisis in the Ukraine cannot be overstated."
Ms. Shevchenko, like many other displaced Ukrainians, is still in regular contact with loved ones in Ukraine. She fears for friends, neighbors, and her two adult children who chose to remain behind.
Before the invasion, Olena Shevchenko's son was an attorney living a very normal life. Today, he serves in the Ukrainian paramilitary service on patrol duty.
Shevchenko's grown daughter spends her days driving around looking for families fleeing the conflict zones with young children or animals- picking them up and transporting them over the border into Poland.
"I will never know what made me decide it was time to go," says Ms. Shevchenko. "There was something in the air that last month, many people- mothers with young children- we were starting to feel very afraid."
"Some people just didn't believe it, they couldn't," she adds. "They thought those of us who wanted to leave were overreacting."
The corporate media complex may think it's doing the world a favor by downplaying the human toll of this conflict, but they couldn't be more wrong. The truth, and an unflinching look at it, may be humanity's last, best hope. Manipulation and propaganda have been tried.
We have a weapon no other generation has boasted: Access to as much truth as we can handle.
To deploy our Information Age-era weapon effectively, to avoid past mistakes, the media must report the on the humanitarian crisis in Ukraine in full; without downplaying it in order to prevent the war from escalating, or for other political reasons, however pure those motives might be.
The world cannot afford to turn its back now- again. If the media won't do its job, it will be up to the rest of us to find and spread true stories and first-hand accounts about exactly what Vladimir Putin is doing to the people of Ukraine.
One of the bitterest lessons of World War II- when the awful truth about Hitler's concentration camps was finally revealed- will echo throughout eternity. It's a question, a regret, a lamentation:
Why didn't we listen?
When German and European Jews tried to warn the world about Adolph Hitler, the Nazi Party and its war crimes- why didn't the world listen?
If only world leaders would have, 11 million innocent people could have been saved and the subsequent deaths of 70–85 million soldiers and civilians might have been prevented.
Fleeing Jewish refugees had no idea about Hitler's ultimate plans for world domination- how could they? But they knew what the Nazi regime was capable of- anything. As indeed it proved in the fullness of time.
It is for reasons of truth and justice, among others, that Jewish religious scholars and community leaders and so many others were intent on preserving the evidence of Hitler's atrocities after World War II.
One important reason for preserving the history of the Holocaust, however painful- besides in memorial to its victims- was to record it for posterity as a safeguard for the future, a sentry to protect the world from future crimes against humanity.
Today, looking at the war in Ukraine and the humanitarian disaster unfolding there, we have a new and powerful weapon against tyranny, against war crimes, perhaps against war itself. With this new weapon at our very fingertips, we can thwart society's tendency to believe the most convenient narrative, as opposed to confronting a harsh reality.
We thought we were done with world wars and nuclear war. Now, we are considerably less sure and no one is taking any comfort whatsoever in that. Nevertheless, as unpalatable facts go, there is a worse one than the possibility of nuclear war: The certainty of nuclear war.
Unless we face the former, we may have to face the latter.
Vladimir Putin threatens to remove all doubt. He has already proven the world is far from done with war in general and nuclear war in particular. He has proven himself capable of ruthlessly suppressing the Ukrainian people.
But there is still a hope of stopping him, however far he intends to take this conflict. Given history, the idea that Putin intends to end his reign of terror after Ukraine is conquered seems overly optimistic, to say the least.
An unflinching look at what is really going on in Ukraine may indeed produce stronger popular support for escalating the war, just as corporate media outlets fear. Whatever the price of truth now, it is likely to be far less costly than the price of regret later.
Unlike previous generations, we won't be able to say, "We didn't know," or, "Why didn't we listen?".
People around the world have a right- and a responsibly- to confront the harsh realities of this war; it is a sacred honor and a duty. We have an opportunity not afforded to previous generations. It is a chance to use the power of information to set humanity free from tyranny.
The price of leaving well-enough alone in Ukraine- of shutting the Ukraine out of the international body politic, then abandoning the nation in its hour of need- may be far more than we are willing to bear.
(contributing writer, Brooke Bell)