News of a DOJ criminal investigation into Rep. Gaetz (R-FL) has leaked to the press. He says it's an extortion plot and starts naming names.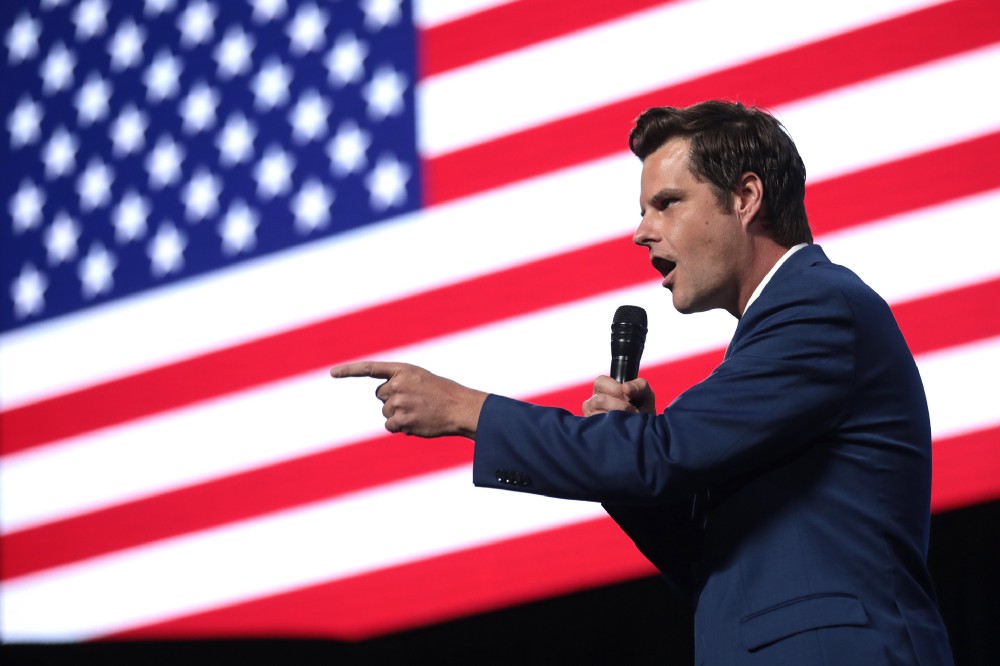 Rep. Matt Gaetz (R-FL) appeared on the popular FOX News program "Tucker Carlson Tonight" on Tuesday night to refute to allegations that he is under criminal investigation over a sexual relationship with a minor.
The segment was in response to a report in The New York Times that said Gaetz, "is being investigated by the Justice Department over whether he had a sexual relationship with a 17-year-old and paid for her to travel with him, according to three people briefed on the matter."
"Investigators are examining whether Mr. Gaetz violated federal sex trafficking laws," the report said.
The Times additionally reported that the investigation was opened during the Trump administration and it is, "part of a broader investigation into a political ally of [Gaetz], a local official in Florida named Joel Greenberg, who was indicted last summer on an array of charges, including sex trafficking of a child and financially supporting people in exchange for sex, at least one of whom was an underage girl."
Mr. Greenberg pleaded not guilty last year and went to jail this month for violating the terms of his bail. His trial is scheduled to go on in June in Orlando, Florida.
In his interview with Tucker Carlson, Rep. Gaetz denied the claims and dismissed them as an "extortion scheme" being conducted by a former DOJ official.
"It is a horrible allegation and it is a lie," Gaetz told Carlson. "The New York Times is running a story that I have traveled with a 17-year-old woman and that is verifiably false. People can look at my travel records and see that that is not the case. What is happening is an extortion of me and my family involving a former department of justice official."
"I know that there was a demand for money in exchange for a commitment that he could make this investigation go away along with his co-conspirators," Gaetz claimed. "They even claimed to have specific connections inside the Biden White House. Now I don't know if that's true, they were promising that Joe Biden would pardon me, obviously I don't need a pardon, I'm not seeking a pardon, I have not done anything improper or wrong, but what I am troubled by is the real motivation for all of this."
Rep. Gaetz also took to Twitter with a statement that he and his family, "have been victims of an organized criminal extortion involving a former DOJ official seeking $25 million while threatening to smear my name."
"We have been cooperating with federal authorities in this matter and my father has even been wearing a wire at the FBI's direction to catch these criminals," Rep. Gaetz wrote. "The planted leak to the FBI tonight was intended to thwart that investigation. No part of the allegations against me are true, and the people pushing these lies are targets…of the ongoing extortion investigation."
"I demand the DOJ immediately release the tapes, made at their direction, which implicate their former colleague in crimes against me based on false allegations," Gaetz added.
Gaetz named the former DOJ official as David McGee, currently an attorney with Beggs & Lane. According to McGee's biography, he served as an assistant for the U.S. Attorney's Office for six years and as the lead attorney for the Justice Department's Organized Crime Task Force for seven years.
McGee told the Daily Beast any claims he or his law firm were involved in extortion are "completely, totally false" and that "this is a blatant attempt to distract from the fact that Matt Gaetz is apparently about to be indicted for sex trafficking underage girls."
How this former Justice Department Official is involved in the case, if indeed he is, or why Rep. Gaetz would pick this particular official is unclear.
Democrat Rep. Ted Lieu called for Gaetz to be immediately removed from the House Judiciary Committee during the investigation. However, Rep. Jim Jordan, the top Republican on the panel, said in a statement to CNN that Gaetz should remain on the committee.
"I believe Matt Gaetz. He should not be removed from the Judiciary Committee," Jordan said.
House Minority Leader Kevin McCarthy said Wednesday on Fox News there were "serious implications," against Gaetz and promised to remove him from the House Judiciary Committee if they prove true.
"Those are serious implications. If it comes out to be true, yes we would remove him if that was the case. But right now Matt Gaetz has said that it's not true and we don't have any information. So let's get all the information," McCarthy said.
The case is a strange one, almost certain to play out in litigation at some point. If indeed Rep. Gaetz is lying about David McGee's involvement in an extortion plot, a lawsuit seems indicated.
The accusations, in both directions, are audacious ones. Evidence will be needed either way and the public deserves clear answers about this case. With trust in corporate media outlets at an all-time low, however, whether anyone will believe the truth, if and when it is reported, will be another matter.
(contributing journalist Allegra Nokaj) (contributing writer, Brooke Bell)