The Lincoln Project goes down in a blaze of ignominy and scandal.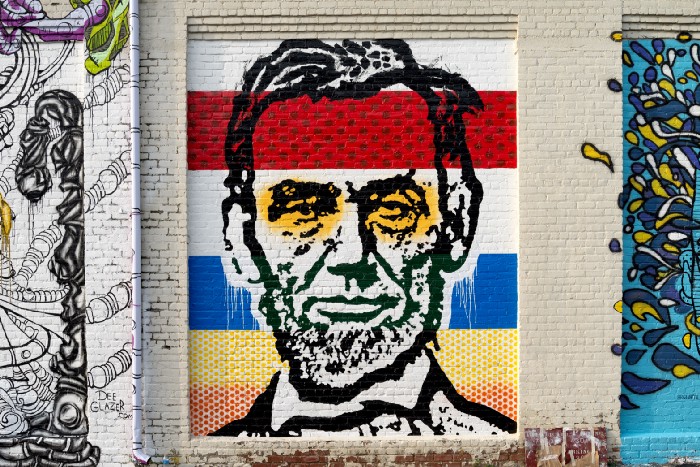 The well-known Republican anti-Trump organization, the Lincoln Project, is now facing calls to shut down the organization after over 21 men came forward to accuse one of the group's co-founders of harassment.
Lincoln Project Co-founder John Weaver has been accused of sending inappropriate messages to and harassing young men, including at least two minors.
American Conservative writer Ryan Girdusky broke the story about Weaver's sexual harassment in early January but the Lincoln Project did not release a statement on the accusations until much later. When the story reached Axios and other news sites, members of the Lincoln Project initially claimed to have been ignorant of Weaver's behavior prior to January. They also claimed to have been "shocked" at the revelations about the project's founder.
However, a report from The Associated Press soon revealed that members of the organization's top leadership were informed both in writing and during phone calls of at least 10 allegations of harassment against Weaver in June of 2020.
As the allegations have been more widely reported, some current and former members of the organization have already stepped away or otherwise begun to distance themselves from the Lincoln Project.
Lincoln Project co-founder Steve Schmidt has announced plans to step down from the board, though he only recently joined the board after November's election. Schmidt intends to remain with the organization after taking a temporary leave. He denied knowing of John Weaver's predatory behavior until last month.
However, a former Lincoln project employee said Mr. Schmidt has known since at least October, The New York Times reported.
Another Lincoln Project co-founder, Jennifer Horn, announced she too was stepping down from the PAC due to Weaver's, "grotesque and inappropriate behavior."
After Horn's announcement, the organization accused her of demanding large sums of money. In response to her criticism of Weaver, the Lincoln Project tweeted Ms. Horn's private Twitter messages with a journalist. The move was was immediately criticized by journalists and online personalities, including perhaps the most well-known of the Lincoln Project co-founders- George Conway.
Before the tweets were deleted, Conway retweeted the screenshots and wrote, "this looks on its face to be a violation of federal law and should be taken down immediately." Conway, who stepped away from the organization in August, has backed the idea of closing down the group. Joining him is Kurt Bardella, who left his role as a senior adviser for the Lincoln Project last week.
"Just shut it down already…it's over," Bardella tweeted on Tuesday.
The anti-Trump group is now retaining a law firm to review the allegations against Weaver. The Lincoln Project announced it would hire an outside investigator to review the allegations after six former employees signed a letter asking to be released from non-disclosure agreements, with two more joining the letter on Friday.
"We call on the remaining leadership of the Lincoln Project to release us and all others from all Non Disclosure Agreements (or other contracts), without precondition, regarding (a) harassment perpetrated by John Weaver that we experienced or witnessed (b) knowledge of harassment of others by John Weaver © any other information specific to the John Weaver harassment situation that would aid the press, public and our donors in answering questions relevant to the public interest, and to the interests of the Lincoln Project's many loyal fans and small donors," the Lincoln Project employees wrote in the letter.
"Expecting victims and those close to victims to contact and engage the people and organization accused of protecting the very predator at issue is absurd, unreasonable and insensitive," they added.
Many journalists and online personalities have since raised questions about the Lincoln Project's finances. The PAC has raised approximately $90 million but has only spent $27 million on ads for TV and online broadcast, according to an analysis of campaign finance disclosures and data from the ad tracking firm Kantar/CMAG. They are not currently accepting further donations.
"It raises questions about where the rest of the money ultimately went," said Brendan Fischer, an attorney with the nonpartisan Campaign Legal Center in Washington. "Generally speaking, you'd expect to see a major super PAC spend a majority or more of their money on advertisements and that's not what happened here."
Tens of millions of dollars went to consulting firms controlled by members of the organization. $21 million went to a firm run by co-founder Ron Steslow and $27 million to a firm owned by co-founder Reed Galen.
The Lincoln Project has been funded by a myriad of wealthy businessmen, who have remained quiet throughout the scandal. At least 15 billionaires or their spouses donated to the super Political Action Committee (PAC), according to a report from Forbes in October, 2020. There is no limit to the amount that individuals can give to a super PAC.
FEC records show that five attorneys at the law firm The Lincoln Project hired to investigate the misconduct allegations have also donated to the organization before, though none of these specific attorneys are assigned to investigate The Lincoln Project, Newsweek reported.
The implosion of the Lincoln Project so soon after the defeat of Donald Trump isn't doing the corporate media any favors with regards to historically low trust in news organizations.
There has been, perhaps with good reason, sharp criticism from the progressive left. They point out that only a complete and willful failure by corporate media outlets to vet- even slightly- the members of the Lincoln Project could have allowed the organization to fleece gullible progressive donors to the tune of millions.
In their haste to platform anyone willing to paint Donald Trump in the worst possible light, perhaps especially those willing to call themselves Republicans while doing so, media organizations empowered a cabal of grifters to reap a cash-crop of Trump-hatred.
Trump is defeated, so in a sense the Lincoln Project, and the corporate media's cooperation in keeping quiet about the seedier aspects of the organization, was successful.
In another sense, however, incidents like these- corporate media outlets giving priority of platform for the purpose of hurting a political opponent- are undermining public trust in U.S. institutions like the news media.
There is a growing list of things the mainstream media will report about, and things it won't. With every addition to that list, a bit more of that public trust is eroded. Americans are keeping track of that list as it grows and corporate news outlets end up over and over again with egg on their collective faces.
Americans are keeping score, and the U.S. media is losing.
(Contributing journalist, Allegra Nokaj) (Contributing writer, Brooke Bell)