House Republicans waste no time cleaning the House of Steve King in 2019.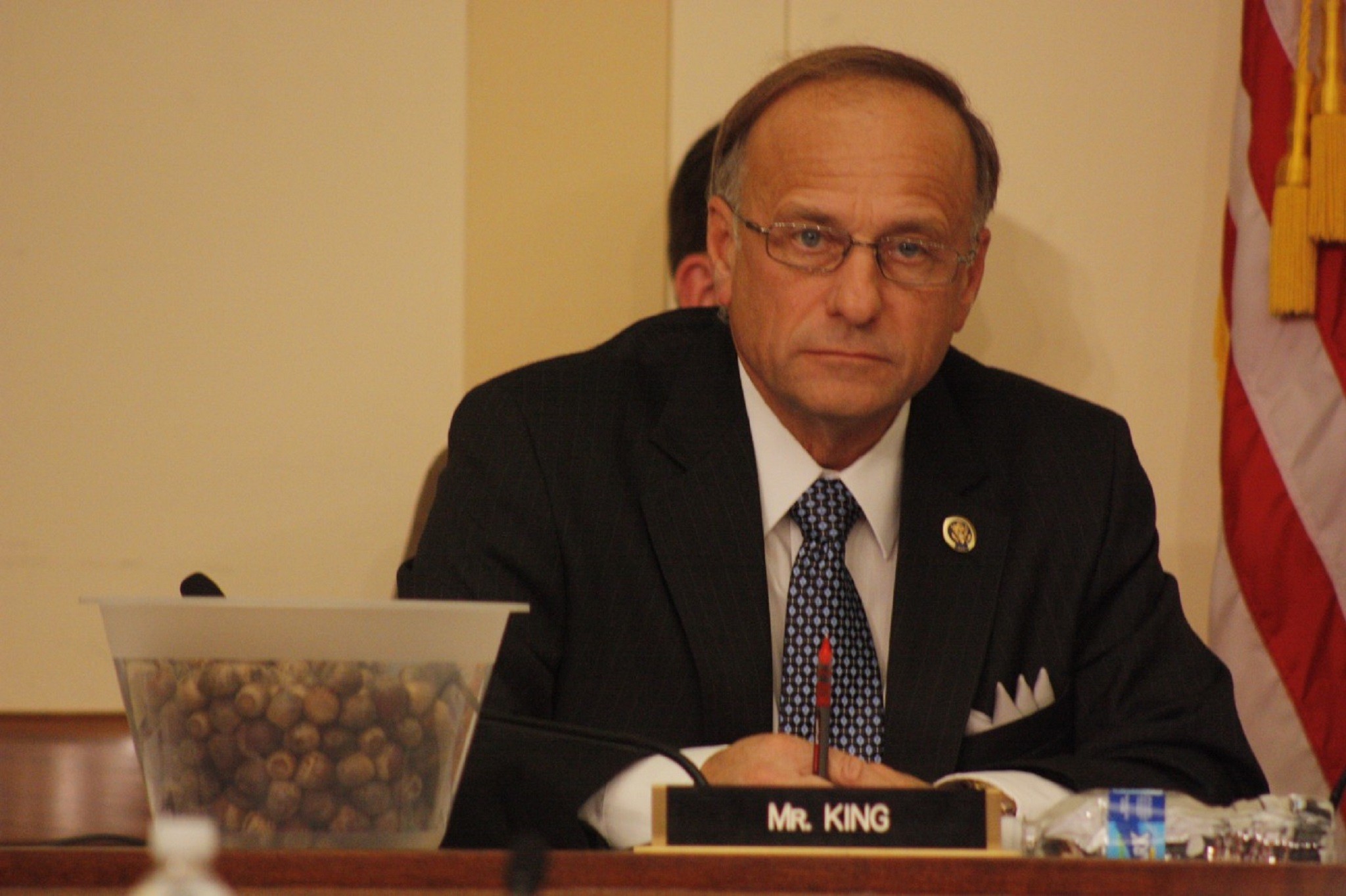 Rep. Steve King (R- IA) December 1, 2009. (photo: Ryan J. Reilley)
"White nationalist, white supremacist, Western civilization — how did that language become offensive? Why did I sit in classes teaching me about the merits of our history and our civilization?" — Rep. Steve King (R-IA)
Steve King Must Go!
Racist, bigoted, anti-semitic, animal-hating, ; it's like Steve King is going for some sort of evil bingo.
There should be a word for a legislator who is so out-there, so difficult to work with, and such a huge liability, that his fellow party members can't bear to work with him or help him get reelected.
Dear Steve King, if no one can bear to work with you, you can't get anything done. Oh, and seventh-grade U.S. history didn't tell you everything. Cornwallis was sent to India after he lost the Revolutionary War in America. Get the internet.
The WORST Member in the Group Project
You know the kind I mean.
Doesn't Work Well With Others
Lawmaking is a team sport, no matter what you promised to placate the most hard-line of your constituents while you were on the campaign trial. This is Washington.
Everything is a group project. What's worse, everything is a group project in which everyone constantly disagrees about everything.
Enrages the Opposition
King has finally reached critical mass. Which is great news for immigrants, minorities, Jewish people, animals and the voters of Iowa. Not to mention the Republican Party, which needs to act yesterday to become more inclusive.
It is good news that King has actually, thank goodness, finally crossed over and become such a tremendous liability; his career in the House, is over.
If Republicans let him stay now, he will only be serving the rival party, emboldening and enraging Democrat supporters, and drumming up so much opposition he would help the cause most by tending an apology and his resignation.
The Political Albatross
It is time for Steve King to resign from Congress.
Long the trial and tribulation of the Republican Party, Steve King, whom House Republicans were almost rid of in November, Steve King, for a Change, Faces a Battle for House Seat in Iowa, remains an embarrassment to the House of Representatives no more.
House Republican leaders moved this week to strip Rep. Steve King of his committee assignments over his comments about white nationalism.
Rep. Steve King removed from committee assignments amid 'white supremacist' controversy. House votes to reject white supremacy after Steve King's comments.
"[there is] no place in the Republican Party, the Congress or the country for an ideology of racial supremacy of any kind." — Senate Majority Leader Mitch McConnell (R-Ky.)
Republicans Have Been Working to Oust King for Months
Some have been working against King for years.
Even before the Times comments, Republican leadership was already intent on stripping King of committee positions. Speaker Paul Ryan, for one, began laying the groundwork for this week's coup against King.
Steve King Anti-Semitism
In October 2018, Paul Ryan was urged to censure Iowa's Steve King over alleged antisemitism, in a damning letter from the Anti-Defamation League calling for King to be stripped of committee assignments and formally rebuked by the House.
The ADL letter was sent in the wake of the mass shooting which took place in Pittsburg at the Tree of Life Synagogue on October 27, 2018. Eleven people were killed and seven injured in the deadliest attack on the Jewish-American Community in U.S. History.
"After the events of this weekend, I knew that ADL could be silent no more. Rep. King has brought dishonor to the House of Representatives. We strongly urge you and the congressional leadership to demonstrate your revulsion with Rep. King's actions by stripping him of his subcommittee chairmanship and initiating proceedings to formally censure or otherwise discipline him." — ADL Director Jonathan Greenblatt
The synagog shooter made no secret of his motivation for perpetrating such a terrible crime: Pittsburgh synagogue gunman said he wanted all Jews to die.
Speaker Paul Ryan was quick to respond to the letter, condemning King unilaterally.
"The Speaker [Paul Ryan] has said many times that Nazis have no place in our politics, and clearly members should not engage with anyone promoting hate." — Speaker Paul Ryan Spokesperson, AshLee Strong
The ADL letter and Paul Ryan weren't Steve King's only problems leading into the November 2018 election, either. A series of censures and setbacks almost saw him unseated. If they would have happened only a month sooner, he likely would have been.
The National Republican Party withdrew their support of King ahead of the November 2018 election.
"Congressman Steve King's recent comments, actions, and retweets are completely inappropriate. We must stand up against white supremacy and hate in all forms and I strongly condemn this behavior." — RNC Chairman Steve Stivers (D-OH)
Land O'Lakes pulled their campaign support for King in the fallout.
Even though King managed to skate by in 2018, nothing could be worse news for him in 2020 than a serious primary challenger.
King's Primary Challenge
Iowa Republican state Sen. Randy Feenstra has already raised more than $100,000 for his bid to unseat the sitting Congressman, and he raised it in only 10 days.
"Since launching our campaign, the financial support and encouragement from conservatives across our district and the country has been overwhelming. Our early financial strength in this campaign proves that we will have the resources necessary to ensure the 4th District has the effective conservative leadership it deserves." — Iowa Republican state Sen. Randy Feenstra
Kings campaign ended November with $58,000.
Without the support of the Republican Party, without the support of House leadership, without the support of major donors who can't and won't suffer the fallout of King's controversial comments, and now with the effectiveness of a cardboard cut-out, King's hope for reelection seems nearly nil.
The Writing is on the Wall: Will Steve King Read It?
Will He Do The Right Thing? (For Once)
Being stripped of committee assignments completely undermines any effectiveness Steve King ever had in representing the citizens of his district.
If he stubbornly clings to office, he does the voters in his district an extreme disservice. A lack of committee leadership deprives constituents of vital representation, if he resigns a special election could be held to fill his seat.
Otherwise, he leaves Iowa without a seat on the all-important House Agriculture Committee for two long years.
In addition, that is, to making them look bad with a constant barrage of offensive and ridiculous remarks.
King may resign, unless he is clinging to delusions about reelection.
Considering that just one of his primary challengers already has a $100,000 war chest, King should seriously consider abandoning a compromised position.
By staying in Congress one moment longer, Steve King is hurting Iowa. And himself.
(contributing writer, Brooke Bell)