Meet one of the many people who are exploiting holes in the U.S. healthcare system and defrauding Medicare out of more than $100 billion a year.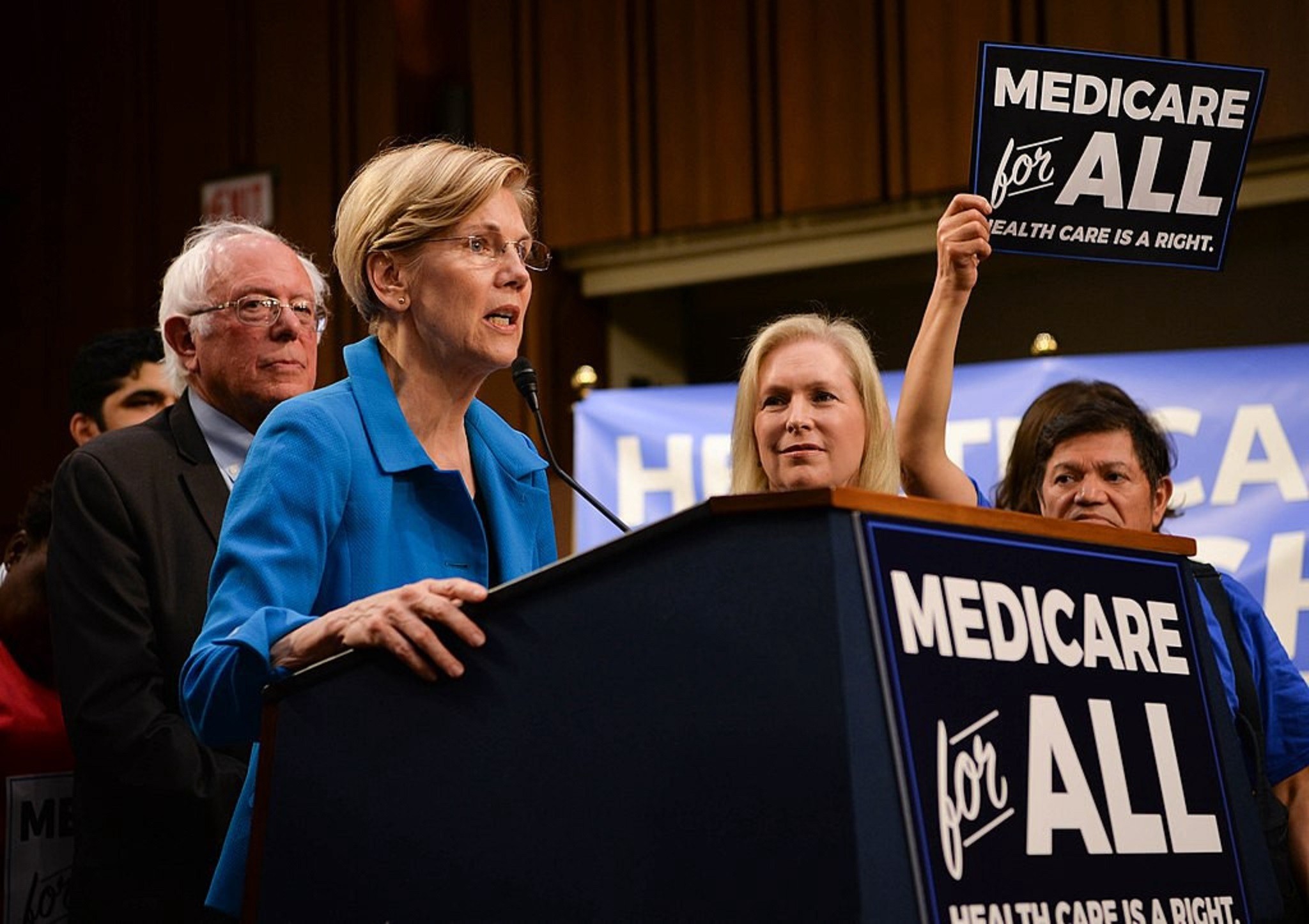 Senators Elizabeth Warren and Bernie Sanders address supporters of Medicare for All. August 2018. (photo: Senate Democrats)
The Bank Without a Safe
Unfortunately, expanding Medicaid and Medicare would also mean expanding America's most tempting and vulnerable target for fraudsters and con artists who continue to defraud the programs out of billions every year.
Medicare Fraud is Costing American Patients
According to President Trump and 2018's Department of Health and Human Services head, Alex Azar, the new strategy for U.S. health care is "American Patients First".
American Patients First means getting smarter about prosecuting and preventing Medicare fraud.
The (un)Affordable Care Act
While the Affordable Care Act failed to adequately address it, fraud remains one of the key reasons health care in America is still financially out of reach for so many.
What is Medicare Fraud?
There are many ways of committing Medicare fraud, some common methods include:
Unscrupulous billing practices: "Phantom billing" for procedures which were never performed, over-billing or substitution-billing for more expensive procedures or higher-quality medical equipment than the patient actually received.
Charging excessively for procedures or equipment.
Intentionally misusing insurance billing codes with the intent to defraud Medicare or Medicaid programs.
Pay and Chase
Why is Medicare and Medicaid fraud so tempting to thieves? One reason is systemic: The way these programs are currently managed, claims are paid first and prosecuted later, if at all.
Insiders sometimes call this system "pay and chase". Of course, recouping the cost of fraudulent claims, once paid, is far less effective than preventing the loss in the first place.
The Medicare Bill: 1965
Pay and chase exists because Medicare was conceived and created during a much simpler time in medical administration, when gaming the system would have been far more difficult. Medicare fraud wasn't even officially made a crime until 1996.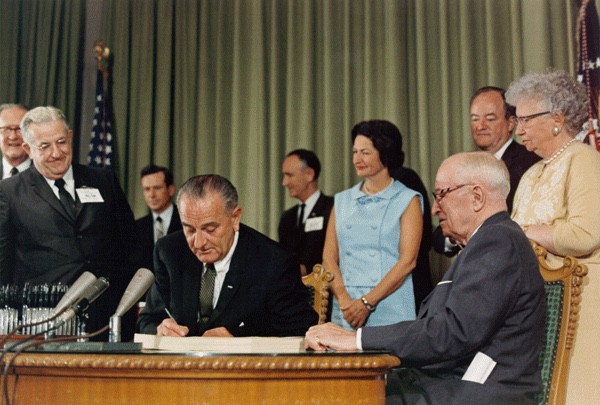 How Much Does Medicare Fraud Cost the U.S?
No one really knows.
Conservative estimates put the figure close to $100 billion a year. However, there is more than enough credible evidence to suggest that the real cost is much closer to $300 billion a year. That's three times the yearly federal budget for education.
The $272 billion swindle: Why thieves love America's health-care system, writes the Economist May 31st 2014. Others are a little more optimistic, but not by much: A breathtaking campaign of thievery.
If some of the very high-profile, large-scale fraud busts in the past few years are any indication, even the more pessimistic experts aren't wrong: National Health Care Fraud Takedown Results in Charges Against Over 412 Individuals Responsible for $1.3 Billion in Fraud Losses, in July of 2017.
More Than Money
Fraudulent claims for opioid addiction treatments, home health-care services and equipment, and prescription medications cost American patients much more than money. The people who need these life-saving treatments aren't receiving them.
"We are seeing a disturbing reality — doctors, medical directors, clinicians, treatment center owners and employees are actually fueling the opioid crisis rather than doing something to reduce it." -U.S. Attorney Benjamin Greenberg
Medicare fraud has a surprising role in America's opioid crisis: June 2018, Feds charge 601 people in health care fraud, opioid crackdown. Considering that the U.S. opioid crisis has reached such epidemic proportions that fentanyl could now be considered a weapon of mass destruction, this isn't a minor matter. This Killer Opioid Could Become a Weapon of Mass Destruction. Fentanyl is so potent that a few milligrams can be fatal. Could it be used to attack the U.S.?
South Florida: #1 Home of Healthcare Fraud
Why South Florida? One reason Florida is such a frequent target for the unscrupulous wishing to exploit Medicare programs is the large population of elderly people who live there. South Florida Is Ground Zero for Medicare Fraud. Wherever you go in South Florida, you will see clusters of medical clinics in every strip mall, shopping center, and retail district you pass.
South Florida still №1 for healthcare fraud, following massive takedown across nation.
Florida Law Enforcement Agencies: Joining Forces to Fight Back
Starting in 2007, Florida has been part of a larger upsurge of law enforcement agencies cooperating with each other in order to bring down large-scale Medicare fraudsters.
Some of the new measures adopted to fight Medicare fraud include using analytics to monitor for billing patterns consistent with fraud, improving interagency communication of vital information and the formation of the Medicare Fraud Strike Force.
The Medicare Fraud Strike Force
Formed in 2007 and now in 10 major cities, including Miami and Tampa Bay/Orlando in Florida. Medicare Fraud Strike Force teams are making a real difference in the fight against fraud.
Florida Man Gets 20 Years for $66 Million in Medicare Fraud. Florida Eye doctor is sentenced in $73 million Medicare fraud. EIGHT MIAMI RESIDENTS ARRESTED IN $100 MILLION MEDICARE FRAUD SCHEMES.
Who commits Medicare fraud in the U.S.?
In one current case, the answer is a woman who died almost 30 years ago.
Did Jasmin Parawan Die in 1990?
A background check on Jasmin Parawan officially lists her as a deceased person. The real Jasmin Parawan was a nurse who probably died in Florida in the early 1990's.
But the name of Jasmin Parawan lived on.
The new Jasmin Parawan, using a SSN issued in Delaware between 1988–1990, first sprung, fully formed into life at a Philidelphia address associated with several other names linked to the new Parawan as possible aliases. Including the name "Celia Zales", for which there is still an outstanding warrant in Cherry Hill, New Jersey.
Some of the aliases are still being used by her today.
Jasmin Parawan, before she was Jasmin Parawan, might have worked as a registered nurse at a Philadelphia hospital before her license may have been revoked after a suspicious death in 1988 or 1989; hard to know for sure, she was using a different name then.
The suspicious death might have been the reason Jasmin Parawan abandoned her old name and became exclusively Jasmin Parawan when she abruptly moved to California after a relationship ended badly.
So badly, in fact, that in April of 1993 her former partner followed her to California in the form of legal action alleging, among other things, identity theft of the name Jasmin Parawan.
She was also charged with practicing nursing without a license, impersonating a professional nurse and pretending to be licensed to practice as a nurse.
Indeed, someone named Jasmin Parawan listed the same address named in the lawsuit when they obtained a Florida nursing license now listed as NULL AND VOID.
That was ok though; Jasmin Parawan had other names.
But before she stopped using the name, Jasmine Parawan racked up quite a work history, representing herself as an out-of-state registered nurse with experience in dialysis until her luck ran out in a California court room with investigators closing in, and another suspicious death- this one due to a machine malfunction- added to her account.
The Trails of Jasmine Parawan
When things got much too hot in California, Jasmin Parawan moved across the country again, putting down roots in Florida this time and leaving the name, misdeeds, and unpaid tax liens of Jasmin Parawan in the past.
Under another name, the con artist formerly known as Jasmin Parawan fraudulently obtained nursing licenses in Florida and began a series of medical businesses. Today, she runs five critical health care centers in Florida. To date, her various medical centers have billed Medicare and Medicaid for over $130 million dollars.
A sixth is opening in soon.
Merely failing to disclose her previous names, and the allegations of impersonating a nurse and practicing nursing without a license leveled against her, is enough to prevent her from legally operating these businesses.
Is there medicare fraud happening in these clinics?
Whatever her real name, medicare fraud may be the least dangerous fraud perpetrated by the woman sometimes known as Jasmin Parawan or Celia Zales. Identity theft, impersonating a nurse and suspicious deaths are only the beginning of the story.
Tune in for Part 2: A fake nursing school, immigration fraud and even ties to the terrorist group Abu Sayyef.
(contributing writer, Brooke Bell)