As the sordid tale of human trafficking grows even deeper, we are left wondering how it went on so long without anyone noticing…or stopping it.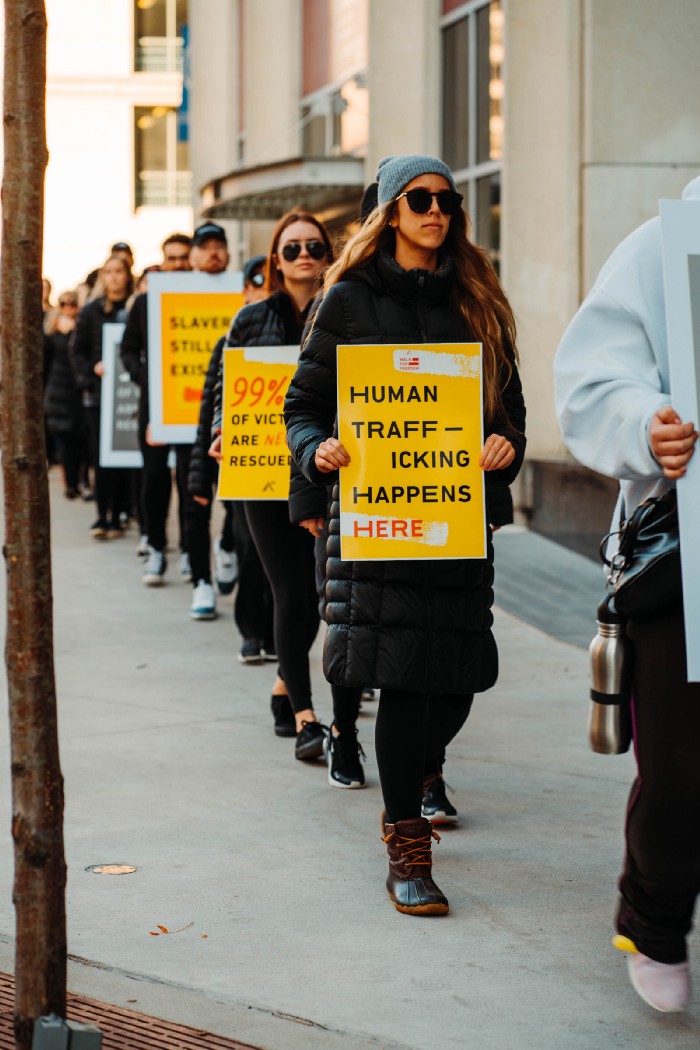 As of Monday, federal prosecutors have filed two additional counts of sex trafficking conspiracy and sex trafficking of a minor against British socialite Ghislaine Maxwell. The rewritten indictment alleges, among other things, that the former-associate and rumored ex-girlfriend of Jeffrey Epstein recruited and groomed a 14-year-old girl to engage in sex acts with Epstein in 2004.
"The rewritten indictment added a sex trafficking conspiracy and a sex trafficking charge against Maxwell. It also added a fourth girl to the allegations, saying she was sexually abused multiple times by Epstein between 2001 and 2004 at his Palm Beach, Florida, residence, beginning when she was 14 years old," reports the Associated Press.
Prosecutors allege Maxwell and Epstein recruited the underage girl to perform "sexualized massages" at Epstein's Palm Beach residence.
According to the indictment, the underage girl brought multiple women and girls to provide erotic massages for Mr. Epstein. Both she and the people she recruited were allegedly paid hundreds of dollars in cash for each encounter.
The newest eight-count indictment says Maxwell, "facilitated Jeffrey Epstein's access to minor victims knowing that he had a sexual preference for underage girls and that he intended to engage in sexual activity with those victims."
Maxwell also "sought to normalize inappropriate and abusive conduct by, among other things, discussing sexual topics in front of [the victim] and being present when [the victim] was nude in the massage room of the Palm Beach residence" of Epstein, the indictment says.
The new indictment also widens the time frame for the alleged conspiracy.
"Whereas Count One of the S1 Indictment alleged that this conspiracy lasted through in or about 1997, Count One of the S2 Indictment alleges that the conspiracy continued through in or about 2004 and specifically identifies a fourth victim, Minor Victim-4, who was a victim of this conspiracy between approximately 2001 and 2004," Assistant U.S. Attorney Maureen Comey wrote. Read the full indictment here.
Maxwell's father was British media mogul Robert Maxwell. Her brother Ian issued a statement on Twitter after the indictment was filed.
"The government has admitted how weak its indictment is. So it has added another anonymous accuser from 20 years ago. That does not strengthen the government's case," he said in his statement.
Maxwell was arrested in July of 2020 in New Hampshire, nearly one year after Epstein was arrested and charged with sex crimes. Epstein was found dead in his Manhattan jail cell in August 2019 and his death was ruled a suicide.
Maxwell was transferred to a federal detention facility in Brooklyn on July 6, 2020, where she is being held without bail as she awaits trial. A virtual court appearance took place on July 14, where Maxwell pleaded not guilty to the original six counts.
Maxwell, 59, has been refused bail three times by U.S. District Judge Alison J. Nathan, who cited concerns Maxwell poses a great risk of flight. In her latest unsuccessful bid for bail, Maxwell even offered to renounce her citizenships in the United Kingdom and France, to be kept in place by armed guards, and to post $28.5 million in assets.
U.S. attorney for the Southern District of New York, Audrey Strauss, said in a letter to Judge Alison J. Nathan that the prosecution will begin producing copies of non-testifying witness statements for Maxwell's attorney by April 12, 2021.
"This production will include the statements of more than 250 witnesses related to the investigation of Jeffrey Epstein and his associates in the Government's possession whom the Government does not currently expect to call to testify at trial," wrote attorney Audrey Strauss.
Her office wrote to Judge Nathan that its investigation was continuing but that if Ms. Maxwell's trial remains scheduled for this July, the government did not intend to seek further indictments in the case.
The newest revelations don't bode well for some of the high-profile people implicated in the case. In the U.K. Prince Andrew, whose disastrous television interview last year did little to convince the public of his innocence, is likely to be further embroiled in controversy.
Prior to the newest court filing, Maxwell's crime spree had concluded prior to the year 1998. The newest evidence suggests she continued sex trafficking young women until at least 2004. According to Prince Andrew, he didn't meet Epstein until 1999.
The amended timeline places the prince again in the crosshairs of the investigation. Other high-profile people implicated in the Epstein case, such as former U.S. President Bill Clinton, have fared better.
Last week, former President Bill Clinton held a joint event with Vice President Kamala Harris on female empowerment and women's rights worldwide. Many on the left lampooned Clinton's inclusion in this topic in particular, considering the accusations of sexual assault against him, his well-documented predatory sexual relationship with a young intern while in office, and his association with Epstein.
(contributing journalist, Allegra Nokaj) (contributing writer, Brooke Bell)