After failing to secure a pardon from Trump, Wikileaks founder Julian Assange remains in peril of extradition and trial in the U.S.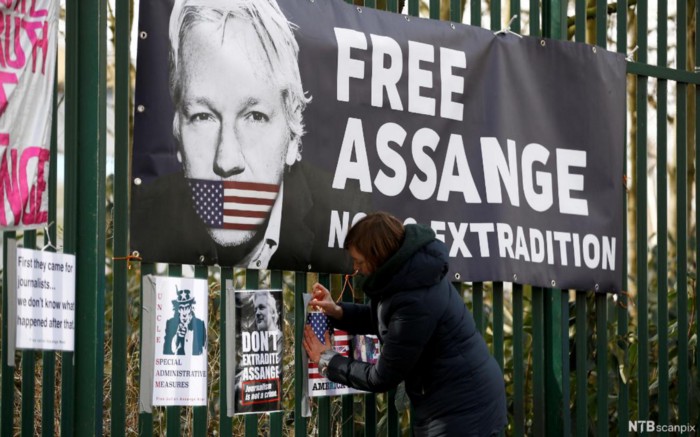 On Monday night's episode of Tucker Carlson Tonight, Pamela Anderson pleaded with President Trump to show his commitment to free speech by granting Assange a pardon before leaving office.
It was well known that President Trump planned to issue between 50 and 100 commutations and pardons before the end of his term. However, sources told Fox News that Julian Assange was not expected to make the list.
Anderson said the pardon decision represented a "defining moment for the president."
"The entire world wants, or most want him to pardon Julian Assange," Anderson told Carlson. "This is his time to shine and really make an impression on the world. If this goes to trial, that's the end of the First Amendment."
"He needs to do the right thing. This is one of those moments in history, in his lifetime, where he can make the right decision," she continued. "He would really gain a huge following and a huge sigh of relief and gratefulness from so many people on the planet."
"Julian is so important to free speech. He's a free speech hero," she added.
Carlson himself devoted part of his show to urging Trump to "defend the Bill of Rights" by pardoning Assange.
Trump "can achieve a major victory for the principles that this country was founded on and make it a good place to live," Carlson said. "The first one of those is freedom of the press, freedom of speech. It doesn't matter. It's still true and we should pardon Julian Assange."
Five Noble Prize winners also urged Trump to offer a pardon to Julian Assange, asking him to "put a defining stamp on [his] presidential legacy."
Human rights activist Adolfo Pérez Esquivel, northern Irish peace activist Mairead Maguire, feminist campaigner Rigoberta Menchú, Iranian political activist Shirin Ebadi and Austrian novelist Peter Handke all signed a letter to Trump in support of Assange.
"We write to request that you put a defining stamp on your presidential legacy by pardoning Julian Assange or stopping his extradition," they wrote. "Assange has fought for truth and justice. His work with WikiLeaks has pioneered accountability in the media and exposed corruption, civil liberties violations in the United States and around the world, and the true cost of war."
They say that the case against Assange, "threatens the constitutional protections that Americans hold dear," and "by offering a pardon, to put a stop to the prosecution of Assange, your presidency will be remembered for having saved First Amendment protections for all Americans."
The U.S. has charged Assange under the Espionage Act, claiming he put the lives of military sources at risk. However, Assange argues the information was released in the public's interest and disputes accusations he identified sources.
On Jan 4, a British judge ruled that he cannot be extradited to the U.S. to face charges of espionage and hacking government computers. Lawyers for U.S. authorities are appealing the ruling and have dismissed claims he would not get a fair trial in the United States.
Former Alaska Governor Sarah Palin is among the growing list of individuals calling for Assange to receive a pardon. Palin's own private messages were posted by Wikileaks after she was chosen to serve as John McCain's running mate in 2008.
In a YouTube video, Palin said "I made a mistake some years ago, not supporting Julian Assange, thinking that he was a bad guy, that he leaked material that perhaps he shouldn't, and I've learned a lot since then, and I think Julian did the right thing, and Julian did us all a favor in America."
"He deserves a pardon," she continued. "He deserves all of us to understand more about what he has done in the name of real journalism, and that's getting to the bottom of issues that the public really needs to hear about and benefit from."
President Trump's decision to leave office without extending a pardon to Assange has puzzled many of Trump's supporters. Some of the pressure not to pardon Assange is rumored to have come from former Senate Majority Leader Mitch McConnell.
Secretary of State Mike Pompeo is someone else in Trump's orbit who hasn't historically supported a pardon for Assange and others like him, including Edward Snowden and Chelsea Manning.
Former Trump advisor Steve Bannon made Trump's final list of pardons. Rappers Lil Wayne and Kodak Black also made the list.
With Trump now out of office, there seems little hope that the Biden Administration will answer calls to pardon Julian Assange.
The Obama Administration was notoriously hard on whistleblowers, and with so many former Obama administration officials now working for the Biden Administration, that policy is likely to continue.
In Obama's eight years in office, his administration pursued more Espionage Act prosecutions of whistleblowers than all other administrations combined.
Under the auspice of these investigations, journalists and investigative reporters from the Associated Press, Fox News, The New York Times, and others were threatened, harassed and even prosecuted. During one of these cases, Chelsea Manning was held in solitary confinement for over a year, prompting an outcry from human rights organizations about torture.
"The absolute twisted passion with which the administration under Obama's leadership has pursued whistleblowers is just appalling," said Norman Soloman, of the Institute for Public Accuracy and RootsAction.org. "And as far as I can tell, the administration is unrepentant in that process. There's just no other administration that comes close."
With the inauguration of President Joe Biden today, the future of Julian Assange, as it has been since Wikileaks exposed the secrets of powerful people and the occasionally ugly inner-workings of the U.S. government, is far from certain.
(Contributing journalist, Allegra Nokaj) (Contributing writer, Brooke Bell)