As Mayor Lightfoot fails to budge the union, Chicago parents brace for another lost year of remote "learning".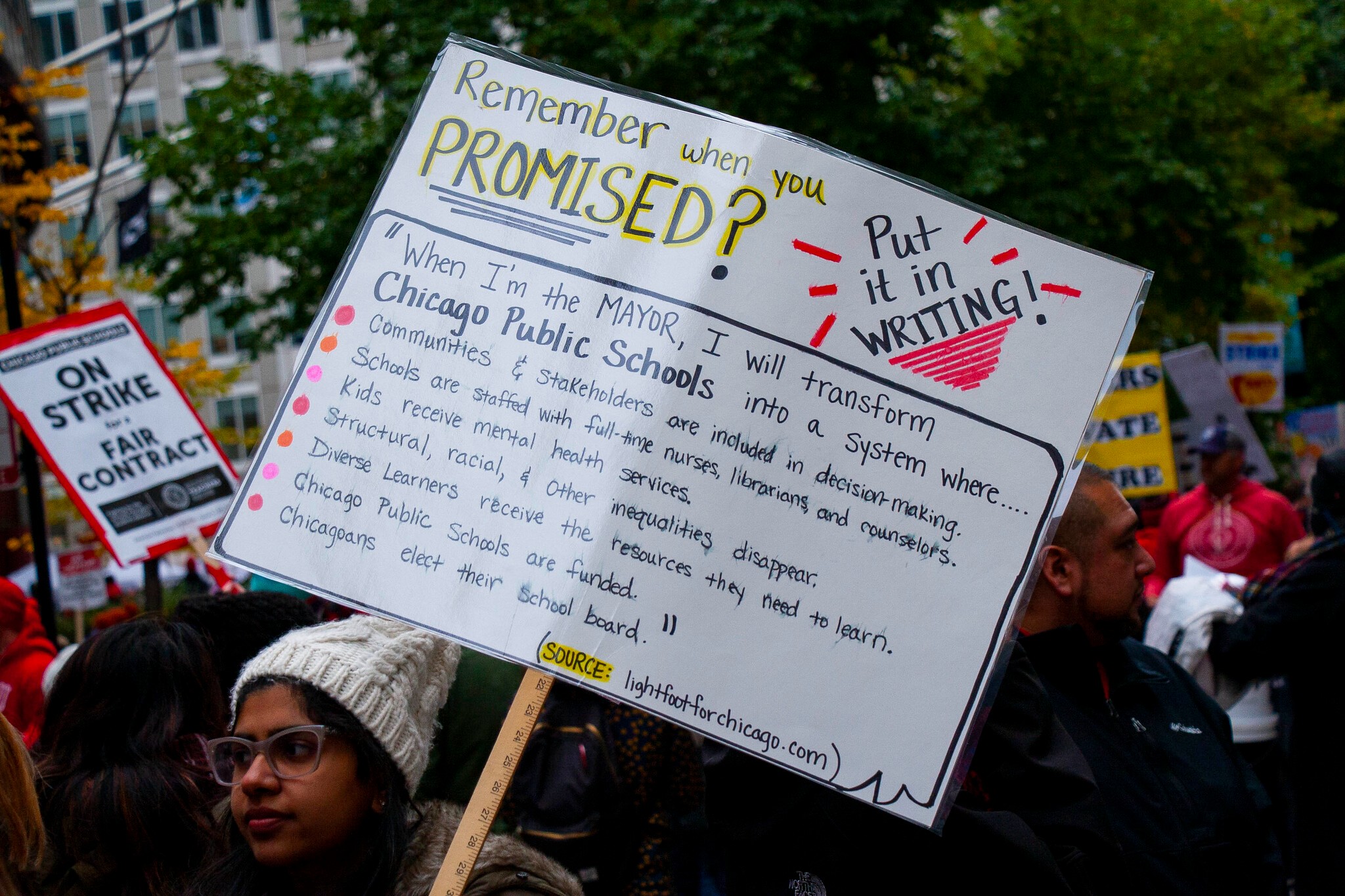 It is no secret that parents, even liberal progressive parents, are reaching their breaking point with public school closures.
The November election of Governor Glenn Youngkin in Virginia was merely the first canary warning in the coal mine about the powerlessness parents have felt as their children's education has been periodically deprioritized as an afterthought, if that, throughout the pandemic.
Closures, restrictions, quarantines; measures have often seemed arbitrary throughout the pandemic. Public messaging about the pandemic has been a mess from start to finish. Even the CDC has struggled, no more so than recently, as many have criticized guidelines as too much, not enough, unnecessary, unclear or uneven.
Parents hoping for some relief to the ongoing drama of whether or not their kids will receive any education this year, once vaccines became available, have been bitterly disappointed.
Across the nation, from Portland to New York, public schools have been routinely closing since the 2021/2022 school year started for all sorts of reasons. Even long before we started grappling with variants, schools were closing for a variety of other reasons.
Staffing shortages, out-of-control behavioral problems including fights, trashed bathrooms, plus theft and destruction of school property. Assaults in schools have skyrocketed; students are assaulting teachers, administrators- including a principal who was beaten unconscious in November- and each other. Even students not engaging in these types of disruptions are withdrawn, refusing to talk or interact or acting-out in other ways.
Besides social skills, there is also the education these students have lost. Reading comprehension, math, science, STEM; the results are about as bad as they could possibly be. About as bad as the average intelligent person might expect from keeping kids out of school for nearly two years.
Parents with the resources to remove their kids from the endless cycles of disruption, closures, distancing, masking, and the threat of more of same- with learning a barely mentioned deliverable- have already taken steps.
Homeschooling, once the exclusive territory of hippies and the hyper-religious, has risen from less than 2% to over 10%. That is a major jump. Enrollment in private school, religious schools, alternative schools, learning pods, the engagement of private tutors by several families pooling resources; all have also jumped sharply.
Then, there is another type of mass exodus happening.
Taxpayers are fleeing California at a rate heretofore unknown in history. California has lost so many people over the past few years, it actually just lost a congressional seat for the first time ever- and it should have lost two.
The average home costs $850,000 now in California. A spectacular rise in homelessness and crime has accompanied higher and higher taxes on everything. Over the last two years, the river of people moving out of the state has grown into a flood.
In 2020, California set a new record for one-way U-Haul trucks; in 2021, it did not…because U-Haul ran out of trucks.
Second only to California in terms of lost taxpaying residents, is Chicago.
In places where Republicans like Florida Governor Ron DeSantis are in charge, stump speeches like, "I won't let them keep your kids out of school," go down a storm. DeSantis may be the mainstream media's public enemy number one, after Donald Trump, but plenty of voters are giving him a big vote of confidence…by moving away from blue states to Florida.
Florida was the number-one destination for people fleeing California and Chicago in 2020 and 2021, with Republican-led Texas being second.
Meanwhile in New York, new Mayor Eric Adams is sounding more Trump than Trump, with a tune that has abruptly changed to, "stop traumatizing kids," and, "schools will stay open."
New York is singing a new tune about COVID-19, and it's sounding more like Florida than California. The Chicago Teachers Union might want to note which way the wind is blowing.
Any appearance of politicizing this crisis must be avoided.
Even with Donald Trump out of the picture, the closure of public schools in Chicago is tied only loosely with the number of COVID-19 cases, to say nothing of hospitalizations or deaths.
The Chicago Teachers Unions does not like Mayor Lori Lightfoot.
As with many other city leaders, Lightfoot has a contentious relationship with the teachers union and she always has since the day she beat their preferred candidate in a landslide.
"There are so many things we could partner on," Lightfoot told reporters on Wednesday, after the Chicago Teachers Union voted by a wide margin not to return to in-person learning until their demands are met. "Instead, they chose an illegal, unilateral action that throws the whole system into chaos and makes us a laughingstock all across the country."
Lightfoot's thinly-veiled reminder- that students, teachers and administrators all around the country, and indeed all over the world, are conducting in-person class safety and have been since 2020- is likely to fall on deaf ears.
The Chicago Teachers Union has a long list of demands city leaders have left unmet for too long. With the advent of the easy remote learning option, however damaging it has been to students, the union and its members now have an ace in the hole.
The union has city leaders, and Chicago parents, right where they want them. The protests against Lightfoot, against in-person learning aren't new; only a new theme on an old song. Chicago teachers have been picketing Lightfoot, and her predecessor before her, since long before COVID-19 came to the Windy City.
Chicago teachers aren't about to fold now.
(contributing writer, Brooke Bell)