U.S. President Donald Trump kicks off his official 2020 bid for President with a rally for his supporters in the key swing state of Florida.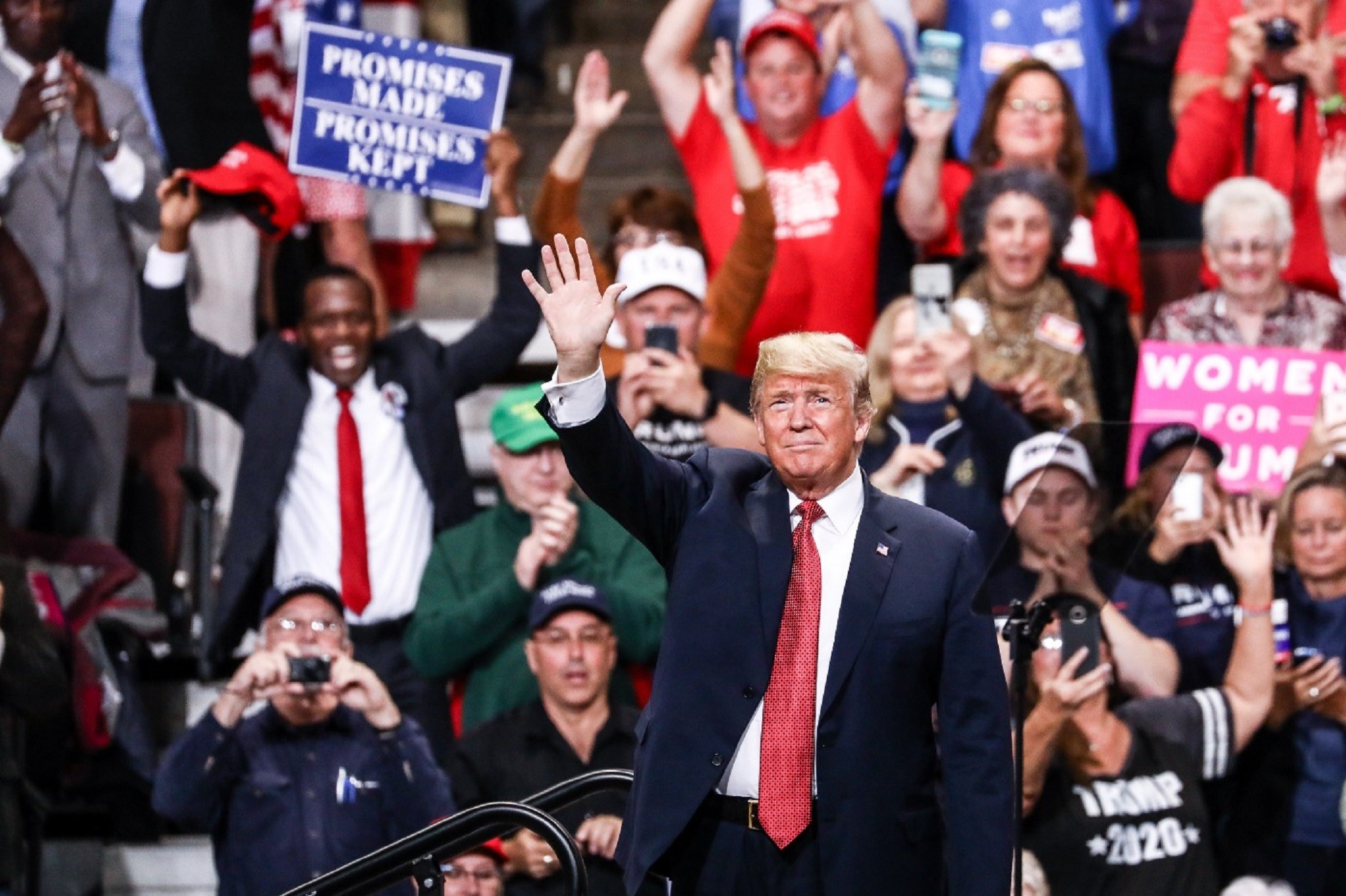 President Donald Trump at a Make America Great Again rally in Rochester, Minn., on Oct. 4, 2018. (Charlotte Cuthbertson/The Epoch Times)
It Has Begun
Trump's would-be Democratic challengers are facing an uphill battle. Are they really ready to face a Trump campaign machine that was never left to idle?
Advantage, Incumbent
Incumbents. They are hard to run against.
There is a reason so many sitting U.S. Presidents have managed to win a second term in office, in spite of myriad differences in their leadership styles, polling popularity, and degree of perceived political success.
In fact, only a fair few U.S. Presidents have managed to avoid a second term in office. The advantage of the incumbent is that strong.
Running a campaign against a Presidential incumbent means running against fancy state dinners with the Queen of England. It means competing against every over-seas diplomatic photo op and every Presidential mission of goodwill to a disaster-devastated area.
It isn't easy.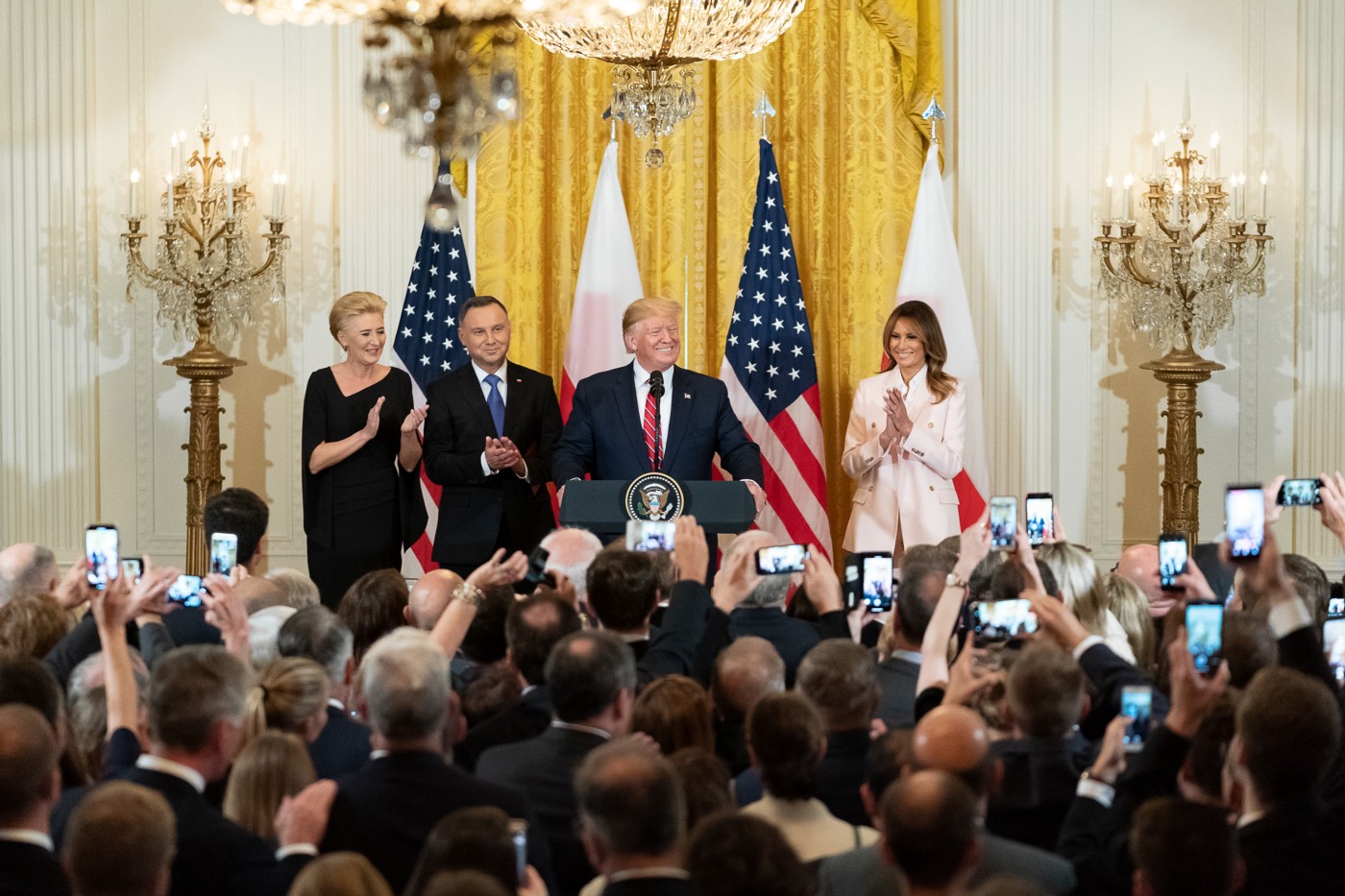 President Donald J. Trump, accompanied by First Lady Melania Trump, Polish President Andrzej Duda and his wife Mrs. Agata Kornhauser-Duda, greets guests at a Polish-American reception Wednesday, June 12, 2019, in the East Room of the White House. (Official White House Photo by Andrea Hanks)
Doing a good job is the best advantage an incumbent can give themselves: Good campaign optics are just a side effect. Most Presidents, at this stage in their tenure, facing reelection amid a bourgeoning economy, would easily cinch a general election.
Of course, the U.S. has never had a President like Donald Trump.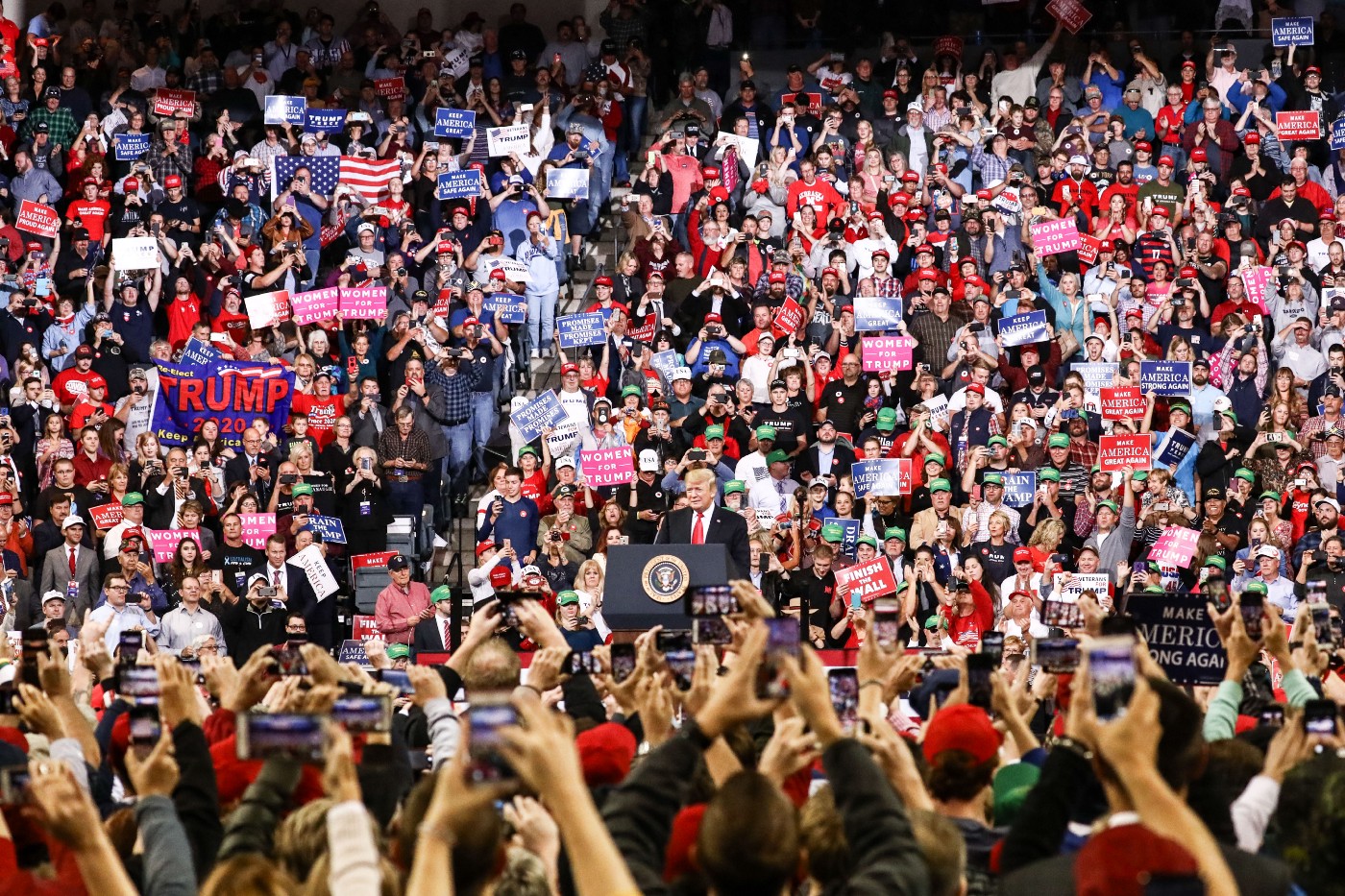 Everything about Trump's term in office has so far been a testament to unpredictability. He has defied reasonable expectations on both sides of the aisle, around the world, and behind news desks everywhere.
It is fair to say that Donald Trump has certainly made a fair few enemies during his tenure in office.
But Trump's administration certainly doesn't lack for accomplishments. The U.S. economy is strong and getting stronger all the time. Unemployment is way down across the board and wages are way up. Traders are optimistic, the Fed is dovish, and the stock market is as bearish as it has been since long before the financial crisis.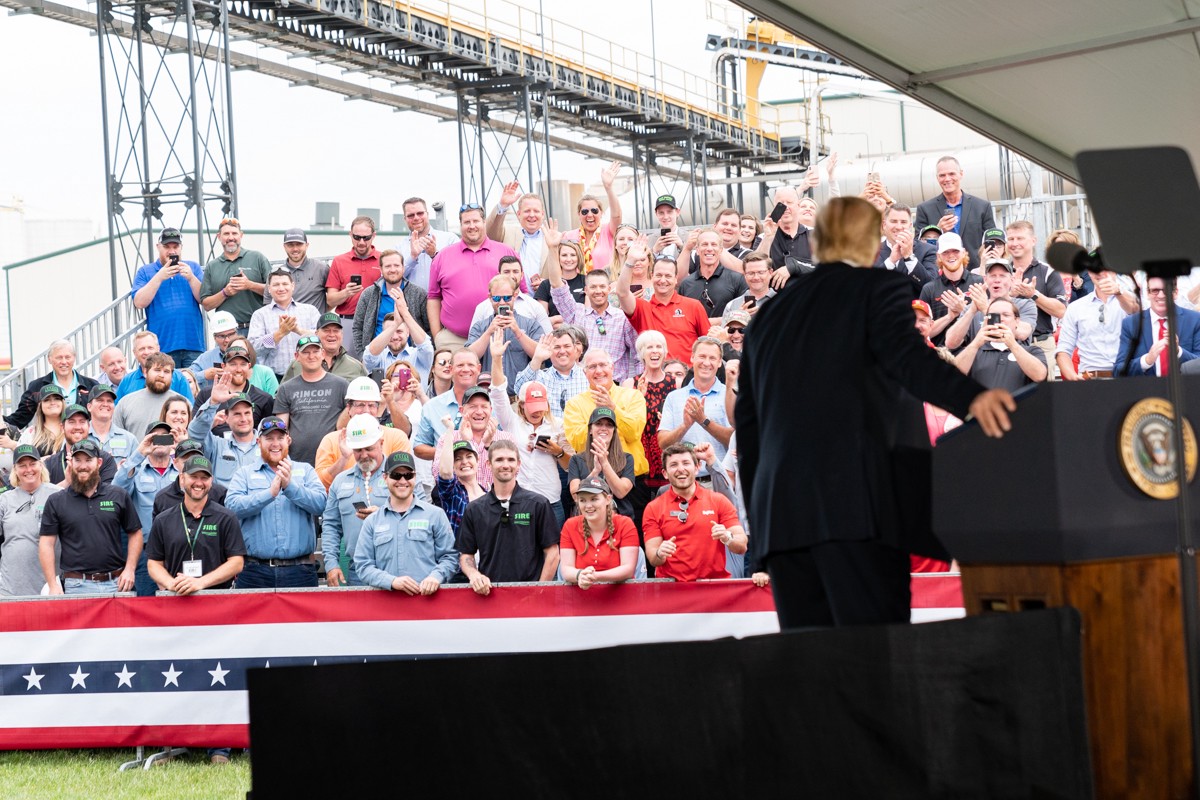 In better news for U.S. investors, American farmers, and just about everyone in China and the U.S., Trump announced today that he will resume trade talks with Chinese President Xi Jinping at the upcoming G20 summit later this month, which both nations are scheduled to attend.
"Had a very good telephone conversations with President Xi of China. We will be having an extended meeting next week at the G-20 in Japan. Our respective teams will begin talks prior to our meeting." — U.S. President Donald Trump, via Twitter. June 18, 2019
This is not, however, good news for the two Democrats who will be facing the Trump/Pence ticket in 2020. Nor is it welcome news for every other Democrat down the ticket from them.
Many Trump voters sat out the 2018 election that swept the Democratic Party into the majority in the House of Representatives and propelled Nancy Pelosi into the Speaker's seat.
Will Trump voters show up en force to vote for Trump again in 2020?
If President Trump manages to resolve the trade dispute with China, and can avoid allowing the U.S. to be dragged into a shooting war with Iran, his critics will have less to work with.
Trump's many detractors are certain to hit him on immigration and his arguably disastrous handling of the border crisis. However, getting Mexico to help do its part to address mass migration across Mexico to the U.S. border was a tremendous win for Trump. His critics can do little more than impugn his successful method of threatening to impose tariffs on Mexico.
Trump critics aren't likely to be fans of the Trump Administration announcement this week that ICE would begin rounding up and deporting people who entered into the U.S. illegally during the recent mass migrations.
Yet, Trump's immigration enforcement numbers lag far behind former U.S. President Barack Obama's during his first term in office. Trump's recent endorsement of proposed changes to the U.S. immigration system that will improve the lives of legal U.S. immigrants, and attract others, will make it more difficult to paint him as a racist, xenophobic monster.
Not that such distinctions will matter much to ardent Democrats. To them, Trump is a monster. Period. Nothing he could ever do, or not do, in office or out, could possibly entice progressive liberal Democrats to vote for Donald Trump in 2020. Or in a million years for that matter.
As such, Trump isn't wasting much time on them.
Trump, like the quintessential insult comic he is at heart, will likely pull no punches, referring to his detractors today as 'haters' and 'losers'. Anyone in his administration telling him to tone down his incendiary online antics are long gone, fired or fed up.
Which is too bad, because they likely would have advised Trump not to live tweet the upcoming Democratic Primary debates. Which is likely to be every bit as outrageous as it sounds.
But what turns 'Never Trump' voters off the most is what Trump supporters like best about him. To them, he is an outsider, an underdog, a fighter, and a winner. He doesn't care what elites think of him, and neither do they. He has kept many of his campaign promises to them, including negotiating better trade deals and bringing manufacturing jobs back to rural communities.
Hundreds of people, though not the 'thousands' Trump claimed, have been lining up, some for almost 40-hours, in Orlando waiting for an opportunity to attend Trump's kick-off campaign event.
With Trump haters, and Trump supporters, equally entrenched, the true battle in 2020 is for the middle ground; for the moderates in both major parties who are not down-the-ticket voters; for libertarians and independents who could go either way.
What is more important to voters who don't have strong opinions about Trump one way or another- his abrasive personal style or his track-record in office?
Independent voters were sure to notice the tax refund most households received in 2018. Nor are they likely to miss the improving balances in their retirement savings accounts as the economy continues to improve.
Will it be enough to save Trump from himself at the ballot box?
President Trump is certainly having little trouble in the way of political donations; he set a one-day fundraising record of $7 million, outpacing Sen. Bernie Sanders and former Vice President Joe Biden.
Voter turnout is going to be one of the most important factors in the 2020 race. Which party, and which candidate, can best motivate their voters to the ballot box?
One thing is certain: The U.S. Presidential race of 2020, like Trump's campaign launch rally in Orlando tonight, is going to be a wild one.
(contributing writer, Brooke Bell)