Democrats and Republicans shift focus to inter-party leadership elections.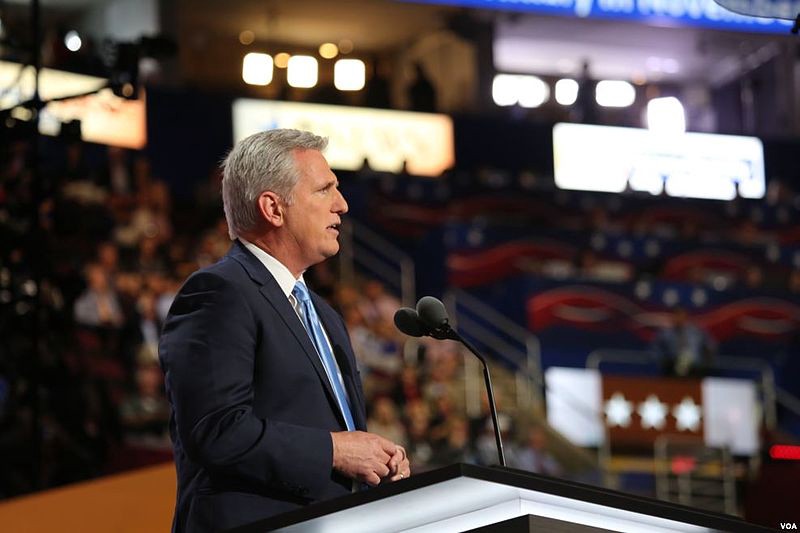 Kevin McCarthy addresses the Republican National Convention in 2016. McCarthy, who was Majority Leader prior to 2018 Mid-term Election, is one of the top contenders for Republican Minority Leader. (photo: Voice of America)
Democrats and Republicans shift focus to inter-party leadership elections.
In the past few days, newly-minted freshmen congressmen and congresswomen from all across the U.S. have been making their way to Washington D.C. to begin their first week of orientation on the hill. They've been recognized at airports by people who voted for them, they've posed for pictures and shaken hands.
Popular pundits on both sides of the aisle have been hailing the U.S. 2018 Mid-term Elections as a win for their political party in the last week. The die-hards, the dyed-in-the-wool, the apologists and the excuse-makers are all mustering their most flattering narratives. Everyone needs an outcome they can get behind, a compelling story to propel them through the next two years; that's campaigning.
Campaigning is fun; in Washington, D.C., the real work begins now.
Formerly the exclusive territory of CSPAN, Republican and Democrat leadership elections are breaking into the mainstream this year. National attention garnered by the 2018 Mid-term election cycle is gradually diffusing into those all-important, but often overlooked, leadership elections.
In these internal elections, the Republican and Democratic parties will, in essence, decide who will see their party through Election Day 2020 and whatever it might bring.
Will this team lead Republicans back to a majority?
House Republicans will elect leadership for the next Congress on Wednesday, November 14, 2018.
House Republicans have new realities to face leading into 2019; they must adjust to being in the minority and they must contend with the untimely retirement of erstwhile Speaker of the House, Paul Ryan.
For the first, which is inevitable for any political party, Republicans need only take the long view; elect good leadership, focus on governance and serve their constituency until voters get another chance to weigh-in.
The second is already upon us. With Paul Ryan's retirement, the number one spot, that of Minority Leader, is left vacant. Two contenders vie for the coveted but difficult position of Minority Leader in the hotly contested race.
California Rep. and current majority leader, Kevin McCarthy.
Ohio Rep. and co-founder of the House Freedom Caucus, Jim Jordan.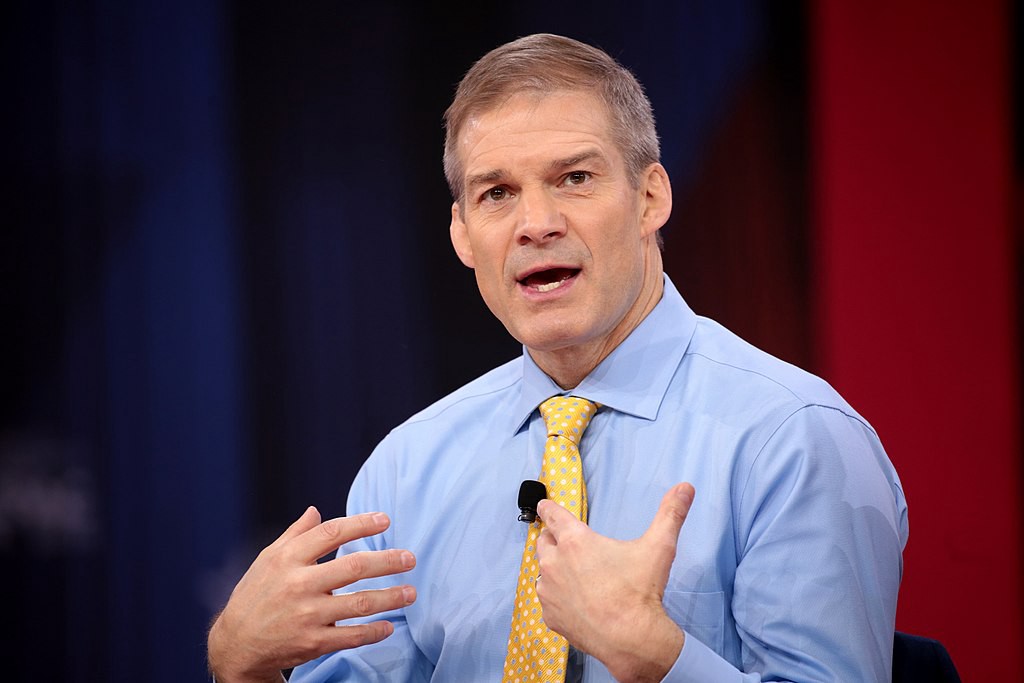 U.S. Congressman Jim Jordan speaking at the Conservative Political Action Conference (CPAC) in 2018 (photo: Gage Skidmore, Peoria AZ)
Minority Whip
Current majority whip Rep. Steve Scalise is unopposed for the number two position in House Republican leadership.
Republican Conference Chair
The current chairwoman, Cathy McMorris Rodgers, was predicted to be a top contender for Republican Conference Chair. Since she has decided against seeking re-election and will opt instead to seek a ranking member subcommittee spot on the Energy and Commerce panel, Wyoming Rep. Liz Cheney is expected to pick up the mantle. Rep. Liz Cheney, daughter of former VP Dick Cheney, intends to 'fundamentally overhaul' messaging operations and is currently unopposed.
Republican Conference Vice Chair
North Carolina Rep. Mark Walker is unopposed to succeed Georgia Rep. Doug Collins. Collins is seeking the ranking member position on the Judiciary Committee.
Republican Conference Secretary
Missouri Rep. Jason Smith is currently running unopposed.
National Republican Congressional Committee Chair
Ohio Rep. Steve Stivers is not seeking a second term. Minnesota Rep. and current NRC deputy chair, Tom Emmer is running to succeed Stivers. Rep. Mimi Walters, the other deputy chair of the NRC, is supporting Emmer. Walters might have chosen to run, but she still doesn't know if she won re-election to her Southern California seat and is unlikely to know by Wednesday's leadership elections.
Republican Policy Committee Chair
Currently held by Luke Messer of Indiana, who lost his bid for Senate and will not be returning to Congress next year, two Freedom Caucus members are in the running to replace him as Republican Policy Committee Chair: Gary Palmer, the Rep. from Alabama and Arizona Rep. David Schweikert.
Will this team keep a Democrat House majority?
House Democrats will hold leadership elections November 28, 2018.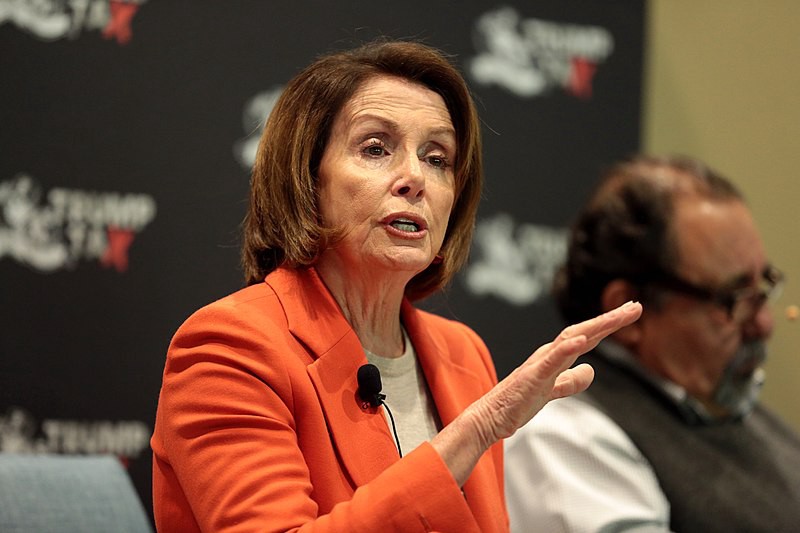 Speaker of the House
Will any House Democrat be willing to challenge Nancy Pelosi for Speaker of the House? The top leadership position, highly coveted, is drawing a great deal of national attention. So far, no one has dared challenge Pelosi, who has raised a great deal of money for Democrat candidates in the past years and who served as Speaker from 2007–2011.
Majority Leader
Maryland Rep. Steny Hoyer is expected to resume the position he held prior to Democrats losing their majority in 2010. Hoyer is running unopposed.
Majority Whip
Steny Hoyer is the current minority whip, but since he is running for majority leader, the minority whip spot is drawing two challengers; James Clyburn of South Carolina and Diana DeGette from Colorado.
Democratic Caucus Chair
New York Rep. Joseph Crowley, the current chair, lost to a Democratic primary challenge in June. Two candidates from the Congressional Black Caucus are running to succeed him; Barbara Lee of California against Hakeem Jeffries of New York.
Democratic Caucus Vice Chair
Current chair, California Rep. Linda Sanchez, will not be running again. Two Democrats are running to replace her as Democratic Caucus Vice Chair; Katherine Clark of Massachusetts and Pete Aguilar of California.
Democratic Congressional Campaign Committee Chair
Four contenders have indicated interest in this position; Suzan DelBene of Washington, Denny Heck of Washington, Cheri Bustos of Illinois and Sean Patrick Maloney of New York.
Watch This Space
As the U.S. keeps an eye on these upcoming leadership elections, Republicans and Democrats decide how they will spend the next two years serving the American people. What will the 2020 election mean for the House of Representatives? Only time will tell.
(contributing writer, Brooke Bell)