"The United States notes with concern the pattern of ongoing PRC attempts to intimidate its neighbors, including Taiwan," said the U.S. State Department.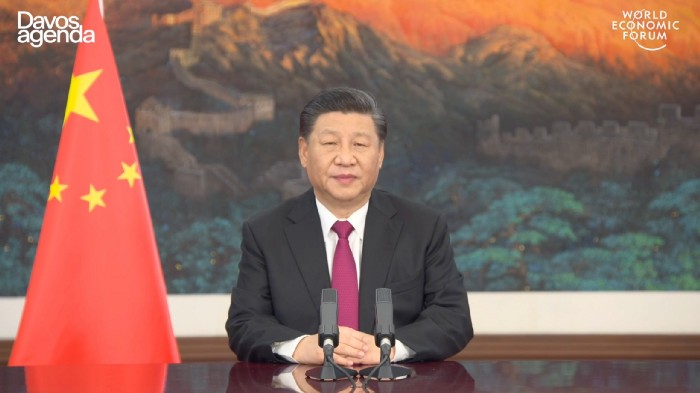 Taiwan' s Defense Ministry reported an incursion by Chinese warplanes just days after newly elected U.S. President Joe Biden's inauguration. The Chinese military planes entered Taiwan's airspace on at least two consecutive days.
On Sunday, China flew 15 fighter jets into Taiwan's airspace between mainland Taiwan and the Pratas Islands in the South China Sea, a report said. According to Taiwanese officials, the jets included six J-10 fighters, four J-16s, two SU-30s, a Y-8 reconnaissance aircraft and two Y-8 anti-submarine planes.
A day earlier, China flew eight bombers and four fighters into the same airspace, Taiwan's self-declared south-western air defense identification zone, Taiwan's Defense Ministry said.
The U.S. Federal Aviation Administration defines an air defense identification zone, or ADIZ, as "a designated area of airspace over land or water within which a country requires the immediate and positive identification, location, and air traffic control of aircraft in the interest of the country's national security."
While China sees democratic Taiwan as a breakaway province, Taiwan sees itself as a sovereign state. Taiwan's air force warned away the Chinese military planes on both occasions, and deployed air defense missile systems to monitor activity in Taiwan's ADIZ.
In reference to the People's Republic of China, State Department Spokesman Ned Price said, "the United States notes with concern the pattern of ongoing PRC attempts to intimidate its neighbors, including Taiwan."
"We urge Beijing to cease its military, diplomatic, and economic pressure against Taiwan and instead engage in meaningful dialogue with Taiwan's democratically elected representatives," Price said in the statement.
"​We will stand with friends and allies to advance our shared prosperity, security, and values in the Indo-Pacific region, and that includes deepening our ties with democratic Taiwan," the statement continued. "The United States will continue to support a peaceful resolution of cross-strait issues, consistent with the wishes and best interests of the people of Taiwan.​ ​We will continue to assist Taiwan in maintaining a sufficient self-defense capability. Our commitment to Taiwan is rock-solid and contributes to the maintenance of peace and stability across the Taiwan Strait and within the region."
To show solidarity with Taiwan, this weekend a U.S. Navy aircraft carrier strike group entered the South China Sea, marking the first deployment during the Biden administration of one of the 100,000-ton warships.
The U.S. aircraft carrier group, led by the U.S.S. Theodore Roosevelt, was ostensibly conducting, "maritime security operations, which include flight operations with fixed and rotary-wing aircraft, maritime strike exercises and coordinated tactical training between surface and air units."
"With two-thirds of the world's trade traveling through this very important region, it is vital that we maintain our presence and continue to promote the rules-based order," Commander of Carrier Strike Group Nine Rear Adm. Doug Verissimo said in a statement.
In another show of support, Taiwan's de-facto ambassador to the United States, Hsiao Bi-him, was invited to President Biden's inauguration.
On Monday, China's foreign ministry spokesman Zhao Lijian condemned U.S. military activities in the region as a "show of force."
"The United States frequently sends aircraft and vessels into the South China Sea to flex its muscles," he told reporters. "This is not conducive to peace and stability in the region."
Last week, China imposed sanctions on over two dozen former Trump administration officials, including former Secretary of State Mike Pompeo, and 27 other high-ranking U.S. officials, accusing them of "prejudice and hatred against China."
As tensions have already started to rise between the Biden administration and China, the Pentagon said U.S. Defense Chief Lloyd Austin spoke with British Secretary of State for Defense Ben Wallace on Saturday, and that the two "exchanged views on confronting strategic issues of mutual interest, including the Covid-19 response, concerns from a rising China, threats from Russia and ongoing operations in Iraq and Afghanistan."
That the Chinese Communist Party is willing to test the Biden China policy so early seems like a misstep. Chinese leader Xi Jinping may find President Biden's State Department far more diplomatic in their trade negotiations when compared with the Trump administration, but President Biden isn't likely to allow China to push around a close U.S. ally.
Taiwan's independence is a cornerstone to peace and stability in the region. Checking any regional ambitions of the CCP, and any designs it might have on the sovereignty of neighboring nations, has long been the position of the U.S. government.
Chinese Communist Party officials should not mistake the first fledgling days of a new presidential administration for a radical change is U.S. State Department policy and a turnabout to greater appeasement of Chinese officials anxious to consolidate power.
The things which got Trump administration officials in trouble with China- addressing the trade deficit, holding China accountable for intellectual property theft and corporate espionage, pushing China on human rights issues like the interment of Uighur Muslims and protests in Hong Kong- are the very things the new U.S. State Department, now under the control of President Biden, will continue doing in the months to come.
(Contributing journalist, Allegra Nokaj) (Contributing writer, Brooke Bell)