Portland's patience with Antifa ends as the Mayor urges residents to write down the license plates of cars bearing black-clad rioters.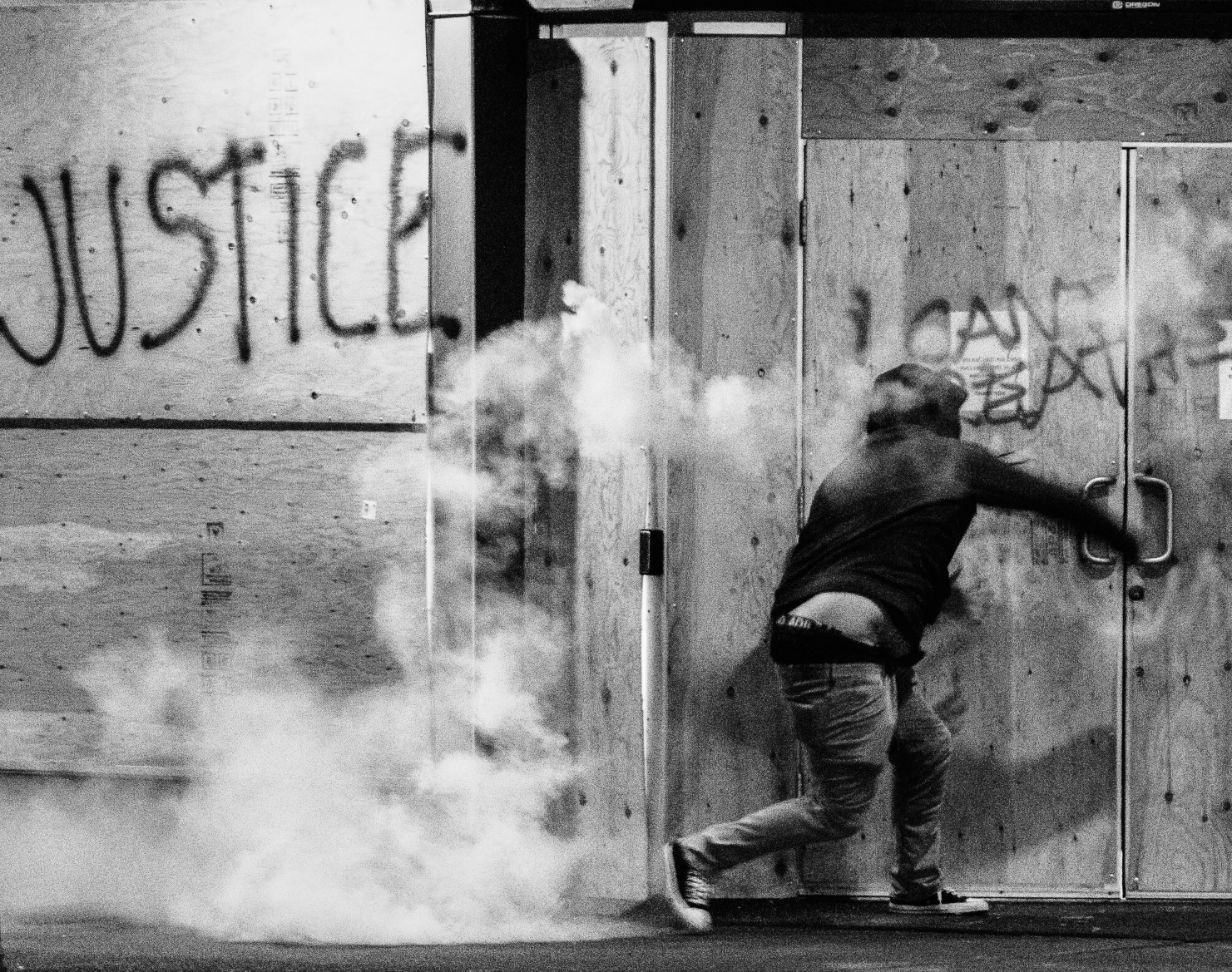 "People are sick and they are tired of destruction and I'm encouraging the public to help," said embattled Portland Mayor Ted Wheeler during a news conference on Friday.
Portland has again been experiencing heightened levels of vandalism, looting, arson and violent crimes.
"I've extended the state of emergency through the weekend," the Mayor told Portland residents before vowing to stop those committing acts of violence, rather than peacefully protesting. "Our job is to unmask them, arrest them, and prosecute them," Wheeler continued, before striking what many civil rights groups are calling an ominous tone.
"I want to personally thank neighbors, family, friends and others who have come forward with vital evidence," Wheeler said. "People know who these criminals are. They know what they're up to. If you have any information, please contact the police."
Wheeler then delivered the coup de gras.
"I also want you to know that these people often arrive at their so-called direct actions, in cars. And they're all dressed in black. If you see this, call the police. If you can provide the license plate, if you can do so safely, that information can help later. Together we can make a stand."
"I'm also asking for your help to make a stand and take our city back," Wheeler concluded.
It was a nice speech- which appeased exactly no one.
Portland community and business leaders are calling Wheeler's action too long overdue- too little, late. Portland civil rights advocates and organizers are condemning the move as a dangerous potential violation of rights in Portland.
"Today, @tedwheeler asked people to 'take a stand' by tracking and calling the police on others for wearing black clothing," said the ACLU of Oregon. "His comments are inappropriate, irresponsible, and dangerous."
Antifa wasn't pleased, either.
Meanwhile, the citizens of Portland are fleeing in droves for the suburbs and businesses in Downtown Portland are following suit. They don't feel safe in Downtown Portland anymore. Businesses can't afford commercial insurance policies, if they can even find them. And even then, most of these new policies specifically do not cover civil unrest. The one-two punch of Covid and social unrest has crushed Portland's once vibrant downtown into a deserted blight of plywood and graffiti.
Wheeler's promises ring somewhat hollow to business leaders in Downtown Portland who have watched this decline with helplessness and growing alarm. They know what Portland news outlets have been reporting about for almost a year:
The Portland Police Department is doing all it can just to respond to 911 calls. Budget cuts, the community atmosphere, and nightly rioting have taken a terrible toll.
Portland police officers are, "overworked, overwhelmed and burned out," according to the Oregonian, which is "why Portland cops are leaving in droves," representing, "one of the biggest waves of departures in recent memory.
"In an unprecedented situation for Portland, a racially diverse and experienced group of police officers is taking pay cuts to get away from the city, while citing poor working conditions here," lamented the Portland Tribune in December.
"And the city's police recruiter tasked with boosting bureau diversity isn't looking for replacements- because that person is gone, too."
"Good people are leaving. Really good cops. And a lot of them have very racially diverse backgrounds," said one long-time veteran of the force.
"The community shows zero support," wrote one departing officer in an exit interview. "The city council are raging idiots, in addition to being stupid. Additionally, the mayor and council ignore actual facts on crime and policing in favor of radical leftist and anarchist fantasy."
Many of the departing cops agreed with that basic description of their reasons for leaving.
"What the city council has done to beat down the officers' willingness to do police work is unfathomable," said one retired training officer, according to the Oregonian. "I have never seen morale so low."
One officer reported feeling what many in Portland are feeling: "A feeling of hopelessness for a once thriving city."
Brian Hunzeker, president of the Portland Police Association, suspects other major cities are seeing a rash of resignations and early retirements. Still, he mentioned Commissioner Jo Ann Hardesty's claim in July that police were setting fires to frame protestors in particular and the city's failure to prosecute the majority of people charged with riot-related crimes in general.
After more than 100 consecutive nights of protests, which were frequently declared riots, as of November, 1000 people had been arrested in Portland. 78% White, 10% Black. Only a scant handful of them was prosecuted.
Did what District Attorney Mike Schmidt call a "presumptive decline to prosecute many protest-related charges" further embolden lawbreakers in Portland?
All this taking place in one of the whitest cities in America, under the auspices of pursuing racial justice, hasn't been lost on prominent members of the Black community, either.
"From Black lives to 'white spectacle': Portland protests have lost focus, civil rights leaders say," was the headline at NBC- last July.
"The focus has been moved from where it is supposed to be and made to be a spectacle, a debacle," condemned the Portland president of the NAACP.
And from Portland's famous "Wall of Moms" of Instagram, which later became the infamous "Wall of Gloms", to the Leaf-blowing Dads of Greater Portland, it isn't hard to understand the criticism.
Then, to the enduring shame of Portland residents, is the treatment of African-American police officers during the protests and riots.
Law enforcement criticism of local government officials, including the Mayor, and their failure to act in the face on ongoing violence, aren't that difficult to understand either.
Mayor Wheeler has himself been driven from his apartment building by arsonists, assaulted and threatened in public, and had to pepper spray someone.
"The immediate term issue is getting beyond the occasional nightly violence that we're seeing," said Mayor Ted Wheeler in October.
Hopes that the election of Joe Biden might quell the violence were dashed almost immediately.
"There is no endgame, apparently other than the destruction of order and civil society in Portland," said Josh Marquis, former president of Oregon District Attorneys Association. "After the election, do they continue to riot? I think unfortunately the answer is the probably will because for them, the endgame is the riot."
As indeed they did.
Portland police arrested 8 after criminal damage to the Democratic Party office following the inauguration of Joe Biden in January. Other targets have included the Oregon Historical Society, ICE offices, the Mexican consulate, the First Christian Church, Arlene Schnitzer Concert Hall and the Boys and Girls Club.
Wheeler's mealy-mouthed "occasional nightly violence"- besides being an oxymoron- has resulted in another 100 rioters arrested last month.
Now, Wheeler has done what the Associated Press has called an "about face". Wheeler has gone from "reimagining policing" by disbanding a unit dedicated to reducing gun crime, reassigning its officers and stripping $8 million from the police budget to redirect towards communities of color- $15 million total cuts- to begging for $2 million in emergency police funds.
"We understand why the previous Council voted to make significant cuts and changes to the Police Bureau," wrote Wheeler in his abject appeal. "We acknowledge the serious reforms and major changes that need to occur in policing. However, we also believe defunding the Police Bureau without replacement programs and interventions caused a vacuum and put many people at risk and caused others to assume there was no accountability."
Wheeler may be a but late, but he is right.
Portland is, in addition to lacking law enforcement officers, experiencing a major surge in violent crimes. In 2020, Portland saw its highest homicide rate in 25 years. Nearly half of the 55 homicide victims in 2020 were people of color, though they make up only 7% of the total Portland population.
Victims ranged from 8 months to 71 years old.
What NPR dismissed as "minor offenses" back in September are bringing Portland to its knees. And Portland leaders are coming to the sobering conclusion that this year's experiments with defunding the police and social re-engineering have been an abject failure.
In response to Wheeler's appeal to the community, there was another riot last night in Portland.
(contributing writer, Brooke Bell)