War and a deepening economic crisis are making it feel like perpetual winter.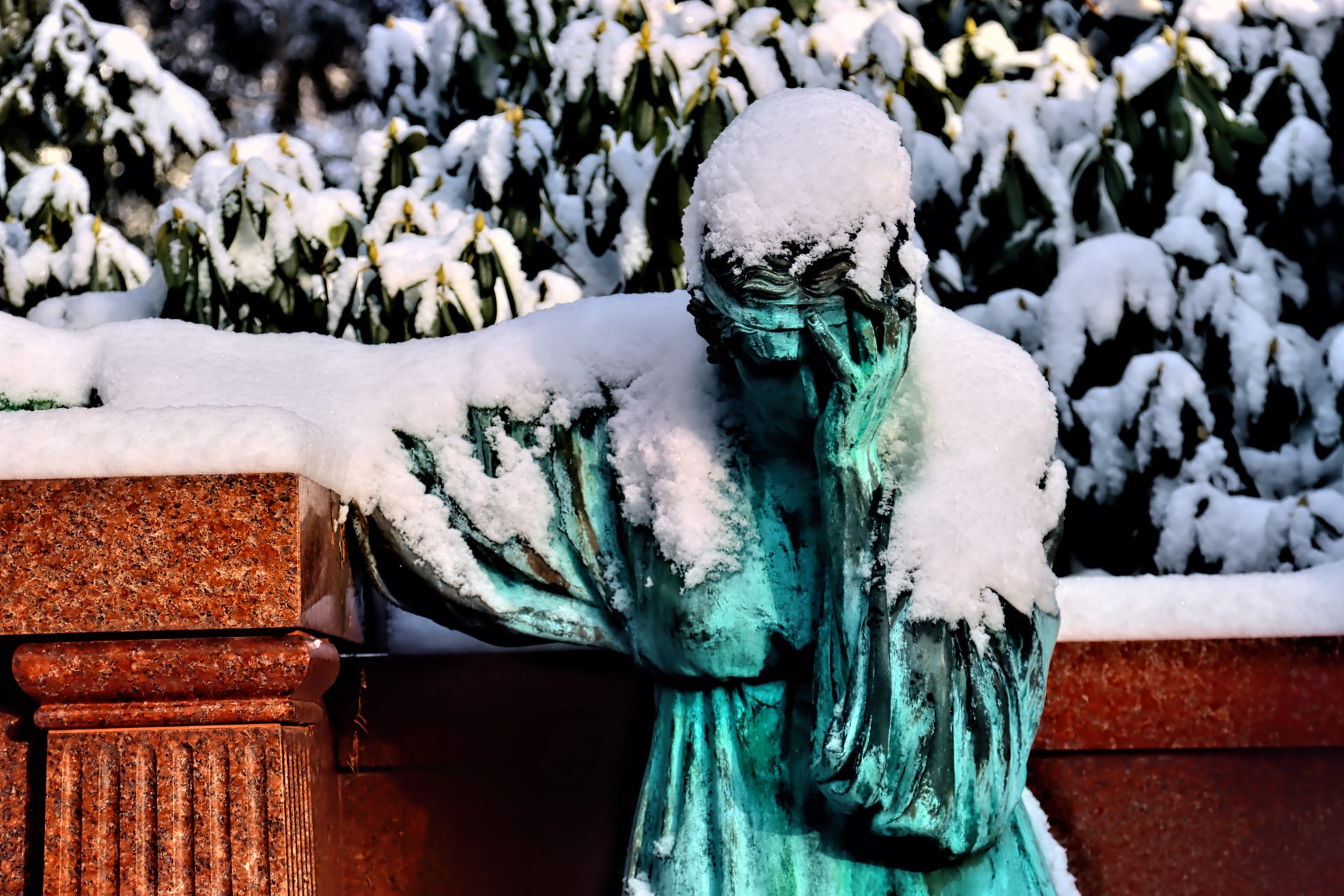 After over two years of uninterrupted non-normalcy, most American adults viewed the dawning of 2022 with askance and a soupçon of skepticism.
In fact, many of America's children also greeted the new year with somewhat less than optimism, being nearly as beaten down as their adult counterparts by years of staring at a computer screen all day while the world collapsed around them.
Nothing in the world seems to be anxious to get back on track either. For many, their Covid19 experience hinged on whether or not they lived in a red state or a blue state. In areas where local governments and school districts keep closures and lock-downs to a minimum, communities and the local economy held up better than average.
In other places, things aren't even remotely looking as if they might return to normal anytime soon, if ever. In some areas, the heat death of the universe seems likely to occur before things return to pre-pandemic normalcy.
Covid19, and the various mitigation measures state, federal and local governments have taken, have at least given Republicans and Democrats one thing on which they can both agree.
Neither Republicans nor Democrats think Covid19 is done with the U.S. quite yet. For Democrats, it is question of new strains requiring new waves of lock-downs, quarantines, school closures, mask mandates and vaccine passports.
For Republicans, it's government overreach being likely to produce more strains of the same.
There is a certain justification in feeling that a government given unlimited power during a crisis might find reasons to continue the current crisis and make much more out of potential new ones.
There is a feeling in many quarters that things have gone rather off the rails in past few years. Instead of righting themselves, now every new crisis seems only to magnify and amplify the old ones, making everything exponentially worse in a continuing spiral of malcontent, suspicion and decay.
The U.S. is grappling with severe inflation that is certainly not transitory, as Americans were first assured it was by politicians and media companies. Rent prices have skyrocketed as much as 40% in some places, and even higher. Mortgage rates have increased sharply, as have the price of homes. New homes have also risen by a prohibitive sum as every component of building a new house has gotten suddenly more expensive.
The Biden Administration blames corporations for price gouging; corporations blame the policies of the Biden Administration for their woes. Meanwhile, the American working-class is already suffering well beyond a little tightening of the belt.
Food prices have been driven way up. Everything from serious snarls in the supply line to the rising cost of fuel has had an impact. Smaller suppliers, family farms, independent producers are feeling the pinch the most. Large corporations can spread out their price increases; small companies don't have the luxury.
Small businesses- the ones that managed to survive the rollercoaster of the past two years- are also suffering the pangs of a labor shortage. In spite of the low levels of unemployment creeping in around the edges, "Help Wanted" signs still dominate the landscape and even essential operations like CVS are having to cut their operating hours.
In some areas, businesses are having to go even further to survive, but for different reasons. A viral photo of a pharmacy in San Francisco is making the rounds on social media. In the photo, every single item on the shelves has been placed behind a locking plexiglass, like a giant vending machine.
A serious rise in shoplifting, coordinated mass thefts by shoplifting and brazen daytime heists have left cities from Seattle to Chicago dazed and reeling.
Crime, from shoplifting to murder, has been going up sharply in many areas across the United States. Blaming the spike on Covid19 doesn't exactly wash: The whole world experienced Covid- most countries saw a drop in crime.
But whether this rising crime is the result of all the guns people bought in 2020, when mass protests and covid seemed to cover the whole world in irony- as Democrats insist- or is the result of defund the police, open border policies and progressive prosecutors trying to eliminate cash bail- as Republicans insist- the American people are still suffering.
Though the whole world isn't grappling with the level of crime happening in America, we aren't suffering this age of malaise alone.
The very world seems to be teetering on the brink of instability and chaos.
In a year, we've seen Afghanistan fall to the Taliban and the Ukraine fall victim to Russian aggression. However these two conflicts eventually play out, the damage to our global psyche can't be ignored.
We were already in a fragile state already.
With the Taliban in charge of an Afghanistan moving closer to Russia and China and further from Western powers, many international policy experts fear a resurgence of terror groups like ISIS. Iran has also been growing bolder of late, in parlance for a new treaty with the U.S., the Iranian government seems to believe it holds the upper hand.
The people of the Ukraine have managed to hold on this long, which is nothing short of a miracle. Out-gunned, out-numbered and out-matched, the fall of Kiev looked for a moment to happen as quickly and shockingly as the fall of Kabul.
Thanks to the Biden Administration's stubborn insistence in the weeks leading up to the invasion of Ukraine by Vladimir Putin's forces, the world had some warning as to what the Russian President was planning.
Still, the very fact that there has been another invasion in Europe after all this time, and that now phrases like "mutually assured destruction" and "world war three" are being bandied about again, is downright terrifying.
Earlier generations lived with a certainty that the world would not exist in 15 years. They spent their childhoods practicing nuclear drills in school hallways and fearing The Bomb.
The U.S. is still the first, last, and only country to use nuclear weapons in war, but that doesn't mean much. Considering how many nations now have nuclear weapons, the strong likelihood we will eventually see another wartime nuclear attack is not a comforting thought.
Indeed, Ukrainian President Volodymyr Zelensky told U.S. journalists only today that the world should be prepared for Putin to use nuclear weapons.
As the conflict drags on, temptation to use extreme measures to force an end may indeed increase.
With all these terrible problems in the rear view mirror, Americans are becoming less concerned about when things will finally return to normal. Instead, more and more people are wondering what devastating event will shake the world next.
China seems more and more likely to invade Taiwan as the days tick by. Military drills, invasions of air space, hacking, acts of economic sabotage and information warfare: All these have been increasing and many foreign policy observers think it likely that the Chinese Communist Party is watching closely what happens to Russia.
It probably isn't a question of if the CCP might move on Taiwan but when. The world has already proven the limits of sanctions. Russian President Vladimir Putin has thumbed his nose at every single one. Xi Jinping isn't even likely to do that.
Punishing China through sanctions and trade embargoes is likely to hurt U.S. companies and the American GDP just as much as it does China's, if not more. Cutting off China means cutting off American companies from importing cheap goods and materials from China. It cuts off manufacturing concerns and Amazon's suppliers.
Worse, China has a robust manufacturing center that can probably supply all the car parts, medical supplies and textiles they need. The U.S. does not.
All these problems, foreign and domestic, have made Americans angry and sour, and according to Politico, likely to punish the political party currently in power, fair or not.
In challenge, however, there is much opportunity. Should elected Democrats find a way to bring down fuel prices, bring down the prices of food and shelter, and set crime trends falling instead of rising, it will be a near-miracle that should see them well into November and beyond.
If not, November is going to be a punishing time for incumbent politicians of both parties, perhaps more-so for Democrats as they currently hold the executive branch as well as the Senate and House of Representatives.
Whatever policy goals Democrats had heading into 2020, should probably have changed by now. What was true in 2020 when Joe Biden was elected President has changed drastically.
In 2020, inflation, higher fuel prices, punishing rents, brewing war, and rising crime weren't on anyone's radar.
In 2022, those things seem to be all anyone can think about and whatever we thought we wanted from our elected officials in 2020 seems like the fantasy of a distant and forgotten dream.
(contributing writer, Brooke Bell)