"It's our city against the killers," Mayor Eric Adams warned his fellow New Yorkers. Can he turn things around?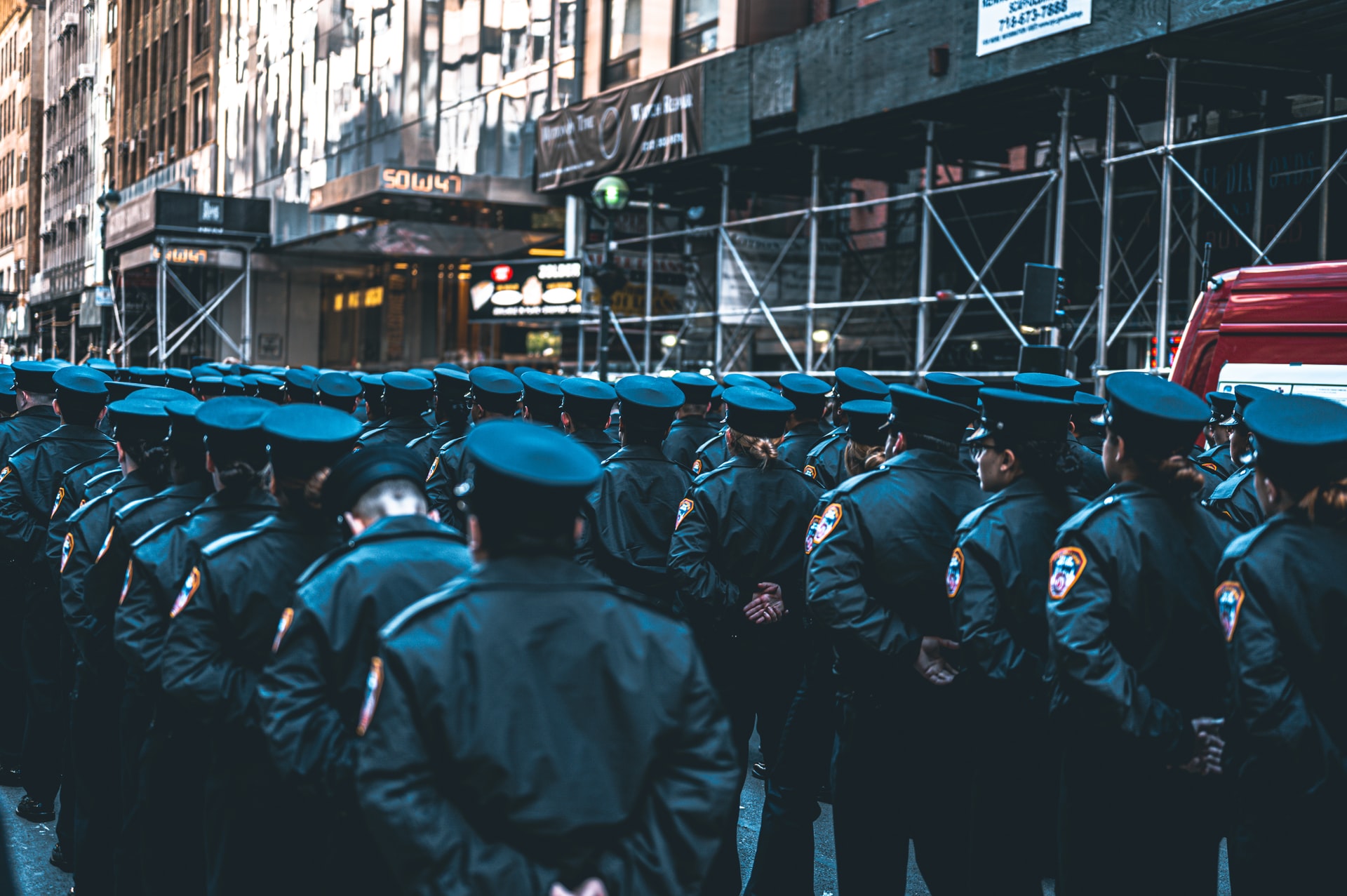 "It is our city against the killers," New York City Mayor Eric Adams told the press on Friday, speaking from a Harlem hospital as an NYPD officer lay inside, fighting for his life: "This was an attack on the city of New York."
"It is time for us to save our city," Mayor Adams continued before promising: "No one will divide this city with their violence."
After the shooting death of 22-year old rookie NYPD officer Jason Rivera last week, and the critical wounding of his 27-year old partner Wilbert Mora, the outpouring of community support has been overwhelming. Rivera's funeral, which turned NYC into a sea of blue, was a rare moment of unity in a city increasingly beset by violence and tragedy.
"This system continues to fail us," Officer Rivera's widow told a packed St. Patrick's Cathedral on Friday to a standing ovation. "We are not safe anymore, not even the members of the service."
It is a call being echoed from nearly all sides in New York City, nowhere more strongly than from the Mayor's office. Mayor Adams himself admitted recently that not even he feels safe on the NYC subway anymore after a woman was pushed in front of a train two weeks ago.
Amid skyrocketing levels of violent crime in NYC, Mayor Adams unveiled his "Blueprint to End Gun Violence" this week.
"New York City has been tested to its core in the first month of 2022," the Blueprint began. "These weeks have been among the most violent in recent memory, most of it caused by a crisis of gun violence that continues to plague our communities. Every New Yorker has been reminded: Gun violence is an epidemic that does not discriminate. It has tragically reached our NYPD officers, our young people working late to support their families, and even a child not yet one year old."
"We will do everything in our power as a city to end this crisis," the Blueprint pledged. "The Adams Administration will enhance NYPD efforts to fight crime with targeted, precision policing that removes guns from our streets; expand the work of the successful anti-violence Crisis Management System (CMS) movement, which addresses the symptoms of gun violence; and bring all New Yorkers together in common cause to work together."
The Blueprint to End Gun Violence, and the Adams Administration's focus on bringing down crime, has been undercut by plenty of detractors. In the words of Eric Lach for The New Yorker, the problem lies in, "curbing the recent spike in shootings in the city while balancing police tactics against the rights of poor minority communities."
This attitude demonstrates a fundamental misunderstanding of the sharply rising crime plaguing neighborhoods from New York City to Seattle. Wealthy elites, like many who write for and read The New Yorker assume that police tactics make minority communities, "less safe."
Policing isn't making these neighborhoods less safe; a lack of policing, coupled with misguided attempts at bail reform, plus COVID-19 mitigation measures is responsible. More policing is, in the short-term anyway, the solution most likely to improve life in poor minority communities- according to the people who live there.
Mayor Eric Adams was by far the most conservative Democrat in the primary only a short time ago. He beat all the candidates to his left- progressives, bail-reformers, candidates running on pledges to "defund the police."
Adams ran on a tough-on-crime platform and won every borough but Manhattan.
In Manhattan- where the writers, editors and readers of the New Yorker live- the rise in crime hasn't had as much of an impact.
What those clamoring to "Defund the Police" forget, or choose to forget, is that police largely serve economically disadvantaged communities.
Wealthy people, wealthy corporations, already have all the security they need: Safe neighborhoods, alarm systems, security cameras, off-site 24/7 monitoring, privacy fencing, armed security guards, motion lights, controlled access points, doormen, front desk staff.
Poorer and working class neighborhoods cannot afford these luxuries and therefore, must depend on the municipal police force, imperfect as it is. Small business owners, unlike their corporate counterparts, also must depend on local authorities to keep the peace and allow them to operate in safety.
Manhattanites didn't vote for Eric Adams because they don't need or want police protection; they don't depend on it.
Efforts to reform policing and criminal justice "from the top down"- that is allowing elites to determine what constitutes as needed reform without input from the people whose lives are actually impacted by reform policies- are bound to fail.
Top-down, ham-fisted attempts at bail reform are having a deleterious effect on public safety for the working-class poor from California to Pittsburg. Releasing a man accused of dousing his pregnant girlfriend with lighter fluid and lighting her on fire for the price of a $5,000 bond is no one's idea of bail reform.
Likewise, Darryl Brooks, the man who recently killed 11 people and injured scores more when he drove his SUV into a parade, was out on a $1,000 bond after trying to run over his girlfriend with his car.
The officer recently killed on-duty in New York City was responding to a domestic violence call. It is a call police get near constantly. The mother of the man who fired on police officers called 911 for help. In rendering that help, two officers were shot, one fatally.
The public appetite for criminal justice reform is dwindling in the wake of a rise in domestic violence, violent crime and high-profile property crimes that have left even very progressive city leaders like San Francisco's Mayor London Breed, stunned and suddenly sounding more like tough-on-crime Republicans condemning failed reform in the strongest possible terms.
Wanting those accused of non-violent crimes to receive treatment, fines and other punitive measures rather than jail time is one thing: Releasing violent criminals into the street to reoffend is another.
There is plenty of low-hanging fruit on the criminal justice tree. Traffic tickets and infractions could go entirely virtual; traffic cams have proven a greater deterrent to speeding anyway.
Ending civil asset forfeiture would alter the status quo in the justice system. Making the assets of those convicted for drug crimes forfeit to police budgets has created unintended consequences in the legal system.
Pursuing drug crimes pays; convicting rapists does not. For this exact reason, if for no other, we have millions of people rotting away in jail after three strikes on non-violent drug offenses and tens of thousands of untested rape kits moldering away in evidence lockers.
Untested rape kits are a crime against humanity.
For-profit prisons could also be considered a crime against humanity. For-profit prisons are, at the very least, incompatible with capitalism and the free market economy.
There are plenty of places progressives can turn to in the fight for justice and equality in the U.S. justice system. It is time for far-left reformers to do what they have to do- which is what they can do while still maintaining the high-level of public safety to which we have all become accustomed.
And it's time for progressive criminal justice reformers to let Mayor Eric Adams and his administration do the same.
(contributing writer, Brooke Bell)