For the way Presidential Advisor Ivanka Trump is treated in the press, members of the left-leaning media should be ashamed of themselves.
Advisor to the President Ivanka Trump in a group photo with Secretary of State Mike Pompeo, Senior Advisor Jared Kushner, President Donald J. Trump, and Vice President Mike Pence at the U.S. Department of State in Washington, D.C., on May 2, 2018. (photo: U.S. Department of State)
Do a recent news search on Presidential Advisor Ivanka Trump and her husband Senior Presidential Advisor Jared Kushner, but only if you don't want to learn anything about the career of Ivanka Trump, her education or any of the important work she has done since her father took office.
What you will learn is that the press hates Ivanka Trump. You will also learn that it still uses all the tried-and-true tricks it has been successfully using for decades to discredit and undermine successful and powerful women.
Especially successful, powerful women who dare disagree with them.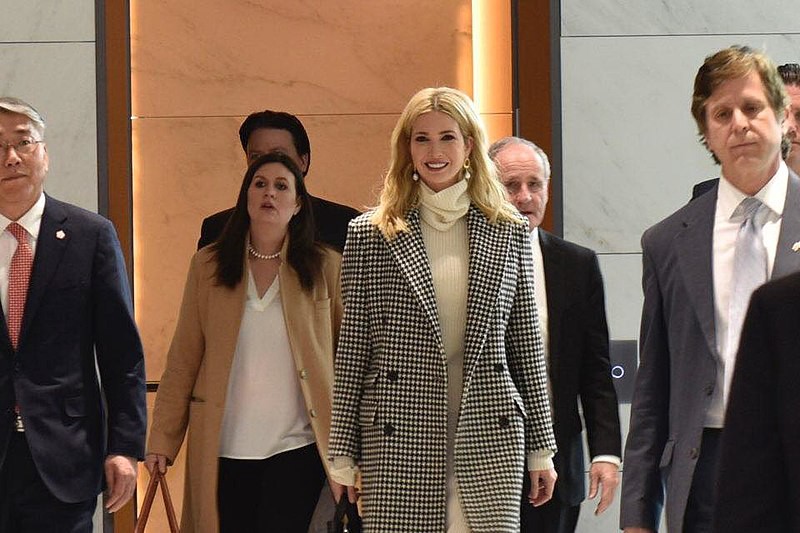 The State of Her Marriage
The subtext is, as always, that any woman who is serious about her career must be on the verge of divorce. These articles appear at regular intervals, every few months.
There are stories in the media analyzing the body language of Ivanka and Jared Kushner as they posed together for a photo at the recent G20 summit, speculating on their relationship and concluding that the couple is obviously having problems. Red flags: Her "tight smile" and her " hold around him is very formal and doll-like, rather than relaxed or super-affectionate."
Super-affectionate. Just like a woman should be at an international summit of powerful world leaders she has no business attending anyway.
The article also mentions 'intense scrutiny from the public' about why the couple was at the G20 in the first place, as evidenced by… a few comments on twitter criticizing their "holiday at the taxpayers expense" and even calling her presence an "embarrassment to the U.S.".
The article fails to mention any legitimate reason for the couple to have attended the G20, such as the fact that they both hold high positions in the Trump administration.
Or even that Jared Kushner, who cultivated a friendship with Saudi Prince Mohammad bin Salman in order to revive the Israeli-Palestinian peace talks might be diplomatically valuable with the Prince under suspicion over the murder of Jamal Khashoggi, which was a key source of tension at the G20.
Even worse news for the couple, Ivanka & Jared's Body Language Is Starting To Resemble Melania & Donald's.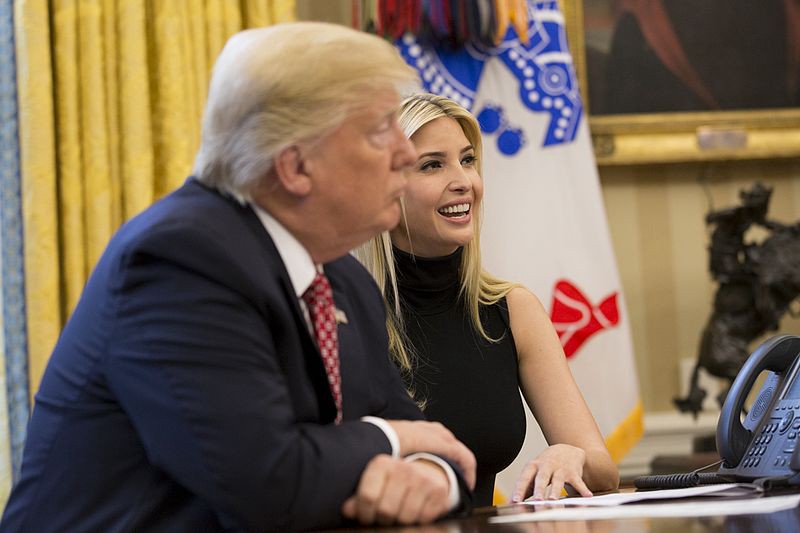 Her Feuds with Other Women
Catfight! In this hard-hitting piece of investigative journalism, comes another question we're all desperate to ask: Awkward? Reported ex-friends Ivanka Trump and Chelsea Clinton sit next to each other at George H.W. Bush's funeral.
Is there any chance these two first daughters and former close friends can repair a relationship strained during the 2016 President election?
Are they Putting the past behind them? Former friends Ivanka Trump and Chelsea Clinton are seen enjoying a warm chat after being seated next to one another at the funeral of George H.W. Bush.
Her Celebrity Friends and Foes
Maybe a more important question is why popular actor Hugh Jackman Just Can't Quit Jared and Ivanka. Will Hollywood's darling ever renounce his 15-year friendship with the couple? In June 2018, Hugh Jackman and his wife were apparently spotted leaving their apartment in New York with Ivanka Trump. Ivanka and Jared even attended Jackman's recent 50th birthday party, where Jackman's other guests somehow restrained themselves from running the couple out of the event.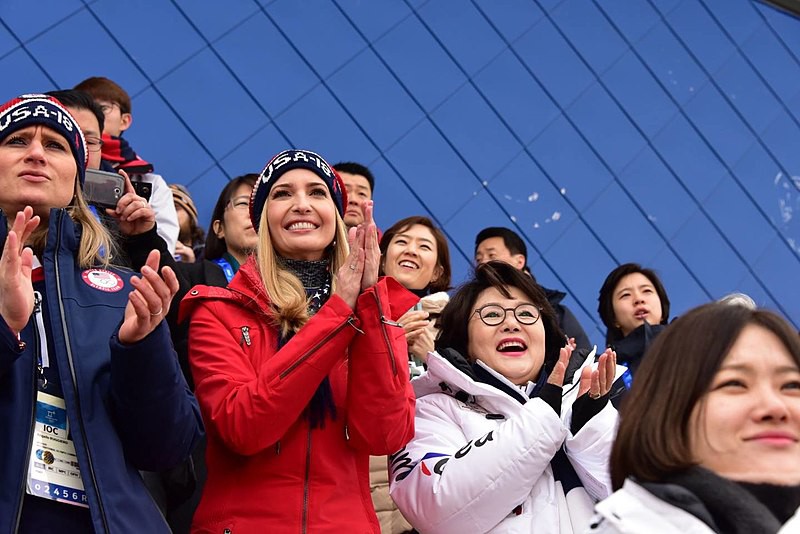 Her Clothes
Then, of course, there are her clothes. Because no sly attempt at discrediting and undermining a woman's accomplishments is complete without an ongoing reminder that, to a woman, clothes are the most important thing on Earth. Followed by shopping for clothes.
On December 5, 2018, Ivanka Trump Shades Melania By Wearing Gabriela Hearst Pantsuit. Her outfit may even be a message: Ivanka Trump SNUBS Melania Trump by wearing this designer who slammed Donald and wife?
For those more high-minded in the press who would still like to criticize Ivanka Trump to sell newspapers, they take aim at her for being Jewish, albeit slyly. Or is she not Jewish enough?
Jewish Criticism
JEWISH AMERICANS 'MORE OFFENDED BY JARED' KUSHNER AND IVANKA TRUMP THAN BY PRESIDENT AMID ANTI-SEMITIC ATTACKS, at least according to Newsweek on November 17, 2018. At least in the New York Times story published on the same day, Are Jared and Ivanka Good for the Jews? Jewish communities stand more divided than ever on whether to embrace or denounce Jared Kushner and Ivanka Trump, it is admitted, though indirectly, that some Jewish people appreciate the couple and the work they do.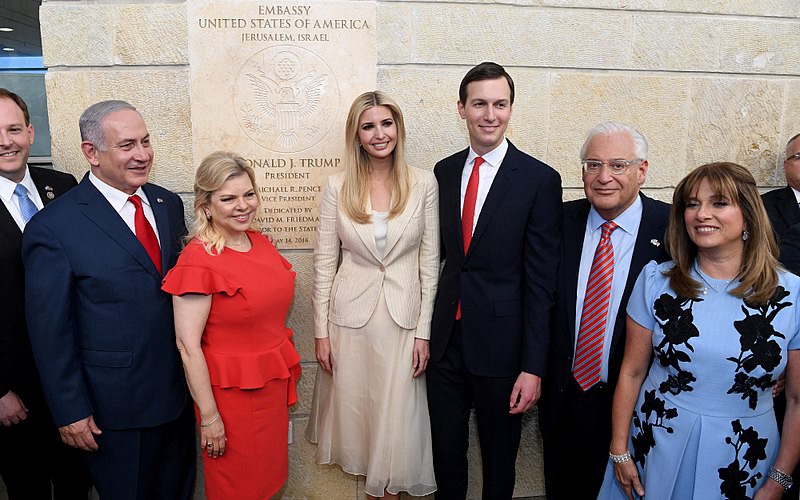 On the campaign trial, Trump promised to be the most pro-Israel president in US history.
One year ago, President Donald Trump fulfilled his campaign promise to move the U.S. embassy to Jerusalem. On December 6, 2017, facing intense backlash from the Muslim community around the world and harsh criticism in the U.S. press, Trump told the American public he would be transferring the U.S. embassy in Israel from Tel Aviv to Jerusalem.
Israeli Prime Minister Benjamin Netanyahu praised the decision as a recognition of thousands of years of Jewish connection to the city.
Before December 6, nations universally chose to locate their Israeli embassies in the commercial capital Tel Aviv to maintain neutrality on the controversial issue of Jerusalem.
The new U.S. embassy in Jerusalem actually opened May 14, 2017. President Trump did not attend the ceremony; it was attended by his daughter Ivanka and her husband Jared Kushner, who is also a key presidential adviser.
This year, as Trump celebrates Hanukkah at the White House, he continues his high-profile support of Jewish people, in the U.S. and around in the world, and hasn't forgotten the recent tragedy the Jewish-American community suffered in Pittsburg.
"Five weeks ago our nation mourned a horrific tragedy. Jewish Americans were brutally murdered in a sinister anti-Semitic attack on the Tree of Life Synagogue in Pittsburgh. And we went to see what had happened and to meet some of the people, and they were incredible people. And the way they stood up so bravely, so proudly was just something very incredible to see. And the rabbi was just a great person."

"In the aftermath of that wicked assault, we reaffirmed our solemn duty to confront anti-Semitism everywhere it occurs. We must stamp out this vile hatred from the world." -President Donald Trump, speaking at a 2018 White House Hanukah event.
The Real Ivanka Trump
Members in the press would do well to remember that the true measure of a woman is the same as for any person: Not what she wears, not if she is a "good wife". NOT if she is properly conformant to her professed religion.
People are measured by how they choose to spend their time; what they contribute to their communities and to the world; who they help and how well they help using the resources available.
Here are a few other things the press could mention in between predicting Ivanka Trump's impending divorce, dissecting her outfits, and, eventually, using telescopic lenses to photograph her in a swimsuit in for the purposes of body-shaming.
Her Work on Prison Reform
Kim Kardashian West has lobbied for prison reform for quite a while. She visited the White House again in September to talk about sentencing and clemency issues with Ivanka Trump, husband Jared Kushner and other members of the president's administration.
Ivanka Trump has been a vocal supporter of the First Step Act, a recent and vital prison reform bill, and is actively working to help advance it.
Her Work to Stop Human Trafficking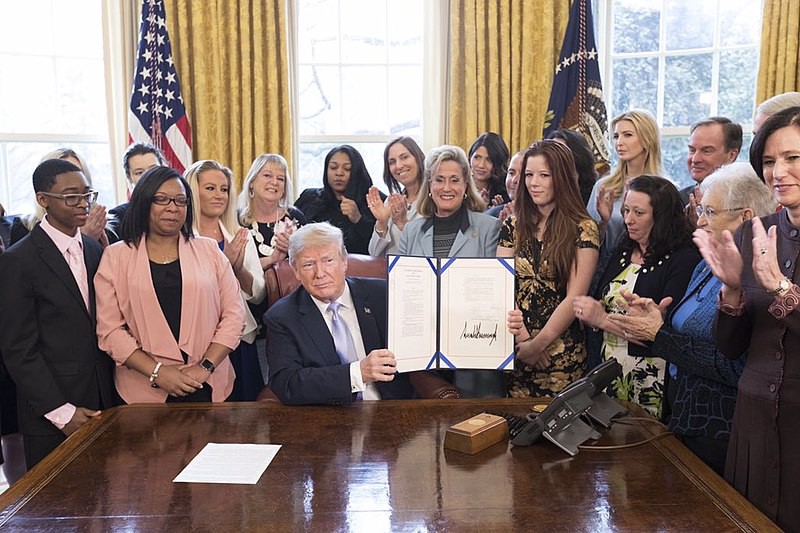 "For years, I have been working with law enforcement, advocates, and my colleagues to end modern day sex slavery. Today, we are crossing the finish line and bringing solace to survivors, and new tools to law enforcement to crack down on this scourge against humanity.

I would like to thank Ivanka Trump for her continued advocacy on this issue and President Trump for signing FOSTA into law. With today's bill signing we are finally decimating the online sex trafficking industry. FOSTA gives federal, state, and local prosecutors the tools they need to take down the websites selling our children with impunity.

The law also provides a criminal deterrent that will ensure fewer people ever enter the sex trade, and it has already been effective in shutting down dozens of trafficking marketplaces. Most importantly, survivors across the United States are no longer alone, and justice is no longer out of reach." Congresswoman Ann Wagner (D-MO)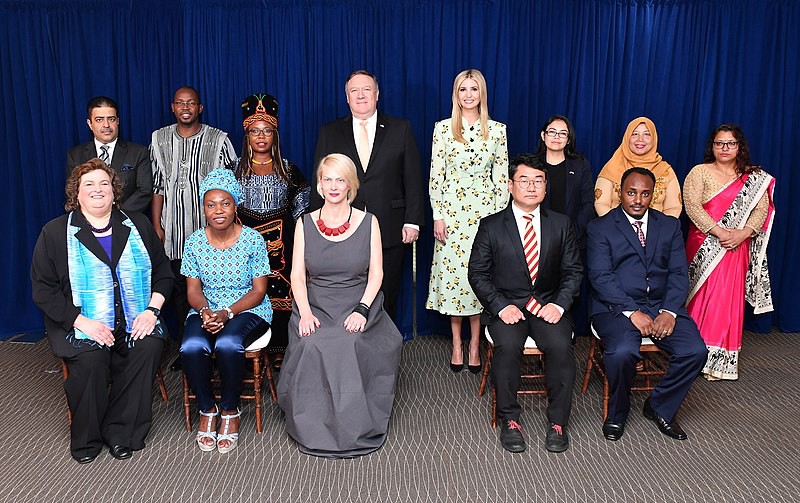 In June, Ivanka Trump, along with Secretary of State Mike Pompeo, presented ten individuals from around the world with awards for their efforts to fight against human trafficking. Trump has pledged to continue her support in the crusade against human trafficking in 2019.
Her Success
The Jerusalem Post writes IVANKA TRUMP AND OTHER TRAILBLAZING JEWS TOP FORBES LIST OF POWERFUL WOMEN. "As women continue ascending to leadership roles, breaking glass ceilings and transcending the unjust limitations of the past, Jewish women lead the pack."
Her Work Around the World