Could Warren win it all?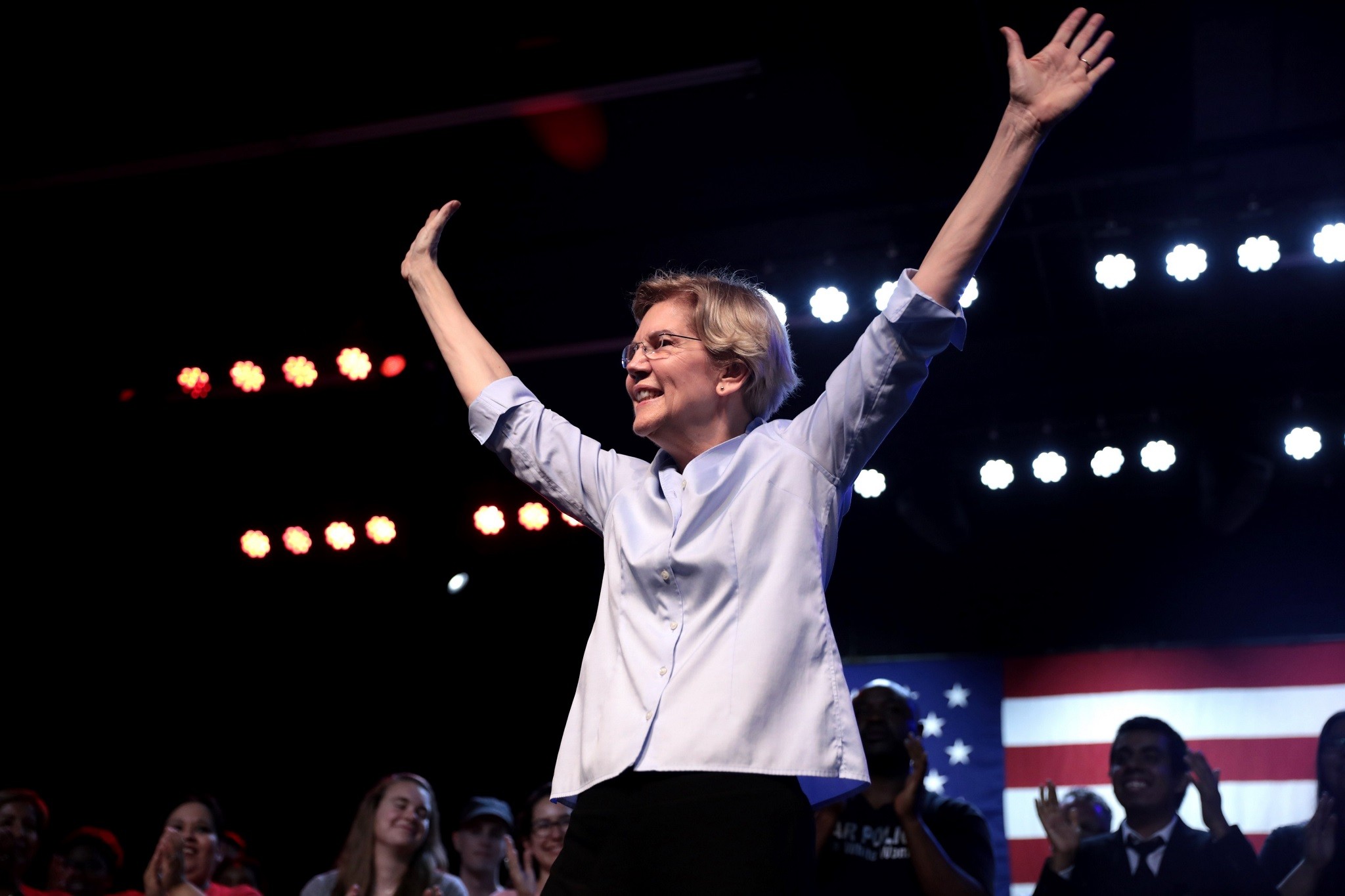 U.S. Senator Elizabeth Warren speaking with supporters at a town hall at the Marquee Theatre in Tempe, Arizona. (photo: Gage Skidmore)
While the fortunes of other Democratic hopefuls have been falling, Sen. Elizabeth Warren has been steadily rising in the polls.
Suddenly, it's beginning to look a lot like Warren. Everywhere you go.
There are only around 400 shopping days until the 2020 election. For Democratic voters, the clock is ticking down toward the Democratic primary which will determine everything.
Namely, who will be the Democratic champion versus Donald Trump. And, Democrats hope, the next U.S. President.
Democratic voters have thus far been confronting a vastly overgrown field of excellent contenders, many probably spurred to run by the perceived weaknesses of the front runner, Joe Biden.
Perceived weaknesses it would seem: Former Vice President Joe Biden is considered a known quality in the Democratic Party; a moderate with a long voting record, an experienced statesman, an everyman who could appeal to working-class voters.
But Biden also came with some baggage; his unfortunate tendency to gaffe, his previous failed bids to become the Democratic nominee.
And, it would seem, some not-quite resolved questions with regards to his son Hunter Biden, who was hired by a Ukrainian energy firm for $50,000 per month in 2015.
Even Biden's most ardent supporters admit that it looks bad. It might be business as usual in Washington but it won't sit well with voters.
Worse for the Biden campaign is that, unlike questions that have been raised before about this issue, this time it is being linked to the efforts of House Democrats to impeach President Trump.
Meaning questions about the Bidens and Ukraine aren't going anywhere, anytime soon.
Possibly even on par with the Mueller investigation.
Impeachment may not remove Donald Trump from office, which it likely won't, but it might have removed Joe Biden from the ranks of Democrats running for President. His attachment to the Ukraine scandal, however tangential may hurt his electability.
The other person surpassing Warren in the polls may be off the roster.
Sen. Bernie Sanders experienced chest pains Tuesday night and underwent heart surgery today. His campaign has cancelled all events and a major million-dollar ad buy.
While the Sanders campaign reports that Sanders is currently in recovery, talking and "doing fine", this second health scare following so closely on recent event cancellations, doesn't bode well for the Sanders campaign.
Sanders, who is 78, is facing a long, grueling slog on a campaign trail that has only just begun to get hilly. Another 400 days of constant travel, glad-handing, and shouting about Donald Trump isn't even the job- that's the job application.
Four years ago Sanders made an excellent candidate; he would have made a great President. Whether he can go the distance in 2020 is far from as certain.
What a difference a week makes.
With Biden tarnished by the Ukraine scandal and Sanders hampered will ill health at the worst possible time, Sen. Elizabeth Warren, who has been steadily gaining in third place, is suddenly sprinting to the fore.
Warren is poised to overtake both Biden and Sanders in the polls, as undecided Democratic voters are bound to be influenced by recent events. Undecideds, or those leaning unwillingly towards Biden or Sanders, may be ready to commit to supporting Warren.
It would appear that big tech companies- which Warren has threatened to break up- and Wall Street- which Warren has threatened with punishing taxes and stricter regulations- are taking her more seriously.
This isn't necessarily good news for the Democratic Party.
Wall Street, big banks, and other large Democratic donors are sounding the alarm that they do not intend to support Warren if Democrats nominate her. Some have even threatened to cross party lines and support Donald Trump if she becomes the nominee.
Large Democratic donors pulling back at a time when House Democrats, presumably, have Trump on the ropes isn't a good sign for Pelosi and company. It doesn't exactly smack of confidence.
Republicans and Donald Trump, on the other hand, are full of confidence. In fact, Trump donors are so confident that Trump will survive this latest Democratic bid to oust him, record campaign donations are pouring in.
Pelosi talking tough on impeachment, though still yet to bring it to a formal vote or file articles of impeachment, was perhaps the best thing that could have happened to Donald Trump, at least from a record-breaking fundraising perspective.
Democrats in the House and in the press who hope to be able to persuade enough Republicans to back impeachment might do well to remember this fact. Money talks.
Everything else walks.
Whether voters will buy what Elizabeth Warren is selling may largely depend on how successfully the Trump campaign manages to paint her as a socialist who wants to wreck the free market and put the government in charge of everything.
But Democrats who might have considered backing Sanders will surely consider backing Warren. And Democrats in the Biden camp may view Warren as a nice compromise between liberal progressivism and moderate pragmatism.
Whichever Democrat eventually faces Trump will be in the fight of their lives. Sen. Elizabeth Warren has the policy chops, the cool demeanor and unflappable speaking style of the professor she was; Democrats concerned about her electability should reconsider.
The Democratic Party could do much worse than Elizabeth Warren.
(contributing writer, Brooke Bell)