"I am honored to be your secretary," Blinken told State Department staff members on his first day as Secretary: "Now let's get to work."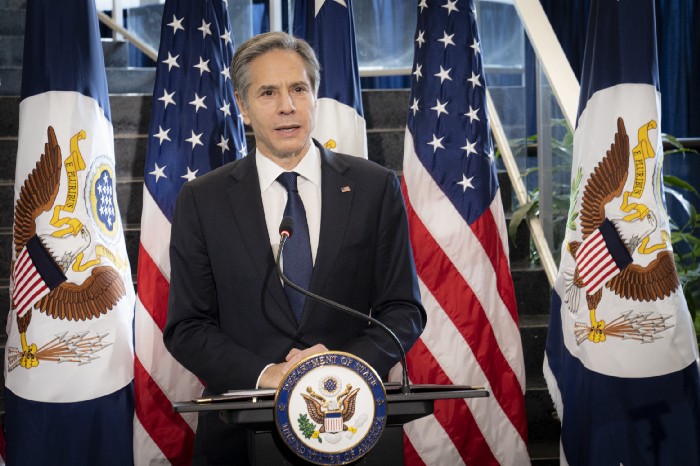 True to his inaugural address about restoring national unity, President Joe Biden's recently-confirmed candidate for U.S. Secretary of State is an ideal choice to strike a moderate tone, appealing to both progressives and conservatives.
Antony Blinken, a longtime diplomat and former Deputy Secretary of State under President Obama, was easily confirmed by the Senate with a strong showing of bipartisan support, 78–22.
Antony Blinken was sworn in on Tuesday, January 26, and began his tenure as the 71st U.S. Secretary of State in a manner that was quintessentially diplomatic: Soothing potential internal strife within the State Department, repairing State Department relations with the press corps, and reassuring U.S. allies and adversaries that American leadership is back.
A natural and gifted ambassador, Blinken wasted no time during his first full day at the head of the U.S. Department of State.
Arriving at the State Department on Wednesday, Secretary of State Blinken was greeted by an enthusiastic coterie of State Department employees. Addressing his staff, Blinken promised to "have their backs" as he committed to rebuilding U.S. diplomacy.
The new Secretary of State also gave staff members his pledge to increase diversity within the ranks of the State Department diplomatic corps, a group which has historically lagged in diversity.
"The world is far more likely to solve problems and meet challenges when the U.S. is there," Secretary Blinken told the assembled State Department staff members; "I am honored to be your secretary. Now let's get to work."
After ostensibly putting the potential concerns of his new staff members first, Secretary of State Blinken next turned his attention towards the press room.
Following an introduction by State Department Spokesperson Ned Price, Blinken candidly addressed the assembled members of the press and pledged to always treat them with utmost respect.
"The world is watching us intently right now. They want to know if we can heal our nation. They want to see whether we will lead with the power of our example…and if we will put a premium on diplomacy with our allies and partners to meet the great challenges of our time," Secretary of State Blinken told reporters at the press conference.
"More broadly and it is never more important to restate it, a free press is a cornerstone of democracy including right here at home," said Blinken. "I know we're not always gonna see eye-to-eye. That's not the point of the enterprise. Sometimes we'll be frustrating to you."
"But you can count on me," Blinken promised. "You can count on all of us to treat all of you with the immense respect you deserve and to give you what you need to do the jobs that you're doing that are so important to our country and to our democracy."
As Blinken ushers in a new era in the State Department, progressives should be thrilled to have a Secretary of State who is committed to addressing the urgent crisis of climate change. He has also promised to repair America's damaged diplomatic brand worldwide.
Moderates of both parties and conservatives will appreciate that the State Department, under the auspice of Blinken's leadership, intends to support imperiled and fledgling democracies worldwide and be firm with China.
Blinken's State Department has already issued a sternly-worded warning to China on behalf of U.S. ally Taiwan. Chinese warplanes, likely in an effort to test the new Biden Administration, have invaded Taiwan's sovereign airspace twice in the past week.
Support for Hong Kong, another hot-button issue with China's ruling Chinese Communist Party, is also a tough fight from which Blinken's State Department seems unlikely to flinch.
Confronting China on issues like human rights abuses against Uyghur Muslims, Taiwan's sovereign nation status- which the U.S. recognizes but China does not- and more will not be easy, and will require herculean levels of diplomacy from U.S. officials.
Blinken has already demonstrated his natural capacity for thoughtful diplomacy, and during his Senate confirmation hearing, he did not shy away from or downplay the challenges posed by China.
Under the current Chinese Communist Party leadership of Xi Jinping, "the hiding and biding has gone away," Blinken asserted to the Senate Foreign Relations Committee during his confirmation hearing.
At another point during the hearing, Blinken even agreed with his predecessor's assessment that Chinese Communist Party leadership in Beijing is engaging in a genocide against the Uyghur.
Nor did Secretary Blinken flinch from confronting Russia on his first day. Responding to questions from reporters, he expressed the U.S. State Department's "deep concern" over Russian President Vladimir Putin's recent treatment of Russian opposition leader Alexei Navalny.
A staunch Putin critic, Alexi Navalny fled Moscow last year after being badly injured in a chemical attack. Upon his return to Moscow last week, Navalny was immediately taken into custody by Russian authorities.
"Across the board, as the president said, we're reviewing all of these actions that are a deep concern to us whether it is the treatment of Mr. Navalny and particularly the apparent use of a chemical weapon in an attempt to assassinate him."
Regarding another potential sore spot in U.S.-Russia relations, the U.S. State Department has even signaled continued support for Venezuelan would-be President Juan Guaidó is his efforts to overthrow dictator Nicolaus Maduro. Since Maduro seized power in 2013, the formerly wealthy nation of Venezuela has become a humanitarian nightmare.
With tensions flaring all over the world, and at home, it is clear that the consummate diplomacy of Secretary Antony Blinken is coming not a moment too soon. Judging by his first day on the job, nominating Blinken was an inspired choice by the Biden Administration.
Secretary of State Blinken is the right person for the job, capable and committed to standing up for American interests abroad and at home.
(contributing writer, Brooke Bell)