Amid all the chaos, sports organizations, non-profits, and world governments have been working together to evacuate Afghanistan's female athletes.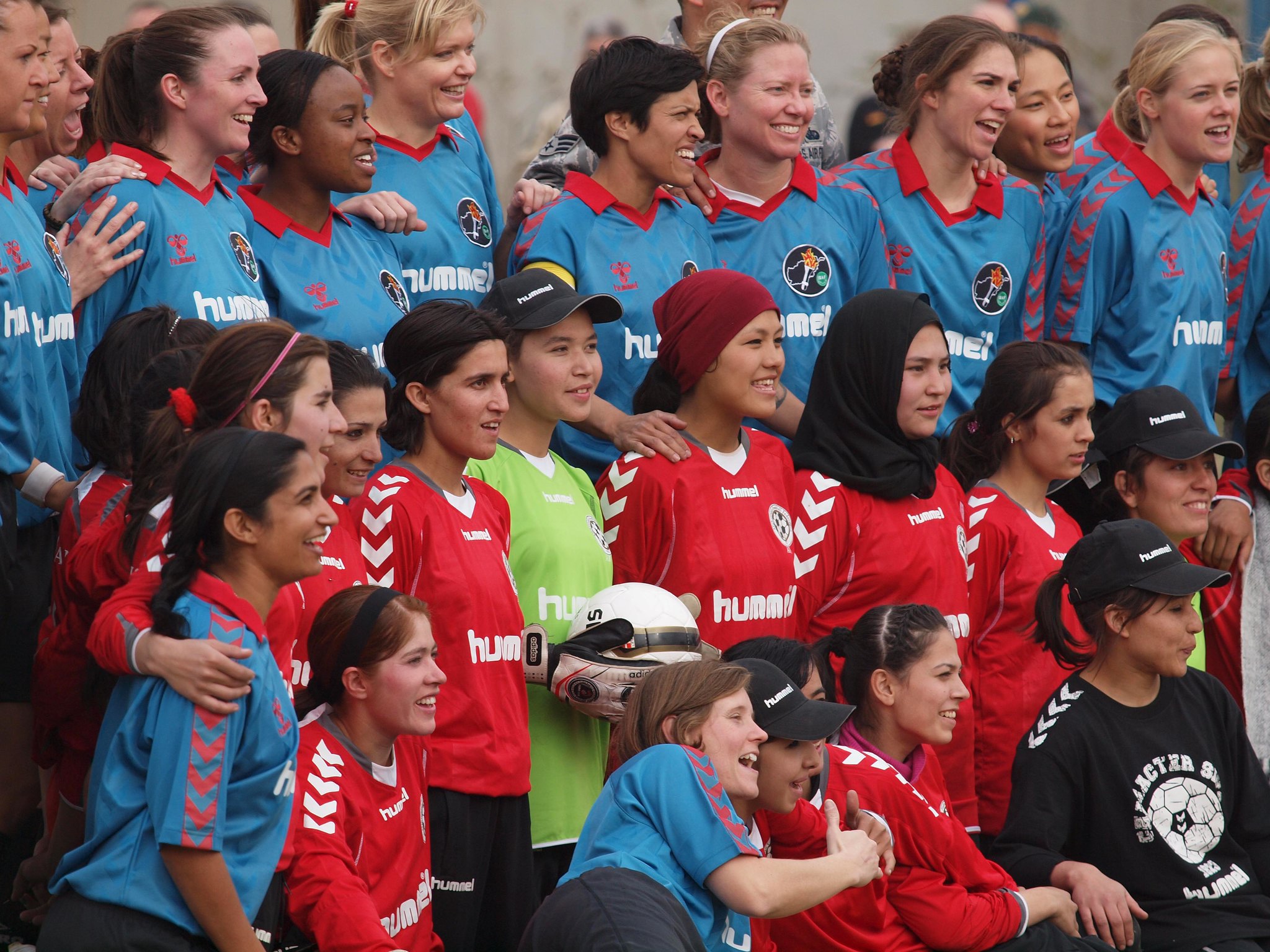 Once upon a happier time, former Afghan national soccer team captain Khalida Popal told her teammates to, "to stand strong, to be bold, to be visible" as ambassadors of equal rights for women in Afghanistan.
After Kabul fell to the Taliban, Popal- who currently resides in Copenhagen- had a much different message for her teammates.
"Today I'm calling them and telling them, take down their names, remove their identities, take down their photos for their safety," she told Reuters in an interview on August 18. "Even I'm telling them to burn down or get rid of your national team uniform."
"And that is painful for me, for someone as an activist who stood up and did everything possible to achieve and earn that identity as a women's national team player," the former captain said. "To earn that badge on the chest, to have the right to play and represent our country, how much we were proud."
"What we are seeing is a country collapsing," she continued. "All the pride, happiness to be there to empower women and men of the country is like it was just wasted."
Afghanistan's US-based women's soccer captain Shabnam Mobarez has been desperately appealing to FIFA authorities to step in and save her teammates trapped in Afghanistan, where they have been driven into hiding in fear of their lives.
After relaying a terrified appeal from one of her teammates, Mobarez publicly called on sports officials to do something:
"'No I am not [okay]- I know they will come for me soon, can you help me?' @FIFAcom how should I answer the question? We must act to save my teammates. They are my sisters."
"People need to understand, we fought for those rights," one Afghan woman told The Hill on Wednesday. "Despite the U.S. being there, we still fought for them within the patriarchal system to be able to stand up to them and tell them 'this is our right.' "
"Once We Waltzed in Kabul," lamented Kathy Gilsinan at the fall of the capital city in a single day. It is sentiment the female athletes of Afghanistan understand all too well.
Once they played football in Kabul: In a single day that lifelong dream was taken from them.
"They fought to empower women in Afghanistan," Shabnam Mobarez told Tribuna Expresso almost a month ago. "We tried to use football as a tool to give women a new voice and make them fight for their rights, but now it seems that football is something that can endanger them, and potentially kill them, which is heartbreaking."
"I talk to them regularly on WhatsApp and do my best not to let them down," she said helplessly. "When I was captain of the national team, I used to tell the players that everything was going to be fine, that we were going to overcome everything together."
"Now, when I talk to them, they cry on the phone and fear for their lives. I can't tell them it's going to be okay, because I'm not sure what's going to happen tomorrow, or a week from now."
Not a week from the date of that interview, or even two weeks; but miracles have been happening for some of the female professional athletes of Afghanistan.
On August 24, FIFA and FIFPro, in cooperation with the government of Australia, successfully evacuated 50 female footballers and their families.
"These young women, both as athletes and activists, have been in a position of danger and on behalf of their peers around the world we thank the international community for coming to their aid," said FIFPro.
Thanks to the untiring efforts of a non-profit organization called "Football for Peace"- and the leadership and compassion of Pakistani Prime Minister Imran Khan, female players from Afghanistan's junior national football team have reached sanctuary in Pakistan.
Together with their families, the young players will be housed in Lahore for 30 days after which time they will be able to seek asylum in third countries.
The players- it was revealed by the Independent- wrote personal letters to Prime Minister Khan describing their imminent danger and begging for acceptance into Pakistan.
They weren't wrong about the dangers.
In Kabul, Taliban soldiers have already begun hunting for former members of Afghanistan's women's cricket team.
Under the old regime, people who disobeyed the uncompromising religious edicts of the Taliban- man, woman, or child- were publicly tortured or executed.
While the new ruling Taliban has a better media team than the old Taliban, on the ground in Afghanistan, there are terrifying signs that not much has changed.
Former members of the Afghan government have been reported missing by their families. Journalists have been tortured and beaten. Peaceful protests have been dispersed with machine guns.
Young girls and women have been become victims of sex trafficking at the hands of Taliban soldiers.
There aren't any indications women will be allowed to receive a proper education, to say nothing of playing professional sports.
"In cricket, [women] might face a situation where their face and body will not be covered. Islam does not allow women to be seen like this," said Ahmadullah Wasiq, deputy head of the Taliban's new cultural commission, last week.
"It is the media era, and there will be photos and videos, and then people watch it. Islam and the Islamic Emirate [Afghanistan] do not allow women to play cricket or play the kind of sports where they get exposed."
"Every woman playing cricket or other sports is not safe right now," said one cricket player, giving the assumed name Asel. "The situation is very bad in Kabul."
"We are all hopeless," she said after describing Taliban threats to kill any woman they find playing cricket or any other sport.
"I was not only thinking about myself, I was worrying about my girls," said another player using the assumed name Taqwa. "They are sacrificing their lives, their studies. Some even didn't get married so they could play for Afghanistan. I'm very worried about their lives."
"When I play I feel like a strong woman," said a third anonymous player who used the name Hareer. "I feel confident and I feel proud of myself. I can imagine myself as a woman who can do anything, who can make her dreams come true."
"I want to be an international cricket player," said Hareer, who was able to escape Afghanistan during the evacuation.
"I want to be a strong Afghan woman who can change other people's lives," she told interviewers. "I want to be a role model for other Afghan women and girls. I want to change at least a few men's minds in Afghanistan. I want to be proud of myself and that's all."
"The situation is bad for us. But there is hope while we are breathing. If we get taken from the country and taken somewhere else we will start again," she promised.
"We will not give up on our dreams, inshallah [if Allah wills it]."
(contributing writer, Brooke Bell)