After enduring chemical attacks and assassination attempts, Navalny now faces a prison sentence human rights watchdogs insist is politically motivated.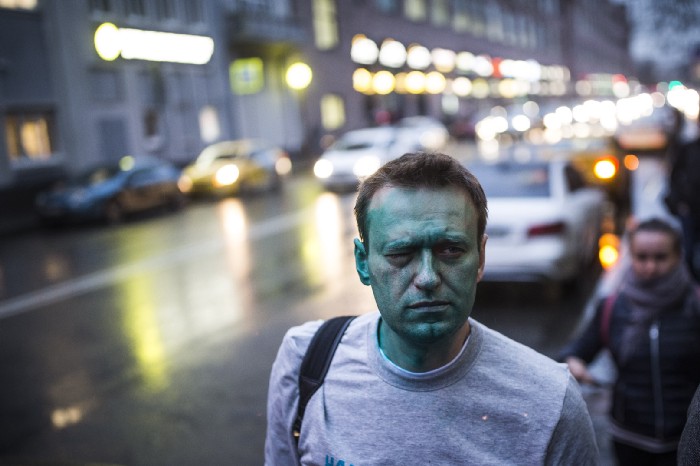 The United States, the European Union and human rights groups have called for the immediate release of Russian opposition figure Alexei Navalny after he was ordered to remain in custody for 30 days, less than 24 hours after he returned to Moscow from Germany.
Minutes after he and his wife arrived in Moscow, Navalny was detained by officers and held overnight in a police station in the city of Khimki. U.S. Secretary of State Mike Pompeo led the condemnation of Moscow after Navalny's detainment.
"Deeply troubled by Russia's decision to arrest Aleksey Navalny," Pompeo wrote on Twitter. "Confident political leaders do not fear competing voices, nor see the need to commit violence against or wrongfully detain, political opponents."
Navalny was poisoned with the nerve agent Novichok in August and has spent the last five months recovering in Germany. His detention after arriving in Moscow was expected, as he was placed on Russia's federal wanted list last month. Russia's prisons service has claimed Navalny violated the terms of his probation related to a suspended 2014 embezzlement conviction. Navalny has claimed this conviction was politically motivated and the European Court of Human Rights agrees.
"It is impossible, what is happening here is the highest degree of lawlessness," Mr. Navalny said in a video filmed at the beginning of the hearing. "The old man in the bunker is so afraid of everything that the criminal code has been defiantly ripped up and thrown away into the trash."
In a hearing after his arrest, a judge decided Navalny would remain in custody for 30 days until his trial. Navalny's lawyer Vadim Kobzev said he was notified of the hearing only minutes before it started. The prisons service has requested a court replace the suspended sentence with a three and a half year prison term.
Moments after the decision to detain Navalny for 30 days was announced, Navalny released a video message of encouragement to his supporters.
"Do not be afraid," he said in the video. "Take to the streets. Don't do it for me, do it for yourselves and for your future."
A spokesman for British Prime Minister Boris Johnson said "It is appalling that Mr. Navalny has been detained by the Russian authorities and he must be immediately released. Rather than persecuting Mr. Navalny, Moscow should fulfill its obligation under international law to investigate and explain the use of a chemical weapon on Russian soil."
A spokesperson for Chancellor Angela Merkel of Germany has called for Navalny's immediate release and said the accusation of breaching the terms of his suspended sentence "violates the principles of the rule of law."
"The Russian authorities have arrested the victim of an assassination attempt using chemical weapons, not the perpetrators," he told reporters in Berlin.
The U.N. human rights office also called for the immediate release of Navalny.
"We are deeply troubled by the arrest of Aleksei Navalny, and call for his immediate release and for his due process rights to be respected in line with the rule of law," the office said in a statement on Twitter.
Russian officials have brushed-off criticism of Navalny's detainment. Russian foreign minister Sergey Lavrov said that Western officials are using the case to "distract attention" from their own issues.
"We are seeing how they've grabbed onto yesterday's news about Navalny's return to Russia, one can really feel how happily they're commenting on it," Lavrov said. "They are happy because it lets Western politicians think that they can thus distract attention from the global crisis in which the liberal model of development has ended up."
(Contributing journalist, Allegra Nokaj) (Contributing writer, Brooke Bell)