President Biden's White House Chief of Staff makes it look easy. It isn't.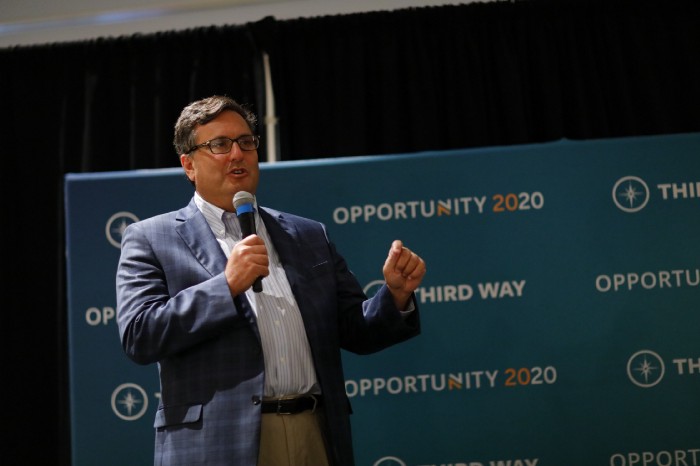 Joe Biden's White House Chief of Staff is proof that Mr. Smith can still go to Washington and make a difference.
It isn't easy to get there, of course, as anyone involved with the Biden campaign can attest. Long hours, constant fire-alarm fires, and learning to successfully campaign when all manner of past successful campaign strategies have been effectively deep-sixed by Coronavirus, are only a few of the challenges the Biden campaign staff faced.
Plenty of people, on the left and right, didn't think they could do it-Democratic Party megadonor Michael Bloomberg, Barack Obama protege Deval Patrick, and now-former President Donald Trump not least among them. The Biden team was tested, underestimated, and tested again.
"Hang in there until after South Carolina," Biden's campaign team told Democratic voters after disappointing finishings in the first primaries. And indeed, what a difference a day made. After a very timely endorsement by the venerable Rep. James Clyburn, and a rallying primary win in South Carolina, Joe Biden sailed to the nomination.
Against the odds of defeating an incumbent president, against the challenges of campaigning without in-person events, against the onslaught of COVID-19 restrictions, amid national grief, an unprecedented economic shut down, and the enthusiasm of Trump supporters, Joe Biden and his campaign team have prevailed.
Now, of course, the hard work begins.
To answer the all-important question of who President Joe Biden would select to be at his right-hand as the White House Chief of Staff, Biden's supporters and detractors weren't left wondering for long.
The choice of Ron Klain was an inspired one. Described by his colleagues and friends as someone who is "smart, effective and gets up early every day to get the job done," Mr. Klain has worked tirelessly since being named to his post.
To successfully manage a new staff through a presidential transition unlike any other, amid unusually high levels of strain and a white-hot frenzy of partisanship, Biden must have known he would need someone with unparalleled commitment and sterling experience.
A White House Chief of Staff also must have the trust of the President. And no one fits that bill quite like veteran Democratic operative and long-time Biden confidant, Ron Klain.
"His deep, varied experience and capacity to work with people all across the political spectrum is precisely what I need in a White House chief of staff as we confront this moment of crisis and bring our country together again," said President Biden of Mr. Klain.
That Klain worked for President Biden in the late 1980's, when the latter was still U.S. Senator Joe Biden of Delaware, gives the new White House Chief of Staff a special advantage. This is especially true as Klain went on to serve as Vice President Biden's chief of staff during the Obama Administration.
Mr. Klain's work as Obama's former Ebola Czar in 2014 gives Klain an advantage in helping the President navigate the troubled waters of the Coronavirus pandemic. Klain was also instrumental in shaping the 2009 Recovery Act, an unqualified success.
"Ron has been invaluable to me over the many years that we have worked together, including as we rescued the American economy from one of the worst downturns in our history in 2009 and later overcame a daunting public health emergency in 2014," President Biden said in a statement.
With so much experience, Klain immediately acclimated to his new role and set about tackling coronavirus.
"One-hundred million shots is a bold, ambitious goal, but we need to keep going after that. That is our first goal, it's not our final goal, it's not the endpoint, it's just a metric the American people can watch and measure how we are doing," Mr. Klain said during a Meet the Press interview at the end of last month.
"We need more vaccine, we need more vaccinations, we need more vaccination sites. And in the Biden Administration, we are tackling all three," Klain continued of the President's ambitious plan to tackle COVID-19.
"We are going to set up these federal vaccination centers to make sure that in states that don't have enough vaccination sites, we fill those gaps. We're going to work closely with the manufacturers to ramp up production."
"We're going to use all the powers we have in the White House. We are going to work with Congress to get more funding to also accelerate this, so we can improve the rate at which we are vaccinating people," Klain assured viewers during the interview.
Klain is a well-respected and well-connected Washington insider, known as a sharp political tactician, but also as someone who cares about his staff members. Mr. Klain has promised "a talented and diverse team to work in the White House as we tackle their ambitious agenda for change and seek to heal the divides in our country."
Ron Klain has served beside Joe Biden for 30 years. As his top legal advisor during the Clarence Thomas confirmation, as the chief counsel for the Senate Judiciary Committee while Biden was its head, as a top advisor during his 2020 presidential campaign.
In one slight detour, Klain famously helped Hillary Clinton prepare for the debates in 2015. Problem was, then-Vice President Joe Biden hadn't yet ruled out a run for president. At the time, Klain wrote to John Podesta, Clinton's campaign manager, in an email later released by Wikileaks: "It's been a little hard for me to play such a role in the Biden demise- and I am definitely dead to them- but I'm glad to be on team HRC."
It was one time in his long career Klain might have been happy to mistaken: 2016 was not the end of Joe Biden's political career, far from it. Nor was Klain dead to the former Vice President. True to his words about unity and healing, President Joe Biden didn't pass up an opportunity to name someone as experienced and committed as Ron Klain to the post of White House Chief of Staff. Not when the country needs his leadership now more than ever.
Together, Ron Klain and President Joe Biden have spent a long time in Washington. After decades of working together, and across the aisles, they are ideally suited to guide the U.S. through COVID-19 and on to economic prosperity.
(contributing writer, Brooke Bell)