The Justice Democrats are moving to unseat moderate House Democrats. It's a risky move in Trump's America. Will it pay off?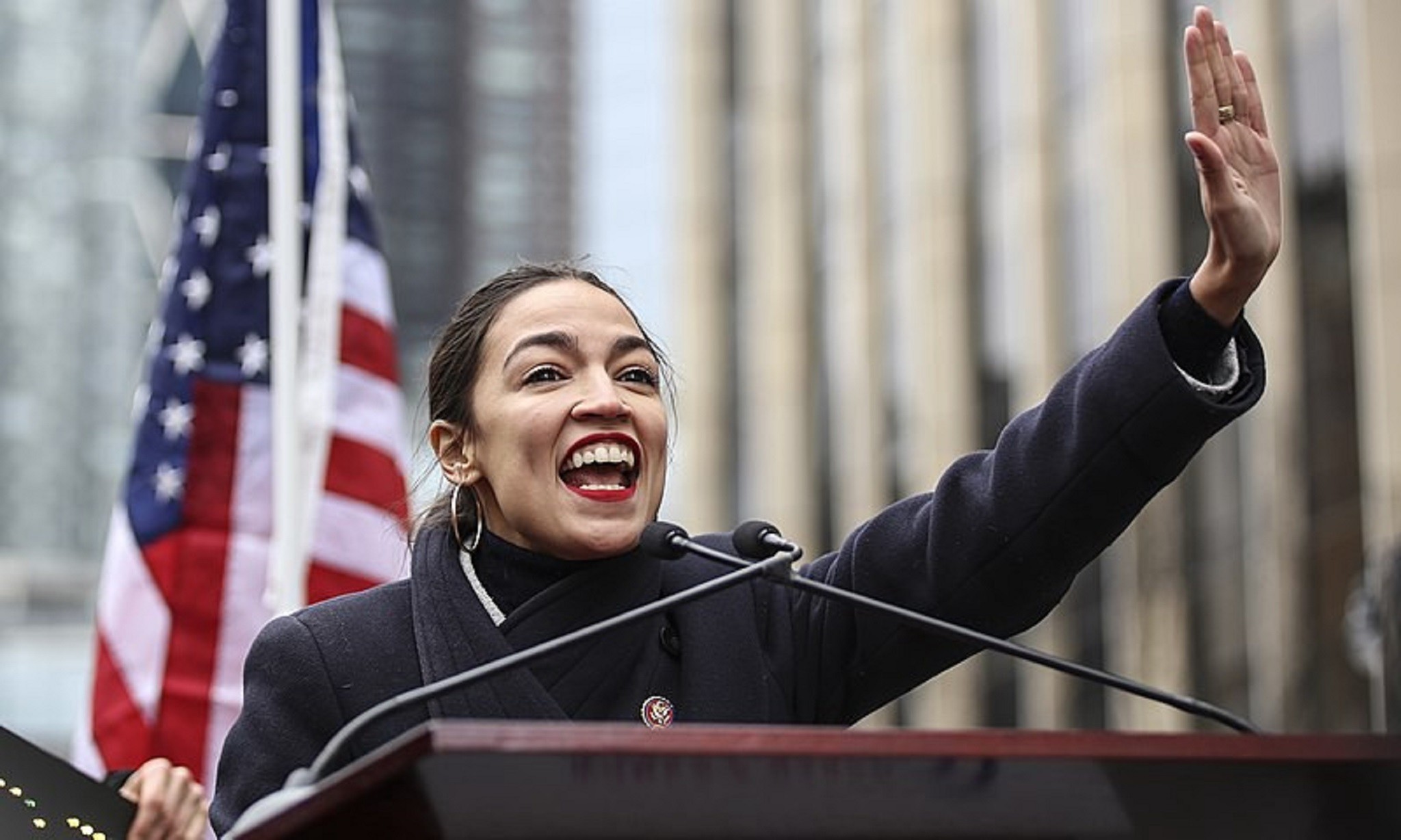 Alexandria Ocasio-Cortez @ Women's March NYC, 2019. (photo: Dimitri Rodriguez)
"We are trying to elect more Alexandrias. She is an example of what one victory can do. Imagine what we can do with more primary wins across the country." — Alexandra Rojas, Executive Director of Justice Democrats
When a political action group called the Justice Democrats decided to invest over $2.8 million dollars in the 2018 election, they did so without seeming to understand the nature of the congressional leadership structure.
For instance, their only success in 2018 involved the surprise election of liberal firebrand Alexandria Ocasio-Cortez after her narrow surprise defeat of 10-term incumbent House Democrat Rep. Joseph Crawley (D-NY) in a primary challenge.
For A.O.C., as she is now affectionately known in the press, Democrats traded an experienced Democratic highly-placed in House leadership and on key Congressional committees.
Ocasio-Cortez's freshman term, on the other hand, has been defined more by headlines than legislative headway. As Speaker of the House Nancy Pelosi has herself said, attention on Twitter is one thing; the legislative process in Congress is quite another.
Considering some of the worst Democratic claims leveled against President Donald Trump- from him being a Russian agent, to him being a white supremacist and a murderer, to migrant shelters on the U.S. border being likened to concentration camps- this seems an odd time for Democrats to erode their congressional power by trading seasoned legislators in leadership positions for a few idealistic young activists with no political experience and itchy Twitter fingers.
Now, however, the Justice Democrats have moved to challenge even more moderate Democrats in vulnerable districts; by pitting them against hand-selected, progressive-approved new recruits with national financial backing and the Twitter amplification, for what it ends up being worth, of A.O.C.
And, one assumes, the rest of the "Squad", as A.O.C., Rep. Ilhan Omar (D-MN), Rep. Ayanna Pressley (D-Mass.) and Rep. Rashida Tlaib (D-Mich.) have come to the be known in the press.
Rep. Eliot Engel (D-NY), Judiciary Committee Chairman Jerry Nadler (D-NY), Rep. Richard Neal, Rep. Nita Lowey,Rep. Henry Cuellar (D-TX) Rep. Dan Lipinski are only a few of the Democrats to draw a challenger from the progressive left.
If the plan is only to move the caucus to the left, the Justice Democrats and like-minded organizations may be making headway. But nothing happens in a vacuum. Moving the caucus to the left may also entail having fewer Democrats elected to Congress to caucus with. At least at first.
Is it possible that the Justice Democrats, rather than playing from behind, are ten steps ahead of the aging Democratic congressional leadership trifecta of Pelosi, Schumer, and Nadler?
It is an inescapable reality that Democrats are winning the culture wars, and with them the hearts and minds of the youth. Young people are increasingly accepting of socialism, climate justice, and a litany of other far-left progressive causes.
Young people are also burdened lopsidedly by education costs that far exceed those of previous generations, and health care costs that remain out of reach for so many people in the U.S., including recent graduates.
If Republicans continue to fail to address these issues, Republicans may not survive Generation Z. Generation Z, or as young environmental activists who testified before Congress recently prefer to be called "Generation GND", may already be lost to the Alexandria Ocasio-Cortez's of the world.
Generation GND stands for "Generation Green New Deal".
It is possible that Justice Democrats plan to trade deeply constrained congressional power in 2020 for total domination in 2028.
The current balance of congressional power does make it hard for any one person or group to get their way; that's kind of the point.
How do Justice Democrats plan to get anything done in Congress without key Democrats in Congressional leadership positions? Perhaps the answer is, they don't. At least, not right away.
Which is a good thing, because with the current legislative body in place there is no way a bill like the Green New Deal would ever pass in the House. But in a future congressional body dominated by the Justice Democrats particular brand of hard-line progressive, anything on the liberal agenda may be possible.
Even federally funded political campaigns, which is a part of the Justice Democrat's platform not likely to be extremely popular with everyone.
House primary challenges have in the past been relatively rare; it is not good party politics for members of the same party to pit their resources against each other, eroding the very resources needed to win against Republicans in the general election.
Either it has escaped the notice of Justice Democrats, and groups like them, that weakening an incumbent Democrat with a serious primary challenge may leave them vulnerable to defeat by a Republican in the general election, or they just don't care.
Perhaps they don't; an aberrant Republican elected to a deepening blue district due to Democratic Party in-fighting would be more easily beaten by a hard-line progressive in the subsequent election.
That there are so many primary challengers, this early in the campaign season, and in deep blue states like New York, flies in the face of media outlets loudly disclaiming any disunity among Democrats.
Does this wave of primary-challenging progressives signal a serious dissatisfaction with the status-quo of the Democratic Party?
Will Democratic leadership fight back against the Justice Democrats? Doing so would be taking a hard-line against the new hard-line progressives. As in, the primary challenge goes both ways.
Rep. Alexandria Ocasio-Cortez, who only defeated 10-term incumbent Joseph Crowley by only a thin margin, might not be safe from a primary challenge herself. Some New Yorkers in her district are still smarting from Amazon's recent withdrawal of a new HQ the internet titan was planning on building in Queens.
Ocasio-Cortez's role in that decision remains a controversial one. Nor are New York voters unlikely to hold her responsible: Someone bought a giant billboard in Times Square denouncing her.
Ocasio-Cortez's' approval ratings are almost as bad as Speaker of the House Nancy Pelosi's already. And Pelosi has had millions of dollars in Republican attack ads run against her painting her as a wildly-left San Francisco liberal.
Losing the Amazon headquarters, which would have brought 30,000 well-paying jobs and billions in tax revenues for NYC, still rankles the largely Democratic communities hardest hit during the economic slow down of the past decade.
Which means that establishment Democrats might not be the only ones getting a primary challenge this election season.
(contributing writer, Brooke Bell)