Though none of the Republicans in question have yet been diagnosed with Covid-19, Jayapal and several other Democrats insist they are to blame.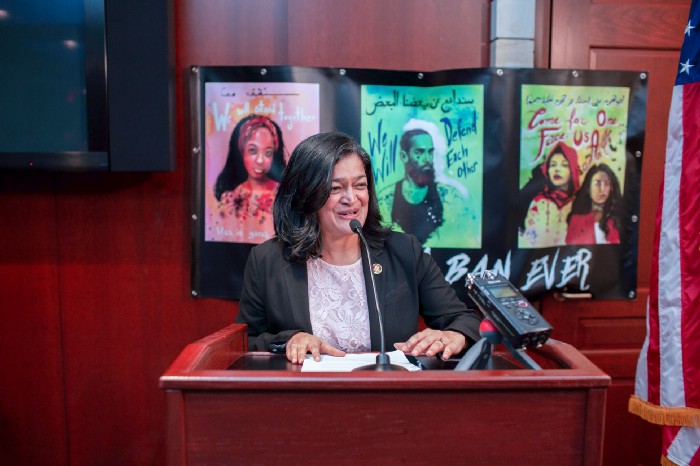 Democratic Representatives Pramila Jayapal of Washington, Bonnie Watson Coleman of New Jersey, and Brad Schneider of Illinois have all claimed that unmasked Republican legislators infected them with COVID-19 last week during the Capitol riot.
Though there has been as yet no evidence to back up this claim, and although many lawmakers, including Republicans, have now been vaccinated against Covid-19 and all participate in contact tracing, it has been amplified by the press nevertheless.
Rep. Jayapal wrote a statement on Twitter which read, "I just received a positive COVID-19 test result after being locked down in a secured room at the Capitol where several Republicans not only cruelly refused to wear a mask but recklessly mocked colleagues and staff who offered them one."
"Only hours after President Trump incited a deadly assault on our Capitol, our country, and our democracy, many Republicans still refused to take the bare minimum COVID-19 precaution and simply wear a damn mask in a crowded room during a pandemic — creating a superspreader event on top of a domestic terrorist attack," Jayapal continued.
"Any Member who refuses to wear a mask should be fully held accountable for endangering our lives because of their selfish idiocy. I'm calling for every single Member who refuses to wear a mask in the Capitol to be fined and removed from the floor by the Sergeant at Arms," she added.
Rep. Watson Coleman and Rep. Schneider announced they had also tested positive for the virus. Though none of the Democrats can be certain where they contracted the virus, and no unmasked Republicans have since tested positive for COVID-19, the blame is still being placed on Republicans.
"Unfortunately, I received a positive COVID-19 test this morning following being tested yesterday on the advice of the House Attending Physician," Rep. Schneider wrote in a statement posted on Twitter.
He added: "Last Wednesday, after narrowly escaping a violent mob incited by the President of the United States to attack the Capitol and its occupants, I was forced to spend several hours in a secure but confined location with dozens of other Members of Congress."
The House physician sent an email to members of Congress after the riot, and wrote, "On Wednesday January 6, many members of the House community were in protective isolation in a room located in a large committee hearing space. The time in this room was several hours for some and briefer for others."
"During this time, individuals may have been exposed to another occupant with coronavirus infection," he continued. "Please continue your usual daily coronavirus risk reduction measures…additionally, individuals should obtain an RT-PCR coronavirus test next week as a precaution."
News outlets have published lists of the GOP lawmakers who were unmasked and did not adhere to social distancing guidelines, in doing so suggesting they are responsible for the infection of various Democratic members of Congress. Yet, a list maintained by NPR tracking outbreaks in Congress fails to show any correlation.
After Congress voted to certify Biden's win, newly-elected Republican Congressman Jake LaTurner did indeed announce he had tested positive for the virus. However, LaTurner's communications director told Forbes that the Congressman was not present in the room with Rep. Jayapal and was wearing a mask throughout the day.
Republican Rep. Charles Fleischmann also tested positive for the virus, and was also not in the room in question with Rep. Jayapal.
While Democrat lawmakers and their media counterparts have been quick to blame Republicans, no mention has been made of Democratic Rep. Gwen Moore of Wisconsin, who traveled to D.C. to take part in the speaker's vote despite announcing she had actually tested positive for COVID-19 only six days prior.
House Speaker Pelosi's margin of majority is so slim in the House, that any Democratic Congresspeople missing that particular vote, for any reason, might have cost Pelosi her Speakership. As such, Moore likely had no choice but to travel to D.C. to vote in spite of a positive Covid diagnosis.
Democrat Rep. Frederica Wilson of Florida, Democrat Rep. Tim Ryan of Ohio and Republican Rep. Jeff Fortenberry of Nebraska also participated in the speaker's vote last week despite having been exposed to the virus, though all of these representatives have since tested negative.
The cause of the spread amongst Democrat lawmakers is unknown, though it seems more likely they would have contracted the virus from their Democrat counterparts who have actually tested positive, not the maskless Republicans who are not infected.
Though Rep. Jayapal condemned Republican lawmakers for not wearing their masks, video footage later revealed Jayapal herself not wearing a mask while sitting in the House with other members of Congress and staff in near proximity.
She has since been forced to defend removing her mask. Jayapal claims to have removed her mask in anticipation of needing to assume a gas mask. In spite of receiving criticism herself, Rep. Jayapal has redoubled her calls for harsher penalties for anyone in Congress who refuses to wear a mask on the House floor.
(Contributing journalist, Allegra Nokaj) (Contributing writer, Brooke Bell)