2018 was tumultuous, but it wasn't a total loss.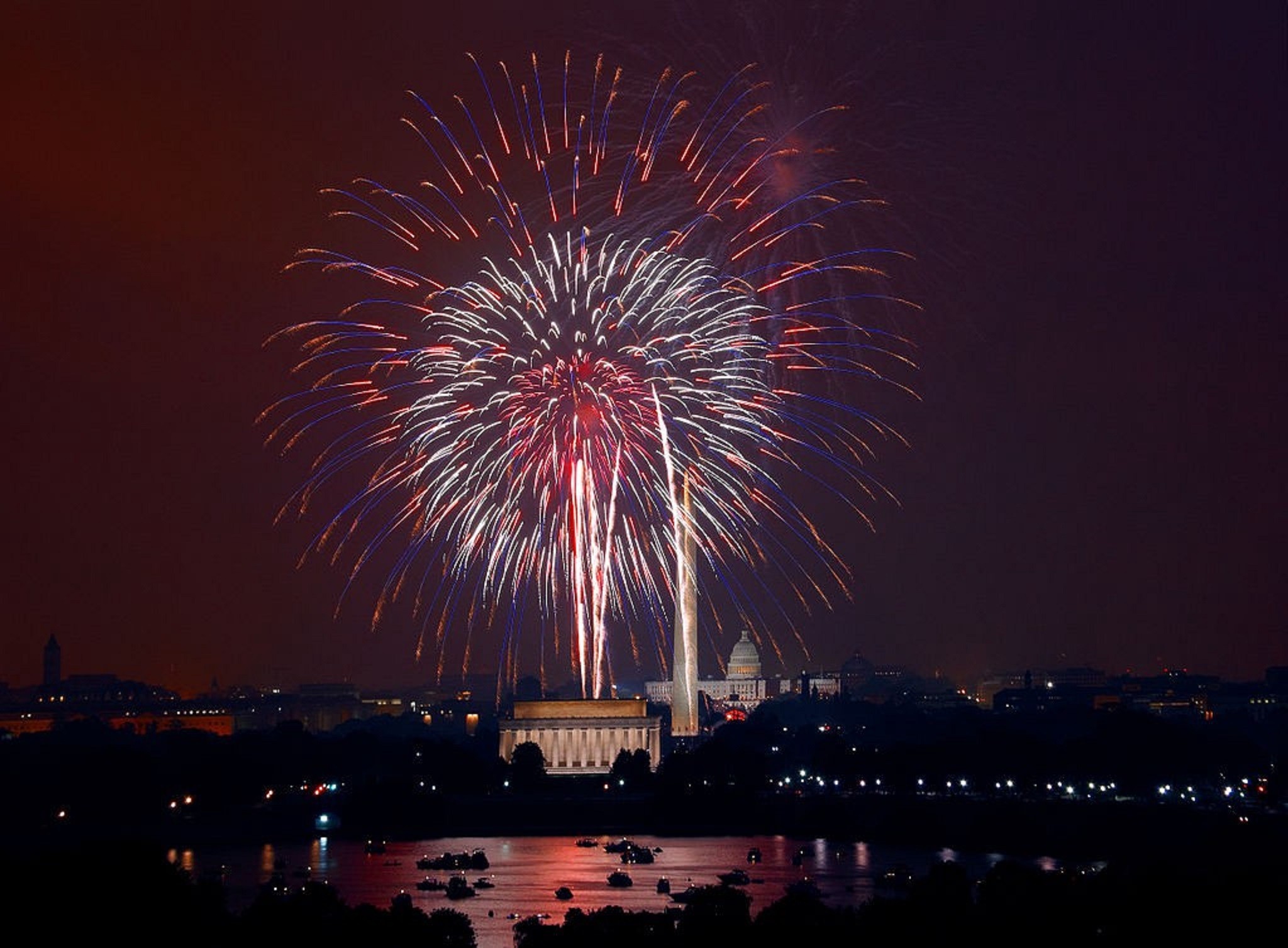 Fireworks explode over the U.S. Capitol. (photo: Carol M. Highsmith's America, Library of Congress, Prints and Photographs Division.)
There were many surprises in 2018, but there are some good things that have come from the past year.
Midterm Voter Turnout
2018 marked the highest voter turnout during any midterm election since 1914. More than 50.3 percent of eligible voters chose to exercise their right to vote, delivering a moratorium on the jobs their elected officials are doing.
While 50.3 percent might not seem like a robust win, only 37% turned out for the mid-term elections in 2014, down from 41% in 2010.
While it might not have been the "Blue Wave" predicted by hopeful prognosticators, and Republicans managed to hold on to the Senate, Democrats won enough seats to take the House of Representatives. Suburban voters and women seem to be largely responsible for the most seats Democrats have won in any election since Watergate.
Diversity Wins 2018 Mid-Term Election
More women than ever will serve in Congress come January. A record number of women, minority and groundbreaking candidates ran and won offices around the country in a sweeping upsurge.
Historic Wins for Women and Minority Candidates
Some candidates ran against deeply entrenched incumbents, some ran unopposed; there were tough races against people with more campaign experience, and an arduous, grueling campaign process that is certainly not for the faint of heart.
But in spite of the crushing work schedules, strain on their families and near constant travel, candidates across the country persevered and, in a triumph of democracy in action, were elected in record numbers.
Expanding Voting Rights
There were quite a few notable victories for voting rights on election Tuesday 2018 as well. These initiatives passed very easily, signaling robust bi-partisan support for expanding voting rights:
Florida passed Amendment 4 which aims to restore voting rights to up to 1.4 million ex-felons. This amendment was supported by a large array of ideologically and politically diverse organizations including the Christian Coalition and Freedom Partners, which is backed by the Koch brothers.
Michigan voters elected to modernize their election systems with Election Day registration, automatic registration, better absentee ballots and strait ticket voting.
Nevada will also adopt automatic registration measures.
Maryland will adopt Election Day registration.
Clear support for expanding voting rights extends across all political parties and ideologies. Voters sent a clear message in 2018 about any attempts to restrict the right to vote.
Environmental Wins
2018 wasn't all bad for environmentalists and ecologically-minded people around the world.
Ozone Layer Regenerating
The ozone layer, that mortal enemy of all things aerosol, is on the mend and looks likely to heal in some places by as early as 2030. For some more damaged sections it might take until 2060, but that is still great news for the planet and the people who live on it.
The ozone hole over the South Pole peaked at 11.6 million square miles in 2006. According to NASA, in 2018 the hole shrunk to 9.6 million square miles.
Oh, Canada!
Canada, together with the Tallcree First Nation and oil conglomerate Syncrude, created the world's largest protected boreal forest in 2018. The area is so big you could fit two small countries inside it and includes forests, wetlands and large bodies of water. It is full of protected and endangered species.
Thanks these protections, future generations will be able to enjoy it.
Pacific Trash Pile Clean-Up
The giant mass of garbage floating along in the Pacific Ocean is a problem for humanity, especially now that it has grown to three times the size of France. The "trashberg" is estimated to contain approximately 1.8 trillion pieces of plastic trash and weighs about 80,000 metric tons.
Considering that our current generation is the first in history to deal with the outcome of mass produced, single-use plastics, the news that a cleanup effort is beginning to bear fruit is good news indeed.
A specially designed system of floating nets should be able to remove 50 tons of garbage from the Ocean every year, perhaps more if everything works to plan.
Belize Barrier Reef No Longer Endangered
Since 2009 the second largest barrier reef in the world, second only to the Great Barrier Reef in Australia, has been listed by UNESCO as a World Heritage Site in danger.
A "transformational shift" to eliminate excessive offshore oil drilling and strengthen other protections took place within the Belize government and the barrier reef was removed from the danger list in June of 2018
California Reaches Greenhouse Gas Reduction Goal- Early
Since a law passed in 2006, California has been working diligently to bring down greenhouse gas emissions to pre-1990's levels by 2020. This year California officials announced they would not be meeting the 2020 deadline.
Because they quietly reached that goal two years ago.
"California set the toughest emissions targets in the nation, tracked progress, and delivered results." -California Governor Jerry Brown
Further targeted reductions of California greenhouse gas are now required by law; another 40% reduction by 2030. If 2018 is any indication, California is well on track to beat that deadline, too.
U.S. Coal Hits a 35-year Low
In spite of a great deal of bad press recently, U.S. coal consumption has actually gone down to a 35-year low in 2018. Cleaner alternatives like natural gas, and the high cost of coal, seem to be driving down consumption.
Unemployment 3.7%
In October of 2018, the Bureau of Labor released the news that unemployment in the U.S. had reached 3.7%, the lowest rate since 1969.
"Under Republican leadership, America is booming, America is thriving, and America is winning like never before, because we are finally putting America first." -U.S. President Donald J. Trump
World Peace
World peace even gained ground in 2018. A historic summit took place between U.S. President Donald Trump and North Korean leader Kim Jong Un aimed at the denuclearization of the Korean peninsula.
The formal results of this summit remain to be seen but the fact that it took place at all is a sea-change from the North Korean isolationist attitudes of the past decades.
Trump remains optimistic about future relations between the U.S. and North Korea, and even the latter's recent efforts in cooperation with South Korea to remove unexploded mines from border areas bodes well for future generations.
U.S. President Donald Trump also used 2018 as an opportunity to withdraw from the Iranian nuclear agreement in May. In a direct reversal of the Obama years, Trump warned Iran of major consequences and even heavier sanctions if it chose to resume nuclear armament programs.
Criminal Justice Reform
Long the darling of the Democratic Party, criminal justice reform became a Republican rallying cry in 2018 with the passage of the FIRST STEP Act.
The sweeping criminal justice reform bill passed the House in May 2018 and the Senate in December. For some, it goes too far. For others, not far enough.
Rarely has any issue gained this much bipartisan and widespread support, but considering the vast number of people imprisoned in the U.S., there is little doubt that prison reform is long overdue.
Though the FIRST STEP Act is universally acknowledged as a first step, only, it still has a great deal to recommend it:
Plans to reduce federal incarceration with a new system for calculating early release using "good time" credits.
Plans to immediately release 4,000 people convicted on low-level drug offenses through retro-active credits.
Improvement to prison conditions; placement of inmates closer to their families and the banning of shackling women in labor.
Increased inmate exposure to rehabilitative programs that help reduce re-offending.
2019: Looking Ahead
2018 wasn't all bad and 2019 is going to be even better. Stay tuned for New Year's resolutions for Democrats and Republicans in Part 2.
(contributing writer, Brooke Bell)