A bi-partisan feel-good story just in time for the holidays.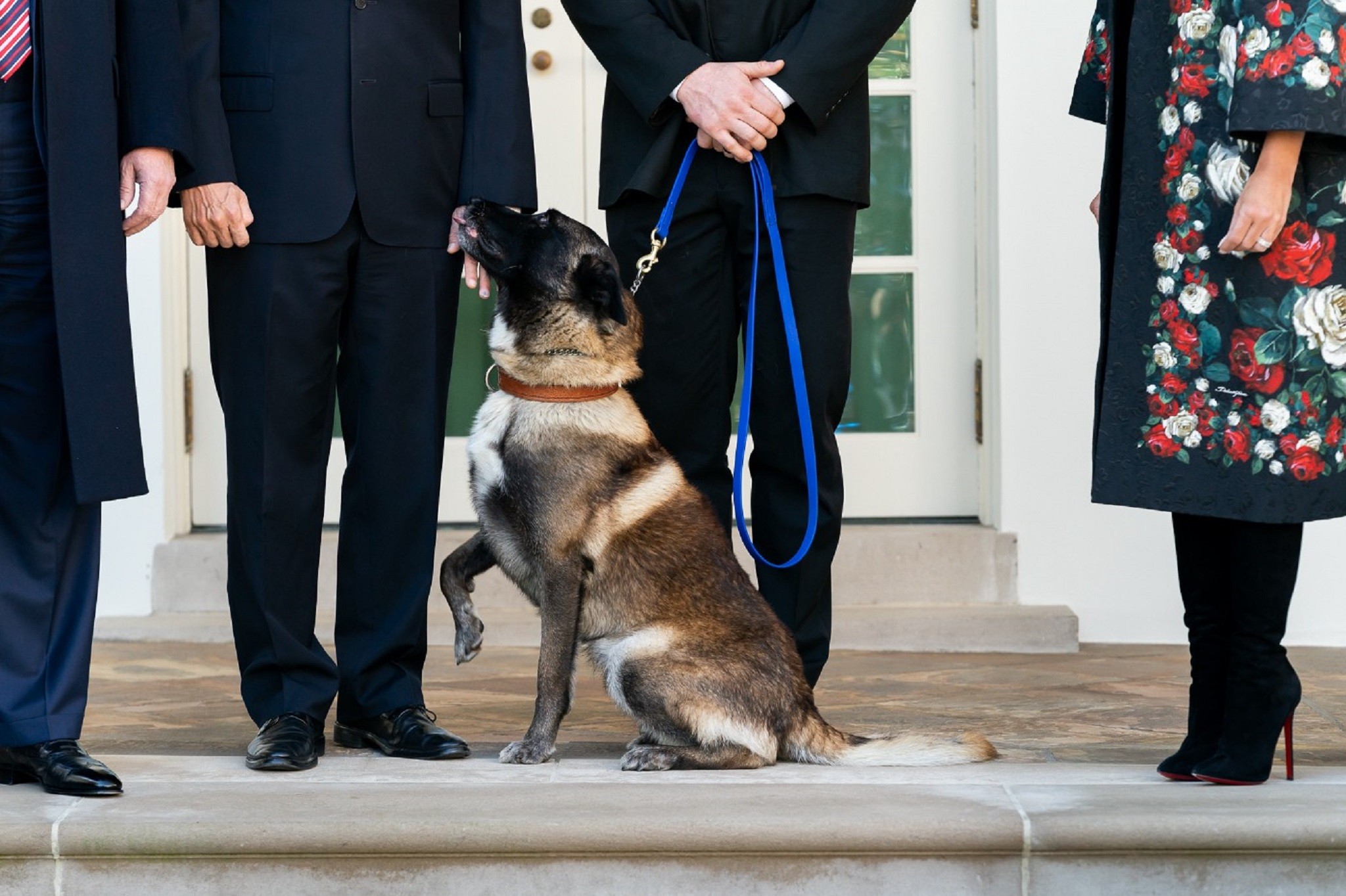 President Donald J. Trump is joined by Vice President Mike Pence as he introduces Conan the military working dog to members of the press Monday, Nov. 25, 2019, in the Rose Garden of the White House. Conan participated in the military operation targeting ISIS leader Abu Bakr al-Baghdadi. (Official White House Photo by Andrea Hanks)
"PACT makes a statement about American values. Animals are deserving of protection at the highest level. For decades, a national anti-cruelty law was a dream for animal protectionists. Today, it is a reality." — Kitty Block, president of the Humane Society of the United States. November 25, 2019.
Animals have had a big week on Capitol Hill already this week, and it's only Tuesday. Conan the hero military dog, who helped U.S. special forces take down ISIS mastermind Abu Bakr al Baghdadi, visited the White House.
Two extremely fortunate presidential turkeys arrived in Washington- to much fanfare- for their formal presidential pardon.
Most of all, President Trump signed into law yesterday a bill that makes intentional acts of animal cruelty a federal crime.
Very few bills in Washington are passed unanimously in the House or the Senate, let alone passed unanimously in both. There are very few subjects upon which Republicans, Democrats, Independents and President Donald Trump can all agree.
But on the subject of preventing and punishing cruelty to animals, lawmakers in Washington, and their outsider president, have all come together to give animal rights advocates something to be thankful for this Thanksgiving.
The Preventing Animal Cruelty and Torture (PACT) Act fills in the gaps left by legislation passed by President Obama in 2010 which made videos of cruelty to animals a crime, but not the acts themselves.
"It is important that we combat these heinous and sadistic acts of animal cruelty, which are totally unacceptable in a civilized society." — President Donald Trump. Nov. 25, 2019
While all 50-states in the U.S. have state laws against animal cruelty, no such federal law existed until yesterday.
The bill's co-sponsors and chief supporters in the House and Senate are a bi-partisan band of animal-rights heroes including Sen. Pat Toomey (R-PA), Sen. Richard Blumenthal (D-CT), Sen. Dianne Feinstein (D-CA), Sen. Richard Durbin (D-IL), Rep. Ted Deutch (D-FL) and Rep. Vern Buchanan (R-FL),
"Passing this legislation is a major victory in the effort to stop animal cruelty and make our communities safer. Evidence shows that deranged individuals who harm animals often move on to committing acts of violence against people. It is appropriate that the federal government have strong animal cruelty laws and penalties." — Sen. Pat Toomey (R-PA), co-sponsor of the bill
News of the passage of the PACT Act was greeted by the animal rights community with delight and celebration. Organizations that have long worked with lawmakers to pass such a measure are especially heartened at the unanimous bi-partisan support.
"After decades of work to protect animals and bearing witness to some of the worst cruelty, it's so gratifying the Congress and president unanimously agreed that is was time to close the gap in the law and make malicious animal cruelty within federal jurisdiction a felony."

"We cannot change the horrors of what animals have endured in the past, but we can crack down on these crimes moving forward. This is a day to celebrate." — Sara Amundson, head of the Humane Society Legislative Fund
News of the bill was also embraced by law enforcement communities, who have long maintained that people who hurt animals often go on to hurt human beings. Now, a conviction for animal cruelty can carry heavy federal fines and sentences up to seven years.
"A special thank-you to all the animal lovers everywhere who know this is simply the right thing to do. This is major step to end animal abuse." — Rep. Ted Deutch (D-FL)
Thanks to the diligent work of animal rights advocates, and to compassionate elected officials in Congress and in the White House, the U.S. is now a bit safer for animals this holiday season.
(contributing writer, Brooke Bell)