(*Vladimir Putin)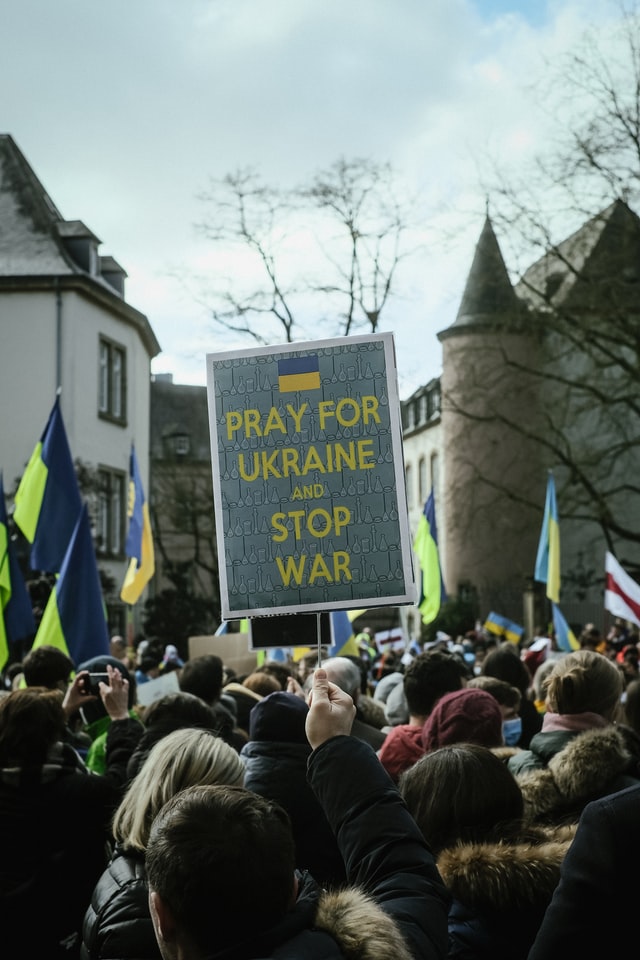 As much as it offends our modern sensibilities to think so, the world seems to be marching closer and closer to war.
There have been wars and rumors of wars since time out of mind, but over the last two years in particular, war has been again rearing its ugly head.
We forget in the modern age that the generations previous to this one had to endure the threat of global nuclear war. A decades long Cold War between the U.S. and the U.S.S.R. could have boiled over at any moment during its height to become a thermonuclear conflict with enough mutually assured destruction to knock every man, woman and child on earth back into the Stone Age.
Or even further.
Americans who remember those days remember a time of fear and uncertainty, marked by periods of heightened tensions and periodic drills designed to prepare a civilian populace to take immediate shelter in the event of a nuclear attack.
When capitalism soundly trounced communism sometime in the 1980's without a single nuclear warhead being fired, the world breathed a temporary sigh of relief. The Berlin Wall fell and revealed that the soviet communist system had died a quiet and relatively peaceful death long before, much to everyone's surprise.
Considering its history in the Black Book of Communism and role in killing over 100 million people over a single 100 year period alone, it should have probably been something a little more violent, but Soviet communism's last gasp actually happened at a average, everyday grocery store in Texas.
It was there that Boris Yeltsin drove the final dagger into the heart of Soviet communism. On an exchange tour of the U.S. with other emissaries from the U.S.S.R., it wasn't grand government edifices or vast public works projects that impressed Yeltsin most.
It was a tour of a Texas grocery store. Yeltsin noted in his memoirs that he was unmanned by what he saw that day.
"If our countrymen back home could see what we just saw, there would be rioting in the streets of Moscow," Yeltsin told his comrades at the time, noting that even top government officials of the elite political class didn't have access to anything like Texas shoppers perused casually on their way home from work.
Communism should have died the day the Berlin Wall fell; that was the day of reckoning, where the rubber met the road. The jury came in the moment people came pouring out of East Germany and into West Germany, desperate to escape the privations of communism imposed by the Soviet government.
It wasn't, as historians have noted, a flow of people fleeing West Germany for the milk and honey promises of communism. Those promises, as it turned out, were as empty as the Moscow hospitals Bernie Sanders toured during the 1980s, returning to the U.S. full of tales about how the communist medical system was a mere 10 years behind that in the U.S.
Of course, every mile you traveled out of Moscow in those days was a bit like traveling back in time through the history of medical science. Most average Russians, outside those top officials allowed to use the Moscow hospitals which so impressed Sanders, were enjoying a medieval level of medicine, draining wounds into bedside jars and enduring surgery with the windows open…to the outside air.
After the Cold War concluded with the thud of the U.S.S.R., war seemed to fade into the rear view mirror for humanity. Oh, there were still conflicts; a Vietnam here, an Operation Desert Storm there, the 20 year occupation of Afghanistan by U.S. forces. But conflicts remained small, on the whole; manageable as far as John Q. Public was concerned.
Fast-forward to 2022, and suddenly the prospect of global thermonuclear war has again reared its ugly head and no one's done a nuclear attack drill in decades. Russian President Vladimir Putin seems to have gotten nostalgic to be back in the U.S.S.R. and is attempting to consolidate power in a way that makes Democratic countries tremble for the future.
Georgia in 2003; Crimea in 2014; Ukraine in 2022: Where will Putin turn his sights next?
It is a question being asked by concerned citizens on three continents, and probably further afield than that. World governments, religious leaders, and elected officials from Israel to France to Turkey and beyond have condemned the invasion of Ukraine by Russian forces.
More than a few world authorities have resorted to outright begging.
While the vast majority of people in the global community abhor the violence occurring in the Ukraine at this time- and also in Afghanistan and elsewhere- the desire to avoid deepening the conflict into a global war is palpable.
Pouring in from all sides are sympathies for the Ukrainian people; in equal measure, are voices clamoring against escalating the conflict.
One such voice has been Pope Francis.
From the Vatican, the earthly leader of the Catholic Church spent his Sunday adamantly speaking out on behalf of Ukrainians hurt or killed in the conflict since it began.
"The time has come to abolish war," Pope Francis instructed the faithful today, as Catholics worldwide celebrate the fourth Sunday of Lent.
"More than a month has passed since the beginning of the invasion of Ukraine, since the beginning of this cruel and senseless war which, like any war, represents a defeat for all of us," the Pope told roughly 30,000 Catholics gathered to hear his address.
"There is a need to repudiate war, a place of death where fathers and mothers bury their children, where men kill their brothers without even having seen them, where the powerful decide and let the poor die," the Pope proclaimed.
"War not only devastates the present but also the future of society," Pope Francis lamented. "I have read that one in two children have been displaced from the country since the start of the attack on Ukraine."
"This means destroying the future, causing dramatic trauma in the smallest and most innocent of us," the Pope continued. "Here is the bestial nature of war- a barbaric and sacrilegious act."
He begged Catholics and the world to, "convert today's indignation into tomorrow's commitment," lest anyone emerge from this exposure to war unchanged and therefore, "guilty in some way."
"Faced with the danger of self-destruction, humanity understands that the time has come to abolish war, to erase it from human history before it erases mankind from history."
"I pray for every political leader to reflect on this, to commit to this," said Pope Francis, without ever mentioning Vladimir Putin by name. "And, looking at the tormented in Ukraine, to understand that every day of war makes the situation worse for everyone."
"Therefore, I renew my appeal," the Pope intoned, echoing the heartfelt sentiments of each and every freedom and peace-loving person on Earth. "Enough, stop, let it cease, let us negotiate seriously for peace!"
Amen, Shalom, and Inshallah.
(contributing writer, Brooke Bell)