The surprising post-presidency popularity of the last person the left was clamoring to impeach.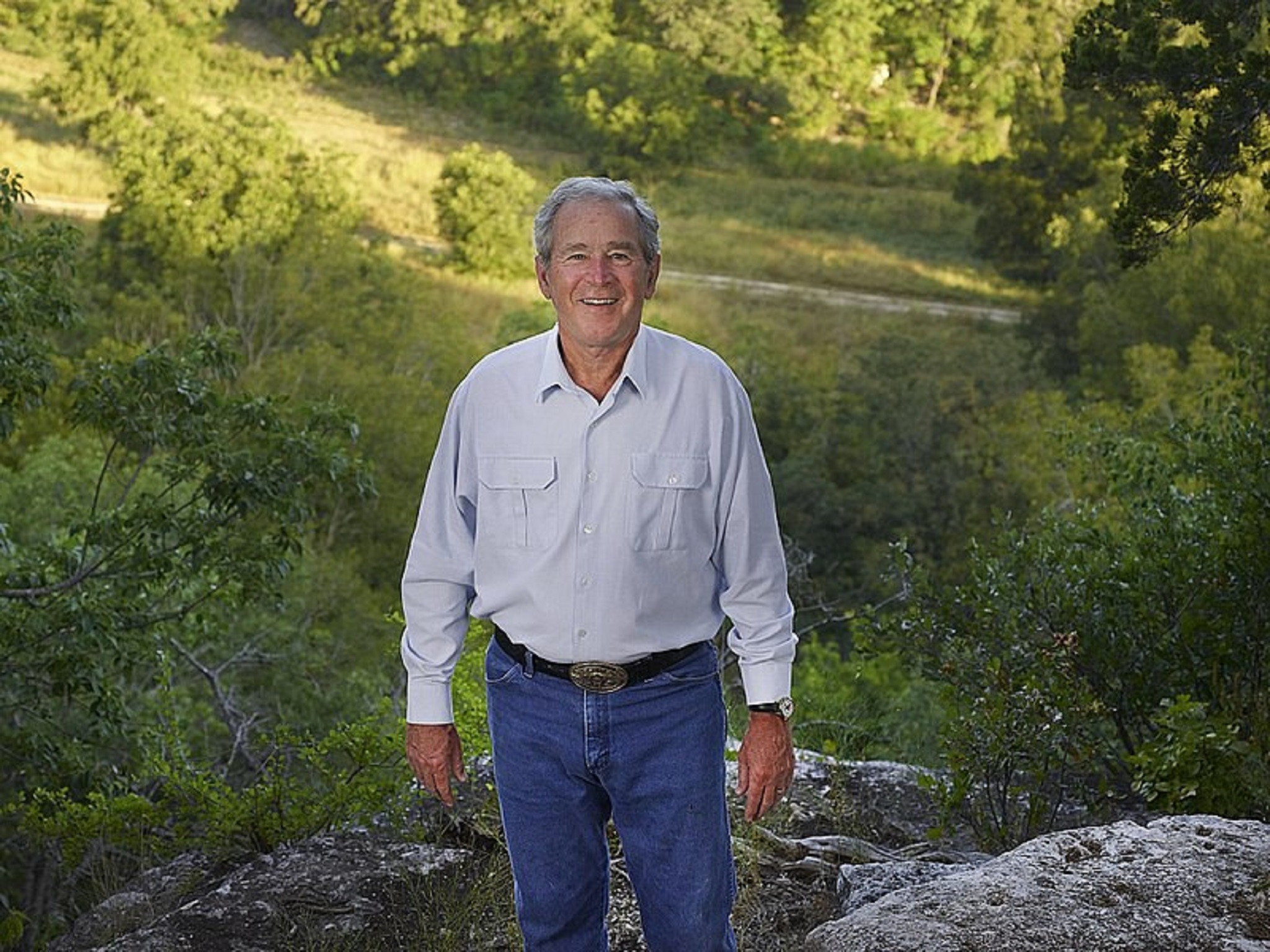 Former U.S. President George W. Bush at a canyon overlook on his 1,600-acre ranch, site of the "Texas White House" during their visits there during the Bush presidency, near Crawford in McLennon County, Texas. Mr. Bush enjoys hiking and riding his mountain bike on a rocky trail near this site. September 2014. (photo: Carol M. Highsmith)
America's Sweetheart
Isn't George W. Bush just heartwarming in 2019?
In only a few short years, he has gone from being hated and vilified by the left, and in the press, to being everyone's favorite grandpa.
How?
While it is true that the seminal writer and possibly the last of the true investigative journalists, Bob Woodward, largely exonerated Bush and debunked claims that Bush lied about weapons of mass destruction in Iraq.
Bob Woodward: Bush Didn't Lie to Start Iraq War. Woodward: Tenet told Bush WMD case a 'slam dunk'. Says Bush didn't solicit Rumsfeld, Powell on going to war. And if you can't trust Bob Woodward, who can you trust?
Is that it why everyone suddenly loves George W. Bush?
The jury came in, the verdict was not guilty. The former President went from being protested and lambasted by the left in 2004 to being the beloved pop-culture character he is today.
And yet, the exoneration of George W. Bush hasn't exactly been front page news since Woodward first started reporting on it…way back in 2004. If you are a liberal, you probably still think George W. Bush lied to go to war in Iraq.
The recently released movie and complete hatchet job, "VICE", is a perfect example of why; if you were liberal watching that movie, you probably thought it was historically accurate. It wasn't.
So why is George W. Bush so popular?
He wasn't always popular. On a time, the left wanted George W. Bush's blood quite a much as they want Trump's in 2019.
What changed?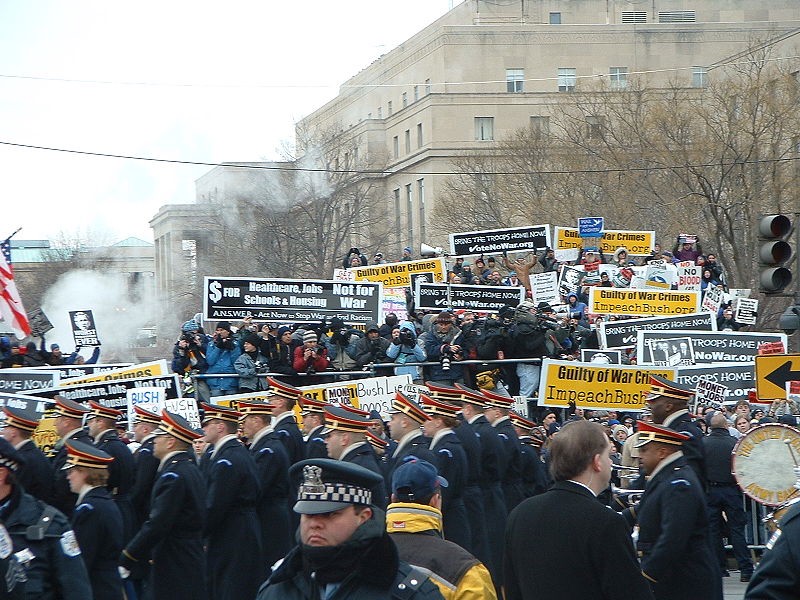 The New George W. Bush
He paints portraits in homage of U.S. soldiers injured or killed during the armed conflicts carried out under his watch. He passes candy to pop culture icon and former First Lady, Michelle Obama when they attend state funerals together. And she absolutely adores him.
"He [George W. Bush] is a beautiful, funny, kind, sweet man." — former First Lady, Michelle Obama
His latest antics include delivering pizza to Secret Service agents who aren't being paid during the government shutdown: George W. Bush Makes a Pizza Delivery During Government Shutdown.
The former POTUS even made it into the Rolling Stone: George W. Bush Calls to Reopen Government, Delivers Pizzas to Unpaid Secret Service Agents.
The Popular Culture Vilification and Redemption of George W. Bush
What the media's post-presidency treatment of George W. Bush tells us about the nature and purpose of mainstream media bias today is difficult to ignore.
Sure, everyone loves George W. Bush now, but certainly wasn't always this way. So why? How George W Bush went from "war criminal" to the internet's favorite grandpa, says a great deal about the power of pop culture in America.
Kids who grew up with a negative opinion of George W. Bush are voters now; with minds changed by Bush's appearance on the popular Ellen Degeneres show and Michelle Obama's ringing endorsement. And Bush's failures in donning a rain poncho, or possibly his absolute nailing of a handshake with a foreign leader.
Is it true that Democrats really do love Republicans — when they're dead?Or rather, when they've left office and have no further political aspirations?
And if so, what does that say about the nature and purpose of liberal media bias in America?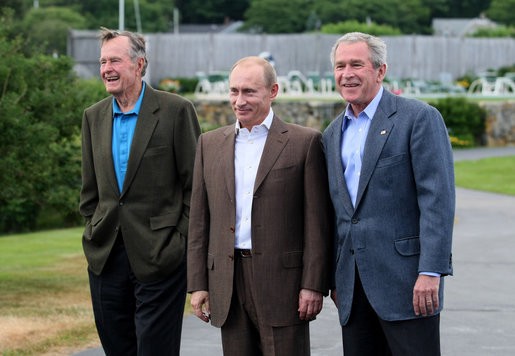 President George W. Bush stands with Russian President Vladimir Putin and Former President George H.W. Bush after Putin's arrival at Walker's Point in Kennebunkport, Maine, Sunday, July 1, 2007. (White House photo by Eric Draper)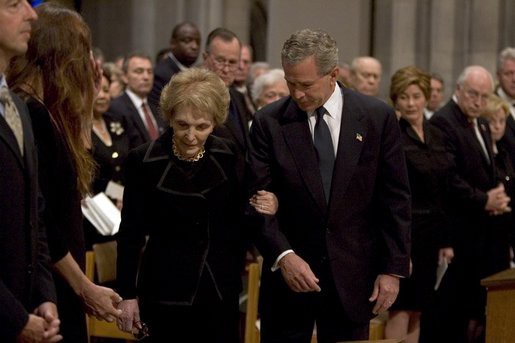 President George W. Bush escorts former First Lady Nancy Reagan to her seat in the Washington National Cathedral at the start of the National Funeral Service for former President Ronald Reagan. (White House photo, public domain. June 11, 2004)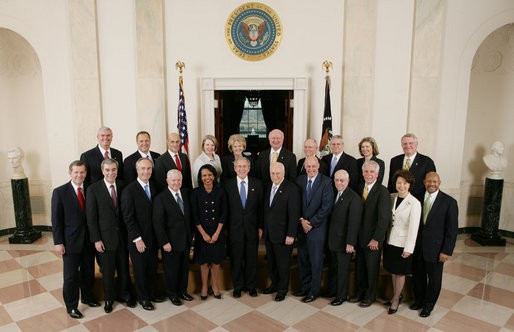 George W. Bush stands with members of his Cabinet in Cross Hall at the White House. February 2008. (White House- Eric Draper)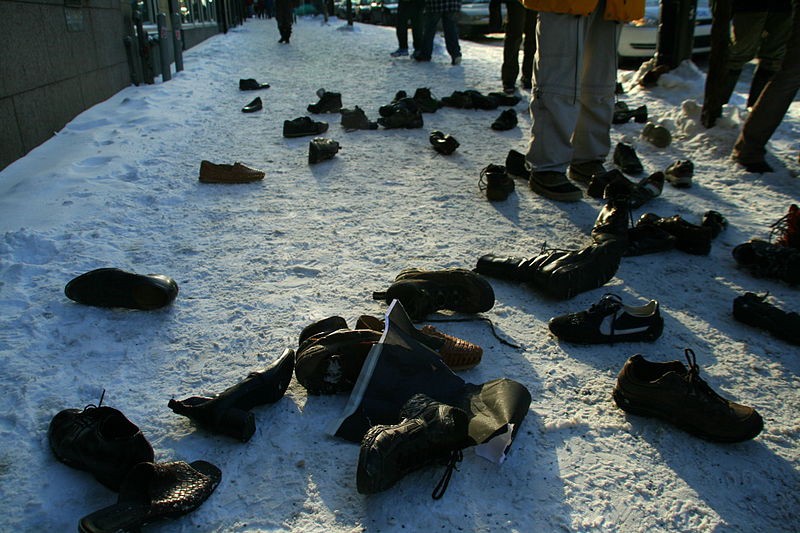 Protesters throwing shoes (and boots) at Bush posters in front of the U.S. consulate in Montreal, Canada on December 20th, 2008 during a protest in opposition to the US military occupations of Iraq and Afghanistan and Canada's military presence in Afghanistan, and to show support for Iraqi journalist Muntadar al-Zeidi (from the Bush Shoe incident). (photo: Anirudh Koul)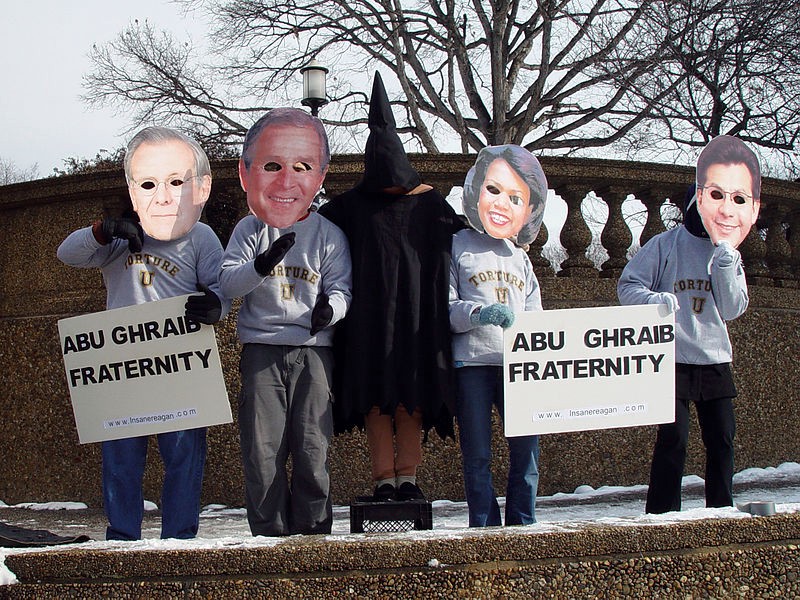 Bush's 2nd inauguration protest in reference to the Abu Ghraib scandal. January 20th 2005 in Washington DC. (photo: Jonathan McIntosh)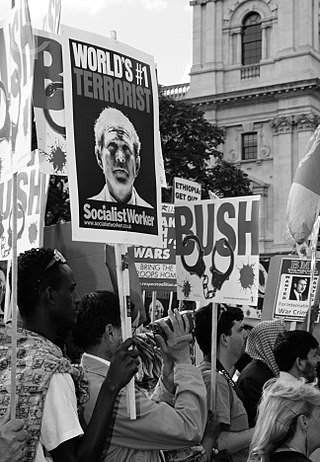 The Only Good Republican is a Dead Republican
Wanting to eliminate the opposition isn't exactly a progressive ideal.
That particular idea about how to deal with those in society with whom you disagree; those against whom you are ideologically opposed, but are forced by the sharing of resources to live in close proximity to, isn't exactly new.
Or at all progressive.
And everyone who has ever used this illogical bias as justification for anything, has been proven dead wrong in the fullness of time.
Smearing someone with journalism in an attempt to cause political death is only the modern equivalent of an ancient method of oppression. This a Democracy; no one deserves to be oppressed or devalued into oblivion.
Not even sitting Republican Presidents.
(contributing writer, Brooke Bell)