A Biden campaign promise to officially recognize Armenian genocide is further straining an already collapsing relationship.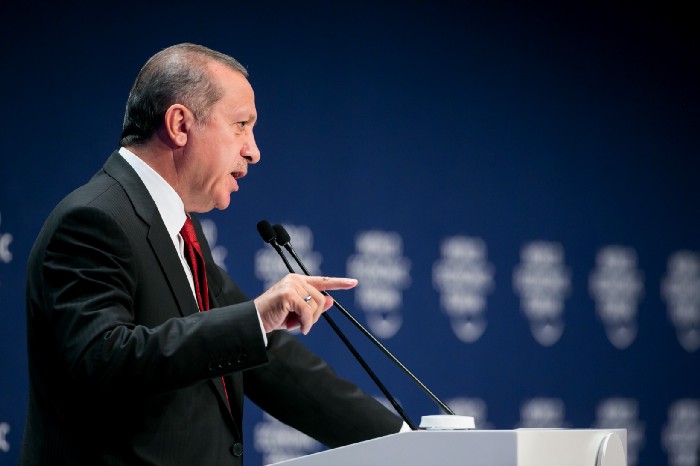 Among other recent complications besetting the diplomatic relationship between the U.S. and Turkey, a bipartisan coalition of nearly 40 lawmakers has called on President Joe Biden to formally recognize the Ottoman Empire's Armenian genocide.
The concerned senators cited a Medium post written by then-candidate Biden in April 2020, which commemorated Armenian Genocide Remembrance Day, and promised that Biden would officially recognize the genocide if elected, "to make clear that the U.S. government recognizes this terrible truth."
"It is particularly important to speak these words and commemorate this history at a moment when we are reminded daily of the power of truth, and of our shared responsibility to stand against hate — because silence is complicity," Biden wrote on Medium. "If we do not fully acknowledge, commemorate, and teach our children about genocide, the words 'never again' lose their meaning."
"From 1915 to 1923, the Ottoman Empire systematically sought to eliminate the Armenian population, killing 1.5 million Armenians and driving hundreds of thousands more from their homeland," Biden's Medium post stated, unequivocally. "We join the Armenian community in the United States and around the world in honoring the memory of these victims, and we stand firmly against attempts to pretend that this intentional, organized effort to destroy the Armenian people was anything other than a genocide."
"If elected, I pledge to support a resolution recognizing the Armenian Genocide and will make universal human rights a top priority for my administration," is a statement that leaves very little room for the Biden Administration to walk back the claim. Still, the pressure to balance campaign promises against a teetering relationship is mounting, and at a time when further alienating Turkey could prove most unwise.
A senior administration official noted Biden's statement on the Armenian genocide and told The Hill, "He said then that we must never forget or remain silent about this horrific campaign. And we will forever respect the perseverance of the Armenian people in the wake of such a great tragedy."
No U.S. president has officially labeled the actions by the Ottoman Empire a genocide, which would make President Biden the first to do so, potentially escalating already-strained tensions between Turkey and Washington.
President Biden and his administration have been publicly critical of decisions made by the Turkish government, including Turkey's recent decision to withdraw from the Istanbul Convention.
"Turkey's sudden and unwarranted withdrawal from the Council of Europe Convention on Preventing and Combating Violence Against Women and Domestic Violence, better known as the Istanbul Convention, is deeply disappointing," the U.S. statement reads. "Around the world, we are seeing increases in the number of domestic violence incidents, including reports of rising femicide in Turkey, the first nation to sign the convention. Countries should be working to strengthen and renew their commitments to ending violence against women, not rejecting international treaties designed to protect women and hold abusers accountable."
Only a few days prior to President Biden's statement, Secretary of State Antony Blinken voiced his disapproval at the Turkish government's decision to strip a lawmaker of his post, following statements the lawmaker previously made in support of Kurdish groups, which Turkish President Erdogan has labeled as terrorists.
"We are also monitoring the initiation of efforts to dissolve the People's Democratic Party, a decision that would unduly subvert the will of Turkish voters, further undermine democracy in Turkey, and deny millions of Turkish citizens their chosen representation," Blinken said. "We call on the government of Turkey to respect freedom of expression in line with protections in the Turkish constitution and with Turkey's international obligations."
Turkey has voiced its support for improved ties under Biden's administration but has called on Washington to end its support for YPG, the Kurdish-led People's Protection Units in Syria.
Turkey's relations with America and numerous NATO allies have been strained since the country made a deal with Russia to purchase S-400 air defense systems in 2017, which the U.S. says threatens NATO defenses.
Washington responded by removing Turkey from the F-35 joint strike fighter program and activated sanctions put in place by the Countering America's Adversaries through Sanctions Act (CAATSA).
U.S. President Biden and Turkish President Erdogan have not spoken on the phone since Biden took office in January.
Secretary of State Antony Blinken will be traveling to Brussels March 22 to attend the NATO Ministerial and is expected to meet with Turkish Foreign Minister Mevlut Cavusoglu on the sidelines of a NATO Foreign ministers gathering in Brussels on March 23, Al-Monitor reported.
The State Department declined Al-Monitor's request to confirm whether the meeting would be taking place and in an email wrote, "we refer you to the spokesperson's statement released on Friday announcing the secretary's trip to Belgium. We do not have any additional updates to provide at this time."
The State Department's announcement said: "These meetings will be an opportunity for ministers to discuss the NATO 2030 proposals for alliance adaptation, concerns over China and Russia, as well as climate change, cyber security, combating terrorism, energy security, and other common challenges we face together."
The gathering marks the first in-person assembly of NATO powers since the start of the coronavirus pandemic.
If anyone can get the relationship between the U.S. and Turkey back on track, it is U.S. Secretary of State Blinken. It was for this reason- so that his experience and diplomatic skills could repair strained relationships between the U.S. and other world powers- that he was chosen for the post.
(contributing journalist, Allegra Nokaj) (contributing writer, Brooke Bell)