California's recall election is getting ugly.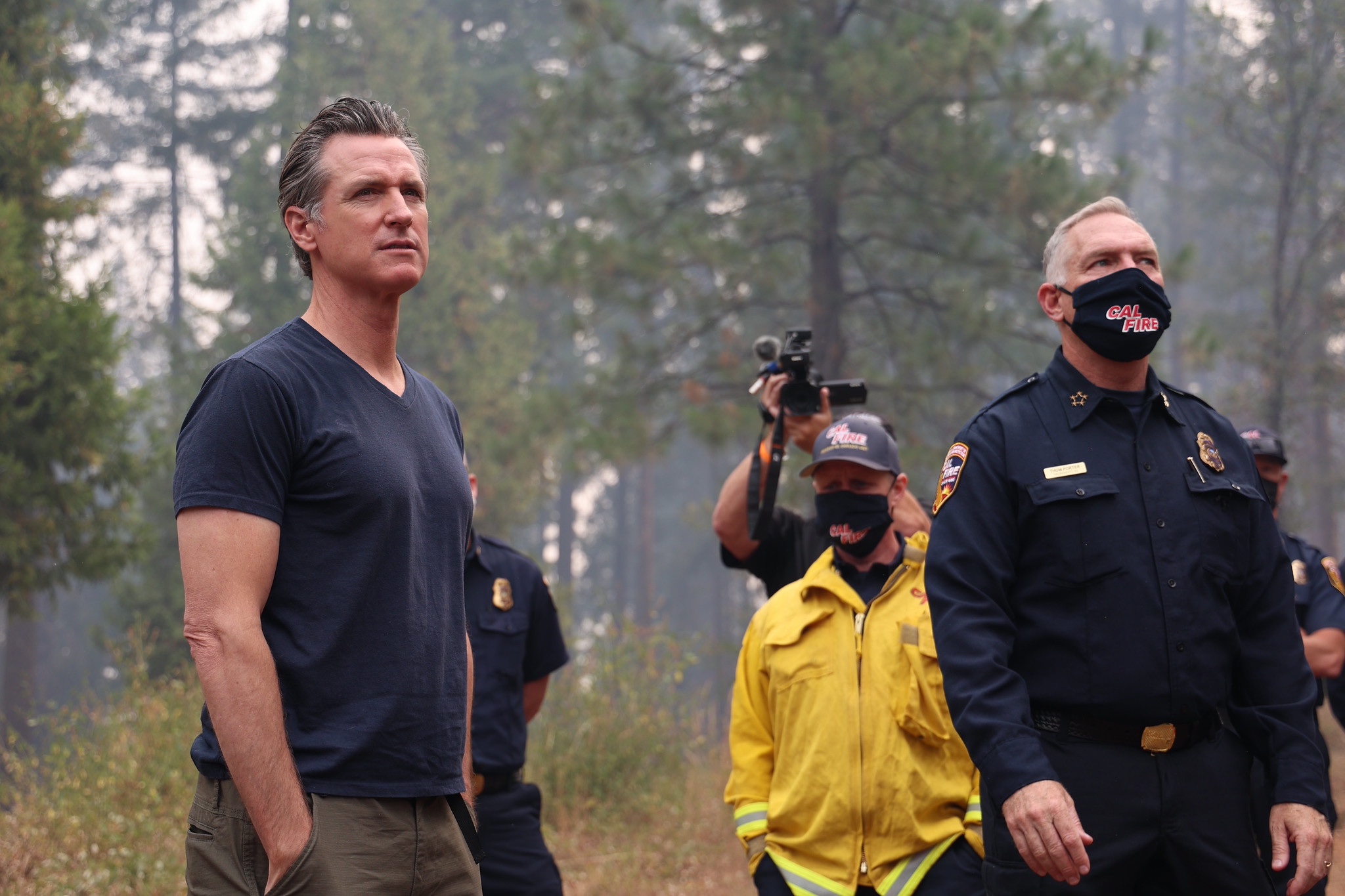 There are plenty of Democrats, in California and out, who believe Governor Gavin Newsom brought the narrow recall he is currently facing on himself.
He failed to file his paperwork properly- and so won't be listed as a Democrat on the ballot. He dined maskless at the ultra-exclusive $350 per plate minimum French Laundry for a political event during the worst of COVID- after lecturing Californians to avoid doing the same.
Under his leadership, over $11 billion dollars of COVID-19 unemploymentaid, and possibly as much as twice that, was stolen by organized crime rings in foreign countries. Though he blamed the Trump Administration, the fact remains that Newsom's administration failed to take appropriate measures to prevent theft on this scale, as others states did.
Homelessness has gotten worse under Newsom's watch; much, much worse. The news this week that the state of California under Newsom also mismanaged $316 million dollars earmarked by the Federal Government to assist with homelessness can't be welcome either.
"After collecting $316 million from the federal CARES Act to house homeless people during the Covid-19 pandemic, California simply held onto the funds instead of distributing it," concluded Adam Andrzejewski for RealClear Policy. "The state may now lose it."
There are a laundry list of other Newsom infractions, some of which aren't entirely Newsom's fault- like inflation and rising crime- and some which are- like worsening California's energy crisis, forestry mismanagement and keeping public schools shuttered while his own children attended in-person private schools.
A referendum on COVID-19 closure policies and mitigation measures was bound to show up at the ballot box sooner or later. After an election cycle or two, we will know what mitigation strategies worked best in a constitutional democracy, at least as it pertains to incumbents keeping their office.
Newsom and his team initially didn't take the recall effort seriously, which explains why things have gotten so desperate now. Anyone can see the situation has become dire when "vote for me or die," is the closing campaign message and former-President Barack Obama cuts a campaign commercial saying kids will die if Newsom is recalled. On the campaign trail, Newsom's most serious challenger was recently assaulted, egged, and his security detail shot at with a pellet gun by a deranged person wearing a gorilla mask.
It wasn't until polling started to show conservative talk show personality Larry Elder within a stone's throw of unseating Newsom that Democrats in California shifted into full panic mode.
"The polling clearly startled Newsom and his campaign advisors," reflected Dan Walters for CalMatters this week. "So they turned from defending his record as governor for the past 30 months, particularly his handling of the COVID-19 pandemic, to offense, branding the recall as a power grab by disgruntled fans of ex-President Donald Trump, a political pariah in California"
Whether or not tying Larry Elder, and indeed every Republican, to Donald Trump will be effective at the ballot box, it didn't appear to help Newsom in the polls.
Polls, as we know, which are becoming notoriously unreliable. Pollsters, and serious ones, have struck out totally during the last several elections and there isn't any indication that the problems in polling have been fixed in time for this one.
One thing that might be helping Newsom is the recent action in Texas to restrict abortion in the state.
Democrats under threat from Republican challengers have frequently invoked the specter of an end to Roe V. Wade over the past decades. Abortion access is something feminist, lobbyists, and human rights groups have fought hard to maintain in the years since Roe.
The heartbeat law in Texas might have caused California Democratic voters to take another look at their ire toward Gavin Newsom. Is backlash from the abortion law in Texas going to help Newsom?
The Texas law, which as yet has been stayed in the court system and is currently being challenged by the Federal Government as of today, might inspire lackadaisical Democrats to vote "No" on recalling Newsom.
However, many Democrats inspired to support Gavin Newsom by the Texas abortion law may have already been planning to support him. The general consensus among the most vocal Democrats in California is that, while Newsom is no prince of The French Laundry, he is certainly better than the alternative.
What about those less-vocal Democratic voters in California? The ones not writing op-eds for the LA Times calling Newsom's challenger Larry Elder the "Black face of white supremacy"?
What about the working-class Democrats harder to reach by poll?
Latino voters put Governor Gavin Newsom where he is today. In one week's time, will this vital voter base turn out for Gavin Newsom?
Some of the messaging the California Democratic Party, Gavin Newsom and major media outlets have been using hasn't been hitting home with many voters in this Demographic.
Younger Latino voters tend to be more progressive than their older counterparts. California's Latino voters over the age of 25 might be less than impressed with the abortion restriction argument.
Unlike other Democratic-voting demographics, Hispanic-Americans and Latino-Americans tend to have a greater percentage of religious conservatives. Overwhelmingly, their conservative religion of choice is Catholicism.
Catholicism, in case anyone is unaware, is not wavering in its well-known opposition to abortion.
Washington D.C.'s Bishop Wilton Gregory- President Joe Biden's own faith leader, who definitely tends towards the more progressive spectrum of Catholic leadership- made no qualms this week about the church's continued stance that life begins at conception.
Are California's Latino voters less likely to punish Gavin Newsom's Republican challenger for a law passed in another state- a law which they might not entirely disagree with?
Newsom isn't completely without advantages though. He is the incumbent Governor, and incumbents do have a tendency to keep their offices. Newsom also has more money than the rest of his challengers put together. Democratic mega-donors have gone to the mattresses to save Gavin Newsom's career and the Newsom campaign has spared no campaign expense.
There is at least one Democrat, nee Republican, in California who believes Newsom, for all his advantages and favorable polling, might be unseated by an unlikely challenger from South Central L.A.
Former California Governor Arnold Schwarzenegger has been telling anybody who would listen for months that the feeling in California now- grievances against ruling elite Democrats in the state, anger at mismanagement, high-handedness, and hypocrisy- exactly mirror the prevailing public sentiment when he beat the last California Governor to be unseated by recall.
Schwarzenegger may have a point. However Newsom does in the election next week, voters in California have already sent him a sobering message. If the Democratic one-party rule by super-majority in California isn't safe heading into the 2022 midterms, who is?
(contributing writer, Brooke Bell)