After a grueling year of Covid, California Governor Gavin Newsom is facing a recall. Will it succeed in prying him from office?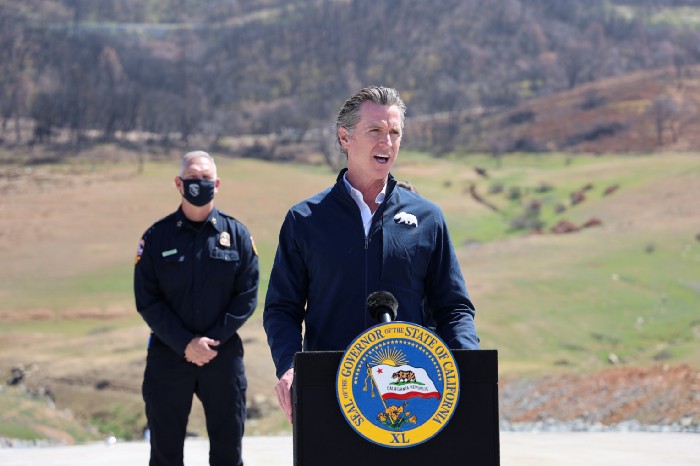 It's official: California Governor Gavin Newsom will face a recall election after organizers of the recall effort collected enough verified voter signatures to force a special election.
Newsom's opponents were required to gather more than 1,495,709 valid signatures from voters in California by March. Recall backers submitted at least 1,626,042 verified voter signatures, according to a tally released by California Secretary of State Shirley Weber on Monday, likely triggering just the second of such elections in the state's history.
County registrars have until April 29 to continue verifying the signatures and report the final tallies to the secretary of state. Any voter who signed the recall petition will have 30 days after the fact to reconsider their support and withdraw.
"This now triggers the next phase of the recall process, a 30-business-day period in which voters may submit written requests to county Registrars of Voters to remove their names from the recall petition," Secretary of State Weber said in a statement Monday. "A recall election will be held unless a sufficient number of signatures are withdrawn."
"The people of California have done what the politicians thought would be impossible," said Orrin Heatlie, the retired county sheriff's sergeant who launched the grassroots effort to recall Newsom. "Our work is just beginning. Now the real campaign is about to commence."
Last June, Heatlie began the signature collection effort, which picked up speed in the fall as voters grew increasingly frustrated over Newsom's handling of the COVID-19 pandemic. A rise in violent crime, exploding tax rates and a worsening energy crisis hasn't helped Newsom much either.
A recent survey by the Public Policy Institute of California, however, showed that only 40% of California voters support recalling Gov. Newsom, an indication that the recall effort might fail. 56% of voters surveyed said they would vote no, 5% are unsure, and 53% of voters said they approved of how Newsom is handling his job, according to the Public Policy Institute of California survey.
Recent election cycles have been beset, however, by badly flawed polls. Polls have been especially bad at missing conservative voters. Joe Biden may have eked out a win in November, but the Biden/Harris ticket was supposed to win in a landslide, according to the polls. Down the ticket, there were few victories, eked out or otherwise.
Democrats lost all 27 of their favored-to-win tossup races. In smaller state and local races, the results were similar.
In the meantime, Newsom has launched a campaign to fight the effort and has received endorsements from prominent Democrats including Sen. Elizabeth Warren and Sen. Bernie Sanders. So far, no Democrats have jumped in to run against him.
"I am not going to take this fight lying down," read a fundraising appeal sent by Newsom shortly after Monday's announcement about the signatures. "There is too much at stake, and I intend to win."
Newsom has criticized the campaign as a partisan "Republican recall."
"It is what it is. This is a Republican recall," Newsom said in an interview with CNN. "An RNC-backed Republican recall of White supremacists, anti-Semites and people who are opposed to immigration and immigrants is an accurate assessment of who's behind this recall."
Newsom's campaign manager, Juan Rodriguez, reiterated criticism that the campaign is a partisan effort by pro-Trump Republicans that "seeks to undo the important progress we've made under Governor Newsom — fighting COVID, supporting families who are struggling, protecting our environment, common-sense gun safety laws."
An election is likely to occur in the fall, where voters will decide if Newsom should be recalled and who should replace him if he is removed from office. If Newsom survives the recall he will be up for reelection in 2022. If the recall passes, Newsom is barred from being listed among the candidates who can be considered.
The recall vote opens up the possibility that a Republican could be elected to replace Newsom. Republicans running include former San Diego Mayor Kevin Faulconer, reality TV star and former Olympic decathlon champion Caitlyn Jenner, businessman John Cox and former Congressman Doug Ose.
"Californians from all walks of life are seizing this historic opportunity to demand change," Faulconer said in a statement. "As the only candidate who's won tough elections and enacted real reform, I am ready to lead this movement."
If the effort to recall Newsom succeeds, it will be interesting to see if other governors face similar challenges in their states. Some governors have certainly fared better that others, with lower-than-average infection rates, mitigated economic fallout and higher rates of vaccination.
Some missteps, however, have been worse than others. It is perhaps true that Gavin Newsom's handling of Covid was no worse than some, not as good as others. In the end, it may be the effectiveness of his opponents that counts.
(contributing journalist, Allegra Nokaj) (contributing writer, Brooke Bell)