Governor Gavin Newsom may have survived his recall, but his troubles are far from over.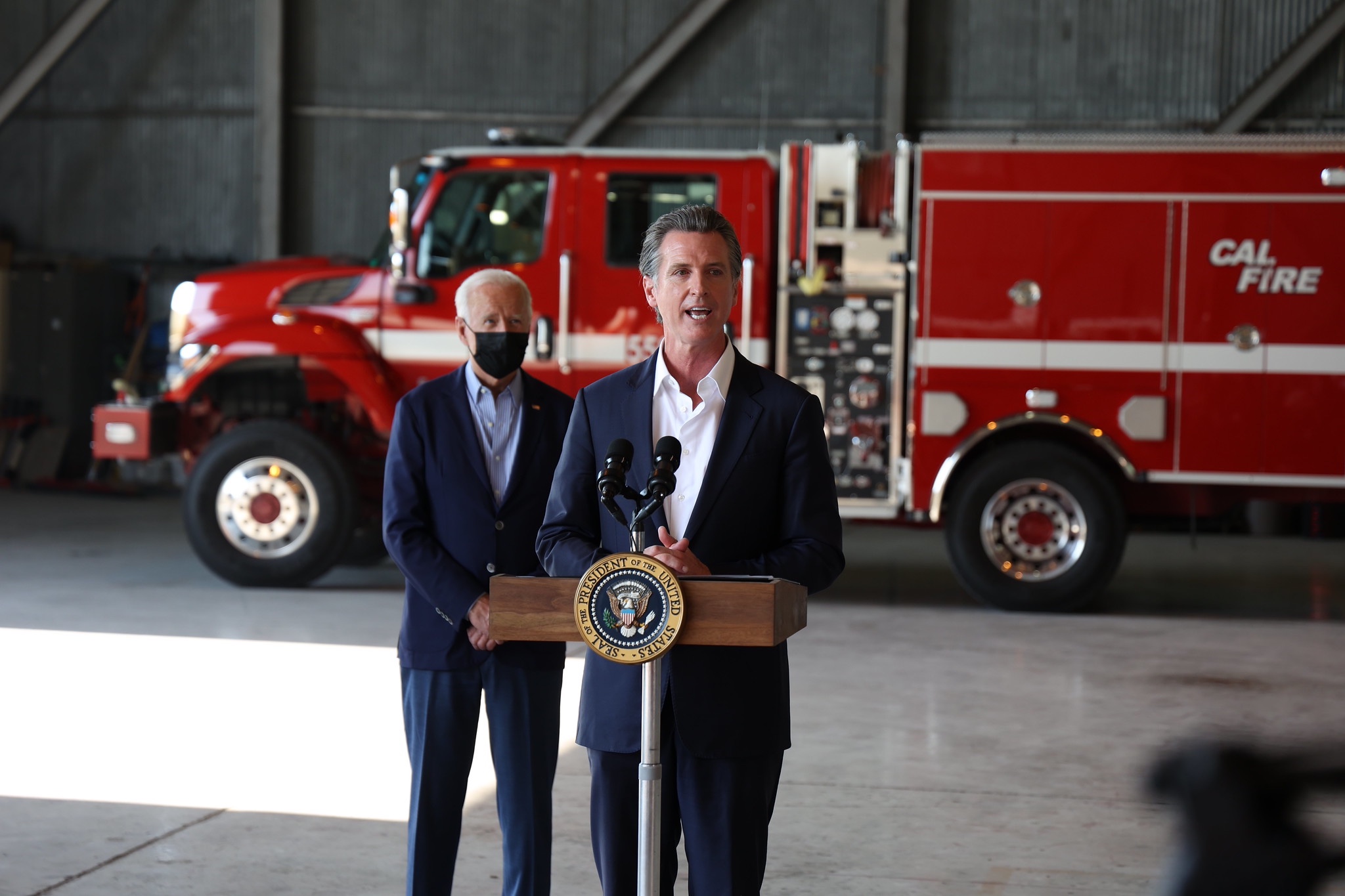 While he has probably lost his taste for French Laundry- permanently- California Governor Gavin Newsom handily fended off a challenge to his Governorship yesterday amid a high Democrat turnout.
The recall effort generated unexpected enthusiasm from voters in the state, but the chances were never good. Only 24% of the California electorate votes Republican.
So it likely didn't hurt Newsom's chances that every registered voter in California was mailed a ballot, whether they requested one or not.
The Newsom campaign also outspent its competition, sometimes by as much as 200 to 1. Newsom had more money than all of his would-be challengers put together. He had the heavyweights of the Democratic Party in his corner; Sen. Elizabeth Warren, Sen. Bernie Sanders, Vice President Kamala Harris, President Joe Biden all campaigned for him.
Not to mention the full faith and credit of Hollywood.
Newsom's closing campaign message, echoed faithfully by the LA Times and all other news outlets aspiring to be the LA Times, was "vote for me…or die," which proved effective in the end.
While Californians are concerned about homelessness, crime, taxes, the high cost of housing, and an energy crisis, they are more concerned about the COVID-19 resurgence via the Delta variant which has set California back considerably.
To say the least.
In spite of an overwhelming electoral advantage, Newsom still faced plenty of challenges in the recall race.
Corporations and businesses have been abandoning California at an exponential rate under his leadership, seeking friendlier tax climes in redder states.
During the end of his campaign, Newsom invoked the specter of Texas and its recent attempts to limit abortion access in the state. "Don't let California turn into Texas," Newsom warned on the campaign trail.
Thing is, Texas is gaining people. Many of the companies and people leaving the high-cost, low-return government of California are choosing Texas by voting with their feet- even knowing how many Republicans live there.
For the first time in history, California is losing a Congressional seat due to depopulation- and it probably should have lost two. Texas and Newsom's other red state target, Florida, both gained seats during the same period.
For example, California's recent loss of Tesla billionaire Elon Musk, another in a long line of billionaires who have now left California for greener pastures, was Texas' gain.
The trouble started when Elon Musk filed a lawsuit against the state of California in a bid to reopen Tesla factories closed by Covid-19 shutdowns. California Democrats responded, in excellent conflict management style:"[expletive] Elon Musk."
Musk moved forward with opening his Alameda California factory, defying local authorities to come and arrest him. Though eventually they came to a resolution of sorts, Musk still relocated himself, his company and his billions to the Great State of Texas in December of 2020.
Texas, a state managed by people who like tax revenues, responded properly: "Welcome to Texas, Elon Musk."
Things are becoming so bad in California, and the state's tax base is eroding so dangerously, California lawmakers are considering levying a punitive future-active "exit tax" of businesses leaving the state that would be effective for 10 years after a company moves.
That may stop a few companies from leaving California in the short-term: It will stop more than a few from incorporating in California in the first place in the long-term.
When a business loses a substantial percentage of its customers, it can sometimes recover. Businesses which try to reverse the downward trend of their falling profits by squeezing the remaining customers to compensate for the difference almost always fail.
The state of California is very much like a business- one that is being poorly run at the moment.
To compensate for California's lost tax revenues, the answer isn't more punitive tax measures, but fewer. Growing the tax base, which is something California lawmakers haven't had to grapple with- ever- has become something Democratic politicians in California really need to start thinking about and campaigning around.
The average home in California costs $850,000- which is double the average in most places. Turning a vast, resource-rich, weather-blessed place like California into a place too expensive to live is clearly a case of mismanagement.
California's budgetary concerns, should Gavin Newsom be inclined to admit it, might be assuaged with a few changes in state government spending. For instance, over $11 billion dollars in COVID unemployment dollars, and maybe as much as twice that, were recently stolen from state coffers by organized online theft rings in other countries.
Newsom's administration is anxious to blame the staggering loses on Donald Trump, but 49 other U.S. states had similar such COVID-19 unemployment funds and all of them managed far better.
Newsom can't bear the entire brunt of this disastrous and expensive failure. The U.S. Social Security system is known by fraudsters and law enforcement agents the world over as the "bank without a safe."
Eliminating or reducing the amount lost to theft, fraudulent claims and scams would save federal and state governments, not to mention the American taxpayer, tens of billions of dollars per year.
But over $400 million in federal funds intended to help California deal with its homelessness crisis sat untouched in state coffers for months and months until Washington auditors tried to claw it back. Why?
Wildfires have always been a problem in California, but they have been growing increasingly dangerous and destructive in recent years. Global warming might be exacerbating the problem: Forestry mismanagement definitely is.
Tackling climate change is complicated and will take decades, if not longer. Improving forestry management in California could be done with the stroke of a pen. At the very least, it could be accomplished by California's Democratic supermajority in a matter of days.
In spite of his failures in the state, inherited and otherwise, Newsom has survived his recall. It didn't hurt Newsom's chances that he prevented any other prominent Democrats from getting into the race.
It was a risky bet that appears to have paid off in the short term. A second viable Democratic option probably would have caused more California voters to jettison Newsom. But it isn't as if Newsom is safe; far from it.
In just over 12 months, and possibly much sooner, Newsom will face California voters again, and possibly his own party. Whether or not he will draw a serious primary challenge will depend on his job performance over the next year. It might also depend on how his polling looks between now and then.
There are a suspiciously large number of Democratic incumbents who are not seeking reelection next year for reasons largely unknown; Rep. Ron Kind, Atlanta Mayor Keisha Lance Bottoms, Rep. Cheri Bustos. There are other state and local leaders who will not be seeking reelection due to term-limits.
How their job performances and COVID-19 policies will ultimately impact incumbents of both parties facing reelection remains to be seen. At some point, however, a ballot box referendum on COVID-19 job performance and mitigation measures will be forthcoming.
(contributing writer, Brooke Bell)