The Christmas bombing in Nashville is a strange case getting stranger.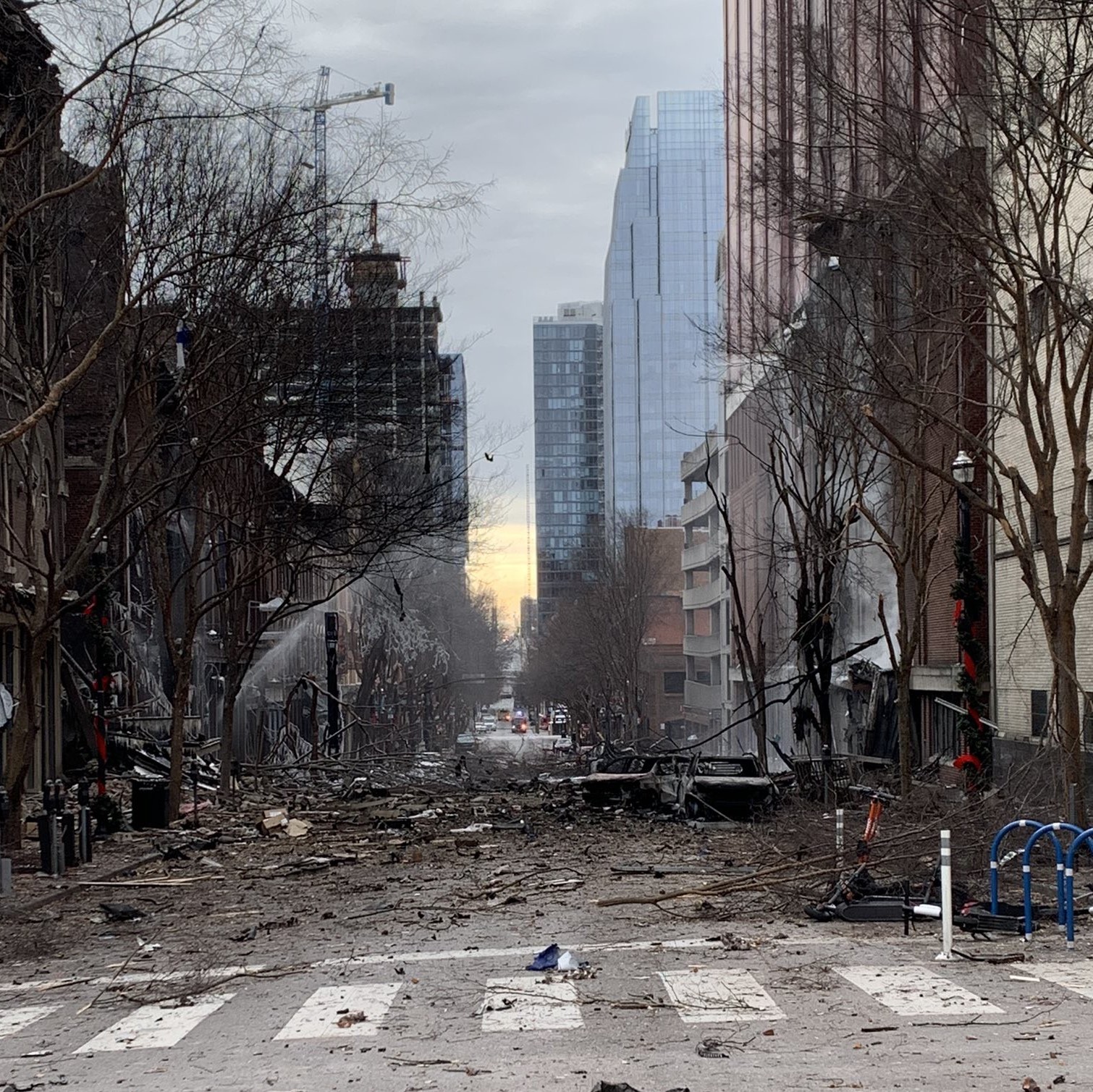 It's a plot that seems lifted from a Stephen King novel:
An intentional act of terrorism, seemingly contrived to leave as few human casualties as possible. A loudspeaker message emanating from an old RV, warning everyone within range of the announcement to evacuate- which may or may not sound like "Merry Christmas to all" when played in reverse.
The spooky strains of an old song breaking into the early Christmas morning quiet, just before the blast shook downtown Nashville: "When you're alone and life is making you lonely, you can always go… downtown."
In the aftermath of the attack, six Nashville police officers are being praised as heroes for their response to the Christmas morning explosion, which injured three people and caused massive destruction.
Authorities say an RV containing a bomb exploded outside of an AT&T communications facility Friday. According to the FBI, human remains found at the crime scene belong to the bomber, who authorities believe acted alone. The explosion came from the RV soon after a speaker system broadcast an urgent warning to evacuate the area.
The chilling message, delivered in a computerized female voice was clear: "This area must be evacuated now. If you can hear this message, evacuate now. There is a bomb. A bomb is in this vehicle and will explode," according to a video posted on social media. The RV then broadcast a recorded countdown, warning nearby residents that a bomb would detonate in 15 minutes, according to AP News.
Afterwards, the RV eerily played the 1964 Petula Clark pop song "Downtown".
Then, at about 6:30 a.m., the RV detonated near Second Avenue North and Commerce Street. Nashville Mayor John Cooper said at least 41 businesses were damaged during the explosion.
The six officers who responded to the scene, officers Brenna Hosey, James Luellen, Michael Sipos, Amanda Topping, James Wells, and Sergeant Timothy Miller, ran towards the RV and went from home to home evacuating residents.
Officer James Wells, who suffered some hearing loss due to the explosion said "This is going to tie us together forever, for the rest of my life…Christmas will never be the same."
"At that point, I get out, and I'm starting to go back toward Luellen and Hosey, and as I'm getting ready to walk toward them, walking back toward the RV, this might not be politically correct, but this is my truth: I literally heard God tell me to turn around and go check on Topping, who was by herself down on Broadway," Wells said.
"As I turned around, for me it felt like I only took three steps, and then the music stopped, and as I'm walking back toward Topping now, I just see orange, and then I hear a loud boom. And as I'm stumbling, [because] it rocked me that hard, I start stumbling, I just tell myself, 'Just stay on your feet, stay alive,' and I just take [off] in a full-out sprint and I'm running toward Topping to make sure she's okay."
Officer Amanda Topping said she parked their police car beside the RV before hearing the recording, and soon after called her wife to let her know "things were just really strange."
"I felt the waves of heat but I kind of just lost it and started sprinting towards (Officer James Wells)," she continued. "I've never grabbed someone so hard in my life."
"This is not how anybody wanted to spend Christmas morning," Nashville Mayor John Cooper said. "We are very lucky that there were not more injuries."
Cooper praised the six officers as heroes at a press conference.
"They ran to danger with uncertain outcomes ahead of them; they were responsible for so many innocents being saved," he said. "They are heroes and I am grateful to them."
Metro police Chief John Drake also recognized the bravery of the six officers.
"Those officers saved lives today," Drake said. "They immediately began knocking on doors, not knowing if the bomb was going to go off immediately. They didn't care about themselves, they didn't think about that, they cared about the citizens of Nashville."
The Nashville bomber has since been identified as Anthony Quinn Warner, a "computer geek" who "kept to himself" according to his neighbors.
DNA taken from the scene was matched to Warner by forensic analysts, said Tennessee Bureau of Investigation Director David Rausch. The FBI used DNA testing to confirm Warner's identity, after gathering DNA samples from his family members.
"Anthony Warner is the bomber," said US Attorney Don Cochran during a press briefing. "He was present when the bomb went off, and then he perished in the bombing."
Federal officials said it appears Warner acted alone. Out of hundreds of tips and leads, officials have concluded no one other than Warner was involved in the explosion. Officials have not yet uncovered a motive for the bombing, or why that specific location was chosen.
"We're still following leads, but right now there is no indication that any other persons were involved," said Douglas Korneski, special agent in charge of the FBI field office in Memphis. "We've reviewed hours of security video surrounding the recreation vehicle. We saw no other people involved."
Even as details have continued to emerge about this strange story, the motives of Anthony Quinn Warner have remained obscure. No manifesto or suicide note has come to light as yet. There is speculation that the blast might have had something to do with 5G technology, which some conspiracy theorists insist is dangerous.
The fact that Warner took pains to avoid mass casualties is another puzzling factor. Of course, Warner could not have known if his measures of evacuating the area would be effective. He obviously did not care about the lives of the people in downtown Nashville.
Suicide bombers, terrorists, and would-be mass murderers in general seldom show any such reluctance to cause harm. Indeed, most plan to inflict as much of their suffering on the rest of the world as possible and are often stopped far short of their grisly goals.
It is only through the heroic efforts of the Nashville police officers who responded to the threat, and perhaps a bit of a Christmas miracle, that mass casualties were avoided.
(Contributing journalist, Allegra Nokaj) (Contributing writer, Brooke Bell)
WRITTEN BY
Dr. Munr Kazmir