Protestors have been arrested, injured and killed in the weeks since the military seized power in Myanmar, claiming a stolen election.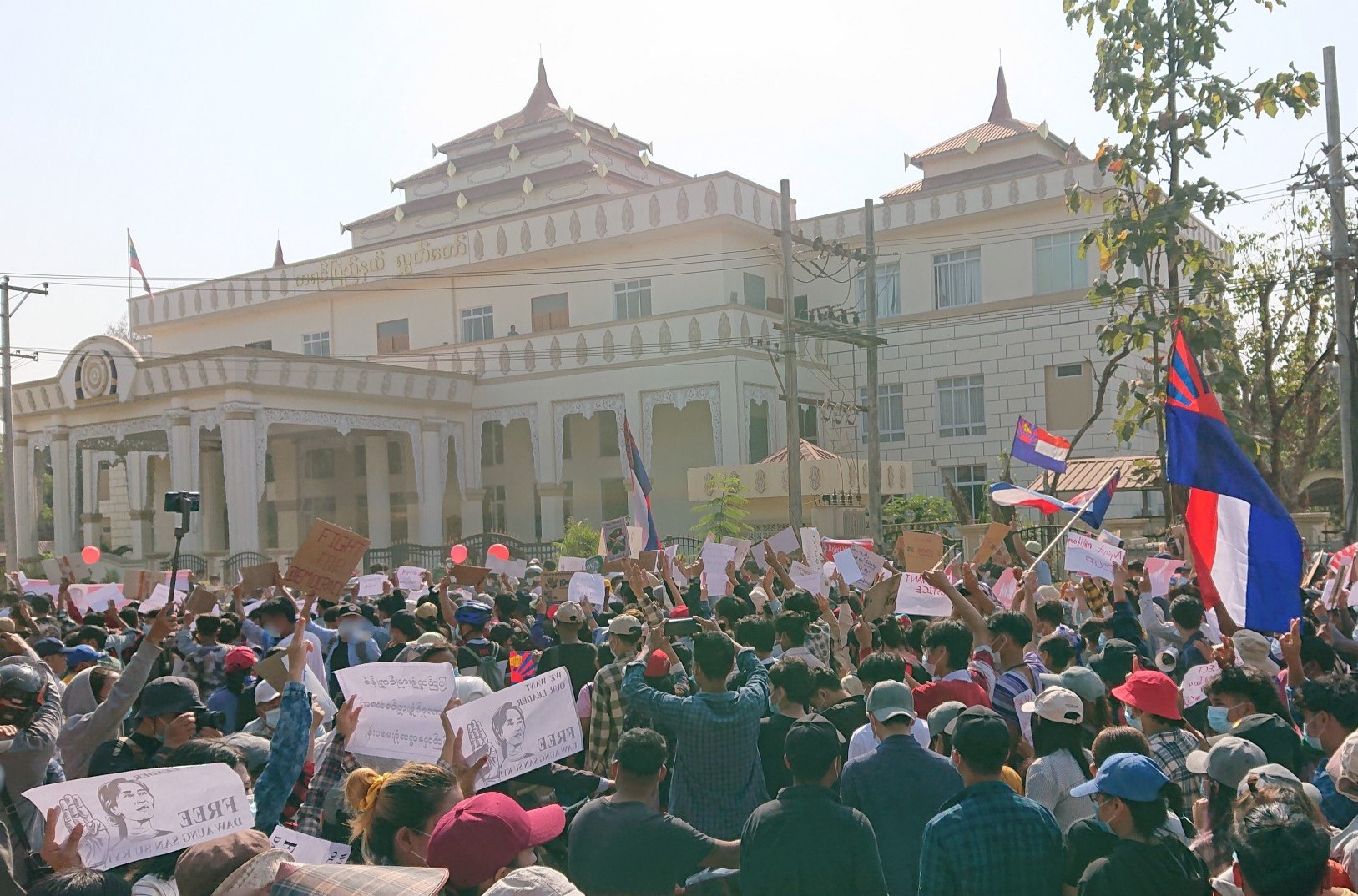 Protestors rushed the streets of cities and towns on Monday and Tuesday to rail publicly against the Myanmar military's seizure of power. Two protestors have been killed, at least 40 have been injured and hundreds have been arrested in the weeks since the Myanmar coup.
The most recent shootings occurred after authorities tried forcing workers back to their jobs at a local shipyard, a day after the death of another protestor, a 20-year-old woman whom the police shot in the head at a demonstration on Feb. 9.
Videos of the scene showed police striking protestors and firing live bullets, though it was unclear whether the bullets were rubber or live ammunition. The military junta said it was prepared to use lethal force against protestors in a statement on Sunday.
"It is found that protesters have raised their incitement towards riot and anarchy mob on the day of 22 February. Protesters are now inciting the people, especially emotional teenagers and youths, to a confrontation path where they will suffer the loss of life," the State Administration Council, the military junta controlling the country said on Sunday on state broadcaster MRTV.
The junta has attempted to stop protests by placing bans on gatherings of over five people, setting strict curfews in certain areas and cutting off the internet at night. Troops have been deployed to major cities, but the military presence has been unable to curb the protests.
Demonstrators called for a widespread strike on Monday. Protesters phoned offices and shops, asking them to shut down and urged citizens to join the protest, known as the "Five Twos," in reference to Monday's date.
"22.2.2021 will be a big historic day. Keep watching us and pray for us, friends," leading protest activist group, the Civil Disobedience Movement said in a tweet Sunday.
Myanmar's military says it took power because of widespread voting irregularities in November's election. The junta has said it will rule for a year under a state of emergency and then hold new polls.
Suu Kyi's party would have been installed for a second five-year term, but the army blocked Parliament from convening and detained her. President Win Myint and other members of her government were also taken into military custody. At least 640 people have been detained in relation to the coup, the Assistance Association for Political Prisoners Burma (AAPPB) said.
Several countries have condemned the military takeover, including the United States, United Kingdom and Canada. On Monday, the United States announced additional sanctions against two officials over Myanmar "'security forces' killing of peaceful protestors."
Lt. Gen. Moe Myint Tun and Gen. Maung Maung Kyaw were added to the list of military leaders and entities facing the U.S. sanctions. U.S. Secretary of State Antony Blinken said in a statement that the U.S. condemns the attacks on protesters.
"We call on the military and police to cease all attacks on peaceful protesters, immediately release all those unjustly detained, stop attacks on and intimidation of journalists and activists, and restore the democratically elected government," Blinken said.
In his annual address to the UN Human Rights Council, United Nations Secretary General António Guterres called on the Myanmar military, "to stop the repression immediately."
"Release the prisoners. End the violence. Respect human rights, and the will of the people expressed in recent elections," he said, before insisting that, "coups have no place in our modern world."
(Contributing journalist, Allegra Nokaj) (Contributing writer, Brooke Bell)