The Chinese Communist Party has created a world in which term limits have been abolished and opposition candidates aren't allowed to run for office.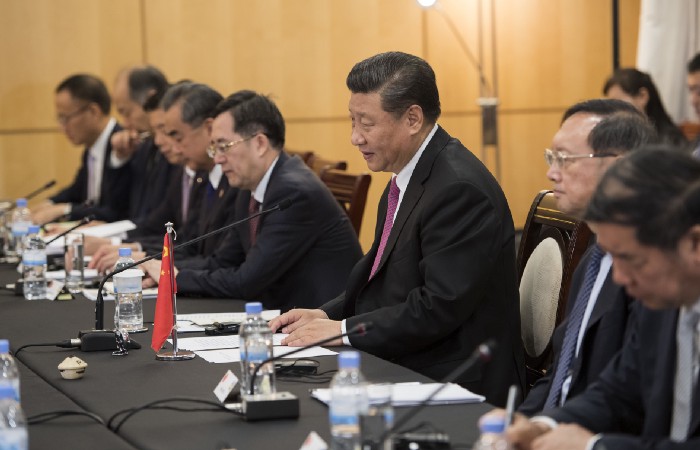 The Chinese government held their annual parliamentary meeting known as the "Two Sessions" March 4 and 5 in Beijing.
Two Sessions have overseen dramatic changes in the legislature, including President Xi Jinping's abolition of term limits in 2018 and the new security law for Hong Kong last year. This year marks the beginning of China's five-year development plan, the 14th such plan in the country's history.
Thursday marked the start of the Chinese People's Political Consultative Conference (CPPCC). The National People's Congress (NPC) held their session Friday.
Xi Jinping and other Chinese leaders attended the session of the CPPCC, held at the Great Hall of the People. At the two sessions, members of the Chinese Communist Party discussed the five-year plan, the economy, central and local budgets, and a decision on the electoral system of the Hong Kong Special Administrative Region.
Beijing says it plans to rewrite election rules that will further erode Hong Kong's democracy.
Chinese lawmakers plan to limit and prevent dissident politicians running for election in Hong Kong and support "patriots" loyal to the CCP for government office. The South China Morning Post reported that reducing the number of seats opposition groups hold on the committee was among the scenarios being considered.
With the Chinese Communist Party's new plans to wear down Hong Kong's already limited democracy, a statement or strong reaction such as sanctions or congressional action will be expected from Washington.
Beijing sees a continued threat in Hong Kong after Chinese authorities used a new national security law to arrest approximately 100 opposition figures, lawmakers and activists, resulting in months of anti government and democracy protests.
As recently as Sunday, 47 Hong Kong opposition figures were charged with "conspiracy to commit subversion" under the new national security law and are being prosecuted for organizing and participating in a primary vote in July for the city's democratic opposition.
The U.S. government and protestors have criticized Beijing for abandoning its pledge to allow the region to maintain its own legal, economic and social institutions until 2047.
China state media outlet Xinhua reported that Chinese President Xi Jinping "noted at the 19th Communist Party of China (CPC) National Congress that China's economy was transitioning from a phase of rapid growth to a stage of high-quality development."
During the National People's Congress session on Friday, Xi revealed a plan for China in the new global environment. Xi Jinping has put on a confident front surrounding China's growth and power, but is reportedly keeping an eye on the United States.
The New York Times reported: "'The biggest source of chaos in the present-day world is the United States,' Mr. Xi said, a county official in northwest China recounted in a speech published last week on a government website. He quoted Mr. Xi as saying: 'The United States is the biggest threat to our country's development and security.'"
President Biden has condemned the Chinese Communist Party for engaging in human rights abuses, including its restrictions on Hong Kong and detention camps for Uyghur Muslims in Xinjiang. In February, Biden said he told Chinese President Xi Jinping during a phone call that there would be "repercussions" for China's human rights abuses.
After the arrest of 47 Hong Kong opposition activists on Sunday, U.S. Secretary of State Antony Blinken wrote in a statement on Twitter that the United States, "condemn[s] the detention of and charges filed against pan-democratic candidates in Hong Kong's elections and calls for their immediate release. Political participation and freedom of expression should not be crimes. The U.S. stands with the people of Hong Kong."
It is unlikely that authorities in Beijing will respond to this overture. In January, Xi Jinping called U.S. efforts to promote human rights and democracy as "arrogance, prejudice, and hatred".
There have also been increasing concerns surrounding China's military pressure on Taiwan, which Beijing sees as part of its territory.
President Biden has repeatedly signaled his support for Taiwan since entering office. He first showed support by inviting the ambassador of Taiwan to his inauguration. Biden also sent a U.S. warship through the Taiwan Strait between China and Taiwan to show solidarity with Taiwan, and recently stated that the United States "will support Taiwan, a leading democracy and a critical economic and security partner, in line with longstanding American commitments."
With more material support from the U.S., Taiwan's chances of maintaining its independence are strengthened. However, China's stated five-year goal of "high-quality development" doesn't bode well for Taiwan, nor for Hong Kong for that matter.
After decades of outstanding growth in the Chinese GDP, the Chinese Communist Party sounds ready to consolidate its resources. To CCP authorities, Xi Jinping chief among them, the prosperous jewels of Hong Kong and Taiwan belong to China.
These moves to cut off legitimate and official ways to influence political life, like preventing reform candidates from seeking office, are meant to delegitimize the pro-democracy movements in Hong Kong even more than they already have been.
It is less about punishing those in Hong Kong who are guilty of resisting the yoke of the CCP and more about dissuading any who might follow. The CCP's massive, widespread surveillance system is now so advanced, dissent and opposition have become all but impossible.
Between the limits on free speech and assembly, inability to seek public office, and a punishing social credit system, with everyone under near-constant surveillance and the Great Firewall of China, the CCP's control over all the citizens of China is now absolute.
Xi Jinping's control over the CCP is also absolute. People's Daily, a Chinese state-run newspaper, praised Xi's plan, saying he "has the broad vision and extraordinary courage of a Marxist politician and strategist."
During a year in which much was lost, all around the world, Xi Jinping and the Chinese Communist Party have emerged more powerful than ever.
(Contributing journalist, Allegra Nokaj) (Contributing writer, Brooke Bell)