Lt. Gov. Kathy Hochul believed Cuomo's accusers long before the AG report vindicated them…and acted like it.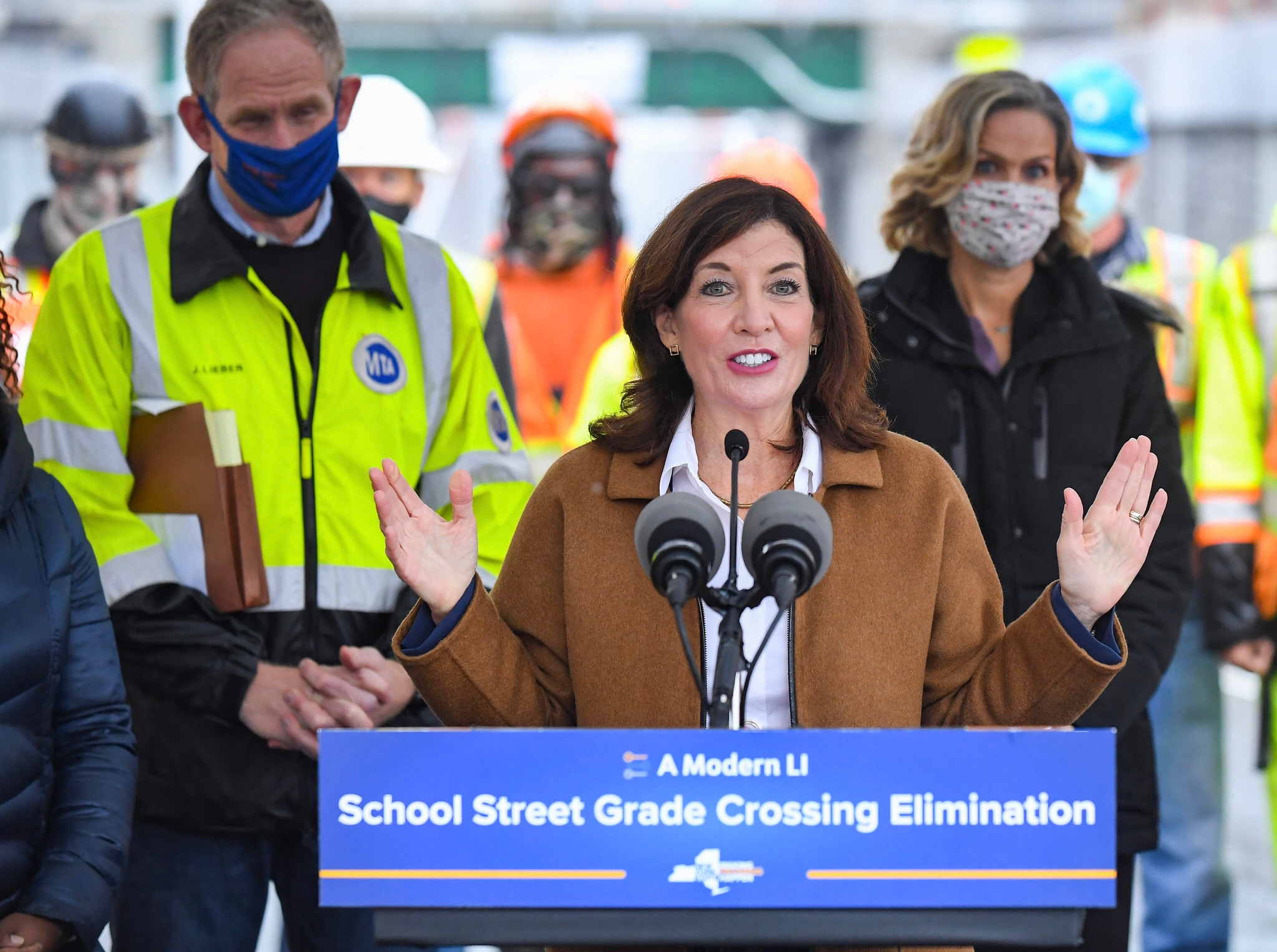 New York's first female governor is inheriting a real mess.
There is COVID-19, an economic downturn, skyrocketing inflation, rising crime, the Delta variant- and the Lambda variant waiting in the wings after it.
Lieutenant Governor and former Congresswoman Kathy Hochul is also stepping into the aftermath of the one of the biggest political scandals, and most spectacular falls from grace, witnessed in the past ten years.
Governor Andrew Cuomo, who almost overnight went from America's favorite "Luv Guv" to a disgraced former public official on his way out, is gone- nearly- but not forgotten.
The fallout from his administration is ongoing. There are still the twin scandals to contend with: Andrew Cuomo's handling- and concealing- of nursing home deaths from COVID-19 in New York and; his predation of female staffers in his orbit, both confirmed by reports from New York Attorney General Letitia James.
Perhaps unfairly, soon-to-be Governor Kathy Hochul is also inheriting a party thrashing out its differences, with the far-left progressive wing of the Democratic Party often at odds with its more conservative members.
That Hochul is, according to the new faith of far-left progressivism, one of the latter, isn't endearing her to the progressives of her party. Even many party moderates have their sights set on someone a bit more flashy for New York Governor; Bill de Blasio or Hilary Clinton perhaps.
Democrats have to win in November against Republicans, in the end, who have plenty of public grievances to exploit to their electoral advantage in the upcoming elections. Even in deep-blue New York the Democratic ticket may need all the star power it can get.
But November, as they never say in Washington, is a long way away.
Campaigning, lest any of us forget, is only half of the battle when you are a lawmaker. There is also governing, which is a full-time, no-holds-barred, free-for-all that- as Thomas Jefferson once predicted it might when he endowed the Library of Congress with books about everything- encompasses all and sundry, from public sanitation to emissions and beyond.
Lieutenant Governor Kathy Hochul is ready to competently govern in New York- at a time when the state most needs competent and clear-headed leadership. Even better, she is prepared to take office right away, as she has made clear.
There will be no learning curve when New York can least afford it.
This is true for one reason and Hochul isn't receiving nearly enough attention for it in the press. She is prepared to take over at once for Andrew Cuomo because she has been planning to do so for six months.
Whatever progressives, or moderates, may say about Kathy Hochul, her record, or her viability in the upcoming general election, they can take no exception to her reaction to the charges leveled at her boss.
She handled the Andrew Cuomo scandal expertly from the outset.
Unlike other Democrats in Cuomo's orbit, she did not wait for the AG's report to publicly support the women who had accused him of sexual misconduct. Instead, she immediately issued a statement of unqualified support, asserting her belief in their stories- as soon as the accusations were first made public.
Doing so six long months before the AG's report proved the truth of those accusations meant risking the full and then-unmitigated wrath of Andrew Cuomo, no small thing by all accounts. This act of moral courage alone makes Hochul a credit to the public service sector.
After New York AG Letitia James dropped her bombshell report on the office predations of Andrew Cuomo, Hochul immediately issued another statement.
After calling the governor's behavior "repulsive and unlawful" she reiterated her unwavering support for survivors of sexual abuse, assault and harassment.
"I believe these brave women and admire their courage coming forward," Hochul said, simply, before refusing to speculate further: "Because lieutenant governors stand next in the line of succession, it would not be appropriate to comment further."
But Hochul didn't really need to comment further.
Her actions speak for themselves. Because she believed Andrew Cuomo's accusers, she knew what the AG was likely to find- and she acted accordingly without delay. She began preparing herself and her staff to take over.
Her behavior in private- which was to quietly prepare herself and her staff to assume the governorship from her formidable boss- matched her behavior in public- which was to issue statements supporting total strangers who had come forward to accuse the most powerful man in the state of a pattern of sexual misconduct.
Hochul also publicly supported the investigation into Andrew Cuomo when AG Letitia James first announced it in February. The New York Times, and other outlets, have reported that Cuomo and Hochul stopped speaking right around that time.
What really happened between the two of them? Did Kathy Hochul find herself on the losing end of one of Andrew Cuomo's infamous tirades?
We don't know- because Hochul is more focused on governing during a crisis than she is on dishing the dirt on Andrew Cuomo, though doing the latter would get her on every talk show in America and raise her political profile while doing the former will involve very little credit for successes and blame for every little failure.
Kathy Hochul risked being sandbagged by her boss, and replaced on his ticket, to do the right thing. That she is in the right place at the right time, ready and able to take over immediately is not happenstance.
Hochul's moral compass led her to where she is today. New York, like every other state in the union, could use a few more such steady guides.
(contributing writer, Brooke Bell)