"There is no room for anti-Semitism in this world," says Edelman: "This world needs a little more love, compassion and empathy."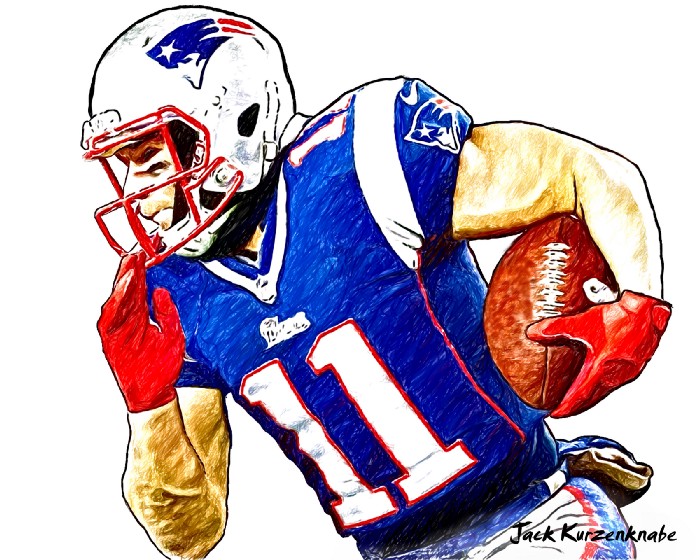 "So we've never met," began Julian Edelman in an open letter to his fellow professional athlete, NBA player Meyers Leonard, "I hope we can one day soon. I'm sure you've been getting lots of criticism for what you said. Not trying to add to that, I just want to offer some perspective."
Meyers Leonard had recently run afoul of NBA standards, and a whole lot more, when he was caught uttering an anti-Semitic slur during a live-streamed video game. "F — — cowards, don't f — -ing snipe me, you f — ing k — — b — ," Leonard could be heard saying in a moment that quickly went viral.
Meyers Leonard has since apologized, posting to Instagram that he regrets his behavior. The Miami Heat has announced that it will fine Meyers Leonard $50,000 and suspend him for a week. He will also be required to attend a cultural diversity training program.
"Meyers Leonard's comment was inexcusable and hurtful and such an offensive term has no place in the NBA or in our society," said NBA commissioner Adam Silver.
Across the social media influence-sphere, athletes, pundits, and luminaries were quick to join Silver in condemning Leonard. Julian Edelman, who happens to be Jewish himself, took a different tack.
"I get the sense that you didn't use that word out of hate, more out of ignorance," Edelman wrote in his letter. "Most likely, you weren't trying to hurt anyone or even profile Jews in your comment. That's what makes it so destructive. When someone intends to be hateful, it's usually met with great resistance. Casual ignorance is harder to combat and has greater reach, especially when you command great influence."
"Hate is like a virus. Even accidentally, it can rapidly spread," Edelman explained. "I'm down in Miami fairly often" Edelman told Leonard, before extending a friendly invitation: "Let's do a Shabbat dinner with some friends. I'll show you a fun time."
This isn't the first time Edelman has extended the hand of Jewish friendship after a pro-sports incident involving anti-Semitism. In 2020, Edelman invited DeSean Jackson, wide receiver for the Philadelphia Eagles, to visit the Holocaust Museum with him in Washington D.C.
Jackson had caused outrage in the professional sports community for anti-Semitic remarks he made during an Instagram story where claimed, among worse things, that Jews would "blackmail America". Jackson also expressed support for notorious hate-preacher Louis Farrakhan.
While Farrakhan remains a fringe figure, he has enjoyed a surprising amount of acceptance from the left in spite of Farrakhan's designation by the Anti-Defamation League and the Southern Poverty Law Center as anti-Semitic.
"We have spoken with DeSean Jackson about his social media posts," said the Philadelphia Eagles in a statement. "Regardless of his intentions, the messages he shared were offensive, harmful, and absolutely appalling. They have no place in our society, and are not condoned or supported in any way by the organization."
Yet in spite of the ugliness of Jackson's comments about Jewish people, and the appalled reaction of Eagles owner Jeffery Lurie and general manager Howie Roseman, both of whom are Jewish, Julian Edelman was not deterred.
"I have seen DeSean play in his career, make outstanding football plays, we've communicated over social media," Edelman said in an Instagram video posted in response to Jackson. "I've got nothing but respect for his game. I know he said some ugly things, but I do see an opportunity to have a conversation."
"I am proud of my Jewish heritage," Edelman said, "and for me it is not just about religion. It's about community and culture as well."
"I am unusual because I didn't identify as Jewish until later in my life," Edelman explained. "Whenever I encountered hatred, it never really felt like it was aimed at me. It was only after I was part of this community I realized how destructive hate is. Anti-Semitism is one of the oldest forms of hatred. It's rooted in ignorance and fear."
Edelman's olive branch was accepted.
"I want to apologize to the Jewish community, Jeffery Lurie, Howie Roseman, Doug Pederson, the Eagles organization and our fans for the insensitive and ill-informed posts that I shared on my social media," Jackson said in a subsequent statement. "My intention was to uplift, unite and encourage our culture with positivity and light. Unfortunately, that did not happen. I unintentionally hurt the Jewish community in the process and for that I am sorry! Now more than ever we must work together to end discrimination of all types against all people and communities."
"This apology is more than just words — it is a promise to do better. I will fully educate myself and work with local and national organizations to be more informed and make a difference in our community. I will consider my words and actions going forward. I will seek out voices from other communities and listen to their words, thoughts and beliefs. In a time of division, I am committed to doing my part in making this world a better place for our children."
"We've stayed in touch," Edelman later told reporters of his relationship with Jackson. "I think it's a healthy conversation…I just wanted to show that I support my community but also show that I'm here to help people in my league, because we're all one."
The professional sports world, not to mention the world at large, is a better place with people like Julian Edelman in it. Condemnation is easy; changing hearts and minds is much harder. Luckily for everyone, there are people like Julian Edelman who are committed to doing the hard work of education and reformation.
"There is no room for anti-Semitism in this world," Edelman said at the time:"This world needs a little more love, compassion and empathy."
(contributing writer, Brooke Bell)