After his Twitter comments on the latest controversial police killing, LeBron James is facing backlash. But it won't last.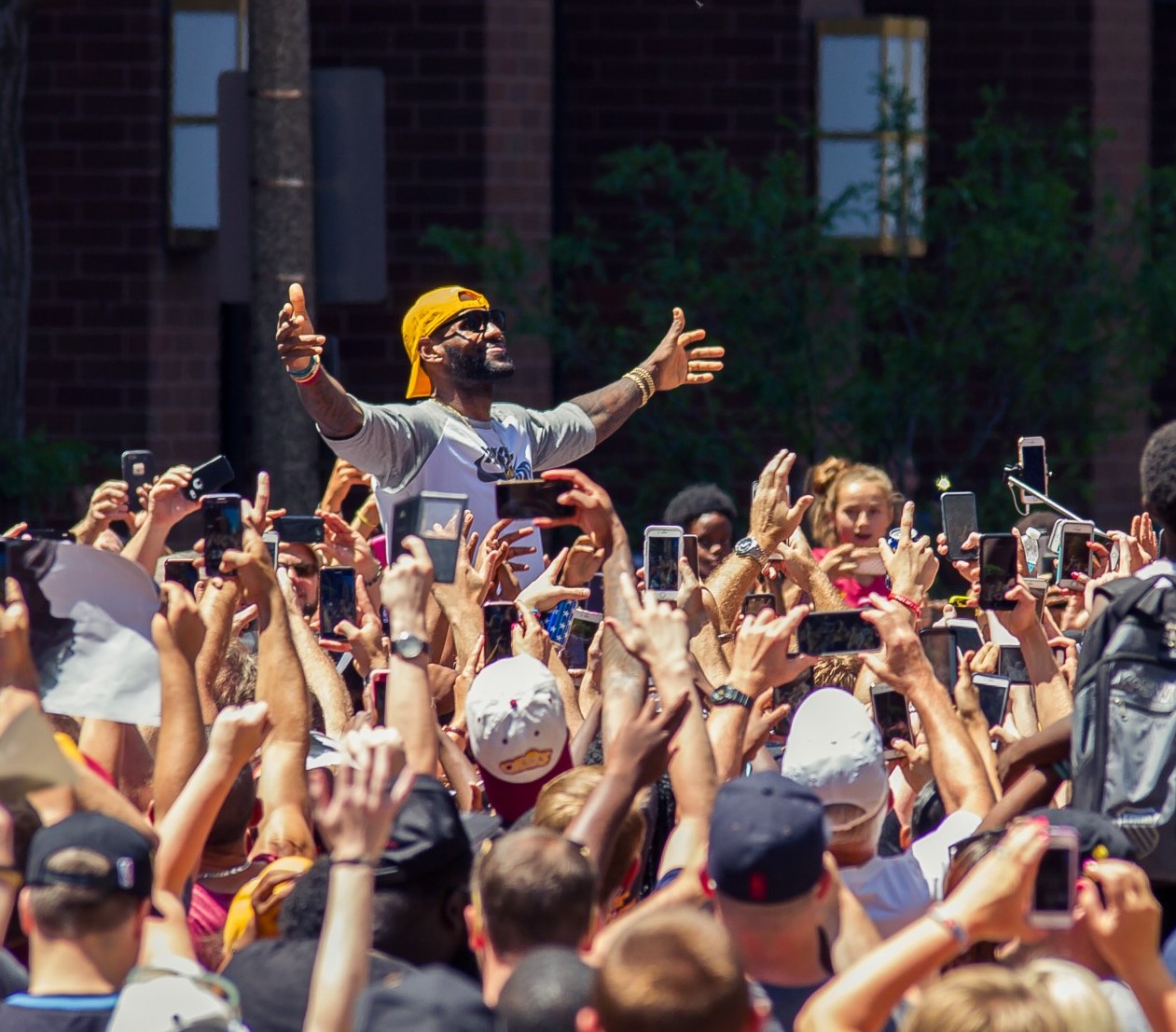 Michael Jordan never did it.
"Republicans buy shoes, too," the legendary basketball star once quipped, during a time former-President Barack Obama described as a battle against the most racist administration in history- and Jordan doesn't regret saying it.
We learned as much about Michael Jordan recently. The behind-the-scenes look we all got into the winning streak of the Chicago Bulls in the 1990's was as entertaining as it was in-depth. From it, we learned MJ likes to win and he isn't sorry.
Lebron James, on the other hand, has long ago gone where other would-be sports empire moguls have feared to tread. He has entered into politics, firmly on the side of the Democrat. And he isn't a bit sorry either.
What this has done to NBA ratings is debatable. Whether or not the NBA even cares about the U.S. market, let alone half of it, in comparison to interests in the far-bigger Chinese market, is also debatable.
That Lebron James has defiantly faced down critics Michael Jordan never dreamed of is beyond debate.
The top NBA star faced major backlash again from critics on Thursday who accused him of "inciting violence" after posting a tweet targeting an Ohio police officer, one day after Derek Chauvin was convicted on all charges in the death of George Floyd.
Hours after the verdict, Ma'Khia Bryant, a 16-year old girl from Ohio, was tragically shot and killed by a police officer while reportedly attempting to stab a young woman. Video of the incident appears to show Bryant holding a knife and charging at the other girl before an officer shoots Bryant four times.
James took to Twitter after the shooting on Wednesday and posted an image of one of the officers at the scene of Bryant's shooting with the caption, "YOU'RE NEXT #ACCOUNTABILITY."
After receiving immediate backlash, James deleted the tweet shortly after posting it and explained that he sent it out of "ANGER."
"ANGER does any of us any good and that includes myself," James wrote on Twitter. "Gathering all the facts and educating does though! My anger still is here for what happened that lil girl. My sympathy for her family and may justice prevail!"
"I'm so damn tired of seeing Black people killed by police," he wrote in another tweet. "I took the tweet down because it's being used to create more hate -This isn't about one officer. it's about the entire system and they always use our words to create more racism. I am so desperate for more ACCOUNTABILITY."
"Lebron James is inciting violence against an Ohio police officer," Republican Sen. Tom Cotton wrote Twitter. "This is disgraceful and dangerous. Is the NBA okay with this? Is Twitter?"
The NBA has not issued a statement addressing the matter.
Strangely enough, O.J. Simpson posted a nearly two-minute-long video to social media Thursday where he addressed the controversy. Simpson began the video by saying that while he is a "fan" of LeBron and admires the work he's done to advocate for social justice, he thinks James spoke prematurely on Tuesday's officer-involved shooting.
"You can't fight every battle. You gotta pick your battles," Simpson said. "It's a war that must be fought but sometimes you need to take your time and be a little more patient before you comment on some of these bad incidents that are happening with police departments. This one, LeBron should've waited."
Simpson then criticized the media for showing an "edited version" of the shooting that resulted in the death of 16-year-old Ma'Khia Bryant.
"I'm a little upset with most of the media because they showed us edited versions of what took place with the girl with the knife," he said. "They made it sound as if it was another police officer overreacting and killing a young Black American. Well, from what I saw when I saw the full thing, the police had no choice. He responded … in that instant, if he hadn't done what he did — it appeared to me another young American would've had her life taken."
"I can't fault what he did. I wish it was different but I can't fault it," Simpson added.
In October 2019, James, who has been an outspoken advocate of professional athletes expressing their political opinions, was asked about comments he made taking issue with Houston Rockets General Manager Daryl Morey's message on Twitter in support of Hong Kong Protests.
James later elaborated what he meant, saying that he thought Morey was "misinformed" and he doesn't think "every issue should be everybody's problem."
"There's issues all over the world, and I think the best thing we can do is, if you feel passionate about it, talk about it," Lebron said in his remarks at the time. "If you don't have a lot of knowledge about it or you don't quite understand it, I don't think you should talk about it. I think it just puts you in a tough position."
"So many people could have been harmed, not only financially but physically, emotionally, spiritually," Lebron added in his prior remarks about the Morey controversy.
The movement against police brutality has always claimed to take issue with the system as a whole, not individual officers. But by posting that tweet, however, critics noted that LeBron opened the door for his nearly 50 million followers to target one specific individual, which arguably could have put the officer's life in danger.
Weighing-in on sensitive topics, such as police shootings, on social media to a large following holds great weight and responsibility. Inaccurate information from James, with the reach and power his platform, has the potential to fuel hatred and the spread of misinformation.
"@KingJames, with his vast resources & influence, should educate himself and, frankly, has a responsibility to do so, on the facts before weighing in," the National Fraternal Order of Police wrote on Twitter. "This is disgraceful & extremely reckless. The officer saved a young girl's life. No amount of gaslighting will change that fact."
Rep. Val Demings (D-FL), a former police chief herself, surprised news pundits this morning by defending the actions of the Columbus P.D. officer, saying, "it appears the officer responded as he was trained to do with the main thought of preventing a tragedy- and a loss of life of the person who was about to be assaulted."
"When I served as a police chief, what I prayed for daily was that my police officers would respond as they were trained to do," Demings said during a Sunday morning news interview. "But look, I worked as a social worker with foster care children" she added. "So it's a sad moment for me. But I also was a patrol officer who was out there on the street having to make those split-second decisions."
"You know, now everybody has the benefit of slowing the video down and- and seizing the perfect moment," Demings continued. "The officer on the street does not have that ability."
(contributing journalist, Allegra Nokaj) (contributing writer, Brooke Bell)