What's the problem?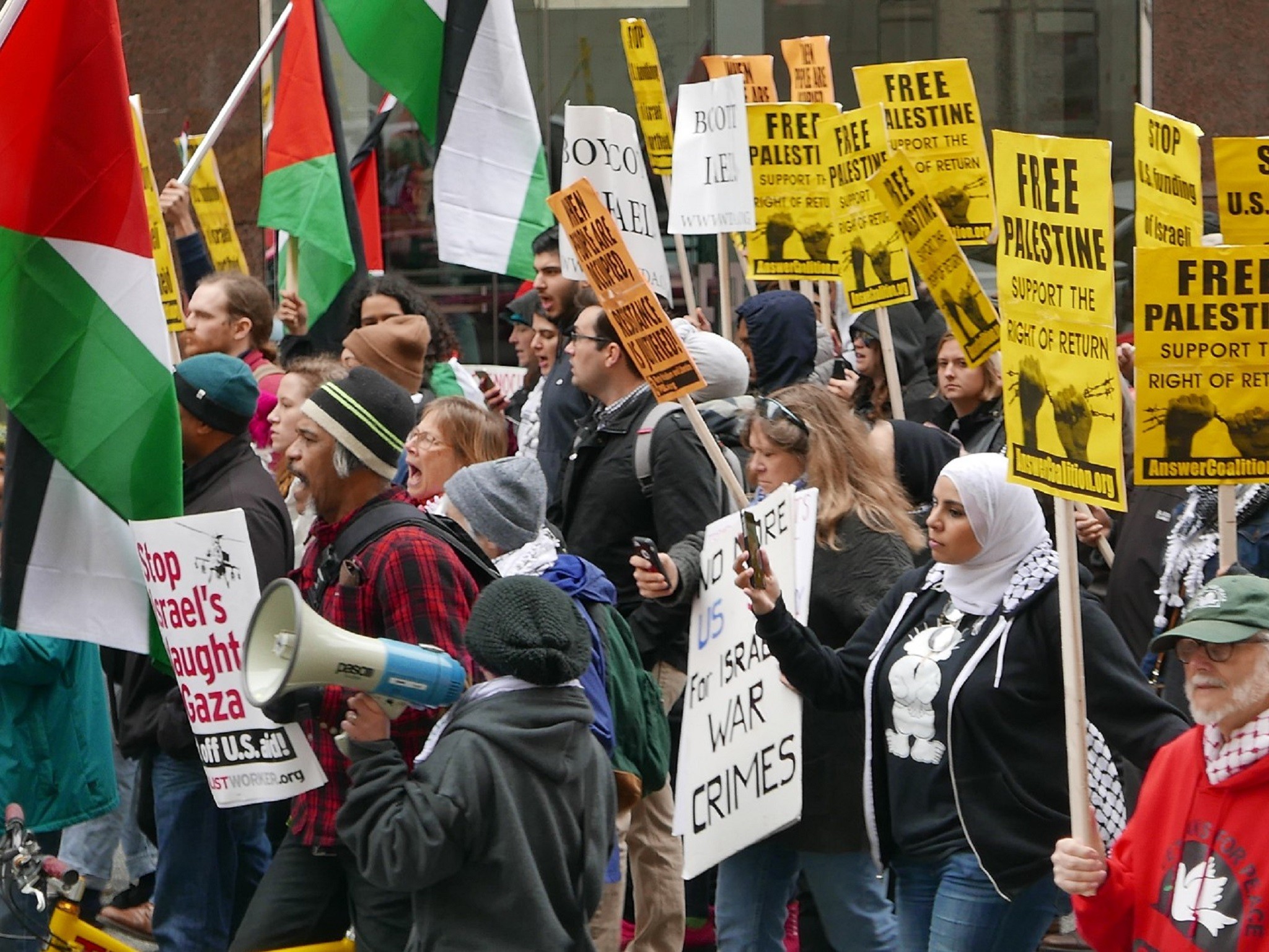 Washington DC, March 26, 2017. Palestinian Rights Activists gathered to protest the annual DC convention of AIPAC (America Israel Public Affairs Committee). There was a rally in front of the White House and a march to the Convention Center. (photo: Susan Melkisethian)
"Israel has decided- we won't enable the members of Congress [Rep. Omar and Rep. Tlaib) to enter the country. We won't allow those who deny our right to exist in this world to enter Israel. In principle, this is a very justified decision." — Tzipi Hotovely, Israeli Foreign Minister. August 15, 2019
If someone had openly and proudly expressed a desire to see your house wiped off the map; if they had professed the deepest sympathies towards violent extremists who wanted to exterminate you and your entire family, would you let them come over for dinner?
Let's say they also wanted to bring leadership representatives from the very group of violent extremists who have been routinely attacking your house- and ignoring your peace offerings- for decades?
Indeed, Rep. Rashida Tlaib and Rep. Ilhan Omar planned to visit Israel with members of the Palestinian authority in tow. The idea that this would somehow be acceptable is itself quite ludicrous.
But, predictably, the reaction from the left has been outrage as Democrats and presidential hopefuls en masse have rushed to condemn the decision, Netanyahu and, as always, Donald Trump.
Also predictably, nary a word of criticism towards Reps. Tlaib and Omar.
"Banning Congresswomen Omar and Tlaib from entering Israel and Palestine is a sign of enormous disrespect to these elected leaders, to the United States Congress, and to the principles of democracy. The Israeli government should reverse this decision and allow them in." — Sen. Bernie Sanders
What about the enormous disrespect Omar and Tlaib have repeatedly shown towards Israel and the Jewish people?
Sanders seems to have developed a sudden affinity towards the principles of Democracy, when they suit him. One wonders how a nice socialist/communist country like China or Venezuela might handle members of a foreign government who, after demonstrating a willingness to help destroy their country, requested to be hosted for a visit.
Sen. Elizabeth Warren was equally one-sided.
"Israel doesn't advance its case as a tolerant democracy or unwavering US ally by barring elected members of Congress from visiting because of their political views." — Sen. Elizabeth Warren
Wanting to erase an entire nation of Jewish people off the map isn't a political view. At least, it isn't one that was socially acceptable on the left until 2016.
As of July, Israeli officials had expressed a willingness to to welcome Tlaib and Omar out of respect for the U.S. and its longtime alliance with Israel.
"Out of respect for the US Congress and the great alliance between Israel and America, we would not deny entry to any member of Congress into Israel." — Israel's Ambassador to the U.S. Ron Dermer, July 2019
However, as President Trump made perfectly clear today, a continued close relationship with the U.S. requires no such sacrifices on the part of Israel.
"It would show great weakness if Israel allowed Rep. Omar and Rep. Tlaib to visit. They hate Israel & all Jewish people, & there is nothing that can be said or done to change their minds. Minnesota and Michigan will have a hard time putting them back in office. They are a disgrace!" — President Donald Trump, Twitter. August 15, 2019
Trump did not, as it is being widely reported, "encourage a foreign ally to deny entry to two elected U.S. officials"; he only discouraged Israel from making an exception for them. Of course it is a "significant escalation and break with diplomatic norms"- on the part of Omar and Tlaib.
Israeli law is clear that anyone supporting boycotts of the country may be denied entry. This decision was not to bar these congresswomen; it was a decision not to issue a waiver to the law on their behalf.
Attributing this decision of Israeli officials, not just Netanyahu, to Donald Trump is nonsense. Critics of Donald Trump may approve of this approach; sensible persons must admit that Rep. Ilhan Omar's introduction of legislation defending Americans' right to boycott (Israel), in which she specifically likens such actions to boycotts by conscientious objectors to Nazi Germany- may have a tiny bit to do with it.
Rep. Rashida Tlaib was a co-sponsor of the bill.
Netanyahu probably likes Trump, because of course he does. Trump has delivered for Israel, both in formally recognizing the Israeli capital of Jerusalem and in acknowledging its sovereignty over the Golan Heights region. Trump's tangible deliveries helped Netanyahu cinch reelection a few months ago.
Netanyahu likes Israel more. If it was in Israel's best interest to welcome these congresswomen, he would do so.
As it stands, what are the barred congresswomen going to do? Say bad things about Israel and its people? Try to use their power and influence to encourage others to unite against Israel? Advocate for a one-state solution that would erase Israel permanently?
They already do these things and more.
Supporting BDS is a big deal. Perhaps this move by Israeli officials will convince Omar and Tlaib just how important, and just how damaging, their support for BDS, as elected members of congress, is to their reputations.
And the international reputation of the entire congressional body.
This decision isn't embarrassing to the U.S., to Donald Trump, to Netanyahu, or Israel. That these two congresswomen have taken upon themselves to openly advocate for the destruction of a U.S. ally, and as such, have had to be denied entry into that sovereign nation is embarrassing.
Hopefully the voters in their home districts- in Minnesota and Michigan- are anxious to correct the serious errors in judgement that sent them to Washington. On the laundry list of things voters in those districts care about- the high cost of health care, safe streets, affordable housing- one wonders how close BDS and the disputed land rights of Palestinian people displaced over 60-years ago by Jewish resettlement in Israel is to the top of their list.
Or how close it is to the bottom.
"This action is antithetical to our countries' shared democratic values that are the basis for a strong, bipartisan alliance. Disagreements among our citizens- elected officials in particular- must be addressed through engagement, not ostracism." — House Majority Whip Jim Clyburn (D-SC), Twitter
Ostracism…like a boycott you mean?
You have the right to boycott Israel, Congresswomen. But Israel has the right to boycott you, too. Power to the people.
(contributing writer, Brooke Bell)