The economy will be the battleground for 2020's presidential race. Trump's weapon is the almighty dollar. Can voters afford to say no?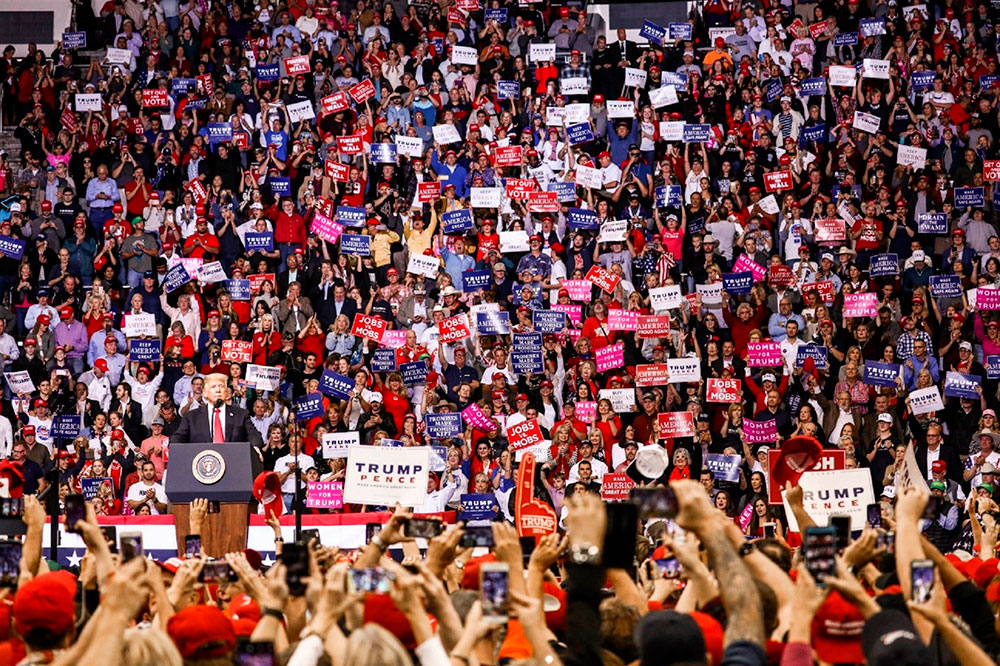 President Donald Tump at a Make America Great Again rally in Houston, Texas, on Oct. 22, 2018. (Charlotte Cuthbertson/The Epoch Times)
"In the 21st Century, real GDP growth in the United States is likely to be permanently slower than it was in earlier eras ." — from President Obama's Budget, 2013
The U.S. Economy 2019
How much GDP would a GDP if a GDP could GDP?
During the Obama years the U.S. economy was thought to have entered a period of permanent slowdown. Now, it seems to be an unstoppable juggernaut that has even the most bearish feeling optimistic about everything from job prospects to interest rates.
The U.S. economy is back. Much to the continued chagrin of various economic experts and economics professors emeritus who have been predicting loudly and expertly that Trump's ludicrous economic blueprint would prove a complete disaster for the country.
"Details of President Trump's first budget have now been released. Much can and will be said about the dire social consequences of what is in it and the ludicrously optimistic economic assumptions it embodies. My observation is that there appears to be a logical error of the kind that would justify failing a student in an introductory economics course."

"Apparently, the budget forecasts that U.S. economic growth will rise to 3.0 percent because of the administration's policies — largely its tax cuts and perhaps also its regulatory policies. Fair enough if you believe in tooth fairies and ludicrous supply-side economics." — Larry Summers, Harvard. Former Clinton and Obama economic advisor. "Trump's Budget is Simply Ludicrous", Washington Post, May 2017.
Mr. Summers was far from alone. Condemnation from a veritable who's who of journalists, pundits, economists, experts, and political insiders was nearly universal in 2017.
Trump's Budget Designed to Impress, Not to Pass. Trump Budget Unrealistic. President Trump's Budget is Bad for the Middle Class, according to no less an authority than Senate Democrats. Trump's Budget is Awful if You're a Worker. Trump's Budget is Bad for Seniors, Bad for the Vulnerable, Bad for Science. Even Bad for Bikes.
A President Trump Could Destroy the World with his nationalistic economic policies, claimed the Washington Post. "Wall Street is set up for a major crash if Donald Trump shocks the world on Election Day and wins the White House," Politico.
Only time would tell.
Now, here we are in the second quarter of 2019 and time has told; the economy is booming. The experts got it wrong about Trump's economy, his budget and his plan to get American businesses hiring again.
"We see in today's advance estimate of real GDP growth in the first quarter of 2019 that the economy continues to outperform expectations… in their final longer-term forecasts before the November 2016 election, the Congressional Budget Office and the Federal Open Market Committee on average projected four-quarter real GDP growth in 2017, 2018, and 2019 of 2.2, 2.0, and 1.7 percent, respectively."

"In actuality, real GDP grew 2.5 percent in 2017, 3.0 percent in 2018, and in the first quarter of 2019 grew at an annualized rate of 3.2 percent." — Report from the Council of Economic Advisors, April 26 2019
Democrats are scrambling to credit eight years of Barack Obama presidency, as well as his signature stimulus package, for the current economic boom. But as more and more time goes by, with each quarterly report outshining the last, they just can't.
Of course, that doesn't stop 2020 Democratic hopefuls from trying.
When faced with report after report declaring strong jobs growth, wage growth, and GDP growth, Democrats hoping to unseat U.S. President Donald Trump in 2020 find themselves between a rock and a hard place.
On one hand, Trump's strategy of deregulation and lower corporate taxation isn't one Democrats are anxious to embrace. Nor would they have any reason to do so, apart from the fact that it seems to work to boost the economy. Ideologically, liberal Democrats are opposed to deregulation and tax cuts.
Admitting to undecided and prospective 2020 voters that Democratic candidates plan to reverse any such strategies, successful or not, immediately upon entering office might hurt their chances at the ballot box.
On the other hand, denying that the economy is booming under Trump isn't an option, either. A few heartfelt holdouts maintain that if the economy wasn't as robust under Obama, and they're not saying it wasn't, it is because a vast cabal of U.S. businesses were engaged in a criminal conspiracy to limit hiring during the two terms of a Democratic president.
After Trump was elected, it is implied, the U.S. business community cabal ended its efforts to cripple the U.S. economy and their own livelihoods.
That is a little farfetched, to say to least. Even for the 2020 field of Democratic contenders, some of whom have embraced wholeheartedly the opinion that the duly elected President of the United States is a Russian deep-cover agent.
Free Market For All
Meanwhile, the case for capitalism remains strong; the case for a free market economy even stronger. Whatever your feelings about Trump's twitter personae, the case for Trump's economic strategies seem pretty strong as well.
But in other bad news for Democrats hoping to tackle Trump in 2020 on the economy, the case for socialism, from Cuba to Venezuela, is only getting weaker. Even the case for communism, with China as an enormous and prosperous example, has lost too much ground in the modern age to be reclaimed by 2020.
The global marketplace was China's Trojan Horse: They let capitalism in through the front door. Now, communist China is little more than a vast government-state that utilizes a large population, plentiful cheap labor, and rich resources to manufacture and sell Chinese goods to…capitalist countries. In 2019, China's entire economy is based on capitalism.
Without these viable options to offer in place of the Trump economic policies they intend to discontinue, Democratic hopefuls are going to have a difficult time reaching voters who aren't anxious to return to the slow-growth and recession that marked the Obama presidency.
They might not like Trump, but for voters who will decide the results of the election in November of 2020, will Trump's economy prove an offer they can't refuse?
(contributing writer, Brooke Bell)