For some in rural America, the answer is already no. Is improving legal immigration the key to averting a painful shortage of medical professionals?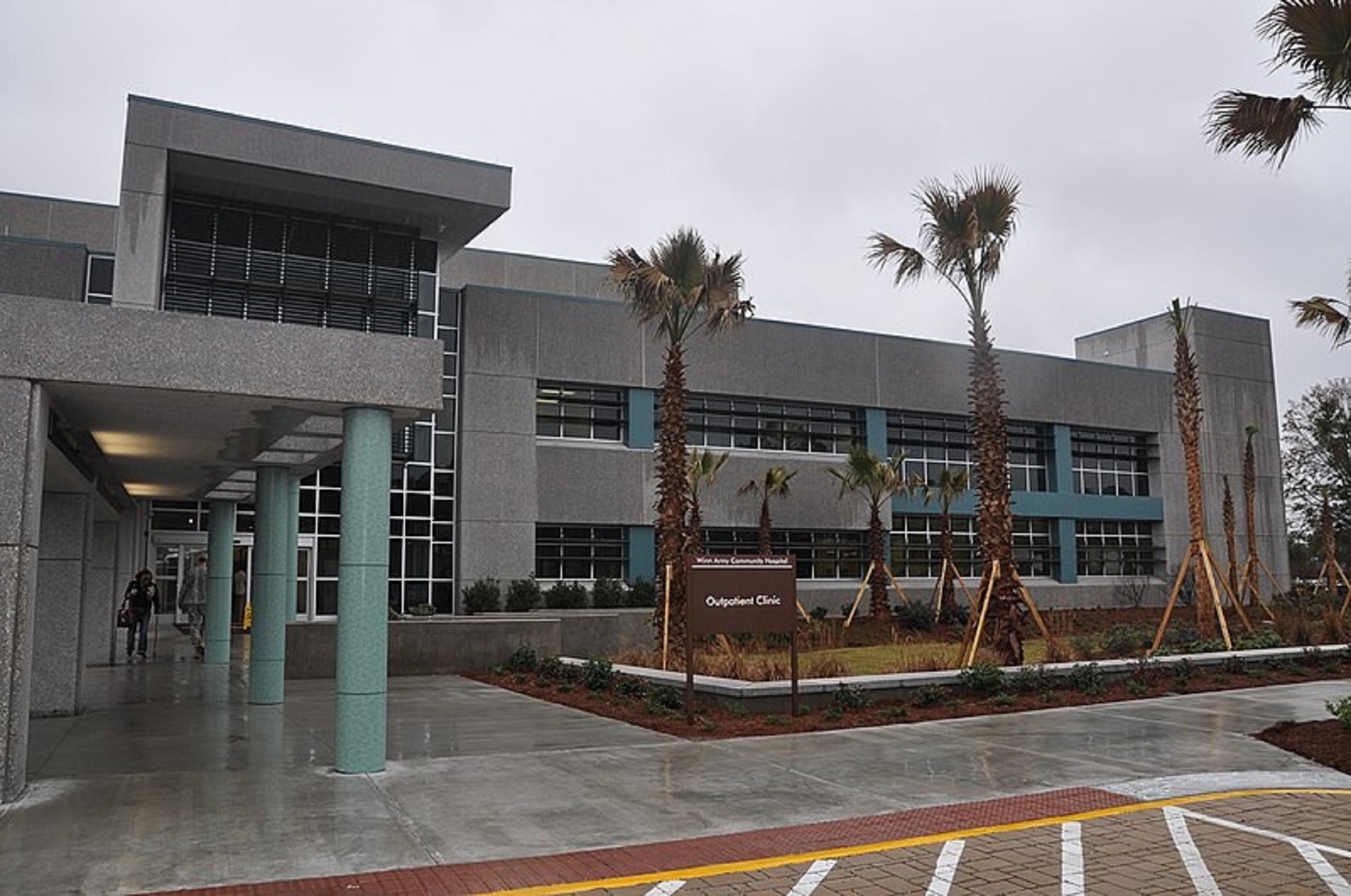 Fort Stuart Winn Army Community Hospital. (photo: USACE photo by Tracy Robillard)
A Time to Heal
The U.S. is currently facing down a healthcare crisis of unprecedented proportions. It is one hardly anyone ever talks about. If you live in a large city, you might not even know the problem exists.
The problem is also an opportunity to take proper advantage of one of the most often overlooked resources inherent in increased globalization and the interconnected world wide marketplace.
The human resource.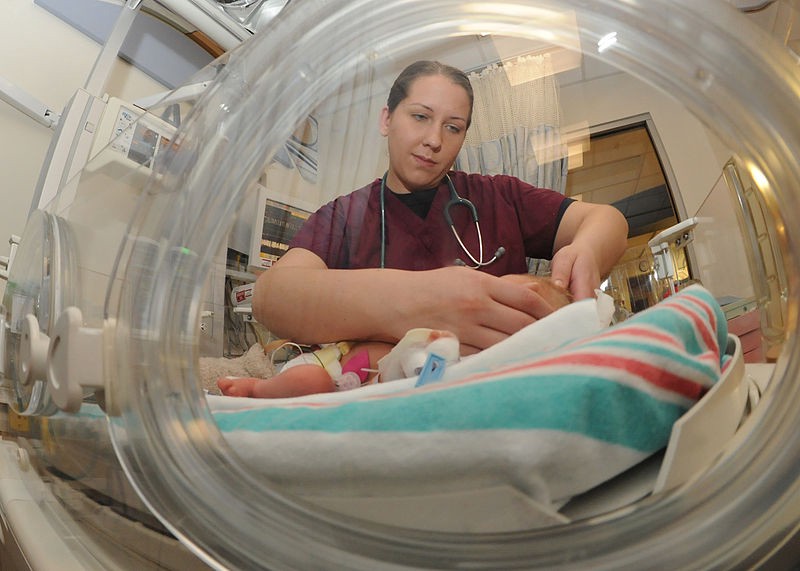 SAN DIEGO (March 4, 2011) Lt. Lauren Mattingly, an intern in the Naval Medical Center San Diego Graduate Medical Education program, examines a newborn baby in the Neonatal Intensive Care Unit. The graduate program trains doctors in the development of clinical and professional skills. The hospital has 24 accredited programs such as obstetrics gynecology, internal medicine and orthopedics. More than 70 interns are enrolled in the 2011 Graduate Medical Education program. (U.S. Navy photo by Mass Communication Specialist Seaman Joseph A. Boomhower/Released)
The Looming Doctor Shortage
In frequent discussions about the high costs of U.S. healthcare, the relative merits of the Affordable Care Act and the role private insurance might play in the future of paying for medical care and services, one looming crisis is frequently omitted.
There simply aren't enough doctors.
There aren't enough doctors now: Rural areas across the U.S. already lack adequate doctors and hospitals. Only 1 in 10 doctors practices in a rural area, caring for approximately 20% of the U.S. population who live there.
That leaves approximately 84 million Americans currently living in areas designated "Health Care Professional Shortage Areas," with an average of one physician per 3,000 people.
Making a Bad Problem Worse
There also aren't enough students enrolled in medical school in the U.S. to meet the burgeoning needs of a rapidly aging population of baby boomers.
U.S. medical schools are only growing graduation rates at an anemic 1.5% per year.
Even offering free medical school wouldn't be enough to avert the coming crisis at this point.
There won't be enough doctors in ten years.
In addition to everything else, about a third of America's doctors will soon be retiring.
While the rate of U.S. doctors, particularly those who choose a general practice rather than the more lucrative fields of specialization, is declining, the U.S. population continues to grow. And age.
The U.S. population is predicted to be 360 million by 2030, with a surge of 50% in America's elderly population, who will require twice as much medical care as younger people.
By 2030, the U.S. could be facing a shortage of over 120,000 doctors, according to a recent report from the Association of American Medical Colleges.
How will the U.S. address this shortage of qualified professionals in the medical field in 2020 and in the decade to come?
Easy. We do it the same way increasingly interconnected members of the vast global marketplace address any vital shortage: We import.
And luckily for the U.S., and everyone in it who may need medical care in the next decade, there is already a system in place to begin attracting the best and brightest medical students from around the world.
Legal immigration.
Unfortunately, the system has a few issues that need to be addressed. The best time to start would have been ten years ago. The next best time to start is now.
Legal Immigration Issues
The U.S. immigration system is also facing a crisis that often goes overlooked in discussions about illegal immigrants and border security.
Like the shortage of doctors, it too is a problem that gets worse every day, and worse still the longer we ignore it.
1990's immigration laws and policies still exist in 2019.
The current system is sagging under a dead weight of outdated methods, old draconian rules and long-obsolete guidelines. And the whole of the U.S. economy, not only the medical field, will soon begin to chafe under the drag as international talent goes elsewhere.
An outmoded system: Since 1990, Congress has not updated static legal immigration quotas, though the U.S. population has increased 30% and the U.S. economy has doubled. To stay current, quotas need to be tied to an economic growth index, not be an arbitrary number that requires an act of Congress to change.
Quotas on nationality: Per-country caps on the number of legal immigrants granted visas have resulted in massive backlogs and decades-long, even centuries-long wait times, for countries like India. Quotas linked to other factors like economic growth or even U.S. population growth would be more logical in today's world.
Redundant counting: Immigrant workers are frequently counted twice against green card limits, caps and quotas.
Red Carpet Optional
While other, more proactive countries are rolling out the red carpet in every effort to attract top talent in key fields, the U.S. immigration system is busily trying to keep talented people out.
"Extraordinary ability" limits: This inexplicable 40,000 person cap on immigrants deemed to have "extraordinary ability in the sciences, arts, education, business, or athletics which has been demonstrated by sustained national or international acclaim," even includes spouses and children.
This cap has resulted in a current backlog of 58,000 imminently talented individuals. This category could easily be expanded to include more doctors, healthcare professionals and medical scientists and the caps raised or eliminated.
No immigration category for entrepreneurs: The U.S., unlike its more business-savvy competitors on the global marketplace, makes no effort to ease the immigration process for those wishing to start a business in the U.S. Quite the opposite: Aspiring future business moguls must instead work for a company willing to sponsor them if they want to live in the U.S. For decades.
No new categories without an act of congress: As the tech field has expanded, and the medical field has contracted radically with a lack of medical professionals, no new legal immigration categories have been created or can be created without Congressional action.
Will it work?
Will trying to attract medical professionals from around the world work to address the doctor shortages?
In some places, it is already working.
In 2007, California created an initiative through the UCLA School of Medicine called the "International Medical Graduate Program". Offering financial support, U.S. medical license prep classes, and a residency match process, the program asked participants to pledge three years of their U.S. residency and practice to an underserved community.
If the legal immigration laws were improved with preferential treatment for anyone willing to practice medicine in an area without medical professionals, then private organizations, charities and even townships could fund residencies.
For citizens living in rural areas who have to travel hundreds of miles to reach the nearest doctor or hospital, international medical students and medical professionals are a precious resource too valuable for the U.S. to ignore any longer.
(contributing writer, Brooke Bell)