They might be our ticket back to pre-Covid normal. Or they might be "literally the end of human liberty in the West."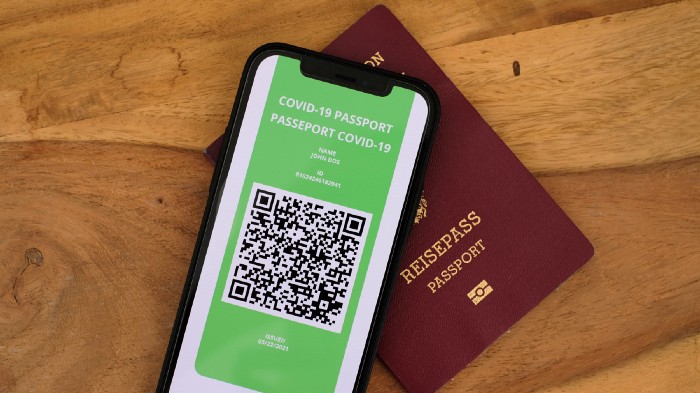 Vaccine passports have become all the rage lately among those who are sick of Covid and ready to get back to normal. Fans of vaccine passports point out, rightly, that even though a vaccine is now available, and will soon be accessible to everyone according to the Biden Administration, not everyone will get the vaccine.
Those unvaccinated people can still spread Covid. As such, it might be helpful to know- without relying on the honor system as humanity has always done, with mixed success- who has been vaccinated and who hasn't.
Limiting large event access to people who have already been vaccinated sounds like a reasonable idea. Opponents of the vaccine passport idea point out, however, the fact that requiring official credentials- of any kind- often impacts already marginalized communities the hardest and wouldn't end with concerts and sporting events.
With good reason, there are plenty of communities in the U.S. with an authority-avoidance mindset- for instance, undocumented immigrants. The ACLU, the WHO, and other agencies have voiced objections to the idea of vaccine passports.
Well-known feminist and writer Naomi Wolf called vaccine passports "literally the death of human liberty in the West" this week. She, and others, have pointed out the grave privacy and data security issues of a digital passport developed in cooperation with big tech companies.
Such a treasure trove of medical, personal, location, and other highly sensitive data would likely prove very insecure in a world where Facebook just exposed the data of 500 million users.
So far, four Republicans Governors have announced plans to ban government-mandated vaccine passports following concerns and social media outrage from conservatives about government overreach.
Texas Gov. Greg Abbott issued an executive order on Monday, prohibiting Texas' state and local governments from requiring residents to receive a COVID-19 vaccine or to carry "vaccine passports."
"Texans shouldn't be required to show proof of vaccination & reveal private health information just to go about their daily lives," Gov. Abbott wrote on Twitter. "I issued an Executive Order that prohibits government-mandated vaccine passports in Texas."
"Don't tread on our personal freedoms," Abbott added.
The executive action blocks Texas state government entities from mandating individuals get the COVID-19 vaccine. Government agencies will also be prohibited from ordering an individual to provide "as a condition of receiving any service or entering any place documentation regarding the individual's vaccination status," the order stated.
During an interview with Fox and Friends, Missouri Governor Mike Parson called the idea of a vaccine passport "premature."
"I think it's way premature," Gov. Parson said. "We're never gonna do that in the state of Missouri. We're never gonna have a mandate, a vaccine passport in this state. If people want to carry a card that's fine. That's called freedom, it's called individual rights. But it's not government's place to do that."
"Do we really want the federal government to have all that information in a database to be able to use it for whatever reason they might want to use it as time goes forward?," Parson added.
"And I think the other thing is we've been in the vaccination business for four months actually with COVID-19," Gov. Parson continued. "This whole process for over a year now has had so many unknowns in it. So many people that were experts that really turned out to be not-so-experts in all the things we've heard from this. So, who knows where these vaccines are gonna go. I'm not sure what the end result of this is going to be yet, on what it does."
Tennessee Governor Bill Lee said he would also sign legislation to prohibit government mandated vaccine passports in the state of Tennessee.
"I oppose vaccine passports," Gov. Lee wrote in a statement on Twitter. "The COVID-19 vaccine should be a personal health choice, not a government requirement."
"I am supporting legislation to prohibit any government-mandated vaccine passports to protect the privacy of Tennesseans' health information and ensure this vaccine remains a voluntary, personal decision," he continued.
Florida Gov. Ron DeSantis led the charge on the "unacceptable" vaccine passports, saying he would issue an executive order banning local Florida governments and businesses from mandating proof of vaccine.
"We are not supporting doing any vaccine passports in the state of Florida," DeSantis said Monday. "It's completely unacceptable for either the government or the private sector to impose upon you the requirement that you show proof of vaccine to just simply be able to participate in normal society."
"You want the fox to guard the henhouse? I mean, give me a break," the governor added. "I think this is something that has huge privacy implications. It is not necessary to do."
"I'm going to be taking some action in an executive function and emergency function here very shortly," DeSantis said.
The announcements from the Republicans governors follow reports that the Biden administration is working to develop vaccine credentials so the public would be able to show proof of vaccination following the pandemic.
White House press secretary Jen Psaki addressed the issue of vaccine passports on Tuesday and said that "the government is not now, nor will we be supporting a system that requires Americans to carry a credential."
"There will be no federal vaccinations database and no federal mandate requiring everyone to obtain a single vaccination credential," Psaki told reporters.
Psaki said on Monday that the development of such a program "will largely be driven by the private sector."
"Our interest is very simple from the federal government, which is American's privacy and rights should be protected so that these systems are not used against people unfairly," Psaki said.
The World Health Organization cautioned against the use of vaccine passports as a way to reopen global travel, citing the lack of vaccinations to certain regions of the world and other issues.
(contributing journalist, Allegra Nokaj) (contributing writer, Brooke Bell)