"Al-Qaeda has a new home base: It is the Islamic Republic of Iran," announced U.S. Secretary of State Mike Pompeo on Tuesday.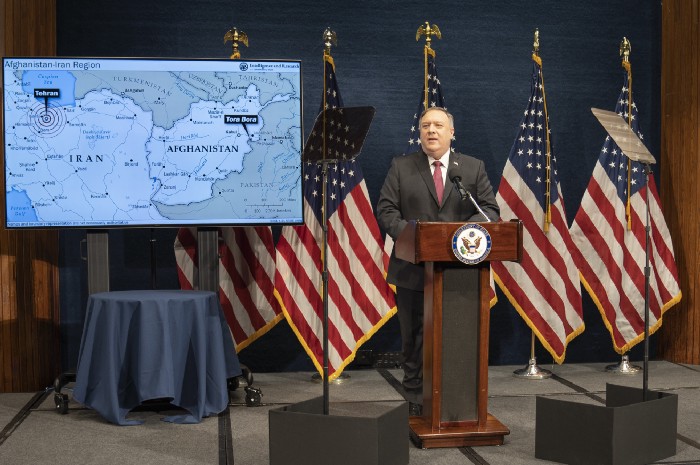 On Tuesday, current U.S. Secretary of State Mike Pompeo publicly charged Iran's government with aiding and abetting al Qaeda, and allowing the terrorist organization to establish a "home base" in Iran.
"Since 2015, Iran has also given al Qaeda leaders greater freedom of movement inside of Iran under their supervision," Pompeo said in a speech at the National Press Club.
"As a result of this assistance, al Qaeda has centralized its leadership inside of Iran. Ayman al-Zawahiri's deputies are there today, and frankly, they're living a normal al Qaeda life," he said.
Pompeo also told the news conference he was announcing publicly for the first time that al Qaeda's Abu Muhammmad al-Masri, accused of helping mastermind the 1998 bombings of two U.S. embassies in Africa, died on August 7, 2020.
"Al-Masri's presence inside Iran points to the reason that we're here today," Pompeo said. "Al-Qaeda has a new home base: it is the Islamic Republic of Iran."
The New York Times reported in November that al-Masri was killed by Israeli secret service operatives in Iran, but Iran has denied the report, saying there were no al Qaeda "terrorists" on its soil.
After confirming the death of Abu Muhammad al-Masri, Secretary of State Pompeo declassified other intelligence about the Iranian government's relationship with al Qaeda and warned about the 2015 Iran nuclear deal, which President-elect Joe Biden has promised to restore.
"Iran decided to allow al Qaeda to establish a new operational headquarters, on the condition that al Qaeda operatives inside abide by the regime's rules governing al Qaeda's stay inside the country," he said. "Imagine that al Qaeda starts carrying out attacks at Iran's behest, even if the control is not perfect. Who is to say that isn't the next form of blackmail to pressure countries back into a nuclear deal?"
Pompeo published a statement on Twitter announcing that the Trump administration imposed sanctions on over 1,500 individuals and entities. According to the State Department, doing so deprived the Islamic Republic of $70 billion in revenue. As a result, Iran's proposed military budget is down 24 percent this year.
"Thanks to our sanctions, Iran's proposed military budget is down 24% this year. We've targeted more than 1,500 individuals and entities, depriving the regime of $70 billion that would've been used to fund terrorism, ballistic missiles, and nuclear programs. #MaximumPressureWorks," Pompeo wrote.
Pompeo announced additional sanctions against Iran-based al-Qa'ida leaders Muhammad Abbatay and Sultan Yusuf Hasan al-'Arif as Specially Designated Global Terrorists under Executive Order 13224. Sanctions will also be imposed on Isma'il Fu'ad Rasul Ahmed, Fuad Ahmad Nuri Ali al-Shakhan, and Niamat Hama Rahim Hama Sharif, leaders of the al-Qa'ida Kurdish Battalions, an al-Qa'ida-linked group that operates on the border between Iran and Iraq.
Under the terms of these sanctions, all U.S. citizens are prohibited from engaging in any transactions with these individuals and their property and interests in property subject to U.S. jurisdiction are blocked.
The U.S. State Department also announced a $7 million reward for information leading to the location or identification of Abd-al-Rahman-al-Maghrebi, an Iran-based leader of al-Qaeda and re-advertised previous reward offers against three additional al-Qaeda leaders, including Sayf al-Adel and Yasin al-Suri.
"The Iran-al-Qa'ida axis poses a grave threat to the security of nations and to the American homeland itself, and we are taking action," Pompeo wrote in a statement.
Whatever the foreign policy intentions of the Biden administration, it may be too late to restore the previous nuclear deal negotiated under the Obama administration. Iran is reportedly in no hurry to return to the terms of the agreement, though Iranian Supreme Leader Ali Khamenei is demanding an immediate lifting of U.S. sanctions.
The landscape of the Middle East, including any potential dealings with the regime in Iran, has also changed dramatically over the past year, and arguably for the better. Forced by the necessity of Iran-sponsored terror in the region, Middle Eastern nations have been slowly making peace with Israel.
Over half a dozen Middle Eastern nation have now normalized with Israel. Delegates from Bahrain and the United Arab Emirates celebrated Hanukkah with Jewish leaders at the Western Wall in Jerusalem this year for the first time in history, a near-miracle.
This new cooperation between Middle Eastern nations- including, for the first time, Israel- makes the U.S.- and by extension, U.S. diplomatic, martial, and nation-building efforts- less important to peace, stability and prosperity in the Middle East.
Whatever the U.S. intends to do with regards to Iran, a new coalition of Iran's nearest neighbors, in cooperation with Israel in a united force likely to feature regional powerhouse Saudi Arabia sooner rather than later, is making U.S. involvement less important. And less likely to disrupt an ever delicate balance.
Iran may soon find its neighbors less susceptible to violent pressure, and far stronger together, united in opposition to Iranian nuclear aspirations and its imperialist designs on the region.
(Contributing journalist, Allegra Nokaj) (Contributing writer, Brooke Bell)