Covid-19's deadly grip on India is tightening, even as restrictions are lifting around the world.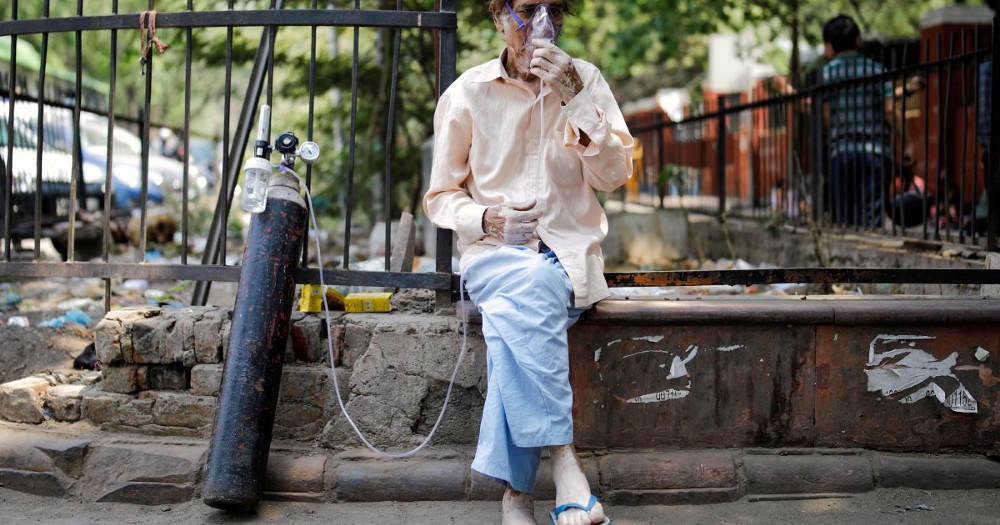 As the second deadly wave of coronavirus infections in India devastates the country, the government announced that vaccination centers in Mumbai, India's largest city, would be closed for three days following Friday.
Though India is one of the world's leading vaccine manufacturers, it has struggled with its own vaccination rates. India has administered over 15 million vaccinations, a small portion of its population of just under 1.4 billion people, according to the Health Ministry.
The municipal government said in a tweet on Thursday evening that the closure of the 94 centers was due to "non-availability of vaccine stock."
"All efforts are being made to make more stock available and resume the drive."
By the end of April, India reported more than 17.9 million infections and more than 200,000 people dead, though experts have estimated the actual figures were likely much higher. During this time, India reported almost 380,000 new infections on Thursday, marking another global record for the highest single-day infection count.
Numerous states and cities within India have implemented new restrictions in a scrambling attempt to contain the outbreak. Clinics across India have reported a shortage of hospital beds, medicine, protective equipment and oxygen.
At the same time as crematoriums in cities such as Delhi are running out of space for cremations. According to the mayor of the North Delhi Municipal Corporation, Delhi's facilities have been cremating more than 600 bodies daily for the past week.
"Before the pandemic, we used to cremate eight to 10 people (daily)," said Jitender Singh Shunty, head of the Seemapuri crematorium in eastern New Delhi. "Now, we are cremating 100 to 120 a day."
A senior Delhi police officer told NDTV news channel that people were having to cremate family members in crematoriums not designated to take victims of Covid-19.
The demand for wood is so high in New Delhi that wood stocks are running low.
Mayor of North Delhi, Jai Prakash, wrote a letter to Delhi Chief Minister Arvind Kejriwal on Tuesday, asking that the first department provide a steady supply of wood.
"As you are aware that the number of deaths due to COVID-19 is on the rise and to cremate the bodies in the traditional manner a large amount of wood is required," Prakash wrote in the letter. "This is to request you to direct the forest department to ensure steady supply of firewood to these crematoriums without fail. Kindly give appropriate directions to the forest department so that the crematoriums can continue doing their work uninterrupted and the bereaved families are not put through any kind of trouble."
The crematoriums in New Delhi have been so busy that some families in India see no choice other than to take a ticket at a crematorium and wait their turn and/or pay for the wood to burn their relatives' bodies. Cremation is considered an important part of funeral rites in Hinduism, the country's dominant religion, due to the belief that the body must be destroyed for the soul to reincarnate.
India's Prime Minister Narendra Modi has approved the procurement of 100,000 portable oxygen concentrators, in addition to hundreds of new oxygen generation plants. India's health minister defended the government on Thursday, saying the country's fatality rate was the lowest in the world and that oxygen supplies were "adequate."
Oxygen in India is now "being made available from many sources," including from abroad Harsh Vardhan told ANI news agency.
A U.S. military plane landed in Delhi on Friday morning, loaded with almost one million rapid Covid tests and 100,000 N95 masks.
The White House has said it will donate 15 million N95 masks in total. India has also received international aid in the form of oxygen cylinders, ventilators, medication, etc., from other countries, including the UK, Russia, Romania and the UAE.
Jeremy Konyndyk, the executive director of the Covid task force at the US Agency for International Development, told AFP news agency that their first priority was to address India's most "immediate needs".
(contributing journalist, Allegra Nokaj) (contributing writer, Brooke Bell)